About Mantri Espana:
Inspired from the culture of Spanish Architecture, Mantri Espana is the new luxurious residential project undertaken by the Mantri Group. The homes have been designed to provide a classy, substance grandeur space for its residents. The design of this plan is very lavish and will generate a sense of royalty for the residents. Some of the construction patterns are stucco arches, tiled courtyards, fountains and cobbled pavements. The property has a large club house provided for its residents and a total of five swimming pools, Mantri Espana truly redefines luxury.
The sizes of the houses range from 5,965 sq. Ft to 10,245 sq. Ft. The entire area taken up for the construction of this project is 13.5 acres with 339 units categorized in 3 phases. 
The penthouses have been installed with spacious and private family decks overlooking the serene lake. Each section of the home is meticulously brought together to provide the highest level of sophistication.
If you're looking forward to spend your family time in a luxurious residential space with equal amount of privacy and neighborhood, Mantri Espana is the perfect place for you.
Mantri Espana – Distance from Prominent Places in Bengaluru
The location of this project is on Bellandur, Bengaluru.
| | |
| --- | --- |
| Place | Distance (km) |
| M.G. Road | 13 |
| Nearest ring road | 11 |
| Nearest railway station | 19 |
| Nearest metro station | 16 |
| Distance from airport | 43 |
1. Mantri Espana is located in a well-established residential area overlooking the nearby lake. This property is connected to the natural environment, and provides a peaceful time for the residents.
2. This property is either close or surrounded with pre-schools, schools, hospitals, temples and churches, and hospitals for the benefits of the residents. Since, there is a lake nearby this property, the residents can go on for picnics with their family for relaxation.
3. Comparing the situation in Bangalore, Mantri Espana is very much in close proximity to the metro and the railway stations.
Mantri Espana – Nearby Schools
1. National Public School
2. Kidz Pathshala
3. Narayana e-Techno School
4. Bellandur Government School
5. Hell Kids – Winners Pre-school
6. Anand Shiksha Kendra
7. Green Dot Montessori School
8. Neev Academy
9. Royale Concorde International School
10. Orchids International School
11. Greenwood High International School
12. Delhi Public School
13. Indus International School
14. Cambridge Public School
Mantri Espana – Nearby Hospitals
1. Doctor Levine Memorial Hospital
2. Parkmed Healthcare Hospital
3. Sakra World Hospital
4. Columbia Asia Hospital
5. Nelivigi Eye Hospital and Surgical Centre
6. Kamala Dental Clinic
7. Foster Healthcare Multi-specialty Health Clinic
8. Motherhood Hospital
9. Partha Dental Clinic
10. Johns Hospital
11. Sri Renuka Healthcare
12. Smile Dental Care
Mantri Espana – Unit Type, Size in Sq. Feet and Price
| | | |
| --- | --- | --- |
| Unit Type | Size (square feet) | Price (Crore INR) |
| 3 BHK | 2635 -2740 | 2.24 -2.33 |
| 4 BHK | 3785 | 3.21 |
| 5 BHK | 3905 -10285 | 3.26 – 8.73 |
Mantri Espana External Amenities
1. Amphitheatre
2. 9 hole mini Golf Course
3. Jogging / Walking Trail
4. Grand Entrance Gate to the project
5. Crèche
6. Common toilets for servants / drivers
7. Indoor Party Hall/Multi-Purpose Hall
8. Outdoor Party Area with Barbeque Pits
9. Outdoor Exercise Area
10. Children's Play Areas
11. Grand Atrium with lounge
12. Five swimming pools including one Indoor Heated Pool
13. Beautifully Landscaped Gardens
14. Boulevards
15. Floral Walkways & Water Bodies
Mantri Espana Internal Amenities
| | |
| --- | --- |
| Staircases | Marble Flooring |
| Terrace | Vitrified Tile Flooring |
| Reception/ GF Lobby/ Lift Lobby | Vitrified Tile Flooring |
| MEP Rooms | Marble Flooring |
| Service Lift Lobby | Vitrified Tile Flooring |
| | |
| --- | --- |
| Master Bedroom | Imported Marble Flooring |
| Kitchen | Imported Marble Flooring |
| Master Bedroom Toilet | Vitrified Title Flooring |
| Balcony / Deck | Anti-skid Vitrified Title Flooring |
| Living / Dining /Family / | Imported Marble Flooring |
| | |
| --- | --- |
| Main Entrance | Teak Wood Doorframe |
| Bedroom | Aluminum powder coated UPVC sliding doors |
| Balcony | UPVC Sliding Doors |
| Toilet | Designer engineered wood door shutters |
| | |
| --- | --- |
| DG | 100% backup, based on metered consumption of the apartments. |
| Transformer Capacity | Calculated as per load |
| Modular Switches | Modular switches designed to the preference of the residents. |
| | |
| --- | --- |
| Bore well | Yes |
| Water Supply | Purified water through Water Treatment Plant |
| Sewage Line | Sewage Treatment Plant available at project |
Common areas and primary utilities will be provided complete backup.
| | |
| --- | --- |
| 3 BHK | 3 KW |
| 4 BHK | 3 KW |
| 5 BHK | 3 KW |
Mantri Espana Master Plan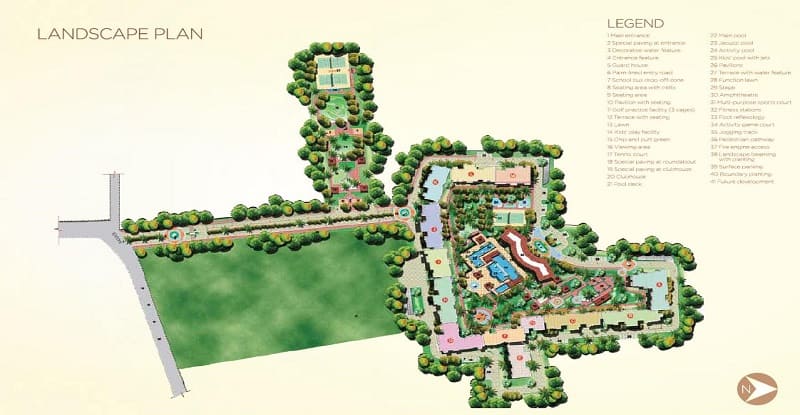 Mantri Espana Location Map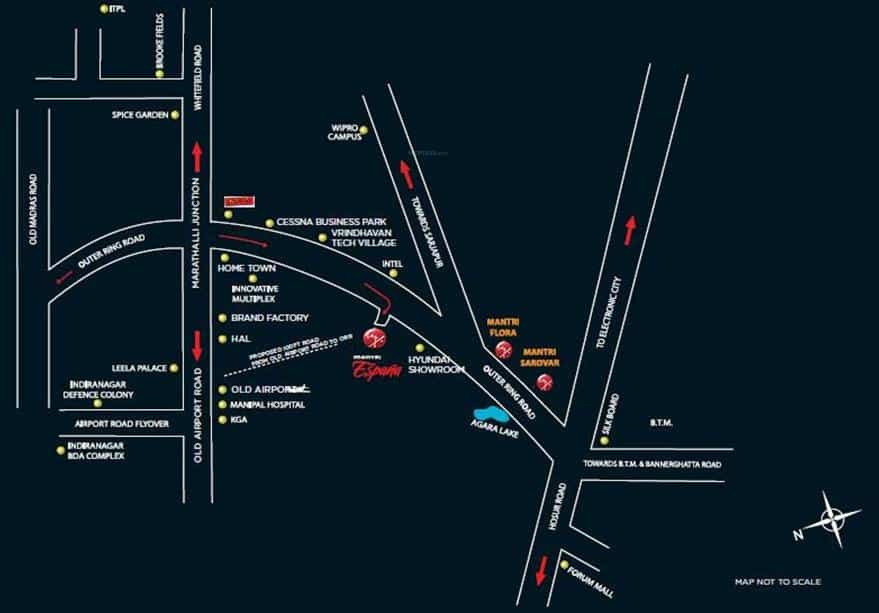 Mantri Espana - Address and Google Map
Address:Mantri Espana, Outer Ring Road, Bellandur, opposite to Intel, Bengaluru, Karnataka 
Pincode: 560103
Email : [email protected]
Mantri Espana Image Gallery
Mantri Espana Apartments Video
Mantri Espana FAQs:
1.What is the credibility of the builders?
The Mantri Group have been present in the market for the past 21 years to serve the people a place of privacy and comfort.
2.How many units are there in this residential area?
There are 339 units in this property.
3.How many towers are there in this property?
The entire residential structure is divided into 3 phases.
4.What is the size of the apartments?
The sizes of the homes range from 5,965 sq. ft. to 10, 245 sq. ft.
5.What are ranging prices of the apartments?
The apartment prices at Mantri Espana range from 2.24 Cr to 8.73 Cr.
6.What are the security standards in this place?
This property has well trained security guards available 24X7. There is also CCTV Cameras installed in this place.
7.What is the tele-medicine facility at Mantri Espana?
The Mantri group have tied up with the Apollo Hospitals in Bangalore to provide medical emergency facilities and checkups.
8.What are sports related amenities at Mantri Espana?
This property has a well-equipped gymnasium, jogging tracks, indoor game rooms, outdoor game grounds and swimming pools.
9.What are the initiatives taken by the builders toward environment sustainability?
The builders have installed a rain water harvesting device in this property to save up water. There are more than one garden in different sizes with many plants and flowers.
10.How many acres is this project?
The entire property is 13.5 acres.
About Mantri Group :
The Mantri group has been present in the real business market for the past 21 years, as they were established in 1999. Their headquarters is in Bengaluru. And today they have been functioning in cities like Bengaluru, Chennai, Mumbai, Pune and Delhi. They also have their offices in California, USA and Dubai, UAE.
They aim at following their principles which are, punctuality, quality, reliability, speed and transparency. And due to their experience in the market, they have initiated to take up projects which are equally sustained in terms of technology and natural environment.
The company have finished 6000+ projects such as commercial space, residential areas, educational centers and other properties.
Mantri Espana, located in Bellandur, Bangalore is a luxurious project taken up by the Mantri group. People can easily identify the motive behind this property – to provide a spacious home and a sense of royalty. Situated in the city of Bangalore, this residential area is surrounded with many schools, hospitals, IT Parks, temples and tourist spots.
Comparing the traffic conditions and the transportation limits, Mantri Espana is in close proximity to the nearby railway and metro stations and to the airport. Another positive point of this property is that the IT Parks are all in walkable distance from Mantri Espana.
This property is located in such an area in Bangalore, where the people can send some familial time together and have a luxurious and spacious place to call home and relax.

Here's more to look into!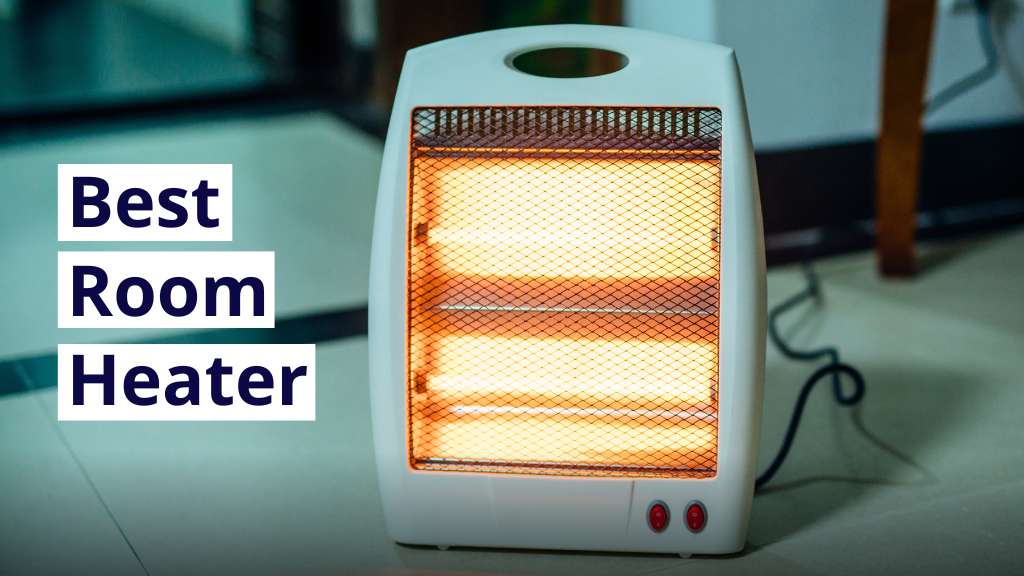 Choosing the Best Room Heater: A Comprehensive Guide to Staying Cozy Room heaters...