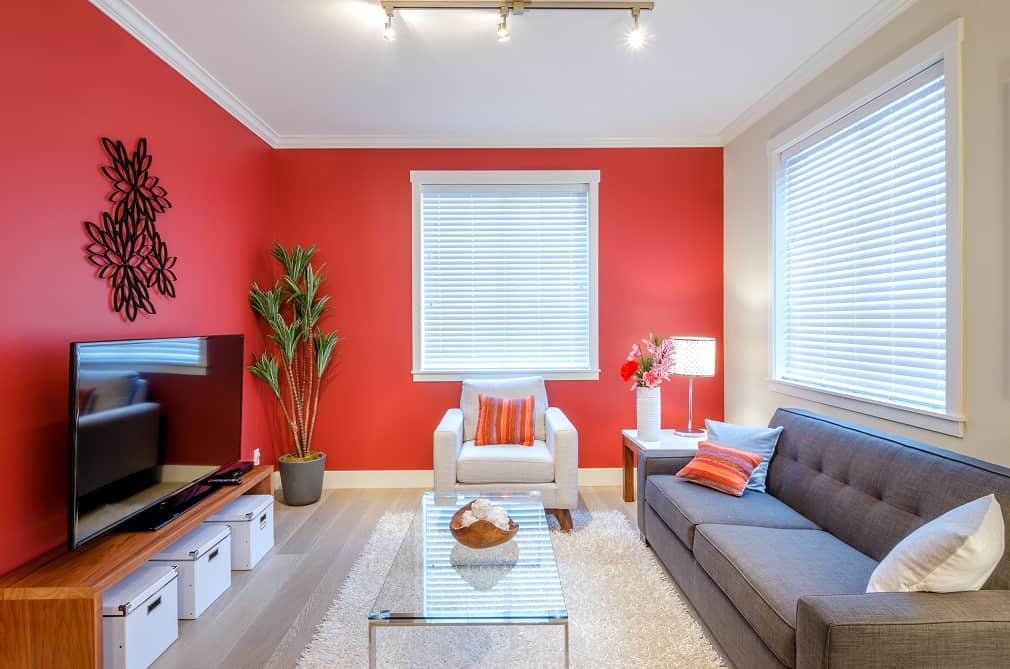 Hall wall Colour combinations have an important part in our lives. From the colour of our attire to the colour of the automobile we drive to the paint colours of our ideal house, we are drawn to a certain hue. The wall colour combination for living room allows us to express ourselves. It's acceptable to be picky when it comes to the colour of your interior wall paint.
The paint colours you select will completely transform the appearance of your house. Depending on the colour combination for hall, colour can make or ruin a place. The colour scheme you choose for your interior walls has a significant impact on your family, and many individuals make mistakes when selecting colour schemes.
One of the most common errors individuals make while picking the worst colour choices for their homes is that you should never paint. However, for our house interiors, we want the nicest colour combination possible. Let's have a look at the 10 greatest wall colour combination for hall in 2023
Top 11 Best Colour Combination For Hall in Indian
Pastel colours are those which lack a strong tone, such as pink, mauve, and baby blue. The delicate colours complement each other nicely. Using pastel colours in your interior wall paints can offer your home a unique appearance and feel. In your house, these colours exude a gentle, neutral, and calming character. It is the ideal colour combination for your children's room in terms of house painting.
2. Gunmetal Grey and Purple
Purple combined with grey creates a dignified and refined atmosphere in your house. Purple's external aspect, when properly mixed with a neutral grey, creates a striking wall paint colour combination. This living room combo speaks volumes about your refined taste. This colour scheme will become a new trend that everyone will like.
3. Turquoise and Soft Pink
A striking two-colour combination for hall wall colour combination for your home décor is soft pink and turquoise. The combination gives your house a bright, shiny appearance; the flamboyant character of pink and turquoise makes it an excellent choice for your daughter's room. It's one of the most adaptable colour schemes for walls since it goes with a variety of design types in your home.
4. Grape and Aquarium Blue
The lively and fun energy of this remarkable colour combination on your interior walls is contagious. These colours give off a happy, upbeat feeling that may transform a drab space. This colour brings brightness into even the darkest corners of your home. Visitors will be drawn to your home's doorway because of the lively and vivid colour scheme. One of the greatest colour combos for your house is aqua and grape.
The colour combination for hall walls of blue and yellow is exhilarating. The combination of vibrant blue and warm yellow in your interiors creates a more lively and dynamic effect. The yellow adds a dash of contrast to the dramatic blue walls, which helps to soften the tone of your house. Since yellow improves memory, this vibrant mix is best suited for your study space. These colours have the largest effect in your house, making them the most popular interior wall paints.
This two colour combination for hall walls evokes images of joy and festivity. The combination of orange and white creates the ideal atmosphere for a joyful family. Orange is the dominant colour in this scheme, and it unites numerous areas in your home. It is the finest pick for your bedroom because of the purity of white and the liveliness of orange. This is one of the most intriguing interior paint colour schemes.
This is one of the best hall wall colour combinations and is the most simple interior wall paint colour combination, with blue taking centre stage and white accents. This colour combination gives your house a lot of depth and makes your interiors look clean and stylish. This combination also makes your space appear larger and increases hunger, making it an ideal choice for your kitchen.
Shades of grey is a great pick for colour combination for hall with texture in your house while being a monochrome palette. Grey, being a neutral colour, will give your interiors a relaxing and peaceful vibe. Your interior walls should be painted in hues of grey to give your property a stylish and regal appearance. As a result, grey and white are the finest two colour combinations for bedroom walls.
These are two colour combination for hall walls and help create a light and airy atmosphere in your house. With the aqua reflecting the sea and the dull cream portraying the sand, the combination transports the individuals in the room to the beach. This colour combination on your interior walls will produce a soothing and relaxing atmosphere. As a result, this is a popular interior wall colour combination for beach villas and guesthouses.
When we're sitting in a park, we always feel calm and composed. Our mood is lifted by the trees, which make us feel rejuvenated and at peace. The same may be said for the interior wall colour combination of earthy brown and green. This mixture helps you feel revitalized and gives your house a natural atmosphere. 
The possibilities are unlimited with this colour scheme, which is defined by numerous hues of green. "Who am I?" is a crucial question to answer before learning about one's ancestry and customs. As a result, tones of green, ranging from turquoise to teal, can stimulate while also providing stability.
Colours For Home Walls, Including Paint Types And Finishes
After you've chosen your wall colours, you'll need to pick which paint is ideal for your home. The type of paint you select is just as essential as the colour and may have a significant influence on the final appearance of your space, the quality of the paint job, and the overall mood you desire. It's vital to think about things like the size of the space, where it's located, and what sort of appearance you want to achieve when choosing paint.
How To Paint Your Hall Walls In A Unique Way
If you're tired of plain, blank walls, try using these basic strategies to make them appear more imaginative. Here are a few patterns to add some style to your walls:
Honeycomb
There's no denying that hexagon patterns strewn throughout the area give it a vibrant, edgy air. Use colours that suit the space's interiors, with brighter tones for children's bedrooms and more subdued shades for the living room or dining room.
Gingham 
The room's rustic appeal and bucolic atmosphere are enhanced by the gingham-inspired wall decoration. The secret to a great gingham wall feature is to examine the hues carefully, plan the painting ahead of time, and keep the lines straight.
Orange peel
Aside from orange, you may pick any colour and progressively add white paint to make many shades of it. It's a simple and enjoyable way to bring a splash of colour to a drab area.
By organizing workshops and discussion groups with people from many spheres—from musicians to entrepreneurs—painting professionals have precisely portrayed ordinary life in their thematic colour palettes. This colour outlook will assist you in dominating the design world if you are striving to stay on top of your design game while being loyal to your individuality. 
The perfect hall wall colour combination for a living room wall can radically change how you feel about your house. Furthermore, there is no such thing as "the ideal living room paint colour." How your living space turns out is influenced by your lifestyle, taste, and emotions. We'd love to hear which of the above combinations you'd want to incorporate into your home.
Colour Combinations For Hall Walls FAQs
1. How do you know if paint colors go together?
On the colour wheel, complementary colours are opposite one another. Each colour enhances the other's richness. When utilising complimentary shades, one colour should be subtle while the other should come to the fore. Pair an intense violet bedroom wall with a pale yellow indoor planter, for example.
2. What are some common do's and don'ts to using color combinations?
Make use of complementing shades.
Use non-Christmas colours instead.
The 60-30-10 rule should be followed.
Use no more than three colours in your design.
Make the most out of the sunlight.
When picking colours, don't forget to consider the lighting.
3. What is the best Colour scheme for a living room?
Green is the colour of restoration and peace. It's one of the greatest paint colours for living rooms since it reflects the colours of nature. Green walls will provide a dash of vitality to your living room if you don't have the space (or the energy) for a slew of house plants.
4. How do I choose colors for my hall walls?
Hallways are a vital part of your house since they link all of the other rooms. To connect the spaces together, you might choose to utilise neutral paint colours. There are no windows in the hallways, so they may be darker. So, to keep your hallways brighter, consider using lighter paint colours that reflect light.