About Mantri Manyata Lithos
An imposing yet beautiful vision in stone, this residential milestone is as eccentrically designed as it is rebelliously inspired. Spread over a wholesome 3 acres, the Mantri Manyata Lithos comprises 8 towers in totality, with natural engineered Italian marble flooring for each of its 20 landings. Ideally situated in the IT-friendly Manyata Tech Park, it is a stone's throw away from major MNCs like Cognizant, IBM, Fidelity, and Philips, to name a few. Additionally, you will find hospitals, schools, and entertainment areas close by, which further adds to the appeal of owning a flat inside this splendid gated community.
Each of the towers contains 69 residential apartments, for a total of 552 units and 60% total open space. The standard area of the 2 and 3 BHK residential flats at Lithos are about 1380 sq. ft. and 2970 sq. ft. respectively. All the towers are earthquake proofed, and are within easy range of a spectrum of welcoming amenities.
Aside from being one of the best premier luxury residential apartments in the market, its indoor amenities have made it quite the favourite among residents. These include a: gym, garden, game room, swimming pool, kids play zone, multi-purpose hall, pickup/dropoff point, and walking/jogging trail. You are sure to strike a balance between work, play, and self-care with such accessible amenities.
At 6 km, the Kirloskar Business Park affords you the opportunity to meet like-minded professionals and friends alike. Malls like 'Elements' and 'Esteem' (3 and 6 km respectively) ensure fun hangouts with relatives and old buddies. The Columbia Asia Hospital is also within range, namely 4.2 km.
Mantri Manyata Lithos – Distance from Prominent Places in Bengaluru
The project is located inside the Manyata Tech Park in Bangalore.
| | |
| --- | --- |
| Location | Distance (km) |
| M.G. Road | 8 |
| Nearest hospital | 4.2 |
| Nearest railway station | 14 |
| Nearest fuel station | 2 |
| Distance from airport | 28 |
Here are some of the core advantages of staying in Mantri Manyata Lithos:
1. Spread ideally within the Manyata Tech Park premises, it also has its own private entrance.
2. Well-reviewed restaurants, shopping malls, and hospitals are all within 2kms.
3. MG. Road is about 40 minutes away, and is a major social hub.
4. The Kirloskar Business Park is located within 6 km radius of the property.
5. The Columbia Asia Hospital is nearer, namely 4.2 km away.
Mantri Manyata Lithos – Nearby Schools
The Mantri Manyata Lithos project enjoys an excellent array of schools and colleges set within accessible range of its property. Here is a list of some of the most favored choices located nearby:
1. Blossoms International School
2. James School
3. Kensri School
4. HKBK College of Engineering
5. Ramaiah Engineering College
6. Dhee Global School
7. Trillium Public School
8. Jain Heritage School
9. New Noble English High School
10. Bachpan Play School
Mantri Manyata Lithos – Nearby Hospitals
Mantri Manyata Lithos is surrounded by hospitals to cater to your needs at any given point in time. Some of the hospitals in the immediate vicinity are:
1. Bengaluru Baptist Hospital
2. Columbia Asia Hospital
3. Vasan Eye Care
4. Prolife Hospital
5. Aster CMI Hospital
6. Sri Sai Hospital
7. Sri Vijayalakshmi Hospital
8. Cratis Hospital
9. Regal Hospital
Mantri Manyata Lithos – Unit Type, Size in Sq. Feet and Price
| | | |
| --- | --- | --- |
| Unit Type | Size (square feet) | Price (Lakhs INR) |
| 2 BHK | 1,435 | 91.69 |
| 2 BHK | 1,440 | 92.01 |
| 3 BHK | 1,690 | 107.99 |
| 3 BHK | 1,760 | 112.46 |
| 3 BHK | 1,875 | 119.81 |
| 3 BHK | 1,920 | 112.68 |
| Penthouse | 3,050 | 243.54 |
| Penthouse | 3,220 | 247.61 |
Mantri Manyata Lithos External Amenities
1. Kids' play area
2. Swimming pool with exclusive toddler section
3. Jacuzzi pool
4. Basketball court
5. Pickup and drop-off points
6. Club house
7. Jogging and walking trail
8. Gym
9. Multipurpose court
10. Garden
11. Game room; carom, chess, pool table, table tennis, etc.
12. Health club
13. Massage room (separate for gents/ladies)
14. Sauna (separate for gents/ladies)
15. Telemedicine centre
16. Concierge
17. Laundromat
18. Aerobics/dance floor with music system plug-in
19. Library/reading room
20. Karaoke room
21. Landscape terrace; penthouse exclusive
22. Private swimming pool; penthouse/terrace exclusive
23. Helipad (x2) on Towers:A&B and C&D
24. Service and automatic lifts
25. Biometric security system
Mantri Manyata Lithos Internal Amenities
| | |
| --- | --- |
| GF Lift lobby | Italian marble with cladding |
| Other floor lift lobbies | Italian marble with cladding |
| Reception | Italian marble with cladding |
| Terrace | Anti-skid Ceramic Tile Flooring |
| | |
| --- | --- |
| Utility & Balconies | Anti-skid Vitrified tile; matches the same in apartment interiors |
| Kitchen | Natural Engineered Italian marble |
| Master & other Bedrooms | Natural Engineered Italian marble |
| Living room, Dining and Family rooms | Natural Engineered Italian marble |
| Private terrace | Anti-skid vitrified tiles; combination |
| | |
| --- | --- |
| Main entrance | Lacquer finish on both sides |
| Bedroom & Living room | Commercial Flush/Skin Shutter with Enamel Paint |
| Balcony | UPVC Sliding Doors |
| Windows | UPVC / Powder coated aluminium sliding, tinted glass and mosquito mesh provision |
| Toilet | Designer engineered wood door |
| Shutter | Designer engineered wood door |
| Railings | Glass with SS Handrail |
| | |
| --- | --- |
| 2 BHK | 5 KW (3 Phase) |
| 3 BHK | 5 kW (3 Phase) |
| Power | LT |
| ELCB | 1 Earth Leakage circuit Breaker for each flat |
| Switches | Designer modular electric |
| Wiring | Fire resistant electrical; R RKabel make or equivalent |
| MCB | 1 miniature circuit Breaker for each flat; found in main circuit box |
| Points | TV (bedroom, living room); Telephone (bedrooms, living room, family room, kitchen), with mini EPABX provision; AC (all rooms, ground-level entrance lobby, club house) |
| | |
| --- | --- |
| Borewell | Yes |
| Rainwater harvesting | Yes |
| Sewage treatment plant | Yes |
| Organic waste treatment | Yes |
Common areas and primary utilities will be provided complete backup.
| | |
| --- | --- |
| 2.5 BHK | Based on metered consumption |
| 3 BHK | Based on metered consumption |
Mantri Manyata Lithos Master Plan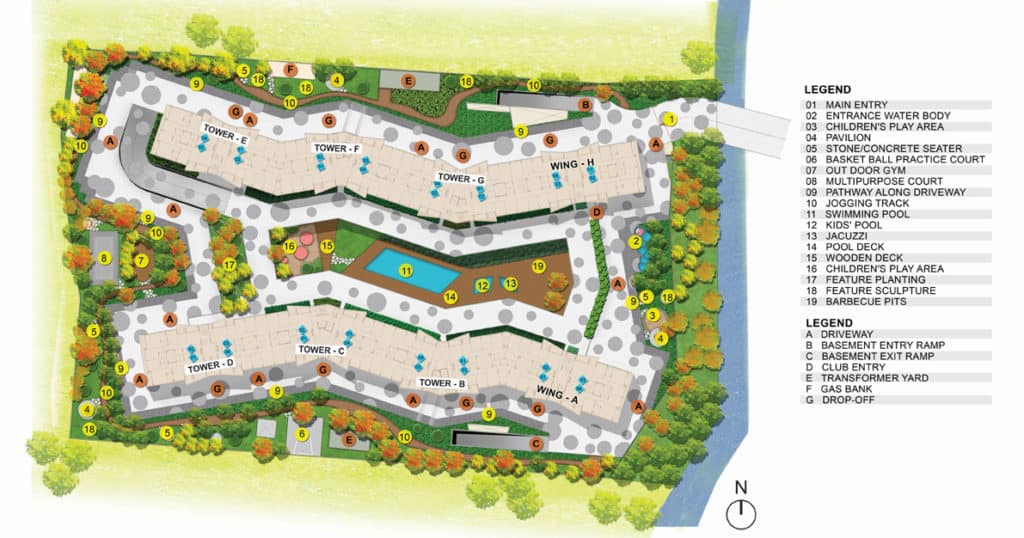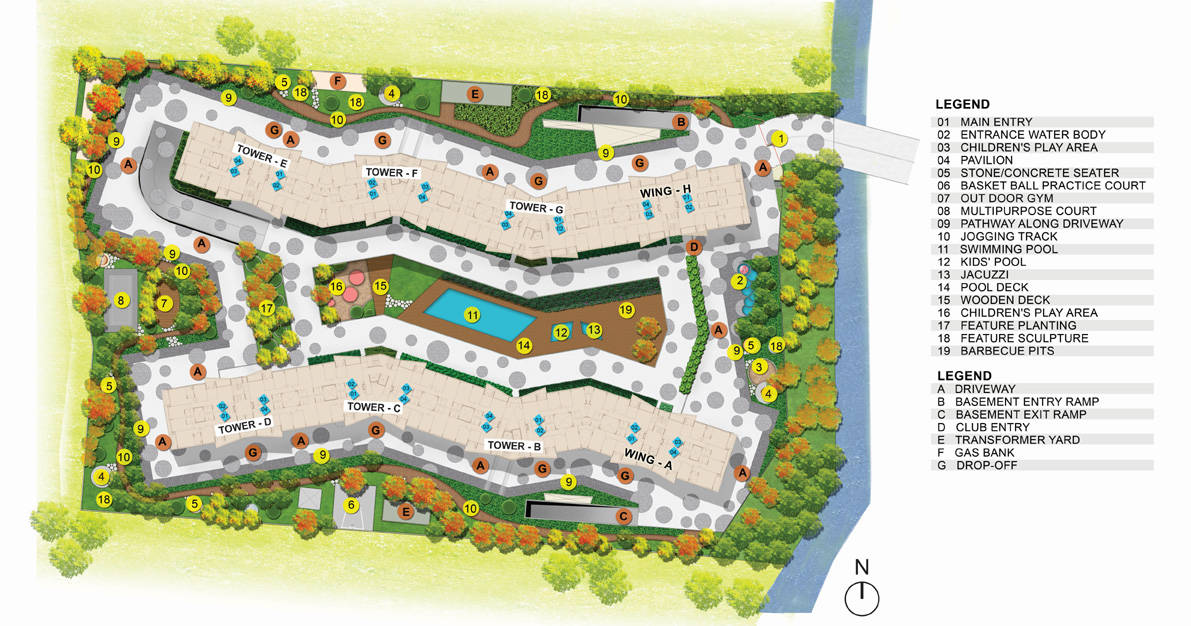 Mantri Manyata Lithos Location Map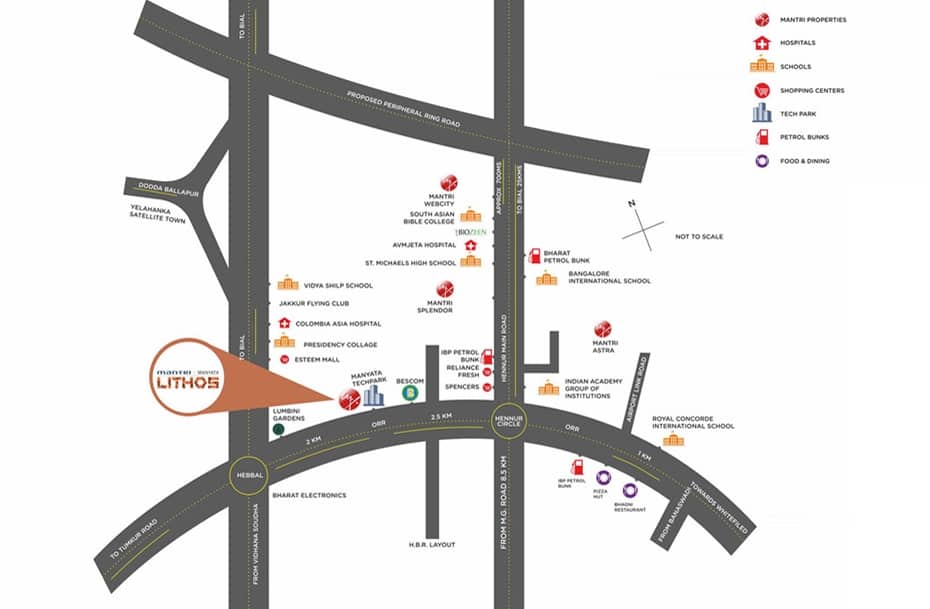 Mantri Manyata Lithos - Address and Google Map
Address: Mantri Manyata Lithos,Thanisandra, Inside Manyata Tech Park,Bengaluru
Pincode: 560045
Email : [email protected]
Mantri Manyata Lithos Image Gallery
Mantri Manyata Lithos Apartments Video
Mantri Manyata Lithos FAQs:
1.What is the size range of apartments/flats in Mantri Manyata Lithos?
The apartment sizes in Mantri Manyata Lithos range from anywhere between 1420 to 3220 square feet.
2.What are all the property types in Mantri Manyata Lithos?
You will find 2 and 3 BHK apartments and penthouses available at the property.
3.Can I decorate the apartment as I see fit?
The design is top-notch, making all your décor dreams come to life in outstanding ways. Once you have bought the flat, you can certainly decorate to your heart's content.
4.Are hospitals too far from this location?
You can reach and be back from a hospital in good time, emergencies included. There are, in fact, several reputed hospitals in the area surrounding Lithos. From eye to child-care, and more besides, they are all a drive away.
5.Is Lithos over-crowded?
Despite boasting more than 500 flat units, and families aplenty, you will not feel overcrowded or 'squeezed in'. The entire gated community is architecturally structured to offer you privacy and a sense of open spaces. Lithos design has rightfully earned nods of approval, even internationally.
6.What is the price range of apartments at Lithos?
The price differs based on the type of apartment you choose. In terms of a price range it can be anywhere between 87.0 lakhs and 2.2 Crores.
7. If registered, what is the RERA number of Mantri Manyata Lithos?
The gated community is registered under KNRERA. Its RERA Registration Number is PR/KN/170731/000444.
8.How is the security at Lithos? Is it 24*7?
The biometric security system in place throughout the community leads back to a central hub for monitoring and data storage. In other words, there is state of the art 24*7 security at Lithos.
9.Are there any cinema theatres nearby?
There are some superb malls, especially 'Esteem' and 'Elements' nearby, both of which contain some of the best cinema screens around. The former boasts a 7-screen PVR multiplex.
10.I seem to be seeing some bad reviews for Mantri Manyata Lithos online. Can those be believed?
Everyone has their own experience at Lithos. A gated community with the latest technology and societal standards might not have sat well with some buyers for a plethora of reasons not worth getting into for privacy concerns. Lithos is a safe place with high standards, and is designed to provide a world-class residential experience.
About the builder - Mantri Group
Tracing its founding back to 1999, Mantri Developers is the brainchild of Mr. Sushil Mantri who harboured visions and dreams of creating a lasting real estate brand. While incorporating the principles of quality, transparency, punctuality, efficiency, and forward thinking, Mr. Mantri has not ignored the crucial architectural demand for sustainable living.
With a good collection of reputable residential and commercial properties under their banner, the Mantri Group proved capable of delivering 1.4 homes every day. In fact, the past 13 years has seen the Mantri Group winning the respect of over 30,000 residents. The Group has built 20 projects to date, using in excess of 10 million square feet of constructed area. They have delivered over 6,000 homes, and currently have a claim to more than one crore square feet area, which are under different stages of construction.
Their aims include leaving an indelible mark in the hospitality, education, IT, retail, and residential sectors in cities like Pune, Hyderabad, Chennai, and Bangalore. The Mantri Group enjoys international standing, with bases in Dubai and California.
The sheer convenience of having all the latest amenities nearby and accessible is a grand enough reason to choose Mantri Manyata Lithos. The gym is state of the art, and the jogging trial is inspired. The tiling is as beautiful as it is easy to clean. The views are excellent, and the flora (trees and gardens) is ideal enough to generate cool fresh air. There are no issues concerning water quality. The entire location, despite its size and housing capacity, is reasonably quiet. The pool and club house are great places to de-stress. Hospitals and school are not that far. The laundromat helps save a ton of time. In addition to a well-stocked library and a reliable security system, you will certainly plenty of peace of mind here.

Here's more to look into!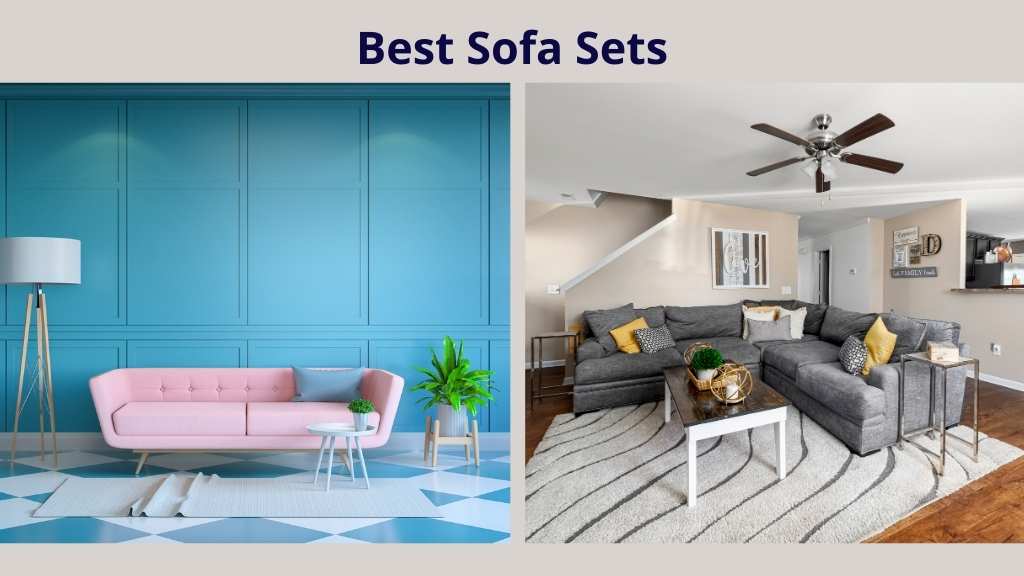 Sink into Luxury With The Best Sofa Sets of 2023 Your best sofa...