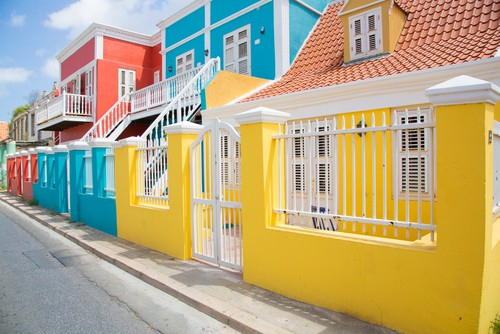 Everyone desires to live in a beautiful and comfortable home. An open, roomy home where you may relax and forget about the outside world. This is where everyone wants to return after a long day at the office. White ceilings, glass walls, and wooden flooring add to a space's simplicity and make it more inviting, but exploring a few more from the best colour combinations for house exterior is always a choice to make.
Any lovely home, however, may quickly become a nightmare if it has a dreary façade and improperly painted walls. Climate change, green fungus, and molds that can grow on any improperly maintained wall can all affect the overall appearance of the home.
This is why, shortly before selling a home, the whole inside and exterior will either be painted or refurbished. This is the first thing you should do before receiving a cost estimate for your property if you're attempting to sell it and can't seem to locate a decent buyer.
You may add a fresh color to the outside that is substantial but does not absorb the effects of the weather so quickly. An exterior paint job isn't only for fun; it's also a wise investment because it completely transforms the look and feels of your house. Your home will be given new life with the proper color, foundation, and texture. If you're searching for something new, here are a few ideas to consider for the best colour combinations for house exterior in India
16 Best Colour Combination For House Exterior In India
Gray is a vintage colour that doesn't absorb the effects of the elements and offers a superb accent to walls. It stands out with light grey walls and black or white accents to emphasize the overall style while being neat and tidy. If you wish to use dark grey, a little deeper tone on the sides might make the walls pop. It will stand out even more if you use a bold colour for the door.
Beige is undoubtedly the colour that never goes out of style. It gives the lace a light, expansive appearance while remaining neutral. It's wonderfully clean with white, a bit darker outlines, white shutters, and a spotless front door. Even if we are watching a movie or a play, we can observe that practically every house is painted beige. A colourful front door, fence, and window panes might be used as an accent to draw attention to the features.
If there is one colour that can bring a picture or even a place to live, it is green. Adding green to the home helps it look natural and fresh without becoming dull. This is a non-neutral colour that is strong enough to stand out without being overpowering. This colour palette, when matched with a contrasting grey or white, can transform any home into a garden.
Blue is another non-neutral yet vibrant colour that draws attention to the house while not overdoing it. If you have a red front door, the navy blue exterior will bring it to life, creating a stunning entry sight. Your home will look like something out of a movie with exquisite light blue and white strokes.
Houses in India are one-of-a-kind. Each adjoining house has a different exterior colour scheme. The dominating hue in the top photograph is white, with indigo accents boosting the house's beauty. The brown elements on the house's exteriors give it more depth.
Although white is employed frequently in the hues, the appropriate usage of indigo prevents our eyes from focusing on it. The house's exterior paintings are as per Indians' current tastes.
Red-tile roofs may be seen on some Indian homes. Tradition, friendliness, and desi feelings are all present. The home depicted above combines classic and contemporary elements. Traditional red tiles are paired with classic cream paintwork and coloured wooden windows and pillars.
This classic and modern colour combination on the house's façade will appeal to both the young and the senior members of the family. If you want to paint your house in monotone colours but don't want it to seem dull, use the colours listed above.
Orange is a colour that isn't generally utilised on the outside of houses. When used often, the outcomes might be devastating.   Despite being drenched in orange, the house can look light and airy thanks to the steel grey accents.
You can use a bright colour on the exterior of your home, but be sure to balance it out with natural colour.
The exterior of many Indian houses are painted white or yellow. White windows and red-shingled roofs break up the constant mustard yellow colour to produce an eye-catching appearance.
The home is given a respectable finish by the deft use of white-trimmed windows bordered by grown paint. Moreover, the red roof is a decorative feature of the house's exteriors.
The majority of Indian house exteriors are painted in various shades of white. colours are chosen to protect from the heat of subtropical summers. Silent white and grey are used to paint the model duplex house seen above. The use of mustard yellow in little doses around the house offers a splash of colour.
To add brightness, the windows and doors are painted in rosewood. White and grey make an excellent Indian best colour combination for the house exterior.
10. Brown, White, and Red
The light-brown color produces a good impression. The use of white on the house's borders and pillars is lovely. The use of red on the roof and the floor give the house a lively and vivid appearance.
The crimson ceiling and floor counterbalance the gray's pallor. White is strategically painted to improve the appearance of the home. The use of color and proportions on the exteriors of this house is a joy to see. The garden that surrounds the house is the icing on the cake, and it completes the overall aspect of the property.
11. Bricks in a reddish-orange color and a grey wall
The bricks' reddish-orange color speaks for itself. Gray is employed as an accent color on the house's exterior paintwork. Brick colors may also be used with other nude colors, and this color combination is always a winner.
The brick wall on the outside is stunning. The grills and glass windows only add to the overall appearance of the house. If you've ever visited a wealthy Indian neighborhood, you've probably seen at least one house with this style.
12. Gray, White, and Orange
The exterior of an Indian home can be painted in the neutral colors grey and white with a splash of orange. Gray and white help to keep the space feeling light and airy. The emphasis is on the color orange, which is used sparsely on the exteriors.
All of the colors are equally magnificent. The house will have a modest, beautiful, and respectable appearance.
13. Golden Brown, White, and Gray
For the exteriors of their homes, many Indians favor one-tone painting. As a prominent color, white paint is employed. Golden brown is molded to the house's architectural contours.
The three colors—white, golden brown, and gray—easily complement the house's structure and architecture. Green plants and a garden near the home lend a natural aspect to the property.
14. Light Terracotta + White
This desert-like color combination of a light terracotta with white is appropriate for Indian households that are used to extremely hot summers. And if your property is surrounded by a lot of trees, plants, and wood, the earthiness blends in well. This is a neutral color scheme for individuals who want their home's exteriors to seem elegantly quiet.
15. Golden Brown, White, and Gray
For the exteriors of their homes, many Indians favour one-tone painting. As a prominent colour, white paint is employed. Golden brown is moulded to the house's architectural contours.
The three colours—white, golden brown, and grey—easily complement the house's structure and architecture. Green plants and a garden near the home lend a natural aspect to the property.
16. Light Terracotta + White
This desert-like colour combination of a light terracotta with white is appropriate for Indian households that are used to extremely hot summers. And if your property is surrounded by a lot of trees, plants, and wood, the earthiness blends in well. This is a neutral colour scheme for individuals who want their home's exteriors to seem elegantly quiet.
Why Should We Choose Exterior Paint Colors?
It is common for us to place a greater emphasis on our interior design. We want it to represent our uniqueness, but we often overlook the fact that the first impression of your house and personality is formed by the outside. However, selecting an external wall paint colour for the Indian climate is a difficult task, since there are several aspects to consider. So, here are some suggestions for selecting the best exterior painting ideas for Indian homes.
Stick to one or two external home painting colors when it comes to outside wall paint colors since additional colors on the exterior seem cluttered. If you believe that utilizing a single color would make your home appear boring, the ideal method is to utilize several shades of the same color. These combinations will also enhance the appearance of your home.
Regardless of the color, the type of exterior home painting color utilized will determine the paint color's endurance. Even though they have maximum durability, high gloss paints are not suitable for outdoor wall painting.
 Satin and eggshell are the greatest alternatives for a flawless external wall paint finish since they are more durable and simpler to maintain. These finishes can also help you come up with new exterior paint color schemes.
Whatever color and finish you choose for your external walls, they will only look excellent if they mix in with the rest of your home. People who live in mountainous areas or near the sea should take extra care when selecting an outdoor wall paint color.
 The atmosphere and environment of their surroundings and backdrop should be reflected in their outside wall paint. Cool colors are the greatest home painting ideas for houses in mountainous areas since they complement the environment and the surrounding greenery.
Since the exterior is the first thing visitors notice, it's critical that your exterior paint colors catch their attention right away. In the blink of an eye, bright colors provide instant attractiveness to your home. Exterior paint color options that are brighter are popular since they can attract our attention from a distance.
It's usually beneficial to have a clear notion of what you want on your external wall. Working on your outside with a certain theme in mind will result in some unique exterior paint color ideas, as well as making your complete house appear like one, rather than an exterior or one-room marvel.
Exterior paint colors, like interior paint colors, need to be accentuated with appropriate furniture. When the external wall paintings are adorned with items other than the entrance, they become much more interesting. The furnishings chosen should ideally complement the color scheme of the outside wall paint.
If you need assistance picking the correct exterior paint colour choices, just refer to this article.
In contrast to other nations, where houses are mass-produced and so have some regularity, India's dwellings are varied. In Indian homes, white, brown, and yellow bricks are popular. The mix of external colours, on the other hand, defines each house and sets it out from the others. To get the appropriate shade of colour for your home, look at the bedroom wall combo colour.
Above is a list of the best colour combinations for house exteriors in India, and we hope you discovered one that suits your preferences.
Best color Combinations For House Exterior FAQs:
1. What are the most popular exterior house colors for 2022?
This year's color is a mix of yellow and grey, and it's a terrific choice for both exteriors and interiors. We can see that grey is quickly becoming a popular choice for homes with contemporary exteriors.
2. How do I choose the best color combination for a house exterior?
If you want to utilize more than one color for your exteriors, consider colors that contrast and complement each other. You can use any of the exterior color combinations described in this article, or you can talk with a painting professional who will advise you on the ideal colors for your property.
3. Which paint colors are not recommended for the exterior?
Black and other dark colors should be avoided, according to all painting and design professionals. These colors are prone to absorb more dust, necessitating more regular repainting. You can blend a light color with a delicate shade of a dark color.
4. How do I choose a color scheme for the exterior of my house?
When choosing an external color scheme, a basic rule of thumb is to use three colors. Most homeowners believe that those colors must be distinct.