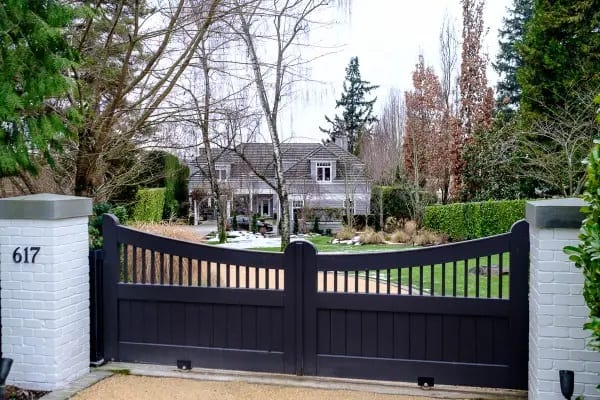 23 Different Types of Main Gate Designs For Your House
Your home needs to be safe and secure which is why you need a sturdy gate to protect it. A gate is an entry to your beautiful home and it must be eye-catchy. Choose your favorite gate by keeping in mind what impression you want to give the onlookers. Is it the vibe of royalty with majestic designs? Or the vibe of a simple country house? Choose your options from the 23 different types of gates mentioned here. Remember, the first impression is the best impression. Here are the different types of gates at a glance.
Sliding gate
Turnstile gate
Vertical pivot gate
Swing gate
Retractable gate
Automatic gate
Double gate
Decorative gate
Entrance gate
Farmgate
Garden gate
School gate
Driveway gate
Side gate
Yard gate
Industrial gate
Steel gate
Wooden gate
Aluminum gate
Iron gate
Wrought iron gate
Timber gate
Custom gate
6 Types of House Main Gate Designs Depending on Its Function
Sliding gates may be a cliche option but it is the design that is trending globally. Just as the name suggests, you have to slide the gate to open it. New age sliding gates have come with a delicate design and are light in weight. One of the most crucial aspects of this design is that it opens sideways which means saving a lot of space. Automatic sliding gates are another variant of this design.
Turnstile gates are those tiny gates found in subways or in a discreet public place that allows only one person to go through at a time. Initially, these types of gates were found only in railway and metro stations but their benefits surpassed its limited use and these gates made their way into larger areas and workspaces.
Vertical pivot gates are the types of gates that open up in the air for vehicles to pass through. You do not need extra space to open them which makes it a major floor space saver. They incorporate very easily and automatically open once the sensors detect a vehicle near them. However, on the downside, these gates are very expensive but are perfect for properties with vehicle traffic.
Swing gates add an aesthetic appeal to your property. Initially, these types of gates used to come in similar designs but now the variety is massive. You get all kinds of tailor-made solutions, nowadays. For offices or homes inside a factory, swing gates are ideal. These gates need enough floor space to open so if your property is beside a pavement then it could be a problem.
Retractable gates are perfect for spaces with less floor space as you can fold the security gate and even store them. These gates are less expensive and also provide better security as well as make a good fashion statement.
Automatic gates cut down the costs of employing people to operate the gates. These types of gates function by issuing a gate pass to a person who is entering the property for the first time. Such gates are extremely costly but once installed, you will save the costs of additional employees. These gates are typically attached to the main power line but their battery makes them work 24/7 with no electricity issue.
3 Types of House Main Gate Designs Depending on Design
Double gates have a minimalist design that works perfectly for all kinds of homes. These types of gates have two doors that can be operated both individually and together. There is a latch towards the ground to attach one door to the ground while the other door can be opened or closed. It is suitable for both large vehicles and pedestrians.
You can install decorative gates in your compound that will add a fancy look. These gates have highly ornate designs that are available to suit your personal choices. It will also add an expensive look to your home.
Custom-made gates are usually found in institutional buildings. You can add symbolistic features to your gate and get it custom-made. From minute detailing to basic patterns, you can transform your ideas into reality. These are swing gates made of cast iron providing you robust security to your home.
8 Types of House Main Gate Designs Depending on Location
Entrance gates typically are majestic in size and give your entrance a royal look. These gates are made of wrought iron along with a hint of gold to give it grandness. Entrance gates could also be made of iron with a simple yet aesthetically pleasing design. With metal slats, there is an airy feel to this outdoor gate.
A farm is an unmonitored open space that needs a proper gate to keep unsolicited visitors. You need a fence that runs along its entire perimeter and can act as a barrier. Farm gates can be typically made of aluminium and will be silver in colour.
Gardens need a beautiful entrance as it is your special place in your home. A picket gate will create a fairy tail entrance to your garden. A pure white colour will blend in well with greenery and colourful flowers in the background. With an uncompromising view of the shrubs, these picket gates will ward off any stray animals like dogs or cows.
School gates are typically double-door swing gates that have a tall height. The height is important for security purposes for an educational building. These iron gates are practical as well as versatile and their heavy design can withstand all internal and external trauma.
A driveway gate is installed on the outermost area of your property and is made of heavy material like iron. Thus, it lasts long and has spikes on the top to prevent intruders from climbing over it.
With a sideways or a rear entrance to your house, you will need extra gates to protect that area. Side gates do this job with their compact size and functions as that of main gates. You can always keep it locked to prevent unauthorized people or animals or you could use it as a way to control crowds entering your house.
Yard gates are for side yards that close all entry points but are not as heavy as entrance doors and are usually smaller in size. You also get these gates designed with panels and for additional support as well as strength with iron rods soldered at the back. This also prevents it from all damages.
Industrial gates are made of metal and are found in offices, hospitals, shopping malls, and other public houses. To avoid all kinds of unwanted external threats, this cantilever-style gate is the best. It gives an authoritative look to your building.
6 Types of House Main Gate Designs Depending on Material
Steel gates give a mirror-like shine to a house that will instantly draw attention to itself. However, it doesn't mean it will make your home vulnerable. The louvers will keep all curious lookers by blocking their views. These gates are made of stainless steel with a silver colour. It functions as a double swing gate.
Wooden gates give your home a classy makeover with shaded wood panels. The design is pretty ordinary but is inspired by the vintage era. It can function as an accessory as well as a barricade. Plus, wooden gates can be of sliding nature.
Aluminium can be easily molded into a creative design as it is a lightweight material. Even though it has a delicate look, it is strong enough to withstand any hindrance. And a silvery gate with bright white background in the building would look amazing on any house.
Iron is the strongest metal known to man and is indestructible with supreme strength. So, you will be feeling safe and sound in your home as it will be difficult to break in or damage. It is a double-door swing that will give your home an elegant look.
Wrought iron is a heavy metal that will last you at least a few decades. This type of gate will add an old-world charm to your home with its conventional design and operating style. The double gate swing is black and this is what adds to the old charm.
Now, what's better a better main gate colour than black, right?
Timber is the most commonly used wood for gates. Due to the lightweight and affordability, timber gates will give moisture-proof and anti-termite properties to the gate. It also means no maintenance for the coming years.
A Final Word On The Best House Main Gate Designs
With these top 23 latest designs of gates for your home, we hope you found your own choice for your home. Give your artistic idea a touch of reality with custom-made gates and yet conform to all the regular security standards. You must consider the climatic conditions, terrain, place, and other aspects before committing to one.
Here's the takeaway: 3 artistic main gate designs hour your house:
Spanish-inspired entrance gates offer a blend of elegance and protection. These gates are crafted with coal-fired wrought iron, showcasing a Spanish architectural influence that brings a nostalgic charm. They come in various designs, as depicted in the accompanying photo, featuring intricate details such as ball castings, scrolls, and spear toppers, or a more minimalist style with squared or crossbar patterns. The common colour combinations for these gates are black and golden, further enhancing their appeal.
The design of the main gate grill can be enhanced with personalized castings and elaborate patterns, incorporating motifs like Ganesha, sun, lotus, Warli designs, ornamental, geometric patterns, and laser cut designs. Individuals have the freedom to select a main gate grill design that aligns with the theme of their home, allowing them to make an artistic statement. An example of such a design is depicted in the accompanying photo of a grill gate.
Since the Victorian era, brass doors and grill gates have remained favoured choices for front gate designs, thanks to their graceful attributes. If your home carries a vintage theme, it is advisable to have the security gate's design harmonize with it. Brass offers a variety of finishes such as gunmetal brass, polished brass, anodized brass, and standard brass, which can be chosen based on the theme of the house's main gate design to introduce a hint of luxury.
Types of Gates FAQs:
1. Which is better: stainless steel or iron gate?
The strength of steel gates slightly depends on the craftsmanship of the metal fabricator or the welder you choose. However, it is stronger than iron and cheap too as some manufacturers fabricate steel gates out of stamped steel all the while using inexpensive hardware.
2. What is the best material for gates?
The best material for gates that would require the least effort would be wrought iron/metal gates. You can simply touch them up with paint and wash them down.
3. What are the 3 types of security gates?
The 3 types of security gates are:
Bi-folding gates
Swing gate
Sliding gates
4. What are the different types of gates in commercial buildings?
Different properties like homes, businesses, and factories need different types of gates for security. There are five main gate types: sliding, swinging, bi-folding, vertical, and pedestrian gates. You can pick between electric or manual gates.
5. What are the 3 types of security entrances?
Here are five gate styles you might consider:
Slide Gates: These gates move horizontally.
Swing Gates: They open like a door.
Bi-folding Gates: These gates fold in the middle.
Vertical Pivot Gates: They pivot open vertically.
Vertical Lift Gates: These gates lift upward.
6. Which type of gate is best for the home?
Residential gates can be built from various materials like steel, aluminium, wrought iron, glass, or wood. Metal gates are usually the strongest, but as long as they're well-made, all types provide good security.
7. Which colour is best for the gate?
According to Vastu Shastra, the lucky colours for the main gates are white, silver, and yellow. Light colours are recommended for front doors.
8. What should be the size of the main gate?
Entrance gates typically come in widths of 10, 12, 14, or 16 feet. A gate smaller than 10 feet may not be practical since most SUVs are 7 to 8 feet wide.
9. What is the lucky colour of the gate?
If you favour metal gates, lucky gate colours include white, silver, gold, green, yellow, cyan, and brown. For those leaning towards wood, suitable gate colours are green, yellow, cyan, coffee, grey, brown, or blue.
10. Which gate is better aluminium or iron?
Steel and iron gates are heavy, while aluminium gates are strong yet lighter. They're easier to operate, require less motor power, and experience less wear and tear.