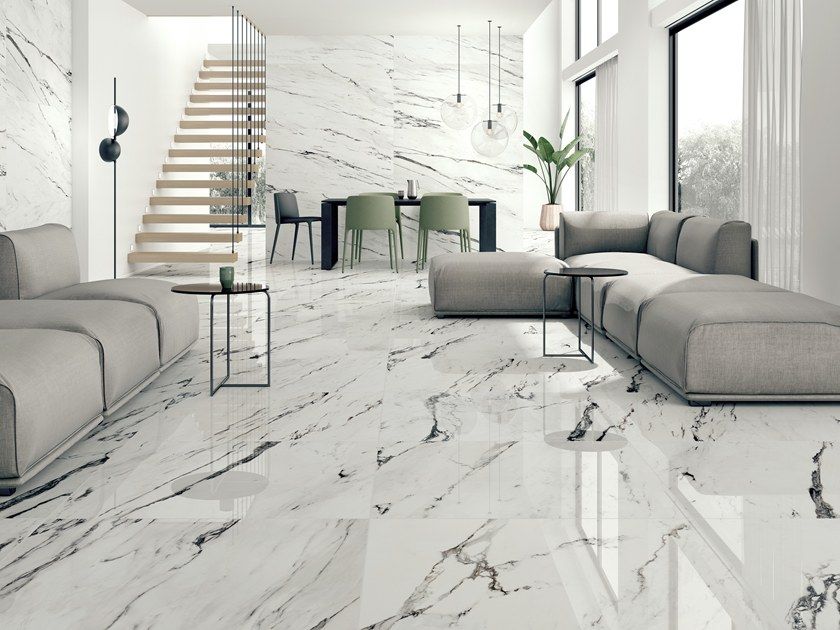 There are various types of marble flooring you can use for your house, though marble looks beautiful not everyone is fond of them. On the other hand, there are some people who love stone, they like it as it is not as busy as granite but it has some colors infused in it. But, before you go for marble flooring you must know that there are various types of marble.
In this article we have discussed a wide range of marble flooring, you can have a look and decide which one you like and will go with your home decor.
Marble is known to be a rock that is very expensive, which is available only to the wealthy and rich. Historically, it was a rock that was desired and highly preferred by Romans and Greeks especially for creating architectural monuments and sculpting. Gradually it started becoming a symbol representing royalty, tradition, and culture.
However, marble has a lot of types and it is very difficult to differentiate between them. Marbles are found in a wide range, and the difference may depend on their location, pattern, impurities, veining intensity, and color. The price of marble can be and is generally based on these factors.
If you are facing a problem with choosing the type of marble you want on your floor, here is a comprehensive guide that will help you to decide the perfect one that will be suitable for your floor. So, here are the different types of marble.
Let us start with one of the most popular types of marble flooring, Calcutta marble which is known to be quite luxurious as it is a rare marble and is highly preferred by homeowners. People often mistake this marble for Carrara marble because both of them have a lot of similarities, such as the veining type as well as the color.
Both the Calcutta marble and the Carrara marble are from Italy which is the reason they are so similar. However, you can differentiate between the two on the basis of a few characteristics that set them apart. For instance, Calcutta marble is a marble that has a thick and dark veining pattern and is white in color. The color of the Carrara marble is white too but it consists of some grey intricate veining pattern. This is why Calcutta marble is one of the rarest of its kind and lies at the top of our list. 
Calcutta Gold Marble
There are different types of marble flooring that lie in the subcategory of Calcutta marble and Calcutta Gold is one of them. The marble is said to be the epitome of splendor and grandiose. This type of marble looks visually stunning, it is a perfect choice for aristocrats. The marble has gold veining, which is why it is called Calcutta Gold and can be an elegant choice for your home.
Calcutta Michelangelo Marble
Calcutta Michelangelo is another subcategory of Calcutta marble, there are delicate grey veining in the marble which looks beautiful against the white background. If you want minimalistic marble flooring you can go for the Calcutta Michelangelo Marble
Calcutta Borghini Marble
This marble can give a unique look to your home, that is because of the grey and thick veining pattern. Calcutta Borghini also has golden sporadic undertones against a white background, and this unique quality makes this marble different from the others.
 Calcutta Crestola Tedeschi 1
This subcategory of marble comes in a neutral tone, and hence can be used as marble flooring if you love neutrals. The color of the Crestola Tedeschi one is off-white and the veining is usually dark brown or even black, and the veins run throughout the marble.
 Calcutta Crestola Tedeschi 2
The Crestola Tedeschi two is very similar to the Tedeschi 1, however, there are some differences like the veins and markings in the marble that are dark.
2. Silver-Beige Or Talathello Marble
The silver-beige or talathello marble type of marble comes in a wide range of shades, with special beige and silver veins in the structure that lies against the background that is light grey.
This marble flooring has a dark or light brown color, it is a type of Spanish marble. The Emperador marble has shades of brown that are complimented with stark grey and white asymmetrical patterned veins. The speciality of the marble flooring is the irregular veins and the fine grains.
This is one of the most popular types of marble, which is found quite commonly in the marble kind, hence this marble is pretty inexpensive and easily available in the market. The Carrara Marble has a grey-white background with intricate grey veining, almost feather-like. The veins are light-colored and have a linear pattern.
The two common subcategories of black marble are the Nero Marquina Marble and the Levadia Black Marble. This can also be a good choice for your home, as the black color looks subtle yet elegant.
 Levadia Black Marble
This marble is a kind of Greek marble, which comes in a pitch-black color along with gray and white veins that are intricately designed. The veining pattern of the Levadia Black marble looks almost like a smoke spot. It is because of the pitch-black color that it is also known as the Titanium Black Marble.
When it comes to the most preferred marble tile for your flooring, homeowners generally go for White Marble. White is often liked by people especially when it comes to marble flooring, and white marble is a very popular one as it looks grand and simple. White marble comes in different types:
Blanco Macael
One of the subcategories of White marble is Blanco Macael, the color of the marble is white and it has defined features like the grey-blue streaks which are uniform. This white marble has intricate designs and veining patterns that perfectly blend with the background that is pristine white.
Blanco Ibiza
This marble is known for its plain tones and strength and is a perfect marble tile as it is long-lasting. The Blanco Ibiza is another subcategory of White Marble which has beautiful gray streaks all over it, hence it can be a good purchase for your front room. The best part of this marble is that it blends with every other color quite easily.
In the marble kind, it is the cream marble that has a wide range of varieties and you can find different types of marble in this single category. It is also one of the most preferred and used marble tiles. 
Crema Marfil Marble
Crema Marfil Marble is very popular, it is a kind of Spanish marble that is famous for the variety of tones like beige and off-white with veining patterns that are irregular. This is a marble type that typically has a uniform background and light color. The marble has a distinct tone to the shade which is natural-looking, and the uniformity and consistency accompany the tone. 
Crema Cenia
One of the subcategories of Crema marble is Crema Cenia, it is widely known for its fine grains which makes it quite popular in the marble kind. Homeowners also prefer the marble tile because of the shade, it has a contrasting tone between rose colors and cream tones against the consistent background. The Crema Cenia marble originates from the Tarragona. 
Crema Valencia
It is a marble that has cream-colored tones with delicate red and white-colored veining patterns that run all over the surface of the marble. Because of the intricate details, the marble tile can be used indoors and also outdoors.
Red marble is very expensive and that is why it is not that common and is not as used as the other types of marble kinds. However, it looks beautiful and has some subcategories that you may use for your flooring:
Rojo Alicante
It is a marble that is famous for its uniqueness and rich colors, that is why when it is used in homes it gives a different look. The background is red and it has irregular veining in white, which makes it super attractive and unique. These are some of the features that make the marble different from others of its kind.
Rojo Coralito
Rojo Coralito is a marble type that has lighter shades, and the tones are not intense, unlike the red marble, the highlight of the marble is its white streaks that are in large numbers. If you want to give a subtle and simple feel to the living room you may use this one.
 Rojo Levante
You can differentiate this marble from other ones because of the distinct red tones, the Roja Levante also has white streaks occasionally all over the surface. The marble basically originates from Spain, in the city Murcia.
If you are looking for a marble tile that is easily available in the market and has a variety of colors you must go for the Brown marble, the color of the marble is also versatile and can be used wherever you want. It is compatible with different colors too and has a decorative feel to it, homeowners who want to give their homes a rustic interior generally prefer this marble.
 Dark Emperador
The marble is also known as the Marron Emperador, it has a dark tone and is popular because of the beauty that is eye-catching and can add elegance to a room easily. El Dark Emperador has a darker shade of brown with white crystal streaks, it also features veins that contrast well with the white and clear calcite. The color of the marble makes it a good choice for indoors, and the metamorphic rocks that are non-foliated add to its beauty. 
Light Emperador
This subcategory of marble is quite popular as it has light brown shades contrasted with light veins.
People generally believe that if you decorate an area with yellow color it represents optimism and joy. But still, marble in yellow color or specifically yellow marble is used the least in homes. However, here is a list of the different types of yellow marble that you can consider for your home; 
Spanish Gold
This is a subcategory of the yellow marble type, Spanish Gold features red streaks that run throughout the surface of the marble and is generally used for decorating the indoors.
Amarillo Triana
If you are looking for a marble that will give a pleasant appearance to your room you can try the Amarillo Triana, which is a subtype of yellow marble. The marble has fine grains with irregular streaks that run occasionally throughout the surface.
You may think that green is not a great choice for marble tiles but maybe you need to rethink that, as Green marble has a lot of shades and tones that make it look elegant. Here are some of the types of Green marble;
Verde Oasis Marble
This is a green marble that has a dark serpentinite color making it look different from the other marble kinds, Verde Oasis originates from Greece. The beauty of the marble lies in the background that is dark green in color, featuring light grey irregular streaks with a tinge of white. 
Verde Indio
Another subtype of Green marble is Verde Indio Marble, and the basic source of this marble is the mines of India. Th Verdo Indio can be also called by various other names that are also commercially used like, Oasis Green or Verde Guatemala.
This marble is available in the market quite easily and is a good purchase if you are looking for simple marble tiles. It is popular for the uniform background, but the uniqueness of the marble lies in the dramatic and irregular veins that sets it apart from the marble of other kinds. Statuary marble is also used usually for both indoors and outdoors, it has light grey tones, with dark veining patterns. Though it has a lot of intricate detailing all over the surface it has a glossy and polished surface. You can mistake the marble with Carrara or Calcutta marble as they are similar.
Different Types Of Marble Tile
You can find various types of marble tiles and all of them are equally beautiful;
It is a rare marble tile and that is why it is said to be one of the luxury stones. It is likely for you to mistake the spelling, like Calcutta, Calacatta, and Calcata all sound almost the same. People also confuse the tiled with Carrara marble.
Carrara marble is generally white, blue-gray, or gray, and it is used basically for sculptures and building decor. The veining pattern in the marble tile is often more linear. This pattern could be very feathery or fine and soft. You can also find this marble with more dramatic details.
Statuary marble is a sister-stone of Carrara, it features a background that is uniform with light grey tones and is very dramatic. The veining pattern is also quite distinctive making it unique and attractive. You can get this marble on a more glossy surface, as there is statuary marble with a background that has a translucent surface.
Marble Flooring: Final Thoughts
Many homeowners have a question about which marble tile is better for flooring, and where the particular marble is used for. You can look for ideas available on Pinterest and Instagram from where you will get a fair understanding of what exactly you want. Always remember there are a few things that you must keep in mind while purchasing a marble flooring, is the type of marble tile you are choosing and the price.
Many a time, people look for marble tiles but settle for some other flooring as they are less expensive. You can go for any marble flooring which is comparatively less costly. Marble tiles are available in almost all stores, as marble can be a great choice because it looks royal and elegant. We hope the above list will help you to choose the correct marble tile for your home.
FAQs : Related To The Types Of Marble Flooring
1. Which is one of the most widely used marble ?
One of the most widely used marble tiles is white marble, as it looks good and is easily available in the market. Because of the white color, it contrasts well with any color wall and any type of home decor. Even brown marble and Emperador marble are preferred by homeowners.
2. Which is the most popular type of marble flooring for home ?
Calcutta marble is very popular among homeowners and is used widely for flooring, it has a lot of subcategories too for you to choose from. The marble tile is also not very expensive hence is preferred by people who want a simple yet grand look for their home.
3. What is Calacatta marble ?
Calacatta marble is a type of marble tile that is considered as one of the luxury stones as it can add elegance to the room.
4. What is Crema Marfil marble ?
Crema Marfil is a Spanish marble that looks really beautiful because of the uniform background, and it features a veining pattern that is irregular.