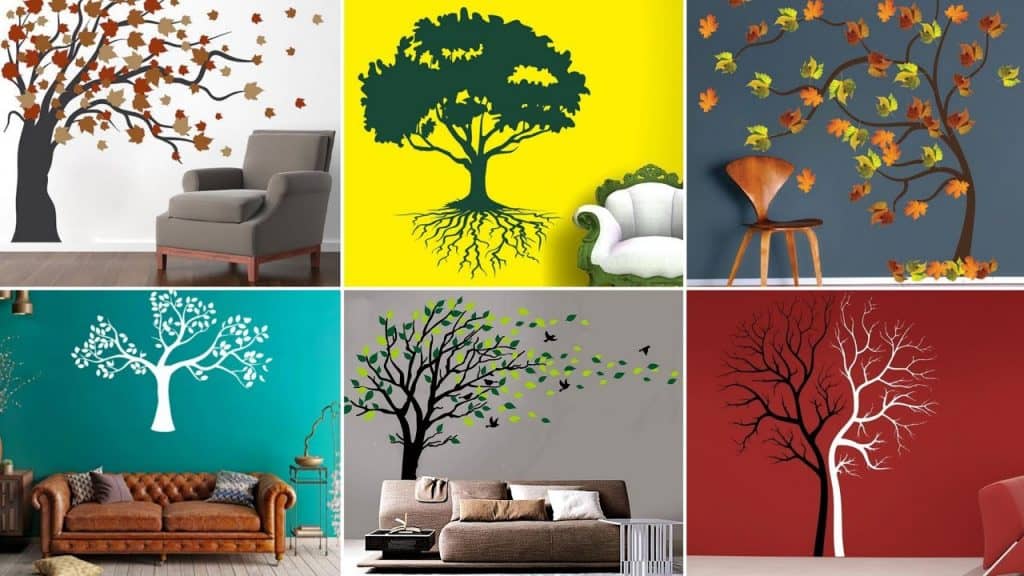 Wall painting is an art that helps enhance/uplift the boring white or single-colored wall with exciting textures and paints. However, the hardest part of it all is choosing the best wall color/painting idea. 
There are many questions to answer when it comes to selecting a wall paint color – What to choose? What would look better? How to paint a wall? And if you are sailing the same boat, we're here to your rescue!
Listed below are the top 20 Best Wall Painting Ideas that can help you ease out the process of selection – at least!
So, without wasting any more time, let us straight away get onto the list.
Top 20 Best Wall Painting Design Ideas In 2023
You want an accent wall that adds more to the boring texture, invites conversation, is a piece of art in itself, and is for sure different as compared to the other option. 
Have a quick view on these best picks and make sure to choose one that works best for you, is of your choice, and helps you flaunt the wall as if it were an art!
1) Ombre Walls - Wall painting ideas
Choosing an ombre wall helps by adding a gradient color that transforms any wall to resemble a sunrise, water, and/or animal fur. This wall painting idea has gained a lot of popularity, infiltrating the design world, and has now somewhat been popping everywhere – from walls, clothing, art pieces, to furnishings. 
Once you clean and prepare for the wall design, you can determine the number of colors you'd want to use or even choose to blend them to create a stunning ombre wall painting.
2) Polka Dots - Wall painting ideas
Adding a polka dot design helps to make the room playful and cheery. We recommend going for a subtle look by adding small dots using a single color, if not, add bold large polka dots in different colors. To help you further, try finding the best wall paint colors of the present year to also be trendy and unique, all at the same time.
3) Watercolor - Wall painting ideas
A watercolor design certainly invites conversations as it transforms any accent wall into a work of art. The watercolor design is trendy, unique, subtle, and soothing.
4) Vertical Stripes - Wall painting ideas
Be it narrow or thick, using the stripe wall color design can help with completely transforming the look of a room. 
Pro tip – To paint stripes on a wall, you'll need frog tape. This will help you with clean straight lines that will look neat on the wall.
5) Solid Block Colors - Wall painting ideas
Using a color that's different from the other colors of the room helps make the wall look different from the rest. To create a subtle transformation, the best way is to paint a color block on the wall and/or allocate it in the middle of the wall as a dimensional accent. 
Just like mentioned for the vertical stripe design, choose to use tape to have a neat, clean, and bold block of color.
6) Patterned Wall Painting - Wall painting ideas
Although it might come across as hard work, it is easier than you think. You may want to check the chevron or herringbone design options. Yet again, choose tapes to create a pattern, also you may want to work with different colors to create a colorful spectrum.
7) Chalkboard Wall - Wall painting ideas
Yes, you read that right! You can use chalkboard paint to create an accent wall. This gives you, as well as, your family the option of updating living space with a brand new look, and, of course, different chalk drawings.
8) Bold Half Color - Wall painting ideas
In literal translation, this means using a color on half the wall. It might seem odd at first, but take it from us, it brings out the best in the accent wall and certainly helps the wall to stand out.
9) Rainbow Stripe - Wall painting ideas
Why go for one color if you can have the whole rainbow? Choose to paint the entire wall in rainbow stripes, or simply use small sections of the colors. On the other hand, if selecting a section is hard to compete with, create a color combination of your own choice using rainbow colors and build on the design for your room.
10) The Texture and Color Game - Wall painting ideas
If you have a single textured wall in a room, you could try and paint it with a different color to make it stand out from the rest. Try a muted paint tone on the walls.
11) Strié - Wall painting ideas
This is the French expression for streaking and is known to be the best technique for Wall Painting Ideas that resemble a linen material. Here, the idea is to create horizontal or vertical lines using paint that adds an amazing texture and warmth to your space with a sensible blend of panache.
12) Taped - Wall painting ideas
Also known to be the best tool for painters, Taped wall painting design creates an amazing painting style. If you do not wish to color the full wall painting images, use the 'taped' technique and create creative patterns like chevrons, interlocking, and stripes.
13) Color Wash - Wall painting ideas
Color wash is a beautiful painting technique that creates texture and artistic depth in your living space. Adding on, it also adds the appearance of softness and warmth by layering two dissimilar colors. It is simple, easy to apply, and pocket-friendly as compared to the other styles on the list.
14) Sponging - Wall painting ideas
This wall painting design ideas helps open wide doors to creativity and involves the use of a sponge paint roller, or even a simple sponge. This design adds a dynamic texture to the otherwise plain walls and also boosts a visual punch. It is an easy-to-execute technique and does not demand painting skills or expertise, and is super easy to paint with minimum chances of messing it up.
15) Wall Stenciling - Wall painting ideas
Last on the list but not least, Wall Stenciling is the most known and easiest alternative to expensive designer wallpapers. It is simple, easy to design, and adds sophistication and intrigue to your wall space, that is with minimal cost. It is a money-saving substitute, quick, and super easy to work with to customize and update the walls of your house using just paint and the wall stencil.
16) Geometric Shapes - Wall painting ideas
Geometric shapes are a fun way to add visual interest to a room. You can use masking tape or stencils to create a variety of shapes, such as triangles, squares, or hexagons. To create a modern and sleek look, use a combination of bold, contrasting colors. Before painting, ensure that the tape or stencils are properly secured to the wall to prevent bleeding or smudging.
17) Murals -Wall painting ideas
A mural is a beautiful and unique way to add art to a room. You can hire a professional artist to create a custom mural, or use stencils to create your own. The possibilities are endless, from a beach scene to a mountain landscape. It's important to plan out the mural design ahead of time to ensure that it fits the room and complements the existing decor.
18) Tapestry -Wall painting ideas
When creating a tapestry wall, it's important to consider the size of the tapestry and the space in which it will be hung. A larger tapestry can make a dramatic statement on a blank wall, while a smaller tapestry can add a subtle touch of color and texture to a smaller space.
There are many ways to hang a tapestry, including using clips, dowels, or decorative tassels. You can also choose to hang multiple tapestries together to create a layered and textured effect.
19) Sunset/Sunrise - Wall painting ideas
A sunset or sunrise-themed wall is a beautiful way to add warmth and color to a room. You can achieve this look by blending different shades of warm colors, such as oranges, pinks, and yellows. This technique is perfect for creating a relaxing and inviting atmosphere in a bedroom or living room. Metallic paint is a type of wall paint that contains tiny metallic particles that give it a unique shimmering effect. This type of paint is available in a lot of colors, including silver, gold, bronze, and copper, and can be utilized to create a metallic accent wall or add metallic details to furniture or decor.
20) Metallic - Wall Painting Ideas
Metallic paint can be used in a variety of ways to create different effects. For example, you can use it to create a subtle shimmer by using it as an accent color or in small details, or you can use it to create a bold statement by painting an entire wall or room.
When using metallic paint, it's important to prepare the wall properly by cleaning and priming it to ensure that the paint adheres properly. You may also want to apply a base coat in a similar color to the metallic paint to help it stand out more.
We hope that the article above has helped you with the best and easy wall painting design ideas to use and upgrade your walls. Make sure to keep your priorities met when choosing your favorite wall design idea to help you create your own space on your own terms and choices. 
Wall Painting Ideas FAQs
1) What are the best wall painting design ideas?
Here are the top 10 best wall painting ideas that you can choose from in 2022:

Ombre Walls
Polka Dots
Watercolor
Vertical Stripes
Solid Block Colors
Patterned Wall Painting
Chalkboard Wall
Bold Half Color
Rainbow Stripe
The Texture and Color Game
For more ideas, refer to our blog post above!
2) What are the top trending colors of 2022?
Here is a quick glance at the trending colors of 2022:
Deep jewel shades
Electric blue
Combination of pink and green
Neutral stone hues
Colors inspired by nature
Back red
Bolder colors
3) Is polka dot a good wall painting idea?
Yes, adding a polka dot design helps to make the room playful and cheery. Try to add small dots using a single color, if not, add bold large polka dots in different colors.