Mantri's latest addition to its myriad luxury-living exclusive residential ranges is the elegantly crafted Mantri Webcity, drawing inspiration from technology-driven lifestyle. The project is sprawled across an impressive 44 acre stretch that hosts 22 towers housing 2171 flats and penthouses. Mantri Webcity offers its customers the much needed work-life balance, offering quaint living spaces with seamless connectivity to every hub in Bengaluru.
This exquisite residential complex offer flats and penthouses with an impressive configuration ranging from 1150 sq. ft to 1750 sq. ft, crafted by masters of the art to provide you with premium living conditions.
The plethora of amenities that Mantri Webcity offers sets it apart from every luxurious living brand in the city, coming in hot with a power-packed arsenal of recreational features including a club house for a leisurely evening, a state-of-the-art gymnasium to let off some steam, a children's play area for your kids to let out that built up energy, a pristine pool with a shower room and clean water 24/7 , flower gardens to beat the blues, and shopping complexes that cater to each and every need of yours. The place, in all its glory, boasts of vast stretches of greenery, ornate fountains, ample parking spaces and a guarantee of leaving you awestruck with the sheer grandiose of the living spaces.
Strategically located on the Hennur Road, the Webcity offers straightforward connectivity to Manyata Tech Park, and is nestled in the midst of  a plethora of options not limited to schools, malls, and hospitals, making it one of the most lucrative and desirable properties in Bangalore.
Mantri Webcity – Distance from Prominent Places in Bengaluru
Mantri Webcity is situated in Hennur Main Road.
| | |
| --- | --- |
| Place | Distance (in kms) |
| Manyata Business hub | 9 |
| Manyata Tech Park | 7 |
| Nearest airport | 33 |
| Bangalore International School | 2.7 |
| Nearest Railway station | 10.7 |
| United International School | 1.3 |
The Mantri Webcity is situated in Hennur, which in turn is situated in North Bangalore. The areas surrounding the Webcity are Banaswadi, HBR layout, and Hebbal, which offers load of advantages to any potential resident.
Strong connectivity by road to Kempegowda, Agara, Horamavu, and Kacharakanahalli, in effect connecting Hennur to the whole of Bangalore.
1. Strong Railway connectivity from nearest station i.e. Banaswadi.
2.Flyover to reduce traffic congestion.
3.Straightforward connectivity to Manyata Tech Park.
Mantri Webcity – Nearby Schools
The location has an impressive list of schools providing high quality education, making it an ideal family-centric place. Here is a list of schools around Mantri Webcity Hennur Main Road.
1.SSR School of Business
2.Kinderdale International pre-school
3.Legacy school
4.Poorna Prajna Education Centre.
5.Little Ikons Preschool and Daycare.
6.Jumbo Kids
7.Narayana School
8.Rashtrotthana Vidya Kendra
9.Vidyaniketan
10.New Baldwin school
11.Michael's high school.
12.George High school
13.Bangalore International School.
Mantri Webcity – Nearby Hospitals
Mantri Web city is surrounded by hospitals to cater to your needs at any given point in time. Some of the hospitals in the immediate vicinity are:
1.Fortis hospital
2.Vasan Eye Care
3.Motherhood hospital
4.Specialist hospital
5.Ovum hospitals
6.Chris super speciality hospitals
7.Prolife multispeciality hospital.
Mantri Webcity– Unit Type, Size in Sq. Feet and Price
| | | |
| --- | --- | --- |
| Unit Type | Size (square feet) | Price (INR) |
| 2 BHK | 950 | 65 L |
| 2 BHK | 1100 | 78 L |
| 3 BHK | 1250 | 81.6 L |
| 3 BHK | 1750 | 1.15 Cr |
*L=Lacs Cr=Crore
Mantri Webcity External Amenities
1. Landscaped garden
2. Squash court
3. Table tennis courts
4. Pool table
5. Swimming pool with separate toddlers pool
6. Gymnasium
7. Jogging track
8. Meditation hall
9. Tennis court
10. Basketball court
11. Badminton court
12. Open space for other outer games
13. Business centre
14. 24 hr ATM
15. Sauna and Jacuzzi
16. Library
17. Amphitheatre with open lawns.
18. Laundry
19. Saloon
Mantri Webcity Internal Amenities
Common Area
| | |
| --- | --- |
| Staircases | Anti Skid Ceramic Tile or equivalent |
| Terrace | Anti Skid Ceramic Tile or equivalent |
| Reception/ GF Lobby/ Lift Lobby | Vitrified Tile Flooring with Granite and Cladding |
| MEP Rooms | Anti Skid Ceramic Tile Flooring |
| Service Lift Lobby | Vitrified Tiles |
Multi Purpose Hall
| | |
| --- | --- |
| Master Bedroom | Vitrified Tile Flooring or equivalent |
| Kitchen | Vitrified Tile Flooring or equivalent |
| Balcony | Ceramic Tiles |
| Secondary Bedroom | Vitrified Tile Flooring or equivalent |
| Living Room / dining room | Vitrified Tile Flooring or equivalent |
| Toilet | Ceramic Tiles |
| | |
| --- | --- |
| Internal door | German Imported Chrome Finish UPVC Sliding Doors |
| Kitchen | Granite Platform with Sink and Drain Board |
| Toilets | Good Quality CP Fittings from Jaguar or equal |
| Electrical | Fire resistant Finolex RR cables |
| Windows | UPVC Sliding Windows with Plain Sheet Glass |
| Main door | Veneered Designer Shutter Door, Polished Engineered Door Frame |
| | |
| --- | --- |
| 2 BHK | 5 KW |
| 3 BHK | 5 KW |
| DG | 100% backup, based on metered consumption |
| Transformer Capacity | Calculated as per load |
| Modular Switches | Designer Modular electric switches |
| | |
| --- | --- |
| Borewell | Yes |
| Water Supply | Treatment WTP |
| Sewage Line | CPVC/GI lines |
Mantri Webcity Master Plan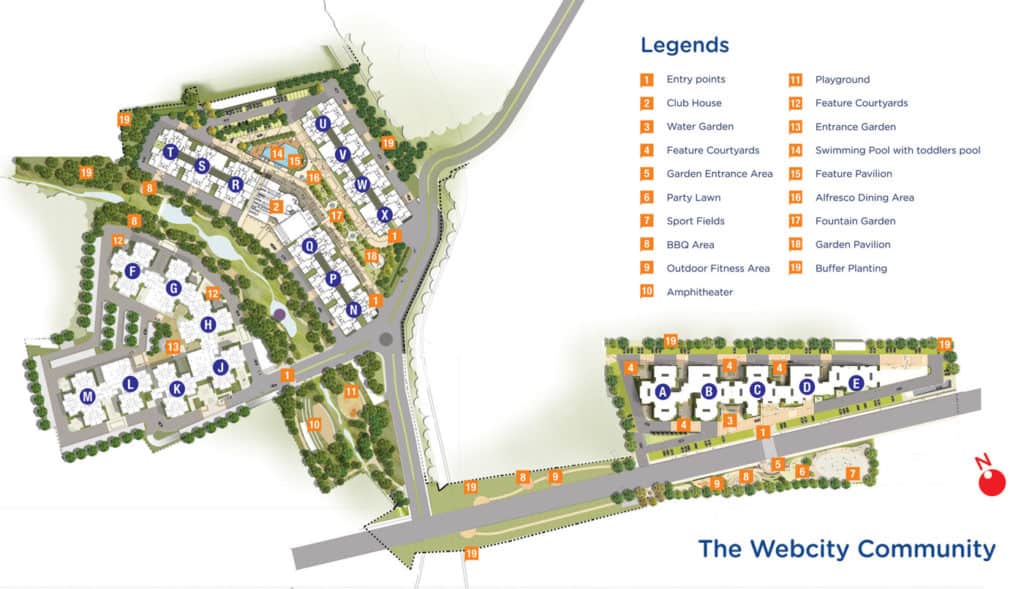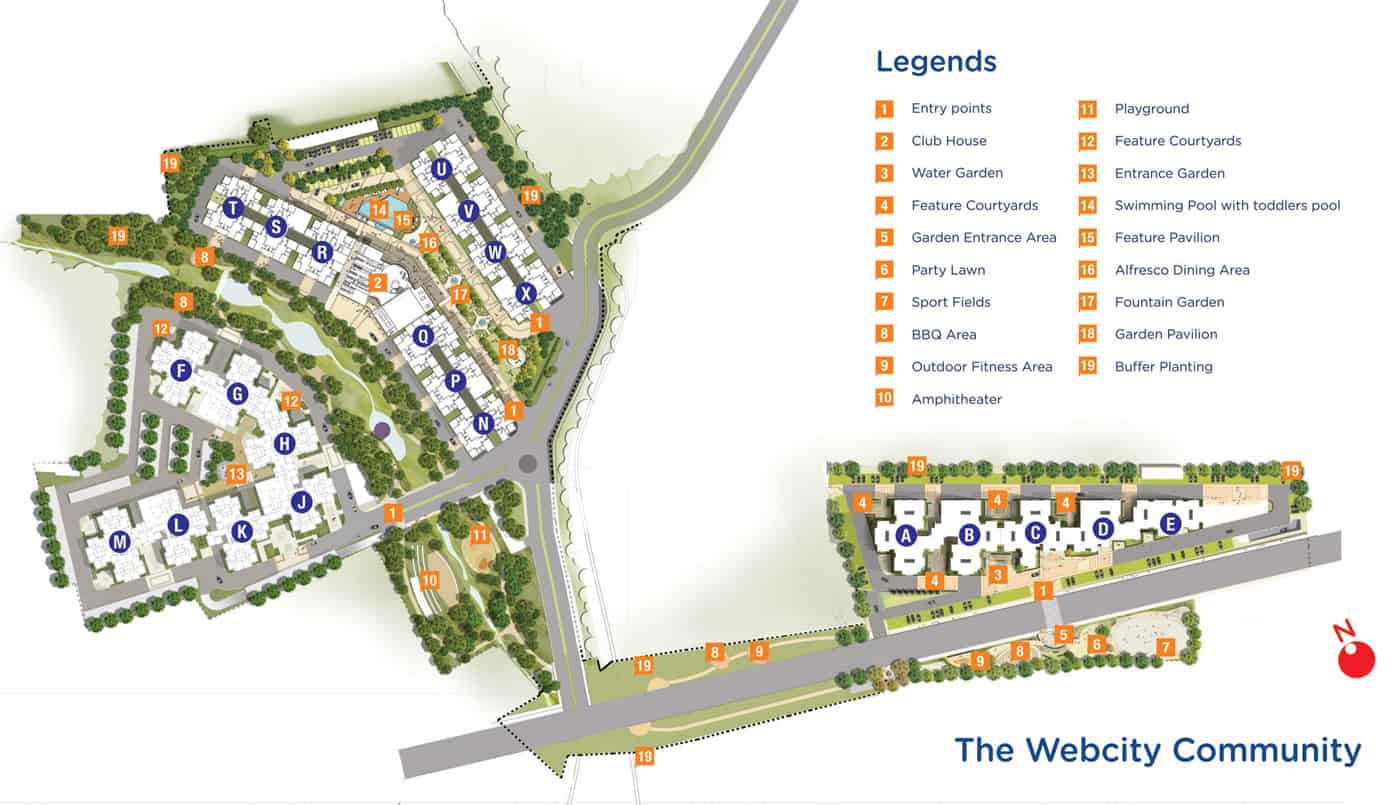 Mantri Webcity Location Map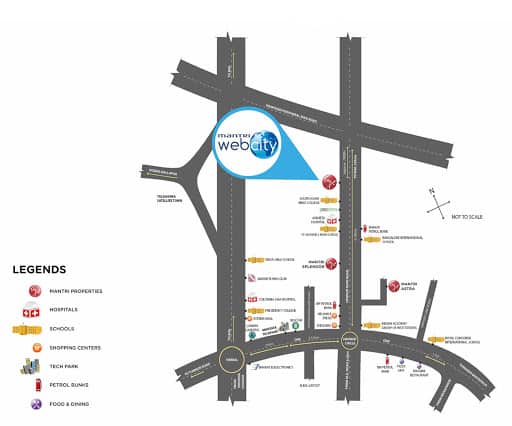 Mantri Webcity - Address and Google Map
Mantri Webcity Location :
Mantri Webcity, Hennur Main Road, Near to Southern Asian Bible College Kothanur Post, Bengaluru
Pincode: 560077
Email : [email protected]
Mantri Webcity Image Gallery
Mantri Webcity Apartments Video
Mantri Webcity FAQs:
1. Are there any amenities that have been catered towards children?
A day care center for kids, library, crafts and creativity room, a separate children's play area is available at Mantri Webcity.
2. What is the rate per square feet at Mantri Webcity?
Currently the rate per square feet at Mantri Webcity is Rs.7066, the average locality price is Rs.5900.
3. Is the building structure at Mantri Webcity seismic zone compliant?
Yes. The building structure at Mantri Webcity is Seismic zone II compliant.
4. What is the possession status of Mantri Webcity?
Phase 5 of the Mantri Webcity is currently under construction. Possession dates should soon be out.
5. Is it worth buying a flat at Mantri Webcity?
Yes. The property has close proximity to Tech parks, schools, malls, and hospitals. With the increase in pollution levels and lack of open spaces, Webcity is sure to impress you with the 44 acre property studded with open areas.
6. How much does a 2 BHK home cost in Mantri Webcity?
2 BHKs differ in carpet areas. Depending on the area chosen, the prices may range between 68 lakhs upto 1.02 crore INR.
7. Are the prices mentioned inclusive or exclusive of charges? If inclusive, what charges are covered?
The prices quoted for both 2BHK and 3BHK are INCLUSIVE of all taxes. These include • Base price • GST • Car parking charges • Legal charges • Club house charges • Maintenance deposit • BWSSB • BESCOM
8. What charges are not included in the mentioned prices?
The below charges will have to be exclusively paid for: • Preferred location charges • Parking charges • Stamp Duty • Registration charges
9. Which sports courts are available on the property?
A tennis, squash and indoor badminton court will be available on the property.
10. Does Webcity have power backup in case of power outages?
Yes. All common areas have a DG backup. For personal power backups, you might need to look into options on your own.
About the builder – Mantri
Since its Inception in 1999, Mantri has been consistently delivering top-notch projects. The brainchild of Mr. Sushil Mantri, the company has been instrumental in changing the skyline of the country, taking it to new heights with groundbreaking designs and contributing towards the rapid progress of the country.
20 years later, Mantri sits on the throne as one of India's leading builders. With more than 6000 residential apartments to their name, the brand is enough to instil a sense of trust among the masses.
In an age where competition is merely a term and uniqueness is what sets competition apart, Mantri, yet again, proves why it is a brand with unparalleled vision. With the advent of concrete jungles eating into whatever little greenery is left in the country, Webcity makes sure its greenery ratio is at least 60% so as to provide residents with clean air, calming ambience, soothing breezes, and a much needed sigh of relief. Although the connectivity is pretty solid, the distances to essentials like the airport and the nearest railway station seems a tad much. However, everything else pretty much ticks all the boxes in our analysis. If an offbeat residential complex is your kind of thing, look no further than Webcity.

Here's more to look into!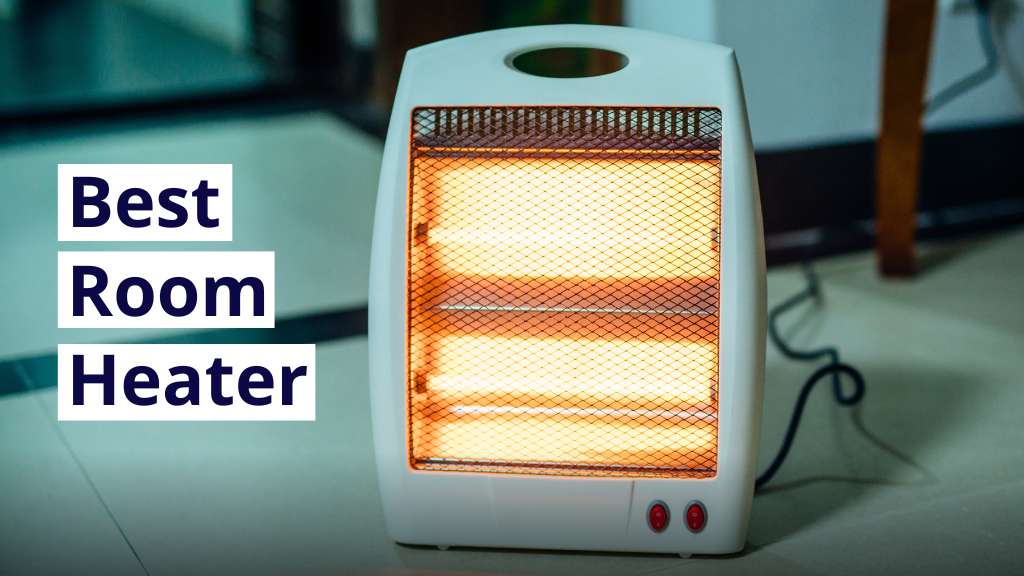 Choosing the Best Room Heater: A Comprehensive Guide to Staying Cozy Room heaters...