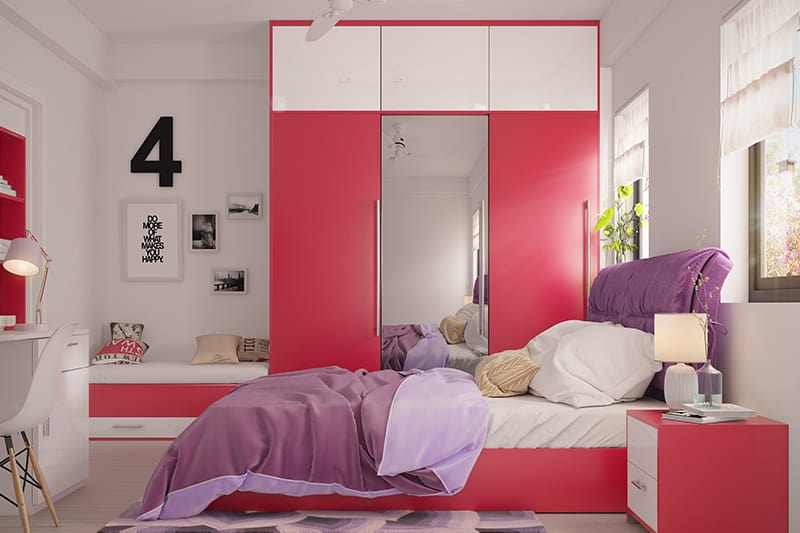 A wardrobe colour combinations has a special space in your house and needs to be attractive, just like the items it holds. While most people end up with a similar on-combination wardrobe design or camouflage it with the walls, we have thought outside of the box and curated this list of the top 22 best bedroom wardrobe color combinations for your wardrobe space.
Without wasting any time, let's straightaway jump on these combinations.
Top 22 Best Bedroom Wardrobe Color Combinations To Choose From in 2022!
Here is our list of the best wardrobe color combinations for your bedroom wardrobe:
1) Cerulean Blue Against Smoky Grey - Wardrobe Color Combination
Cerulean blue frothy images conjure the image as it washes against the beach and comes across as a perfect foil for a smoky grey combination. This combination works well, especially for wardrobes that have sliding shutters and a highly reflective glass finish.
2) Lemony Yellow And White - Wardrobe Color Combination
This is a soothing color combination that is low-key, has a dual palette, and is vibrant and refreshing. The other colors that you could opt for in the other part of the room are aqua, other shades of yellow and spring green.
3) Two-Tone Wardrobe With Mirror - Wardrobe Color Combination
Like the other color that goes well with wardrobe designs that have a mirrored shutter alongside high-gloss laminates. Here, the mirrors have the added advantage of coming across as an open space that makes the room look even larger.
4) Mauve And White Wardrobe - Wardrobe Color Combination
Mauve and white, both these colors come across with an evocative of decadence and femininity and is a romantic yet moody shade, pairing well with the creamy off-white. This wardrobe design is dreamy and works best with the same or similar shades on the bed linen, wallpaper, and curtains.
5) Teal Color With A Mirror Panel - Wardrobe Color Combination
Teal is a color that was originally named after the beautiful colored band around the eyes of the teal bird, a constant reminder of nature. This shade is best paired with a mirrored middle panel. These panels are contrasted against the loft that helps create a textured wood lamination.
6) A Little Ray Of Sunshine - Wardrobe Color Combination
These yellow panels create a pretty almirah that portrays a vibrant, exuberant burst of sunshine cheer in the otherwise boring storage unit. This combination is a pop of color that is brilliant against the mellow tones of the laminated beechwood.
7) Black And White Wardrobe - Wardrobe Color Combination
More like a "yin and yang" duo, this black and white shade is mostly everyone's favorite pick and never goes out of style! So, if confused with what to add and what not, this is your color to pick that can never go dull.
8) The Warmth Of Wood - Wardrobe Color Combination
This warmth of wood is a combination that works best in end-to-end (floor-to-ceiling) fitted closets as a timeless combination of the warmth of wood and inserted mirror inserts, offering visual relief and the best contrast. This is best paired with a complementary palette that includes shades of red, white, and cream.
9) Red And White Wardrobe - Wardrobe Color Combination
A classic and fun combination, red and white is an award-winning combination, used by many brands. Just like black and white, one cannot go wrong with red and white, best for home décor, and the boldest combinations that create a beautiful impact.
10) Translucent Shutters Against Wood - Wardrobe Color Combination
Looking for a change from the color-blocked laminates? If yes, then this is the best pick as translucent acrylic shutters are the best alternatives possible. It's sleek, stylish, and works well with a minimalistic palette.
11) Violet-Blue And Cream Wardrobe - Wardrobe Color Combination
This color combination of white and violet will for sure win hearts, all thanks to its simple yet stylish look. It works best with edge-banded straight shutters with a matte laminate finish, boosting the fabulous shades of the decor forefront.
12) Bright Wardrobe Colour Block - Wardrobe Color Combination
If you choose this color combination, we assure your bedroom to be a "pop" of shades, creating a light and breezy vibe. If you are planning to break the monotony of boring colors, you've got to give this a try!
13) Highlighted Red Borders - Wardrobe Color Combination
As red is a bold yet impactful color, one must be really careful when using this as a combination in the bedroom wardrobe. But, what better way to incorporate the color while using it subtly? Use the color red and highlight the borders of the glossy white wardrobe for a classy and sleek look.
14) Natural Is Best As A Wardrobe Combination - Wardrobe Color Combination
This bedroom wardrobe design creates the interior with the warmth of nature and neutral colors. If you use this combination as a color combination for your bedroom wardrobe, it would make complete sense and have a classic touch attached to it.
15) Half And Half - Wardrobe Color Combination
As stated in the name itself, this is a simple yet impactful color code that looks best for a bedroom wardrobe design. It has been accentuated with its combination use and works best with the blue infused with the design or any other combination of your liking.
16) Accentuate The Browns - Wardrobe Color Combination
Want to play safe? This play with the shades of brown is a pump added to the existing browns in your room. Yes, browns can look different and classy. Use a natural brown finish to give the wardrobe the right amount of highlight and add a little white into the design.
17) Neutral Wardrobe Colours - Wardrobe Color Combination
Adding this wardrobe design color combination to the white lacquered glass doors and grey border can surely help uplift the neutral wardrobe color combination. This is simple, subtle, and works best towards maintaining the flow.
18) Dark And Bright - Wardrobe Color Combination
A little bit of dark and a little bit of light can surely make your bedroom look even better and well balanced and toned. You could choose to add fun squares of dark teal with yellow to enhance the otherwise simple white bedroom wardrobe.
19) White Illusionary Roominess - Wardrobe Color Combination
The challenge with Indian homes is to create the given space to look spacious with all the furniture. If so, the best way is to follow the philosophy of using a single color code with a soft tone that will make any house look calm and roomy.
20) Solid Harmony Colours With The Décor - Wardrobe Color Combination
While choosing your combination of colors, make sure to choose those shades that work well and in harmony with each other. This will help make your room look even better and match the decor well.
21) Different Wooden Shades - Wardrobe Color Combination
The trick is to pick wooden shades that remind you of nature and pair it well with sunmica color combinations to make the bedroom design look much better, suiting your personality and style. Feel free to also play with the shades and the texture of wood to create a funky piece of furniture.
22) Paint the memories of childhood - Wardrobe Color Combination
There can be no better combination of colors than those that remind you of your childhood days. Everyone has a color attached to their memories that they can forever cherish the memories of the childhood room.
Using color combinations prevents the bedroom wardrobe from looking way too bulky and dull. Make sure to pick an interesting combination from the color palette that not only looks interesting, but is in harmony, and reminds you of a fond memory.
Best Bedroom Wardrobe Colour Combinations FAQs
1) Which color works best for a bedroom wardrobe ?
As per Vastu-shastra, the approved color combinations for wardrobes includes:

Light wood finish
Neutrals
Whites
If the bedroom wardrobes take more space, try and opt for colors that are seamless and sleek. Or, colors that reflect light and make the room look big.
2) What kind of bedroom wardrobe works best ?
Sliding wardrobes are the best choice for a bedroom wardrobe. They make the most of the space and allow free space in the room.
3) Which type of laminate is best for a wardrobe ?
The best type of laminate for a bedroom wardrobe is - Super gloss finish. It is sleek, shiny, functional, and stylish.