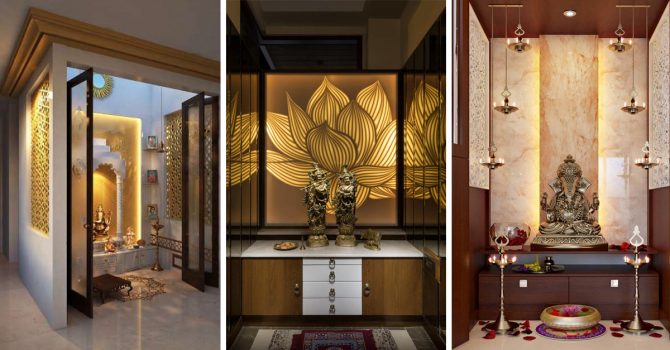 Pooja rooms are the only space that plays a crucial role in almost all Indian households. So much so that, even in houses that aren't quite big, have an associated specific corner in the house where the members place a beautiful mandir and pray to the almighty.
This article, therefore, brings forth the Pooja room designing for Indian homes that are popular, durable, and smart to choose from. After all, when you plan on specifying your dream house, why not the Pooja room? So, let's get started!
Top 15 Best Indian Style Pooja Room Designs:
Listed below are the top 5 best India-style pooja room designs:
1) Pooja Room Designs In Marble
If you have a big house and can afford to designate a room, especially for Pooja, then there is no better pick than to recreate and design the Pooja room designs in marble. Irrespective of the high maintenance and expense that you would probably need to incur, a marble make Pooja room is durable and prevents the entry of termites.
A marble Pooja room design rightly matched a wide range and the different kinds of décor and flooring. Adding on, the marble finish brings about a rich and elegant look too.
Pooja Room Designs For South Indian Homes - Wood
Wooden Pooja room designs for Indian homes work best with all kinds of interior finish and themes and they add grandness to every space. It adds versatility, warmth to the pooja room in small houses, and can be easily refurbished.
Nonetheless, on the downside, a wooden-make Pooja room does require proper care, maintenance, and one must be cautious when lighting candles in the room.
3) Small Pooja Room Designs For Indian Homes - Mandir
Interior Pooja room designs for small mandirs make a great fit for those living in smaller spaces or apartments with less space, making it impossible to have a separate Pooja room. These interior design Pooja spaces can be readily available in the market or can be easily made by order.
4) Wall-mounted Indian Style Pooja Room Designs
As the name suggests, these designs provide wall-mounted devotional spaces for small apartments or studio apartments. They are ideal for tiny spaces, prevent the use of the floor, and can be easily installed in any corner in minimal space.
5) Single Mounted Shelf - Indian Style Pooja Room Designs
A single mounted shelf on the wall makes a simple yet perfect space for a pooja design, especially if put in the living area. If your home has place constraints, this wall-mounted pooja design is the perfect and best fit for you, with focus lights and traditional knick-knacks for a better character.
6) Stone-Embossed Back Wall - Small Pooja Room Designs In Apartments
A stone-embossed back wall pooja design is in demand and has a rustic feel attached to it. Feel free to experiment with the choice of stone, in terms of the shades and textures to help create a contrast of colors on the wall.
7) Temple Style Pooja Room Design For Indian Homes
This is a pooja design that resembles a temple. It is traditional, spacious, large, and can be decorated with intricate design, brass temple bells, and diyas.
8) Compact Wall Cabinet - Indian Style Pooja Room Designs
Do you have a space constraint at your house? If yes, then this should be your best pooja design. Compact wall cabinets stay off ground, have enough storage space, and are space-efficient.
9) Separate Room For Prayer - Pooja Room Designs For Indian Homes
On the contrary, if you have enough space, it is best to make a separate room for pooja, exclusive yet personal. This worshipping area can easily include framed idols, lamps, deities, and diyas. Be cautious to not clutter the whole space or it might lose its elegance.
10) Niche Wall Pooja Unit - Small Pooja Room Designs In Apartments
If space is the concern, we recommend installing a pooja unit in a corner or in the niche areas of your home and transform it into a worshipping area. You may choose to add wallpaper, lights, and idols too.
11) Full Marble Pooja Unit - Indian Style Pooja Room Designs
If affordable, there can be nothing wrong with transforming a pooja unit into a full-marble workshopping space. They are appealing, easy to maintain, and elegant.
12) Pooja Unit Inside a Cubicle - Small Pooja Room Designs in Apartments
Installing a small pooja unit inside a cubicle is the best and the most appealing design, especially in small apartments. According to Vastu Shashtra, you can choose to put it in your dining or living room, with lights, flowers, choice of paint, etc.
13) Pooja Unit Adorned - Small Pooja Room Designs For Home
If you have enough space, install the pooja room with CNC patterns or the cutting designs or jali designs. These pooja designs offer a luxurious feel with a backdrop and an elevated worshipping space. 
14) Pooja Unit With False Ceilings - Small Pooja Room Designs In Apartments
Installing a false ceiling is the most innovative choice to decorate a pooja room. Choose to customize by carving patterns or adding multiple textures to help create the right ambiance.
15) Tile Inlays Small Pooja Room Designs In Apartments
Adding tile inlays is a low-maintenance pooja room design that can be cleaned easily. Choose to add lights, flowers, religious symbols, and idols, and you have a space for your own. 
What to Keep in Mind When Choosing The Best Indian Style Pooja Room Designs For Your Home?
Here is what you must keep in mind while choosing the india style Pooja room designs:
The availability of the space – Do you have a separate pooja room? Or, you'll need to devote a corner? Considering the space available, place your interior design mandir in a secluded place for more privacy.
Your budget – It is understandable that while thinking of the interior Pooja room designs, you might tend to get a little overboard. But know that it's ok to have a little space dedicated or as your budget allows.
The size of your apartment – Choose a beautiful Pooja mandir that fits your house perfectly.
The color scheme – While choosing the Pooja room designs, consider the color theme of your house and pick one that would match the aesthetics.
What Are The Best Pooja Room Designs For Indian Homes In 2021?
Use bright colors – Try and use bright colors for the pooja rooms, such as white, light yellow, or even orange. In case you want the space to look more open and airy, take a step further and pick pastel shades of the colors mentioned earlier
Install an attractive door design – As Pooja rooms are secluded it is a good idea to choose doors that are rather distinguished from all the other door designs of the other rooms. Pick between a sturdy wooden door with carvings or a more unique frosty or transparent glass door at the entrance of the pooja room
Try and make the Pooja room designs more welcoming and warm – Pooja rooms are considered as an auspicious space for all the household members. Try and make the entrance welcoming and warm by drawing a rangoli, placing a tall flower vase, hanging marigold flowers, etc.
Throw in some attractive and colorful cushions for sitting – Purchase some low heightened wooden stools and comfortable/colorful cushions for sitting.
Add lights – It is very important to keep the pooja room always illuminated, so why not add in a few lights? It could be a chandelier, overhead lighting, string lights, etc. 
How To Place Idols In The Pooja Room Designs? - Small Pooja Room Designs In Apartments
Always place the idols in the east and west direction and not the north or south

Avoid hanging the picture of the deities on the north or south wall

If your modern Pooja unit is smaller in size, avoid idols the exceed more than three inches

Do not keep the idols facing each other

Do not place chipped or broken idols

Try and purchase idols that have a wooden platform

Avoid placing the unit on the floor
Indian Style Pooja Room Designs - Decoration Ideas
Avoid any cluttering and too many images or idols. This is because it might create a distraction than a place of devotion and concentration

Use marble idols for a small pooja room

Pooja room design in glass can be used on the door of the pooja room

If you do not have a featured wall, try to install a backlit panel to decorate the Pooja room

Most Pooja from designs for Indian homes have partition installed for more concentration by using decorative screens

Avoid focus or spotlights and try to use ambient lighting for the Pooja room

Try and decorate the Pooja room with brass objects like lamps, bells, and brass pots as they easily blend with the overall style of the house.
To Conclude: Choosing The Best Pooja Room Designs For Indian Homes
Pooja rooms are considered to be the most centric and authentic part of most Indian households as a devoted space for focusing on their prayers and also as a room to experience calmness and peace. This is why it becomes important for people to choose a Pooja room design that rightly matches the household atmosphere and becomes a place of attraction. We hope that the article above has helped you choose the best Pooja room designs for your house.
Pooja Room Designs FAQs
1. How to decorate a Pooja room?
The best way to design your Pooja room to place beautiful and green plants, decorative lights, flowers, and drapes. For more details and to know more such innovative ideas, refer to the article above.
2. What is the best to help keep the Pooja room clean?
The best way to keep the Pooja room clean is to make sure that the unit is decluttered and the idols and images are nicely organized. Always make sure to remove the dry leaves from the plants and flowers to keep the space lively, use matching cloth and candles, clean holy oil using a clean cotton ball, or try and install a marble mandir as it is low-maintenance.
3. According to Vastu Shastra, is it ok to install a Pooja mandir facing the south direction?
As per the Vastu Shastra, you must avoid the Pooja unit to face the south direction and only install it in either the east or north direction.
4. What is the symbol of the altar in a church?
The altar in a church represents the presence of Christ during the ceremony or the mass.