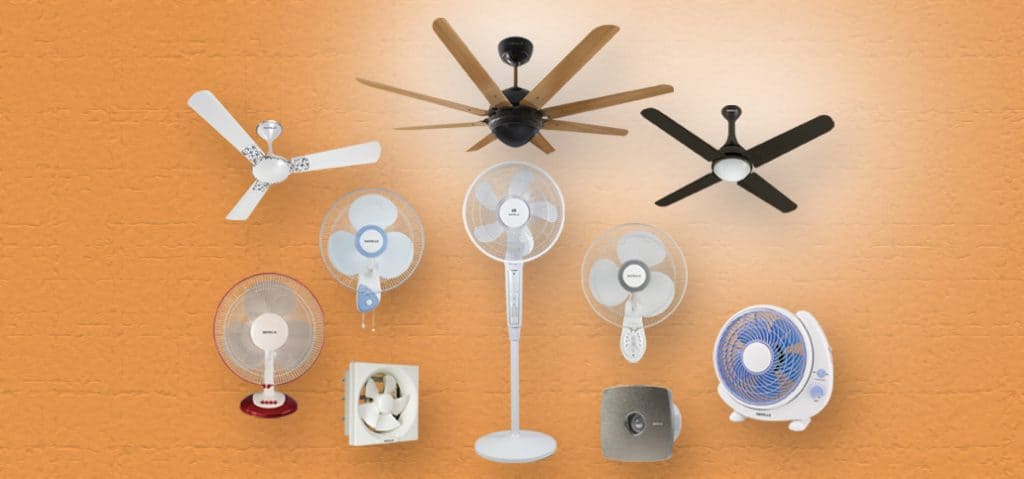 Fans, of either kind, are an essential need that cannot be missed out on, especially when buying a house or shifting into one. Given the multiple placements, even today, the fans cannot be replaced or lived without. Can one imagine living in a room without ventilation?
While most might think of basic fans, did you know there are numerous types of fans you need on a daily basis? No? Well, then you've reached just the right space as we, through this blog, listed down some known and unknown types of fans you might have missed out on. Let's get started, shall we?
Listed below are the multiple types of fans that you might or might not be aware of. Let's see how many did you know:
The standard and ultimate vision of a fan are these ceiling fans, incorporated in all home kinds, never mind the type of house. These are also known as mechanical fans that are powered using electricity and the mounts from the room's ceiling.
Ceiling fans typically consist of a hub-mounted rotator that helps the fan to circulate and give out air evenly in the room it is allocated in. Since these are suspended into the air that too in the center of the room, the air it gives out is equally transferred in the space or the room.
If we were to trace the functioning and usage of these fans, these can be easily dated back to 500 B.C, primarily originating from India. During these days, these ceiling fans were then used by operating them manually, that is with the help of a cord. In the 1870s, these were replaced with rotary ceiling fans that were introduced in the United States, which then were operated with the help of a water stream. Interestingly enough, some of these rotary fans still exist in today's time in some parts of the southern United States. Lastly and most importantly, the fans we use today were introduced in 1882, operated from electrically invented by Philip Diehl. Each of these consists of its own self-contained monitor unit that is helped to run using electrical power.
Why are these best and most used? Ceiling fans are specialized in moving air and also help in heating and cooling through reverse-mechanism for the air direction.
These table fans are also highly popular and the preferred options after the ceiling fans. These are available on either table or floor, both with a firm and solid base with their compact size, portability, and convenient usage.
These are electrically powered, come with a motor unit that runs inside, and most people prefer to use these table fans as they are economical, have flexibility usage, durability, and are quick in terms of service.
Speaking of its popularity and the biggest advantages, they also come with gadget control. All thanks to its design and technicality, these table fans are generally upgraded and tend to offer increased convenience with the easy-of-use user interface.
In the present times, there are many fan companies that manufacture high-speed table fans with a separate remote-controlled device that helps the users regulate them as per their preferred direction and speed. Adding on, these kinds of fans also make sure to provide a wider reach and equal distribution of air with air ventilation in a horizontal manner.
As easily understood by the title itself, a tower fan is a tall, narrow, and tower-like fan that generally comes in a sleek and compact design. These are considered to be the most popular cooling appliance with a rotating base and in-built ionizers that aid in the purification of the air.
These considerably cover a large area as they blow air at a 90-degree angle, contain inlets on either side of the machine that allows it to pull in the air outside. With a fairly simple yet unique mechanism, they also feature cylindrical blades that provide the ideal kind of air throw as compared to the air cooler and also consume limited power as they only circulate the air inside. The best part yet – if you choose to use these tower fans over the other electric fans, it takes up quite a limited space, is super lightweight, and is extremely portable.
Best known for their powerful cooling abilities, pedestal fans feature an increased versatility, are described as electric, and have oscillating fans which operate with the help of a detachable stand that can be adjusted as per the preference and requirement.
Also known as "stand fans" they are incredibly tall, are manufactured using an inbuilt oscillation feature that is of great help in maximum air distribution and also the transfer of the air. These are super lightweight and are portable, and can be easily moved around the house by simply turning the plug on in the socket.
An added advantage of these pedestal fans is that they are multi-functional and come with a remote control feature that helps the user control the speed of the fan, as well as the direction at their own comfort, need, and requirement of the hour.
Exhaust fans are usually found in the bathrooms or especially in areas that require better ventilation and these fans are best as they help purify the air from the pollutants, as well as, prevent the excessive heat from building up.
These are operated through electricity, and have a similar procedure to any other fan; except that the electric current here passes through the entire system that propels the fan's operation. This operation causes the fan's blades to start and ventilate the air all around.
The blades of an exhaust fan rotate at a very high speed that eventually is best to pull the hot air out of the room/bathroom towards itself and then release it outwards and then let cool and fresh air fill the room up.
These come in different models to choose from that also include a thermostat in their systems to help regulate the temperature in the high-temperature areas and fill the room with fresh areas.
Finding it a little too difficult to install or use a floor fan, we recommend using a wall-mounted fan instead. These are designed for tight and compact areas or in rooms with really low or high ceilings with no proper wiring.
These wall-mounted fans are ideally best for small offices, huge party halls,  auditoriums, and warehouses. These are quite different from the other fans and their operating systems and functionality as they push the air throughout the area, unlike the ceiling fans that circulate the air by pushing it down.
Adding on, the best parts yet – a wall-mounted fan help save a lot of floor space, these pave the way for instant evaporation, are of great help to circulate the air conditioning, including a remote control option, are of the ideal size, oscillates, are durable, lightweight, and come with multiple speed settings on the fan.
If purchasing an air conditioner doesn't seem to be possible for some time, the best economical alternative that you could look into is to invest in a good quality misting fan. These are best to blow the heat off and cool in intense summer seasons.
These fans, interestingly, need a supply of water which is squirted in the form of mist via the high-pressure pumps contained within the fan system. Following this, these circulate all around the area and gradually get mixed with warm air.
Its high-pressure water pump is coupled with a powerful blower that results in super-efficient cooling for both indoor and outdoor spaces, producing light and fine mist that cannot be felt, making it an ideal pick.
Adding on, these misting fans are also energy-efficient when compared to the air conditioning systems, are compatible, portable, and are fairly large with the use of fewer than 30 watts. So, if air conditions are not anywhere near, feel free to choose these and easily enjoy the luxury of cooling with low electric bills and a wonderful experience.
Floor fans are primarily used for the purpose of cooling on the floor, the only reason why these are called floor fans and kept on the floor. When one talks about the circulation of the air in a hothouse, these fans are your ultimate rescue as they provide exceptional performance.
Floor fans feature to be super convenient, don't require permanent installation, can be used in outdoor spaces such as patios, terraces, and balconies too. The best part of these fans yet, they are available in all kinds – metal, steel, or superior grade plastic construction with a 180-degree angle rotation, in-built oscillation, tilt-able heads, adjustable height, and compact designs. They are also available in the market in various sizes, types, and shapes – including bladeless fans, window fans, box fans, etc.
Also known as the industrial blowers, these industrial fans' main purpose is to allow a large flow of air or gas to the various structures and spaces. They feature a number of rotating blades, are propelled by a motor turbine, have a continuous flow of air that is used for a number of different purposes such as air cleaning, exhaust, cooling, combustion, ventilation, aeration, drying, and many others.
As for types, these industrial fans are of two kinds: axial and centrifugal fans. (1) Axial fans are made from axial forces that allow the movement of air with the help of the central hub with blades that are attached to the fan system. This hub then spins at high-speed causing the fluid in the fan to move to the wheel's shaft.
While on the flip side, (2) the centrifugal fans are made from using the centrifugal forces which are attained with the help of a rotating disk that is present in the machine. They have sharp blades which are mounted at the correct angle on this rotating disk that further increases the pressure of the air or gas.
These fans are also known as the "scroll "or "squirrel cage" – as they are contained in a scroll-shaped exterior of the fan housing. The primary or basic function of this fan is to allow a quick escalation of gas or air which passes through the fan system.
To Conclude: Choosing The Best Fan
We hope the blog post above has helped you pick your favorite/best fan kind to help with the circulation of the air in your room/house/ or wherever in need. All we recommend is to keep a close eye on the kind of features you are looking for in addition to the space and requirement, be it the physical space, the budget, or the need.
The list above is curated keeping in mind all kinds of needs that one might come across, so as per your choice, make sure to have a well-informed purchase.
Types Of Fans FAQs:
1) Where are exhaust fans used in a house?
In comparison to all type of fans, an exhaust fan is usually found in the bathrooms or especially in areas that require better ventilation and these fans are best as they help purify the air from the pollutants, as well as, prevent the excessive heat from building up.
2) What are the different types of fans to choose from?
Listed below are 9 different types of fans to choose from:

Ceiling fan
Table fan
Tower fan
Pedestal fan
Exhaust fan
Wall-mount fan
Misting fan
Industrial fan
Floor fan
To know more, refer to the blog post above.
3) Why can't I feel the mist in a misting fan?
A misting fan features a high-pressure water pump coupled with a powerful blower that results in super-efficient cooling for both, indoor and outdoor spaces, producing light and fine mist that cannot be felt, making it an ideal pick.