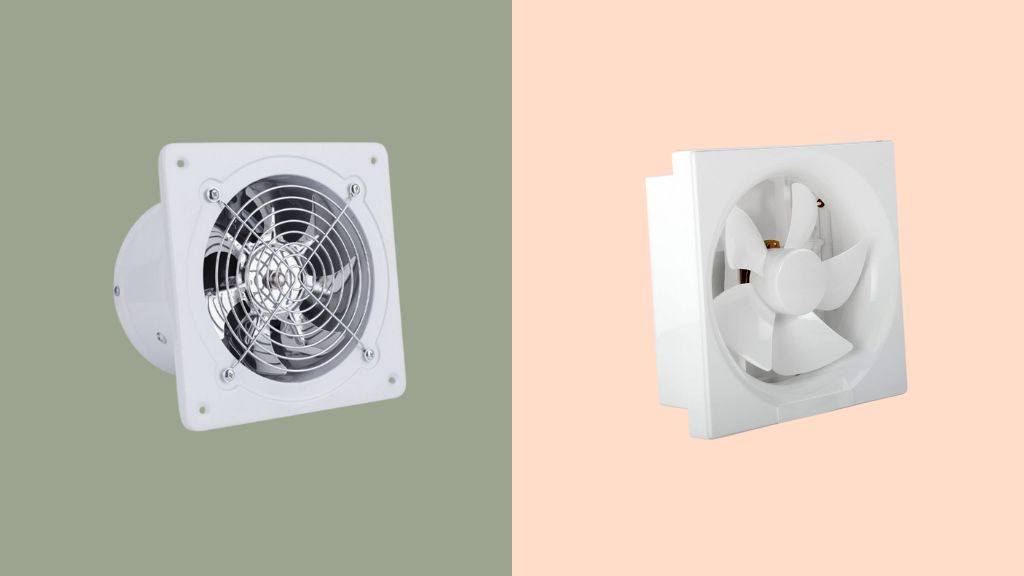 Kitchens are the hottest part of the house, especially in India where cooking includes tempering (a technique where ground or whole spices are roasted in oil or ghee), pressure cooking, or making bread (roti). All these cooking techniques make a kitchen a hot and humid place and for the person cooking it can become really uncomfortable.  And let's not forget the fumes produced by the cooking gas.
This issue can be solved by a kitchen chimney, but chimneys are expensive and hard to clean. In this scenario, an exhaust fan is a suitable choice as it is budget-friendly and removes heat, vapour, smoke, and fumes from your kitchen very effectively. But, which is the best exhaust fan for kitchen application? In this guide, we have mentioned the 10 best exhaust fan in India for you to choose from. Let's begin.
10 Best Exhaust Fan Options For Your Kitchen
It is important to note that these exhaust fans are offered by some of the best exhaust fan brands in India and are of premium quality. 
1. Havells FHVVEDXOWH06 Ventilair
This great exhaust fan option is made with a broad sweep width of 150mm. It has five blades that draw the smoke and the heat from all the corners of the kitchen and maintains a healthy flow of fresh air in the given space.
One of the best features of this exhaust fan is that it uses a tiny bit of power, which is just 22W, making it one of the most energy-efficient fans. Another distinguishing feature is the varying speed settings. It comes with four-speed settings allowing the users to choose as per their needs. Other than kitchen operations, it can also be used in restrooms to eliminate bad odours and humidity to keep them fresh. Its dual capabilities make it the best exhaust fan for kitchen as well as other areas of the house.
Features:
It doesn't change colour over time
It lasts a long time as the quality is top-notch
It is energy efficient
Comes with a 2-year warranty.
Pros:
Portable
Long-lasting
Powerful suction power
Copper winding available
Cons
No cons mentioned by the users
2. Luminous Vento Deluxe Exhaust Fan
This exhaust fan is an excellent choice to keep your kitchen smoke-free. Its 150mm blades do a great job at providing perfect airflow into the kitchen. It is made from high-quality materials and its 7.5-inch size effectively removes fumes and smoke from the kitchen, putting it atop the options of the best exhaust fan for kitchen in India.
Apart from the functionality, the exhaust fan has an elegant design and compliments the kitchen quite well. It doesn't matter what you are cooking, this Luminous Vento Deluxe Fan will keep the fumes and the heat out.
Features:
It has 5 blades that spin at the speed of 1350 RPM and has a 250 CMH air circulation rate.
It comes in different formats and keeps the kitchen fresh.
The fan's motor is made of 100 percent copper winding and offers high suction capability.
Pros
Lightweight
Powerful suction power
Copper winding
Highly durable
Havells has yet again made it to our list as it is one of the most trusted exhaust fan brands for kitchens. The brand integrates exceptional features into its variety of items. In the Ventilair DB, the brand has integrated double ball bearings and a heavy-duty motor to make it efficient and keep the air in the kitchen clean.
Features:
Its robust structure makes it last a long time.
It has greater endurance and hence it can run for longer periods of time in any condition.
It has a bird guard, which ensures secure and safe operations
Its modern design makes it perfect for modern interiors
Pros:
Robust build
Elegant design
Highly durable
Double ball bearing
Two-year warranty
Another Havells product that is highly efficient and comes at a low cost has been featured in this list. Havells fans come with great performance, are made of high-quality materials, and last a long time, making them the best exhaust fans for kitchens.
Features:
The three sharp blades draw the air out of the kitchen eliminating the humidity and the heat in the process.
The 40W-powered motor spins at 1300 RPM.
Provides an airflow of 700CMM.
It has only one speed setting, but it works effectively.
Comes with a bird guard made of steel.
Elegant design and colours match the modern interiors.
Pros:
Durable and long-lasting
Great airflow
3 blades offer great performance
Cons:
Slightly tough to install
5. USHA Aeroclean Exhaust Fan
USHA is an Indian brand that offers the best exhaust fan for kitchen options. The brand offers a complete exhaust fan package that can resist oil and dust accumulation and provide a fresh air flow in the kitchen.
The diameter of this particular fan is 30mm and it is moisture and oil-resistant. Also, it doesn't allow dust or insects to enter the kitchen.
Features:
It has a powerful motor with 100 percent copper winding.
Very durable and efficient performance due to double ball bearings.
Aerodynamic blades for smooth operation.
Blades are made out of power metal.
Oil and moisture resistant.
Stain and scratch-resistant.
Pros:
Durable
Robust configuration.
6. Orient Electric Hill Air
The Orient Electric Hill Air is an exhaust fan with a lot of impressive features, an appealing appearance, and comes at an affordable price. To make sure this fan is apt for Indian cooking situations, the fan is fitted with three metal blades equipped with the ability to draw the hot kitchen air out and provide a uniform flow of fresh air. The blades are durable and long-lasting as they are powder-coated.
Features:
This model is energy efficient as it consumes only 40W.
The fan runs at the speed of 1300 RPM to eliminate the fumes, and smoke out of the kitchen.
This fan is very efficient because it has an air delivery capacity of 13 CMM.
The fan comes with a one-year guarantee assuring the buyers that their money is well spent.
The fan has an attractive and durable design to blend in with modern kitchens.
Pros:
Easy to clean and maintain
Affordable price
Consumes less power
Modern design
Cons:
Makes some noise while running
7. Usha Crisp Air Exhaust Fan
This fan doesn't take up much space but is powerful enough to keep the smoke and humidity out of the kitchen. The fan lasts long as its blades are rustproof and perform very efficiently. This fan can not only be used in a kitchen, but also in a restroom.
Features:
It has five blades, which makes sure that the airflow is even throughout the kitchen.
Along with the blades, the body of the fan is also rustproof.
The brand has kept its customers in mind while creating this model and has made a robust and stylish fan.
The fan has an automatic back shutter, which closes when the fan is not on.
It consumes only 30W of power and spins at the speed of 1386 RPM.
It is lightweight, quiet, and comes with a one-year warranty.
Pros:
Silent operation
The blades and the body are rustproof
Has a back shutter
Reliable and long-lasting
Cons:
Requires upkeep and regular cleaning
Bajaj is a well-known brand in India that attempts to make the best exhaust fan for kitchen usage. The brand offers durable and long-lasting exhaust fans that enhance the quality of air in the kitchen. This fan in particular is made with power air suction functionality.
Features:
The fan runs at a speed of 1400 RPM and consumes 42W power.
It is light and operates silently.
The fan is coated with power, which makes it rustproof and increases its longevity.
It has an auto-reset feature and a two-year guarantee.
The fan comes with a stylish and sleek design.
Pros:
Great junk protection due to powder coating
Very energy efficient
Air is distributed evenly
Lightweight
Quiet operations
9. Usha Crisp Air Exhaust Fan 200mm
A smaller 150mm variant of this best exhaust fan has already been mentioned in our list. It's big in size with a 300mm duct size fan and 200mm sweep size yet it is lightweight. The fan spins at a speed of 1250 RPM and doesn't make any noise.
Features:
The 300mm duct size and 200mm sweep size fan comes with a 100 percent copper motor. It offers powerful performance and high suction. The blades are designed to keep the environment safe and for a longer lifespan.
It is very light, which makes it easier to install and maintain. It also makes it very silent.
The automatic back shutters close down when not in use and prevent dust and dirt from entering the kitchen.
The fan comes in two colours.
Pros:
Value for money
It is easy to install
Lightweight
High Suction Capacity
Automatic back shutters
Cons:
Might shake if used without stopping
10. Panasonic Kool Air Exhaust Fan
This particular fan by Panasonic is the best exhaust fan for kitchens in India. In fact, these can also be used for offices and in other rooms of the house where ventilation is an issue.  The fan comes with a two-year warranty and its design perfectly fits a contemporary kitchen.
Features:
The fan spins at 1350 RPM and consumes 35W power.
The air delivery speed is 300 CMH.
The fan is very silent and can be used in conference rooms as well.
The design of this fan is striking and will make your kitchen look unique
Pros:
Price for value
Wonderful design.
If you were looking for the best exhaust fan for kitchen operations, we are happy to report that you just read through the 10 best exhaust fans for kitchens in India. All the fans mentioned in our article are from reputable brands that understand customer needs. These fans are durable, long-lasting, and robust. Apart from that, these fans are very efficient when it comes to drawing hot, humid, and smokey air out of the kitchen and other parts of the house. Finally, these exhaust fans are designed to fit your modern kitchen.
Best Exhaust Fans for KitchensFAQs:
1. Which is the best exhaust fan for the kitchen in India?
There are a lot of exhaust fan brands in India but there are the best of the best:
Havells FHVVEDXOWH06 Ventilair
Luminous Vento Deluxe Exhaust Fan
Havells Ventilair DB
Havells Ventilair DSP
USHA Aeroclean Exhaust Fan
Orient Electric Hill Air
Usha Crisp Air Exhaust Fan
Bajaj Bahar Fresh
Usha Crisp Air Exhaust Fan 200mm
Panasonic Kool Air Exhaust Fan
2. Which exhaust fan is best plastic or metal?
Typically, for an Indian kitchen, a metal blade fan is the best choice because of the oily cooking conditions, it can be easily cleaned. For a kitchen that is 10x9x8 cubic feet, a 12-inch exhaust fan might suffice. However, for a restroom, a plastic blade exhaust fan might be the best choice as it is humid in the restroom and such blades do not rust.
3. What is sweep size in an exhaust fan?
A sweep size means the entire diameter of the blades. You should know the length of the fan blade from one tip to another. If you are planning to install an exhaust fan in a big room, it is quite obvious that an exhaust fan with a large sweep size is the right choice.
4. Are 5 fan blades better than 3?
When it comes to exhaust fans, a 3 bladed fan is more aesthetically pleasing, but a 5 fan blade sucks out more wind. However, the RPM of the fan also factors in the situation as a 5-blade fan with a low RPM will draw out less wind and vice versa.