During the hot summer days, the best ceiling fans in India is your companion, and dare we say, your best friend. Other than those scorching hot days when you need an air conditioner on full blast, a ceiling fan is the best way to stay cool. Today, ceiling fans have evolved from wobbly and noisy to silent, stylish, and easy to control. Fan designers say that a style of a ceiling fan does not make a significant difference in terms of air circulation and functionality. Even the number of blades is a contributing factor to air circulation. In fact, more blades can create drag. 
So, which ceiling fan brand should you choose for maximum cooling effect? The guide that we have created has the Best Ceiling Fan Brands in India. But first, let's look at what we should expect from a ceiling fan.
The airflow of the best ceiling fan means the volume of air it can move with intensity at its highest speed setting. This capability of a fan is measured in cubic feet per minute. The ideal airflow for a fan is proportional to the size of a room. You don't need a jet-engine-strength fan blowing up the curtains in a small room or multiple fans to circulate air in a large high-ceiling room. In general, you need a fan that has an airflow of 4,000 cubic feet per minute for the majority of rooms. The capacity of ceiling fans goes up to 6,500 cubic feet per minute.
The two aspects that you should pay attention to while buying a fan are the diameter of a fan's blade and the download's length (the bar that connects the motor to the ceiling). For the best dimensions, measure your room and figure out which fan would be the best. According to experts, the fan must hang around nine feet from the ground for the perfect breeze. The lowest you can go is seven feet. For small spaces, you should get a hugger-style fan, which is mounted against the best ceiling fan. 
The diameter of a fan blade affects the airflow of a fan. If the blades of the fan are longer, it will move more air per minute. For a medium-sized room, a fan with 50-inch blades is a good size for maximum airflow. For small rooms such as bathrooms, you need a smaller fan, and for your large, high-ceiling rooms you might need a larger fan. In this best ceiling fan brands guide, we have mentioned fans from a 42-inch sweep to a 65-inch sweep.
Today, many fans come with integrated light kits. These light kits are stylish and have functionality as well. It gives your room a more streamlined look. However, experts say that it must not be the only source of light in your room. Measure your room and determine how many lights you need in the room other than a ceiling fan light. Overhead lighting, with table lamps and floor lighting, adds a more welcoming and dynamic atmosphere to your home.
The controls of fans have evolved from pull cords to switches to remotes and now smartphone apps. In this guide, we have fans with wall panels and remote controls. If the fans on our list come with smart-home devices, we are mentioning it as well. So, let's get started with the list.
Minka-Aire Contractor Plus Fan
Experts love the Minka-Aire brand. A lot of interior designers have mentioned that this is their favorite brand when it comes to designing the interior of a home. The Contractor Plus model is one of the most reliable models of this brand, making it one of the Best Ceiling Fan Brands in India. It comes in two different sizes, and seven different finishes, and can be customised even further with accessories such as a light kit or wall control. Therefore, it fits everyone's needs. What makes it even better is that it is very affordable, which means it can be installed in multiple rooms of the house, raising the style factor. 
It's also quite affordable, making it easier to buy in multiples for large spaces or to match across rooms.
Hunter Fans Low-Profile Five Blade Fan
This 42" model is an affordable and solid pick for rooms that are 100 sq. ft or less.  It is a small hugger-style fan meaning it is ideal for a bathroom, foyer, or pantry. It is very compact and mounts flush to the ceiling. This fan comes in three finishes such as two tones of wood, white, and bronze. Also, it comes with a pull chain to switch it on or off. Moreover, it is a high-quality fan and buyers love it and have given it more than 2,500 five-star ratings on Amazon.
Honeywell Carmel Ceiling Fan with Light Kit
Honeywell is one of the best ceiling fan brands in India that offers fans integrated lights. As we mentioned before, fans with integrated lighting are highly functional and Honeywell takes this functionality a step further with its 40-watt LED bulbs, offering an ample amount of lighting for a medium-sized room. Buyers love this fan and 2,000 of them have given it a five-star rating. Moreover, it has an average rating of 4.5 stars on Amazon. Reviewers mentioned that it is versatile, quiet, and overall a great deal.  
Minka-Aire Light Wave Ceiling Fan
We have already established that Minka-Aire is one of the best fan brands out there. This model makes this brand even better with its curved blades. Experts have mentioned this fan as energy efficient and effective in their reports. This fan has a lot of customization options. It comes in five colours and three sizes and customers can mix and match the colours such as a rich koa finish or a nondescript matte black as per their requirement. It offers incredible airflow and has a large blade sweep. This model comes with a 65-inch wide blade option and moves more than 5,700 cubic feet of air per minute
Cirrus DC Ceiling Fan with Remote
This fan model comes with a 50" inch sweep and two options of 6" and 12" downrod. It has a wall control and remote control, making it one of the best fan brands. Many interior designers have recommended this pill-shaped Cirrus fan. It was designed by Ron Reek in 1997 and since then it has been winning over customers time and again. The design of the fan is described by interior designers as clean and airy with a simple look and metal finish. It is also damp-rated so if you are looking for a fan for a semi-outdoor space, this one is perfect.
Maverick 60-Inch Ceiling Fan
Which brand's ceiling fan is best for less energy consumption? Maverick's 60-inch ceiling fan is the answer. It is described as the Prius of ceiling fans by interior designers because it is highly energy efficient. One way to measure a fan's efficiency is the airflow it can deliver per watt of power. Maverick uses 27 watts and delivers 246 CFM per watt, making it one of the most energy-efficient fans in the market. 
But it doesn't mean that this fan is not stylish. It has hand-carved wooden blades giving it an old-school rustic look. It is damp-rated so it can be used in semi-outdoor spaces away from direct exposure to certain elements. Also, it is easy to clean. 
Haiku Home L Series 52-Inch Smart Ceiling Fan
Haiku is one of the best fan brands in India as they offer some of the best smart-home features. Haiku's Big Ass Fans (yes, that's the name of the model) have a lot of high-tech features. It has humidity, motion, and temperature detectors to help figure out when it has to turn on and how to adjust to the room's temperature. You can also give it voice commands as it is Wi-Fi enabled and it connects with Google Assistant and Alexa. 
Luminous 1200mm 70-Watt High-Speed Fan
Luminous, a leading company in power technology and battery solutions, offers a range of electrical appliances including the Luminous Dhoom, a sleek high-speed ceiling fan with an aerodynamic design that complements any room decor. The wider blades of the fan generate a significant amount of airflow, providing a refreshing breeze throughout the room. With an air delivery of 220 CMM, the fan offers optimum cooling.
The fan body is made with 20% more copper, providing additional durability and ensuring a longer lifespan. The 12-pole motors enable the fan to rotate at a high speed of 380 RPM, delivering a powerful airflow while maintaining a sleek and stylish appearance. The Luminous Dhoom is a great choice for anyone looking for an efficient and aesthetically pleasing ceiling fan.  
Orient Apex-FX 1200mm Fan
Orient is one of the best brands for ceiling fans in India. It has been serving the Indian population since 1954. The Apex ceiling fan is a simple yet elegant solution that Orient offers to help combat the heat in India. With its wider and ribbed blades, this electric fan is super efficient and reliable.
The Apex fan is suitable for all seasons and features double ball bearings for smooth and noiseless operation, ensuring uninterrupted sleep. With its high air delivery and energy-saving technology, the Orient Apex fan is a great addition to any home seeking both style and functionality.
Ceiling fans are an absolute necessity in a home. When the sun is at its hottest, it's the ceiling fans (other than the AC) that help us cool down. But, it doesn't mean that the ceiling fans have to be basic. They can be as stylish and as modern as we want them to be. The best ceiling fan brands that we mentioned in this article deliver just the best ceiling fans with a lot of flairs, which adds sophistication to your home.
Best Ceiling Fan Brands FAQs
1) Which are the best ceiling fans in India?
The best fan brands in India such as Haiku, Minka-Aire, Hunter Fans, Honeywell, Maverick, and more offer some of the best fans in India. They offer fans with a lot of airflow without making too much noise. Additionally, some of the brands offer remote-controlled fans and smart home devices. Lastly, some of the fans have integrated lights in them as well.
2) How do I choose a good ceiling fan?
This is how you choose the best ceiling fan brands in India in 2022. There are four factors that you have to consider while choosing a good ceiling fan: Airflow, Dimensions, Light, and Controls. A good fan should have an airflow of 4,000 cubic feet per minute. Its blades shouldn't be more than 42" but for a larger room, a 65" blade should be the requirement. If the fan has an integrated light kit in the fan then it's a win and check if it comes with wall-mounted switches, remote control, or a smartphone app.
3) Which is better: 5 blades or a 3-blade fan?
Contrary to popular belief, 5-blade fans are not better than 3-blade fans. People assume that a 5-blade fan would provide better airflow as compared to a 3-blade fan. Instead, it creates more drag and provides less cooling, circulation, and air movement. All a 5-blade fan adds to the interiors is the aesthetic appeal.

Here's more to look into!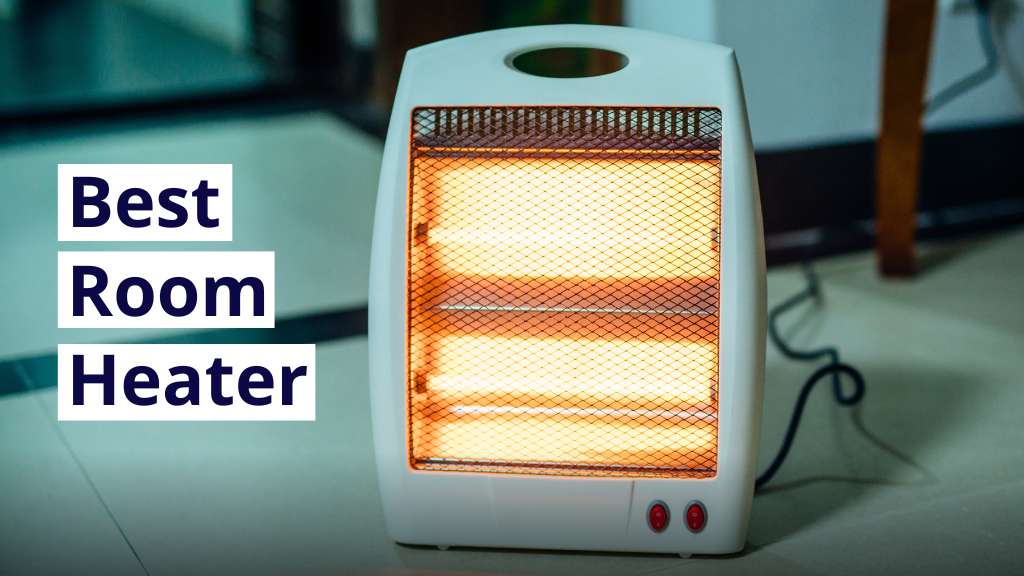 Choosing the Best Room Heater: A Comprehensive Guide to Staying Cozy Room heaters...