A brand new plotted development project, Mantri KNS Carica is launched in Donnenahalli, Off Kumbalgodu, Mysore Road, Bengaluru. The project features only the very best of Mantri Developers' Plotted segment with huge, spacious plots, packed with luxury and modern-living.
As for the builders, Mantri builders are well known and an established brand in Bengaluru committed and dedicated to bringing the best of community living experience to the community of Donnenahalli.
Apart from some brilliant architecture, the plots are further surrounded on all sides by beautiful landscapes which keeps you and your loved one closer to nature. Besides, the location also offers excellent connectivity with the rest of the city and is in close proximity to several other existing and upcoming communities & facilities.
The range of amenities one can indulge in and enjoy at Mantri KNS Carica include a fully equipped clubhouse, health center, gymnasium, swimming pool, recreation rooms, outdoor sports courts, children's play area, party hall, and much more. Above and beyond everything else, Mantri KNS Carica Plots are focused on providing state-of-the-art securities with its 24×7, highly meticulous security system.
Mantri KNS Carica: Donnenahalli, Off Kumbalgodu, Mysore Road
Total Units: 384 units
Land area: 22 acres
Unit Variants: 1200-2400 sq. ft.
Possession Time: December 2022 Onwards
Upsides of the Mantri KNS Carica
1. Located in proximity to Kumbalgodu, Mysore Road, Industrial hubs, Global Tech village, NICE Junction for easy connectivity and accessibility
2. Various international schools, Medical and Engineering colleges, and other essential amenities and centers are easily accessible
3. Upcoming Metro Stations and many more existing facilities and communities
4. A beautifully mastered project, surrounded by beautiful landscapes, and competitively priced, an excellent opportunity for investment purposes as well as for self-use
5. The Mantri brand name and reliability is offered in a well-developed area with easy access to amenities at competitive prices even for luxurious living standards
6. South-West Bengaluru and Mysore Road are already undergoing development which will offer convenient access from these parts of Bengaluru to every other part via highways and "Purple Line" Metro construction
Downsides of the Mantri KNS Carica
1. Many civic amenities still under construction around the property premises
Mantri KNS Carica – Unit Type, Size in Sq. Feet & Price
Unit Type
Size (in sq. ft.)
Basic Price
Tentative All-Inclusive Prices
30'0″ x 40'0″
1200
Rs. 12 Lacs Onwards
Rs. 20 Lacs Onwards  
30'0″ x 50'0″
1500
Rs. 20 Lacs Onwards
Rs. 25 Lacs Onwards  
30'0″ x 54'5″
1633
Rs. 22 Lacs Onwards
Rs. 27 Lacs Onwards
30'4″ x 60'0″
1818
Rs. 24 Lacs Onwards
Rs. 30 Lacs Onwards
40'0″ x 60'0″
2400
Rs. 32 Lacs Onwards
Rs. 40 Lacs Onwards
Tentative Approximate All-Inclusive Prices comprise- Basic Price, GST, Car Parking Charges, Legal Charges, Club House Charges, Maintenance Deposit, BWSSB, BESCOM charges. Prices are not inclusive of preferred location charges Franking Charges, Stamp duty & Property Registration Charges Extra as per Govt Norms.
Mantri KNS Carica External Amenities
1. Swimming pool
2. Indoor Games Room
3. Gymnasium
4. Amphitheatre
5. Nature trails
6. Kids Play Area
7. Party hall
8. State-of-the-art securities
9. Jogging Track
10. Fully equipped clubhouse
11. Outdoor Play Court
12. Landscaped Gardens
Mantri KNS Carica Internal Amenities
Waste Management     
1. Fully-functional waste segregation and management systems
2. Treatment plants (STP) for sewage
Roads & Structure          
1. Well lit streets within the compound at equal distances
2. Offers a 60-feet wide main road and 30-feet wide sub road
3. Underground cabling for water & power amenities
Greenery
1. Tree-lined with landscaped gardens
2. Organic Nature Trails area
3. >40% Open Spaces.
Security              
1. Magnificent, impressive entrance plaza with gated security
2. Advanced security system with CCTV cameras at all crucial points
Water Supply  
1. Water Supply managed via overhead tanka
2. Installation of rainwater harvesting pits
Mantri KNS Carica Master Plan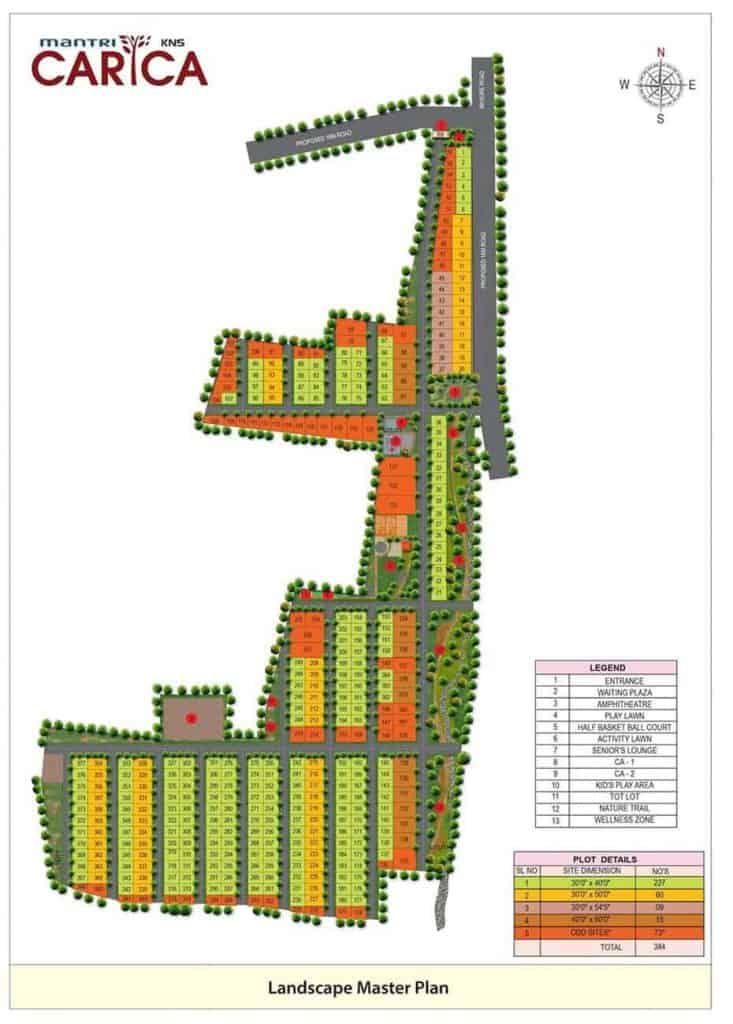 Mantri KNS Carica Location Map

Mantri KNS Carica - Address and Google Map
Address: 29/2A 29/2b of Donenahalli Village South, Taluk Tavarekere, Uttarahalli Hobli, Bengaluru, Karnataka 
Pincode: 562130
Email : [email protected]
Mantri KNS Carica Image Gallery
(FAQs) Mantri KNS Carica
1.What is the price of a plot in Primus Mantri KNS Carica?
The basic price of a 1200 sq.ft size plot (30'0" x 40'0") starts from Rs. 16 Lakh Rupees onwards and Rs. 20 Lakhs all-inclusive.
2. Where is Carica located ?
The plotted development project is located in the Donnenahalli area just off Kumbalgodu, Mysore Road. It is in the Southwest region of Bengaluru
About the Builder – Mantri Developers
In the supremely dynamic and competitive sphere of property development, one name has consistently been a trailblazer, setting the trends for others to follow. The innovation-led, future-focused Mantri Developers Pvt. Ltd. Established in 1999 by Mr. Sushil Mantri, the company has been the pioneering force behind the rapidly changing skyline of south India, with developments that span the residential, retail, commercial, education, and hospitality sectors.
In just 16 years, the group, with the spirit of innovation at its core, has carved a niche for itself as an industry benchmark for quality, customer focus, robust engineering, in-house research, uncompromising business ethics, and the unswerving commitment to timeless values and total transparency in every aspect of its business. These exceptional attributes have made Mantri Developers one of India's most preferred real estate brands in south India.
Mantri Developers is now leveraging this expertise by foraying into competitive international markets such as Dubai, Singapore, and the USA. Domestically though, it will continue to focus on residential, retail, office, hospitality, townships, and educational institutions in the high-growth urban centers such as Bengaluru, Chennai, Hyderabad, and Pune.
The group has already successfully completed and delivered 32 projects, has 17 ongoing projects, and has another 5 upcoming projects in the pipeline.