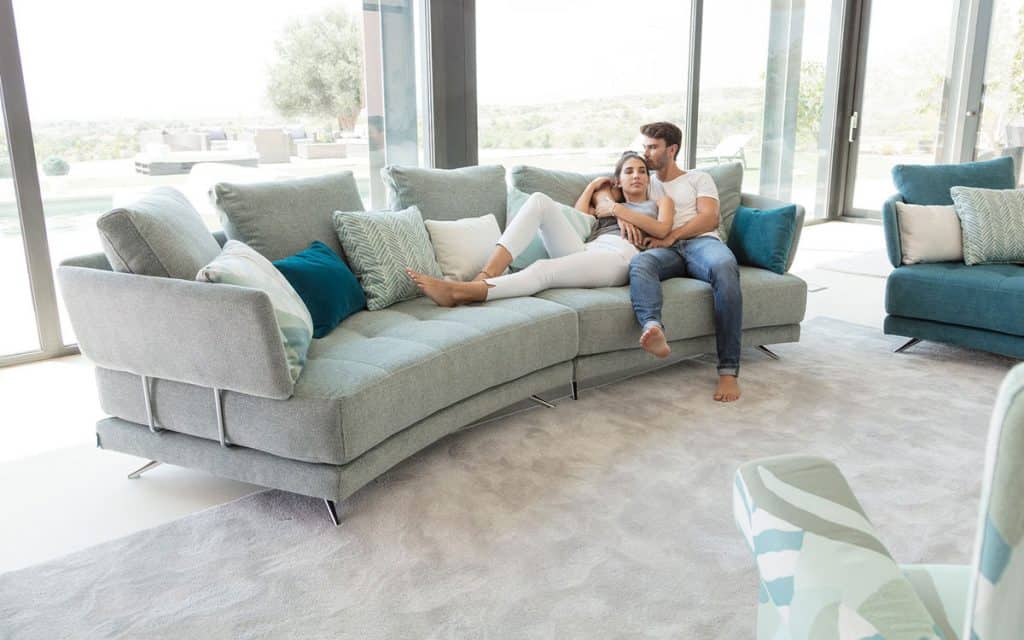 A set of sofas is a must-have in most Indian households. It's that pivotal furniture that greets our guests, hosts our movie marathons, and cradles us during those lazy Sunday afternoons. When it comes to choosing the best  types of  sofas right one for your home, you'll have to factor in things like the available space, your budget, personal preferences, and specific needs.
Of course, the style of your chosen sofa set must complement the rest of your furniture and the overall modern aesthetic of your room. Consistency in your home decor really helps to showcase your personal style.
We understand that picking the perfect sofa set might seem overwhelming, given all the options out there. But don't worry, we're here to help. Keep reading as we walk you through the various types of sofa sets, including those designed for the hall and smaller living rooms, to simplify your decision-making process.
Who knew sofas could be of this many types! Here are 19 different types of sofas that you can use to adorn your living room. At a glance, there are 19 types but counting its subtypes we have curated 27 types. Phew! Here is the list.
1. Sectional sofa
2. Lawson-style sofa
3. Chesterfield sofa
4. Contemporary mid-century modern sofa
5. Mid-century modern sofa
6. Bridgewater
7. English rolled arm
8. Cabriole
9. Camelback
10. Divan
11. Sleeper sofas
Pull-out sofa bed
Convertible sofa
Futon
Daybed
Bunk bed sleeper
12. Loveseat sofas
13. Recliner sofa
14. Settee sofa
15. Low-seated sofa
16. Tuxedo sofa
17. Sofa lounger
Full sofa lounger
Multi-sofa lounger
Single sofa lounger
18. Chaise lounge
19. Pallet couches
By The Way, What Types Of Sofa Sets Do People Like The Most?
Aside from the usual three-seater couch, sectionals are always a hit because they're so flexible. Some particular couch styles that have become really popular again over the last ten years are those with a midcentury-modern look and those with extra-deep seats for maximum cosiness. While many folks still prefer leather and canvas for their couches, velvet and bouclé have also been really trendy in home décor lately.
Read On For The Comfy Details!
Sectional sofas are a type of sofa set that comes in many pieces. They come in numbers of either 3 or 5 and can be arranged in various configurations.
You are supplied with fixtures to align the prices in your favorite configuration and keep them from separating.
Sectionals are a popular choice these days which makes them available in different configurations, the most common of them being the U-shape and the L-shape.
Sectional sofas were built in the Victorian era and were actually 2 or more sofas pushed together to make a larger sofa.
Chesterfield sofas are known for their "tufted" or "quilted" style and are more of a fancy couch. Most of these types of sofa have tufted designs on their back and arms while others have them on the seat as well.
Chesterfield sofas were commissioned by Lord Philip Stanhope in the 18th century. He wanted a piece of furniture in which a gentleman could sit comfortably without wrinkling his clothes.
A Lawson-style sofa has a signature design element at its back consisting of pillows separated from the frame. The idea is to create a softer, highly cushioned sofa that is not taut within its frame.
They come in different materials, colors, and sizes. You can also move around the pillows to suit your comfort.
The Lawson-style sofa was first created for a financier, Thomas W. Lawson in the 20th century. These are an apparent derivative of the tuxedo sofa.
4. Mid-Century Modern Sofa
Mid-century modern sofas came into the design between the years 1930 and 1970. It has made a comeback these days and it is here to stay. It is all about minimalist design which comes in a wide variety of styles. These types of sofas are characterized by simplicity, practicality, and elegance.
Its history can be retraced to the Bauhaus in Germany and other popular European styles. With German immigration into America after World War II, the Bauhaus style became a part of American culture.
Such mid-century furniture featured clean lines, sleek designs, and was manufactured in both non-traditional and traditional materials such as velvet fabric, wool, or vinyl.
Mid-century modern sofas were colored in contrasting black and white and neutral to cold colors in simple geometric patterns.
5. Contemporary Mid-century Modern Sofa
The types of sofas referred to as modern furniture are basically mid-century designed furniture. Modern sofas are also a common term used to refer to contemporary mid-century modern furniture.
Mid-century modern furniture is not the same as contemporary furniture but it is based on a particular design style such as contemporary camelback or contemporary chesterfield.
Also called the English sofa, the English rolled arm sofas are known for their low arms with high backs. The upholstery is tight yet it is decently cushioned all over, even on the arms.
It's similar to Bridgewater but is distinguished by its taut upholstery and low arms. Certain English rolled arm sofas have arms so low that they appear to be armless.
These sofas are characterized by tight, rounded arms that are slightly lower than the back, loose seat cushions, and a tight back. Perfect for a parlor or a living room, these coordinate well with all modern furniture.
You can customize the leg to match your choice of furniture styles. For instance, you can opt for a straight leg for a modern style and a turned leg for traditional decor. To blend the traditional and contemporary, you can opt for stripe pattern works or a geometric pattern.
English rolled arms sofas appeared in the 20th century in British country manors and have been described as the furniture equivalent of a meatloaf.
These types of sofa sets are ideal if you use a slipcover on your furniture. You can simply replace or remove the worn-out or soiled cover all the while preserving your sofa's beauty.
A Bridgewater sofa is defined as comfortable and casual. Similar to the English rolled arm sofas, Bridgewater also has slightly rolled arms at its sides which are lower in the back. Even though it fits well in most rooms however it is styled, it is seldom going to be the stand-out feature of the room.
It is also known as the English three-seater or the birch-arm sofa and is characterized by low set-back rams, slightly rolled back, a distinctively tailored skirt, and padded but loose cushions.
Some contemporary pieces of Bridgewater feature exposed legs. If you are a person using slipcovers for your furniture then Bridgewater is for you.
These sofas can seat people and are versatile enough to blend in with all sorts of decor.
Bridgewater with rayon or velvet fabric will complement traditional décor while a neutral shade of fabric is best to do with bold artwork that needs to stand out. A well-constructed Bridgewater will feature high-quality springs that will ensure optimum comfort.
Camelback sofas are the unique ones amongst the different types of sofas. They have a back that is its highest at the center while slowly descending in a line into its rams. Apart from the design, camelbacks are also available with 2 arches on their backs.
They have exposed wooden legs and exposed wood at the top of the arms and back. Contemporary camelbacks are more comfortable than antique camelbacks.
Camelbacks are a late 70s product from the home of Great Britain with Thomas Chippendale as its patent manufacturer. His furniture was constructed in the modified Rocco style whose features include, ornamentation, natural curves, lightness, and elegance.
Camelbacks are characterized by their exposed legs, tight upholstery, scrolled arms, and a shaped bench seat that provides ample support.
Authentic camelbacks feature claw-and-ball feet in the Queen Anne style with no separate back cushions.
Modern camelbacks have up to 3 humps with their bold upholstery and graphic prints setting an updated style to the traditional style of the sofa.
Cabrioles have a continuous design with arms and back of equal height. These arms are curved inwards to create a long line of comfort.
Some cabrioles feature ornate designs which are absent in the contemporary ones as they focus more on cushioned effects in the seat regions.
Carbioles are known for the exposed wood trim along the top of the arms and the back. However, contemporary cabriole sofas come without this wood trim.
Chaise lounges are still a popular type of sofa set. Some of them have arms while others have no arms and are found as patio furniture typically found at the poolside.
Chaise lounges owe their origin to Egypt dating back to around 3000 BC. It was constructed then with palm stalks secured with pieces of cord or rawhide. Lounges with wood were also in use in Egypt.
Chaise lounges with draped fabric and cushions were in use in ancient Greece. The ancient Roman chaise lounges were called "lectus" that were popular during banquets and meals. The chairs were made of wood and furnished with comfortable cushions.
The word "chaise lounge" comes from the French words "chaise longe" which meant "long chair". In the 1500s the French lounge gained popularity and was a social status symbol made of costly and rare materials. Modern chaise lounges are usually used for relaxation.
Sleeper style sofas range from daybeds to futons to pull-outs and to bunk-bed sofas. Read on to know more!
Pull-out sofa beds are the most popular among all the sleeper sofas and have come a long way from 20 years ago. Modern pull-out sofas are well-designed and offer way more comfort than what they offered before. A futon is different from a pull-out bed because the pull-out can remain upright with the sleeping surface folded under its belly.
A convertible sofa does not have a mattress. The mattress is formed by the couch pillows on it. Convertible sofas are more or less comfortable than the pull-out bed by the quality of the mattress.
Futons are a bed/sofa combo with it back folding or releasing downwards to create a flat sleeping space that is cushioned.
Daybeds are similar to chaise lounges with the exception that daybeds have backs or ends on each of its sides. One disadvantage with daybeds is that it is not for tall people.
Bunk bed sleeper sofas are not a common design but kids will love them without a doubt. They are always drawn to anything that transforms and bunk bed sleeper sofas are the best attraction.
Loveseat sofas are made for two people and it is an umbrella term which is often part of a living room. They come in a variety of designs and styles such as cabriole, camelback etc. Here's a common question that people ask related to loveseats: at what length does a loveseat turn into a sofa?
There are 4 categorisations of loveseats based on length such as,
Compact: 1 person seating, 51 inches in length
Small: 52 inches in length
Medium: 58 inches in length
Full: 64 inches in length
Loveseat sofa: 71 inches in length
The type of sofa set without a back is called a divan which is why you must place it against a wall so that you can arrange some cushions there for a comfortable backrest. A divan's design restricts its placement to certain places but offers quite a versatility concerning the placement of pillows.
Sette is basically a wide chair that is narrower than loveseat sofas. These are less comfortable though as they are designed like a wide dining chair with arms. Hardly two people can fit on these seats but they do have an old-world charm that would make for nice foyer pieces.
Recliners are fairly new into the sofa market but it's popularity has given its comfort in reading and watching television. They may not be the best for a formal living room but can be a good choice for media rooms and family rooms.
A sofa with high arms level with its back is called a tuxedo sofa. It may not be the most comfortable of the lot because of no recline at its back but is classy looking enough to be put in your living room. These were first seen in the 1920s at Tuxedo Park, the wealthy New York State enclave.
Low-seated sofas come in a wide variety of styles and can be found in different rooms such as bedrooms, family rooms, living rooms, or any other rooms. Its typical height is below 17 to 18 inches.
Pallet couches are the types of sofa that is built against the wall and cushions are placed against the wall. You can even build a pallet sofa with a reclining back for more comfort. Usually people build their own pallets but if you want you can buy one too.
Sofa loungers are chaise lounges but in sofa-style. It has an extension to put up your legs just like a chaise lounge. Here are the different sofa loungers in the market.
Full sofa loungers are sleeper sofas where you can sit up.
Multi-sofa loungers have more than one extension to put up your feet.
Single sofa loungers are very common where there is a single chaise lounge extension and the rest of the part is a normal sofa.
Sofas are the ornament of a cozy living room where you can spend some family time and even some playtime with your kids. You need the best support and comfort to be enjoyed at the end of a tiring day. Choose your type of sofa wisely considering your need and the available space of your room. Happy hunting!
Types Of Sofas FAQs:
1. What is a Recamier sofa?
A backless couch with a low footrest and a high headrest that is curved is called a Recamier sofa.
2. Why are loveseats called loveseats?
Loveseat gets its name from the fact that it can seat two people close to each other. It was invented in the 17th century to accommodate women wearing dresses with large hoops to sit comfortably.
3. What are round couches called?
The Borne settee is called the round couch. It is circular and upholstered in a Victorian ottoman style. It is also at times referred to as the conversation seat and has 3 or 4 seat divisions with a central cone to provide a backrest.