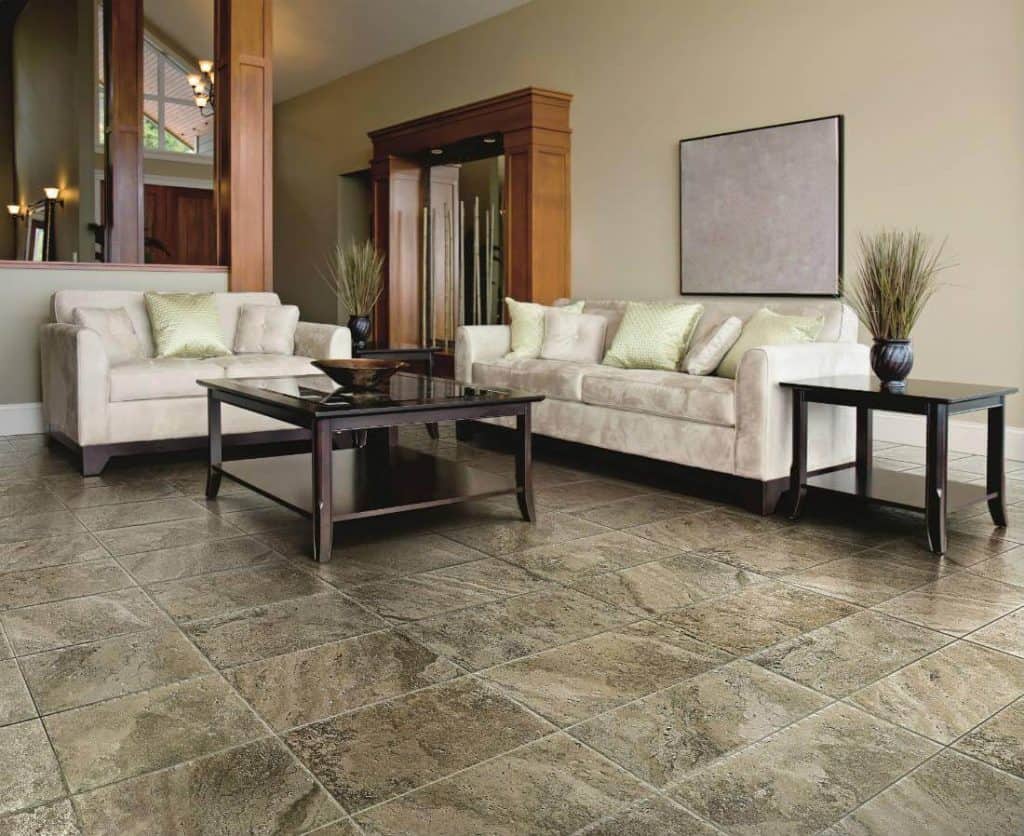 The living room is the place of recreation and fun banter for everyone in the family and friend circle. You need to make sure that you give it a fun, vibrant, and happy vibe. Choosing a tile floor can be a daunting task but it need not be so with this extensive guide on the best tiles for living room floor .
To find the floors that will compliment your living space you need to have some specific planning. You should consider the overall location, spacing options, and layout. Read on to know more about the best options for tiles to decorate your cozy living space.
These options can be intimidating enough with their varied sizes, textures, colors, and patterns. But fear not since we are here at your rescue with the tiles that work the best for the living room. Here are our top 11 picks.
Terrazzo tiles
Ceramic tiles
Engineered hardwood tiles
Slate tiles
Porcelain tiles
Luxury vinyl tiles
Vitrified tiles
Plastic laminate tiles
Linoleum tiles
Mosaic tiles
Sandstone tiles
Let's dive deep into the details of each of these tiles and check out why they are best for your living room.
Here Are The Best Tiles For Living Room Floor In 2022
1. Terrazzo Tiles: Best Tiles For Living Room Floor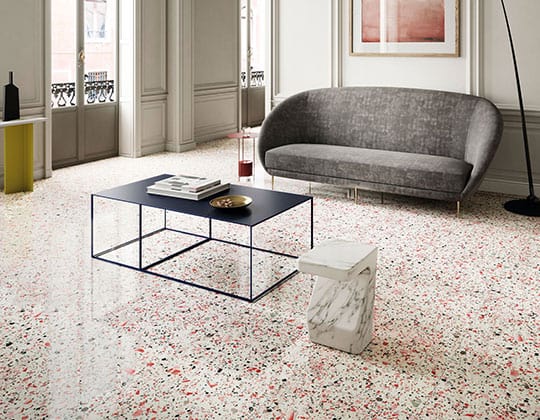 Terrazzo tiles are a mixture of a variety of materials such as granite, marble, and quartz. Some tiles also contain glass amongst other materials making this one versatile tile.
Terrazzo tiles are great for your living space due to their high durability and low maintenance. They also give out a fresh and clean vibe to the floor. They conveniently hide stains and easily blend in with several types of decor whatsoever it be. If you are going for a modern look a homestyle look or even an earthy look, terrazzo tiles are super easy to install which makes it worth considering.
2. Ceramic Tiles: Best Tiles For Living Room Floor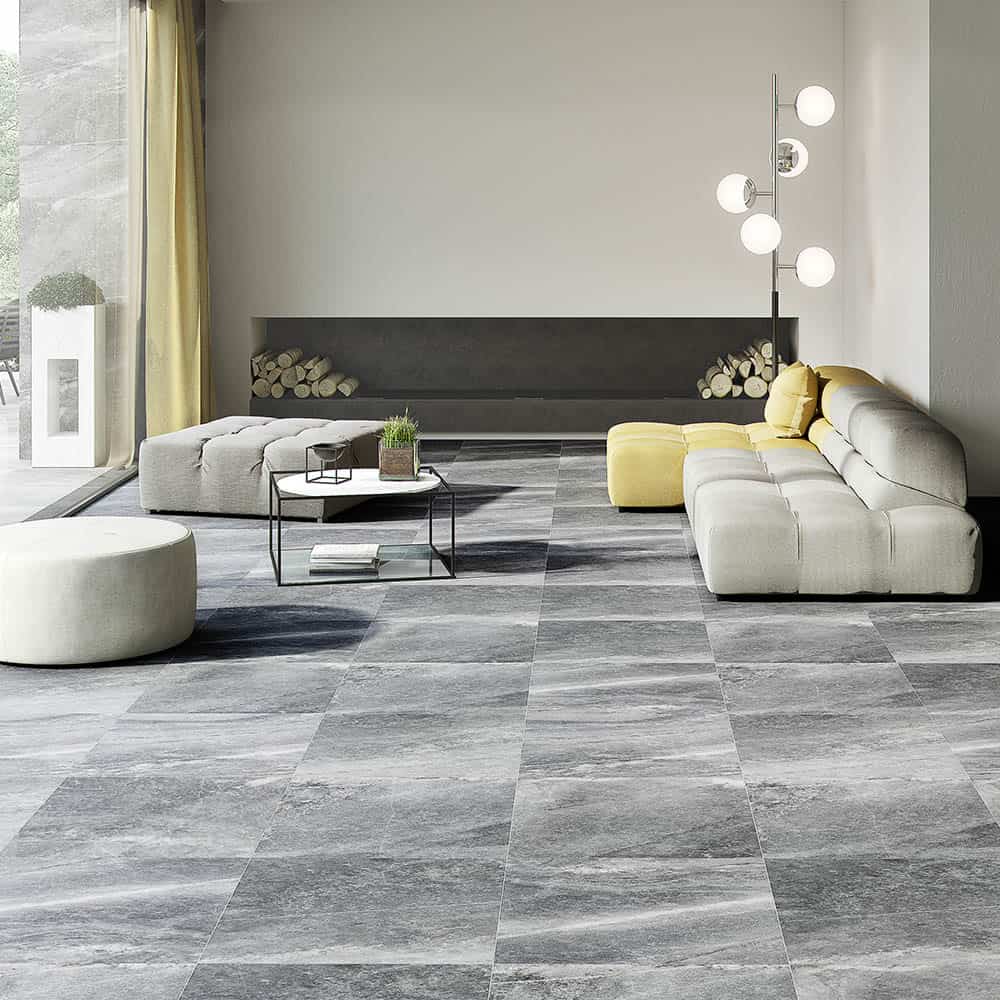 Ceramic tiles are made of quarried clay by molding them into several shapes. These tiles are available in polished, glazed, or unpolished forms. The best thing about adding ceramic tiles to your home is that it's cost-efficient and is available in several options. Also, they are very simple to install and maintain.
3. Engineered Hardwood Tiles: Best Tiles For Living Room Floor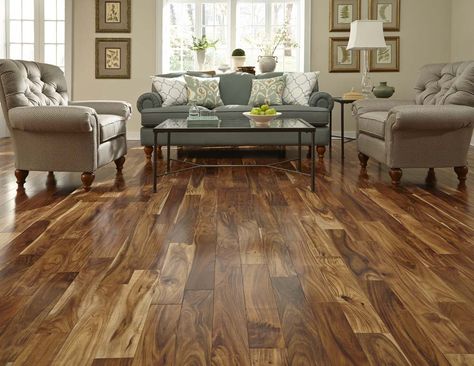 If you want to lend an earthy look to your living room, engineered hardwood tiles are your best choice. They are easy to install and last longer due to their durability. They also do not require much maintenance and cleaning them is not that much of a task. These tiles can tolerate high levels of humidity along with sufficient water resistance.
These tiles are available in several colors, styles, and designs. If your living room is a splash of colors then these tiles are the best combination for your living room as they ooze cohesiveness.
4. Slate Tiles: Best Tiles For Living Room Floor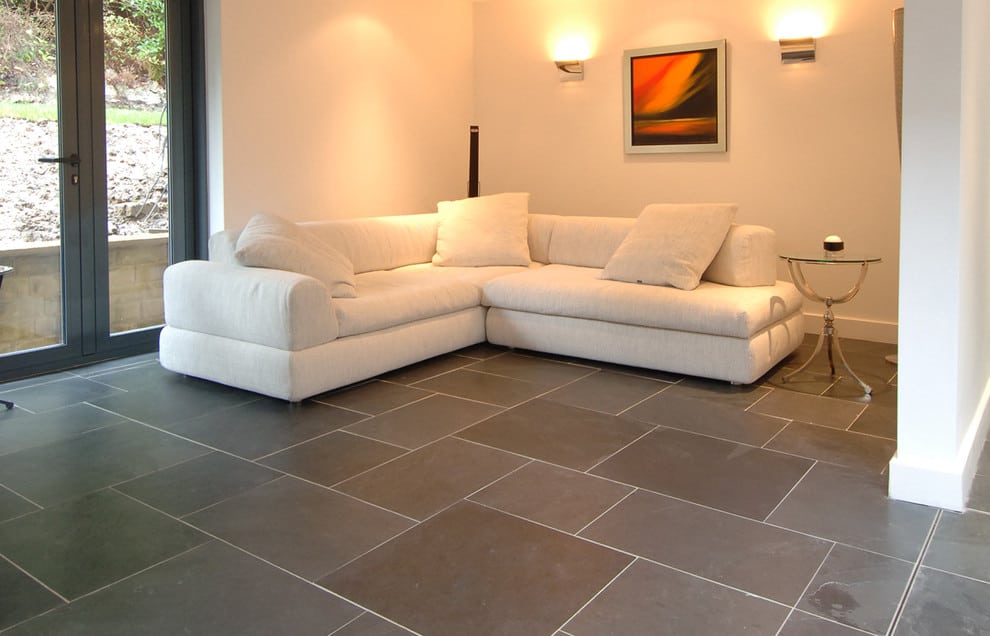 Slate tiles give your room more of a contemporary look and are safe too as they are naturally resistant to slipping. This makes it ideal for high-traffic areas. With their different color patterns and designs, they are super easy to choose from and be made into decor for your living room. These tiles are durable and easy to maintain with just weekly mopping and cleaning.
5. Porcelain Tiles: Best Tiles For Living Room Floor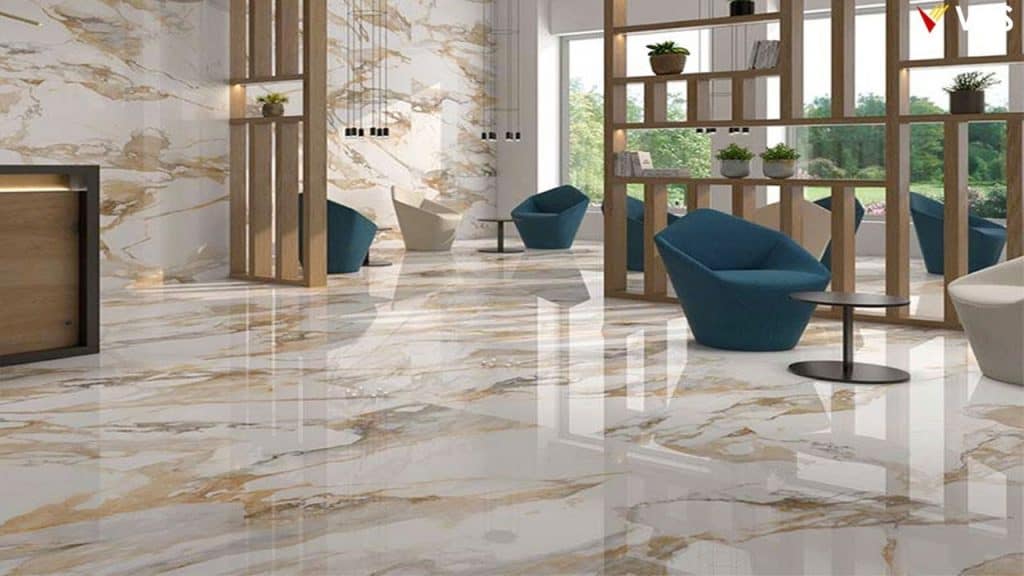 Porcelain tiles are heavier than the other tiles mentioned here but are less porous than ceramic tiles. These are also highly water-resistant and more durable compared to ceramic ones. They can stand up to heavy traffic making them suitable for the living room. Ceramic tile patterns are also available in this type of tile along with lookalikes of granite, marble, and hardwood tiles.
6. Luxury Vinyl Tiles: Best Tiles For Living Room Floor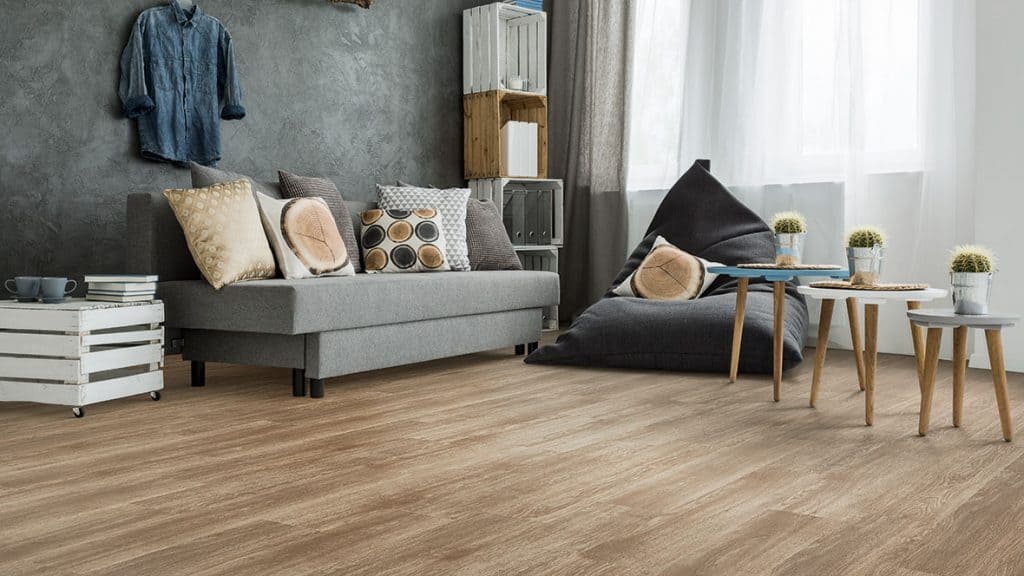 Luxury vinyl tiles are extremely water-resistant and can be the best choice for the living room area with visiting guests or leisure activities going on there all day long. They come in several design patterns that can recreate the look of natural stone, marble, or hardwood.
These tiles are somewhat expensive when compared to the other tiles in this list but are definitely worth the money as they are also super easy to clean. Their long-lasting property makes it one of the most buyable options here with them being available as pre-glued strips, square tiles, or planks
7. Vitrified Tiles: Best Tiles For Living Room Floor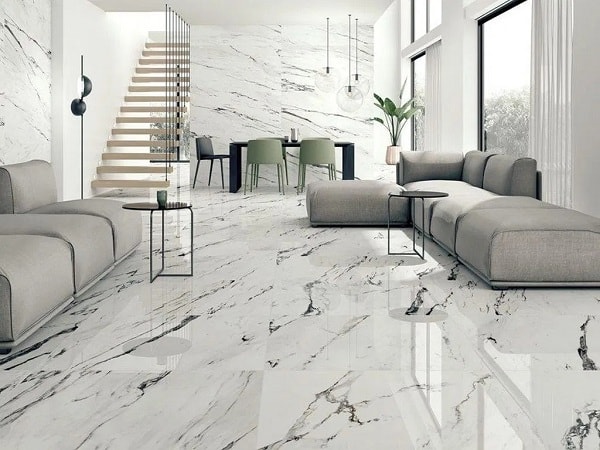 These tiles are suitable for all kinds of rooms but work excellently for the living room because of their high durability. These are scratch-resistant and easy to clean. Multiple colored and inexpensive, these tiles are easy to install and lend the room a modern look making it interesting.
8. Plastic laminate Tiles: Best Tiles For Living Room Floor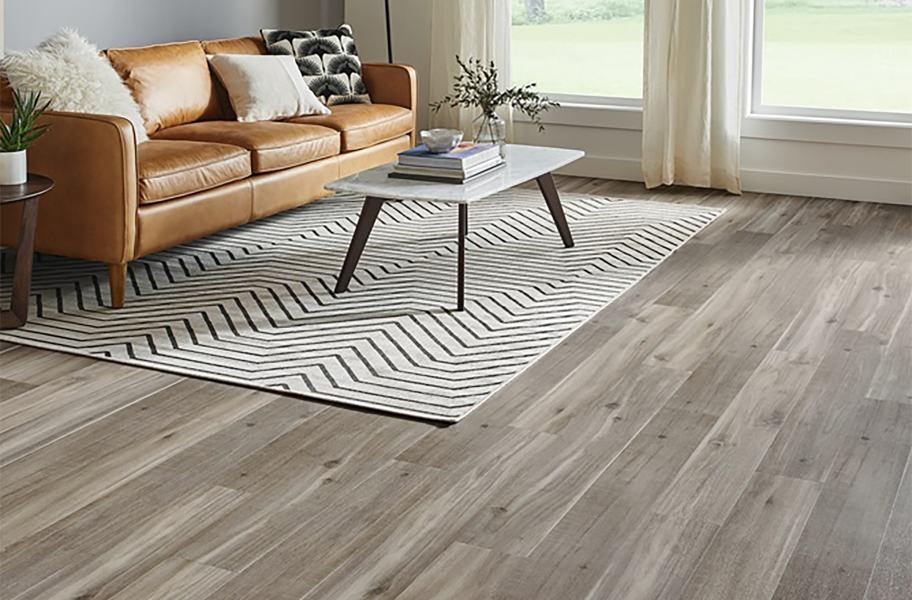 Plastic laminate Tiles are the perfect choice for remodeling projects as they are super easy to install and do not dig your pockets. This is a contemporary tile that is super durable and easy to maintain. Its several color choices along with different styles and shapes make it a viable choice for your living room. These tiles are also water-resistant making them ideal for high traffic living spaces.
9. Linoleum Tiles: Best Tiles For Living Room Floor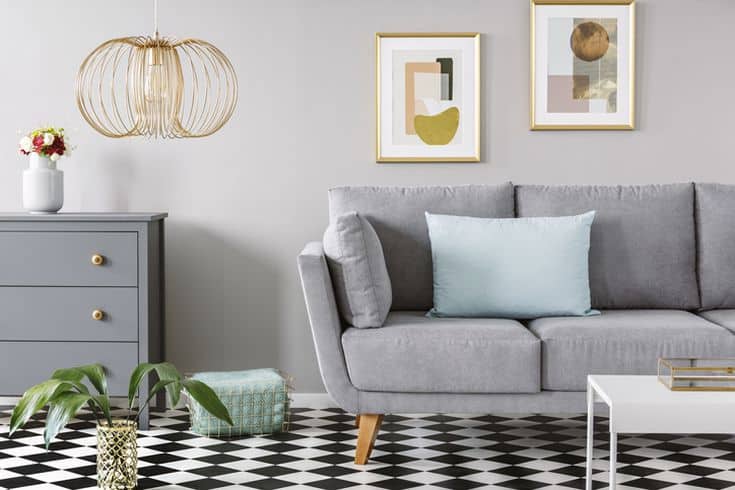 Linoleum is also another durable and easy-to-maintain tile option that has a great natural ability to be dirt and dust-resistant. They also inhibit the growth and spread of microorganisms. Linoleum tiles last long and their several style choices make it go with all kinds of living rooms.
10. Mosaic Tiles: Best Tiles For Living Room Floor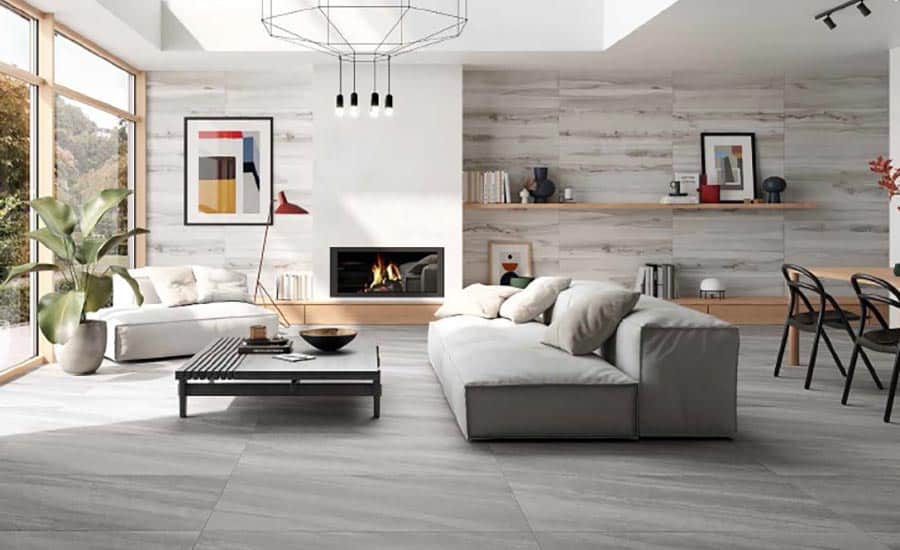 Mixing the style of your living room with versatile decors is an attractive way of beautifying your cozy space. Consider mosaic tiles if you are up for this trend of mix match. These are tiny multicolored tiles that are composed of natural stone, glass, ceramic, or porcelain. These can be commonly found in your bathroom designs but they will also add character and color to your living space once incorporated. Also, they are easy to maintain and clean.
11. Sandstone Tiles: Best Tiles For Living Room Floor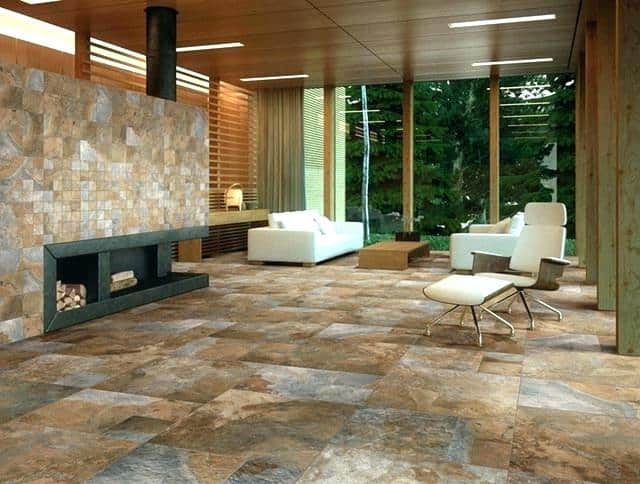 Do you prefer a rustic feel to your living space? Then the sandstone tiles are for you which are available in a wide range of designs, colors, and sizes. Perfect for living rooms, they have neutral color schemes and an eclectic feel. They are moderately priced so that you do not have second thoughts over buying them. Moreover, they are not difficult to maintain and hiding stains and dirt is their natural ability. These tiles will lend your living room a natural and earthy appeal.
Are tiling floors a good option?
Tiling floors are an exceptional option for your living rooms. They are aesthetically pleasing to the eye and are super easy to maintain as weekly cleaning is all they require. Floor tiles like carpet and wood are difficult to maintain due to their natural make. Certain tiles are naturally resistant to dust and dirt which means you are safe in their vicinity.
Tiles are available in a variety of colors, designs, and patterns that give you ample choices to choose from. Whether you want something neutral or to disguise stains in heavy traffic areas such as your living room, tiles are your best friend.
What color should the living room tiles be?
The color of the tiles in the living room should be decided as per the decor that will go in that room. The most commonly used colors are however beige, cream, and sand. Ceramic and porcelain tiles come in a wide variety of colors for you to choose from. The best to be sure of which color to opt for is to consider the colors of the walls and the furniture in the room.
Should floor tiles be darker than the walls?
Whether to make your tiles look darker than the walls depends on whether you want to make your room look small or large. If you want your large living room to look more cozy and small then opt for darker tiles with light-colored walls. However, if you want your small living room to look more airy and bright, lending the illusion of a big, spacious room then lighter tiles are the best choice. Cream-colored or pastel tiles add an interesting contrast to the darker walls and open up the room to make it seem more appealing.
Which color grout is easier to clean?
Darker grout is not easy to clean but is a pro at hiding stains. If your living room has to have heavy traffic weekly or daily then you should opt for a darker grout. This will reduce the amount of cleaning that you must have to do. If however, you use a quality grout sealer it will reduce the amount of cleaning needed to maintain proper and required grout.
Best Tiles For Living Room Floor Final Conclusion
If you are planning to remodel or purchase a new home, flooring with tiles is the best option for living rooms. Before you commit to a certain type of tile, remember to consider the other elements of your room such as wall color, furniture or decors, and even the availability of natural light.
Best Tiles For Living Room Floor FAQs:
1. Which tile size is better?
The tile size suggested for living rooms is a size a bit larger than 12 inches up to 18 inches in length. Living rooms are the largest room in your house and so large tiles work better for them. The largest tiles also cost more per tile when compared to smaller ones.
2. Are white tiles good for the living room?
If you want to have an elegant look in your living room, then white tiles are your best choice. It lends an air of grandeur to your cozy space all the while blending beautifully with all kinds of style that your living room must-have.
3. How do I choose floor tiles?
When you choose a floor tile, make sure you choose the perfect size so that there is minimum wastage during its installation. Always pick tiles that are large for the living room, bedroom, and dining room as they create fewer joint lines to make the room seem spacious. Smaller tiles are perfect for bathrooms and kitchens.