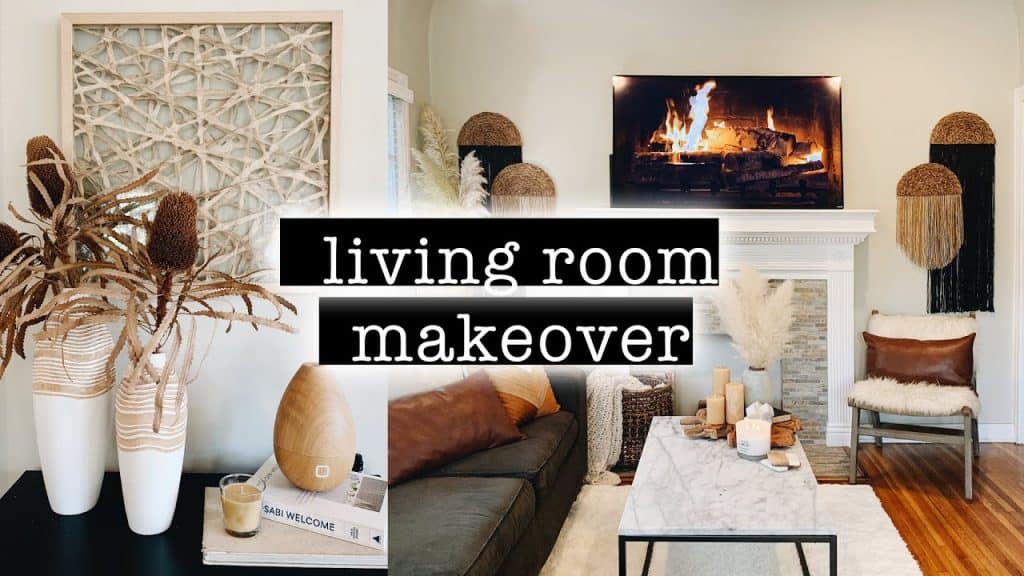 Are you wondering how to decorate a living room? You're not by yourself. It's one of the most popular design quandaries we get from clients, and it's simple to see why.
It might be quite an intimidating process to simply stare at a blank wall and constantly contemplate whether to hang an art piece or experiment with other wall décor ideas, such as a smart mirror or a tapestry. After all, you want to make sure that anything you pick to cover your blank wall not only looks great but also blends in with the rest of your home and shows your own style.
Don't allow fear to stop you from completing your wall design project. To help you get started, we've gathered a selection of simple and lovely living room design ideas to assist you in mastering the art of decorating large empty walls.
1. Large Piece of Artwork
One of the simplest ways to fill empty vertical space in your living room is to hang a large-scale, statement-making piece of wall art above your sofa. It's a terrific way to add color, texture, and aesthetic appeal to your room, and the larger the scale of your artwork, the more color, texture, and aesthetic appeal it will add. Consider a large artwork, image, or diptych to make a powerful statement.
2. Gallery Wall with an Eclectic Style
Make a curated gallery wall instead of a large-scale piece of art if you can't afford it. It's one of our favorite large wall décor ideas for living rooms since it fits in almost any size living room. Begin by assembling a diverse assortment of drawings, paintings, or photographs, and then arranging them on the floor. To generate a feeling of scale difference, we prefer to use artwork in a range of sizes.
3. Gallery Wall with Grid
For a more customized and well-organized gallery wall, use this theme grid system. It's a streamlined artwork display that would work in both modern and classic living rooms. If you want to show off a collection or a series of artworks, this is the way to go. Take inspiration from one of our favorite gallery wall designs, this flowery print arrangement.
When it comes to wall décor ideas for a living room (or dining room) that don't feature a single piece of artwork, a distinctive sculptural mirror is one of our favorites. Mirrors do more than just reflect light; they also provide the impression of a larger space. To make it feel like a wall sculpture, use a mirror with a distinctive or fascinating shape.
Wallpaper is one of the few wall-covering options that has a broad appeal. A wallpapered room, regardless of size, sets a vibrant tone and will undoubtedly become a focal point in your home. Choose a vibrant pattern or a paper that mimics natural textures like marble or wood graining for a clean, layered finish. Start with a removable wallpaper that can be replaced out as needed if you aren't ready to commit.
For a unique and beautiful alternative to paintings or wallpaper, you can hang a paper mural. Consider it a large piece of wall art that doesn't require framing and is, therefore, less expensive. A garden or nature mural is a beautiful way to add depth and texture to a room. The best part is that it doesn't have to be permanent, so you can change it up whenever you want.
Art and other hanging décor aren't often enough to cover the entire length of a living room wall. Consider installing a bookcase system like a set of floor-to-ceiling built-ins or matching tall bookshelves, if this is the case. Make fascinating vignettes out of your favorite books and accessories to act as different focus points in your space. In terms of how to decorate living room walls, this hits the mark on both elegance and functionality.
An easy approach to add significant visual appeal to a living room wall is to use wall lighting. A pair of sconces flanking a large artwork, TV, console cabinet, or mirror will provide a feeling of equilibrium in your living room. To add sculptural appeal to your wall, look for sconces with unusual shapes and finishes.
9. Tapestry for the Walls
Like large artwork, wall tapestries are a lovely, one-of-a-kind wall décor concept that gives a touch of soft natural texture to a space. Since they are not enormous or heavy, tapestries make appealing and effective wall art in family homes with children. They're also very affordable, so you might try a pair with complementing patterns for some visual diversity.
A couple of hanging plants near a gallery wall may make a significant statement. A planter or two of trailing leafy greens hung from your ceiling may provide a rich appeal and an earthy touch to framed artwork.
Often, all that is necessary to bring a blank wall to life is a fresh coat of paint. Before you pick up the paintbrush to find what color is appropriate for your living area, do some short research on accent wall ideas. A brighter paint hue will bring emphasis to your wall, whilst a softer tone will draw focus to your furnishings. You may decorate your accent wall with art or leave it blank, but it's the simplest way to liven up your space and give depth and character.
Another of our favorite blank-wall ideas is to use floating shelves for unique displays. Rather than hanging wall art, put a few large art prints on a shelf and mix in little objects and miniature plants to provide visual interest while showcasing your personal flair. Keep in mind that less is more when it comes to decorating; you want the shelves to appear curated rather than cluttered.
13. Hanging Woven Baskets
We love a gallery wall made out of hanging woven baskets as a large wall décor option for living rooms that don't require paintings, plants, or shelves. They add natural texture to any bare wall and complement boxy windows and clean-lined furniture. Hanging wall baskets are often available in gorgeous color combinations, making them great additions for bringing life to neutral or white spaces.
14. Sculptural Lighting Design
If you prefer a minimalist and streamlined environment with bare walls, sculptural lighting systems may assist keep your space from seeming empty and plain. It's all about using your empty walls as a backdrop to highlight the shapes and forms of sculptural light fixtures and floor lamps. When set against a white wall, a cylindrical ceiling pendant, for example, will attract attention and visually fill in the negative space created by blank walls.
Consider the sliding screen to be a piece of art in and of itself. Folding screens have the advantage of being able to be utilized as wall décor without needing to be mounted or installed. Place one along a blank wall or in a corner of your living room for a sophisticated focal point. Wherever they are placed, they become instant center points, and one with a shelf gives the added utility of storage.
It may be as simple as putting your TV against the largest open wall in your living room to fill the space. You'll also want to make sure it's the best spot for your TV, especially if you plan on hosting family movie nights or marathons with friends in your living room. But why should you stop once the television is switched on? Consider integrating extra wall décor ideas, such as a pair of sconces or a floating shelf, to complete out the entire area when it comes to what to do with the wall behind your TV. They'll provide functionality while also counteracting the TV's boxy appearance.
You don't have enough room for a bar cart or cabinet since you don't have adequate space. A hanging bar may assist fill vacant wall space in your living area while also providing usefulness. This is a great option for people who like to party since it keeps bottles and glasses accessible to the conversation area.
If you have an open living/dining room, it's also a great way to link two areas. The hanging bar can be small or large, depending on your needs and the size of the space you wish to occupy.
A large blank wall may be turned into a plant wall to add extra greenery to your living area. Plants hanging upright on the wall add aesthetic interest while also filling the empty space.
19. Decorative Floor Mirror
Decorative things for living room can be utilized to decorate a large living room wall, similar to a floor mirror. While laying on the floor and leaning against a wall, a large mirror reflects light, making your living area look larger and brighter. If your living room is close to your entryway, it may also be beneficial for fast clothes checks before leaving the house.
Displaying lovely wooden ladders on large walls is wonderful. They take up a lot of vertical space, visually filling a large blank wall, and they may also be used to hang throw blankets, adding a practical touch.
You could also build a vertical hanging garden with S-hooks and hanging pots, which is a novel take on a plant wall. Leaning ladders may be used in a number of situations, but we prefer the most in rustic, minimalist, and Scandinavian ones.
Ultimately, there are times when you should just leave a blank wall alone. This looks wonderful in living rooms with a range of shapes and types of furniture. It's all about embracing the blank walls and focusing on the materials, details, and other noteworthy design elements in this space. This item is for you if you're a true minimalist.
How To Decorate A Living Room Final Conclusion
We sincerely hope the aforementioned wall décor ideas help to spruce up your living room. Those vacant walls are brimming with potential, and a few improvements may transform a house into a home. Get ready to transform those plain, barren walls into elegant centerpieces by reading this article on how to decorate a living room.
Our ideas will help you to amp up your walls and bring out your individuality and taste, no matter what your style is. Whether you're an art collector, a nature enthusiast, or a book lover, your walls can be personalized to surround you with the things you love.
How To Decorate A Living Room FAQs
1. What is a gallery wall?
A gallery wall (or salon wall) is informally described as a cluster of goods such as framed artwork, pictures, and personal artifacts.
2. What is the purpose of a wall sconce?
A sconce, by definition, is a wall lighting fixture that is mounted with the help of the wall. Such lights are often aimed upwards and date back to the pre-modern era when such fixtures were used to hold candles and torches.
3. Is wallpaper still fashionable in 2022?
Wallpaper is a significant trend for 2022, and customers' ravenous thirst isn't going away anytime soon. Wallpaper options for every taste, from conventional flowers and trompe l'oeil to contemporary geometric and tropical patterns, animal themes, and architectural designs, are available.
4. Does every wall need decor?
Balance is the cornerstone of every good home decor. That means you don't have to load every wall space with images when it comes to hanging them. An empty wall may be used as an important design feature to improve your décor.