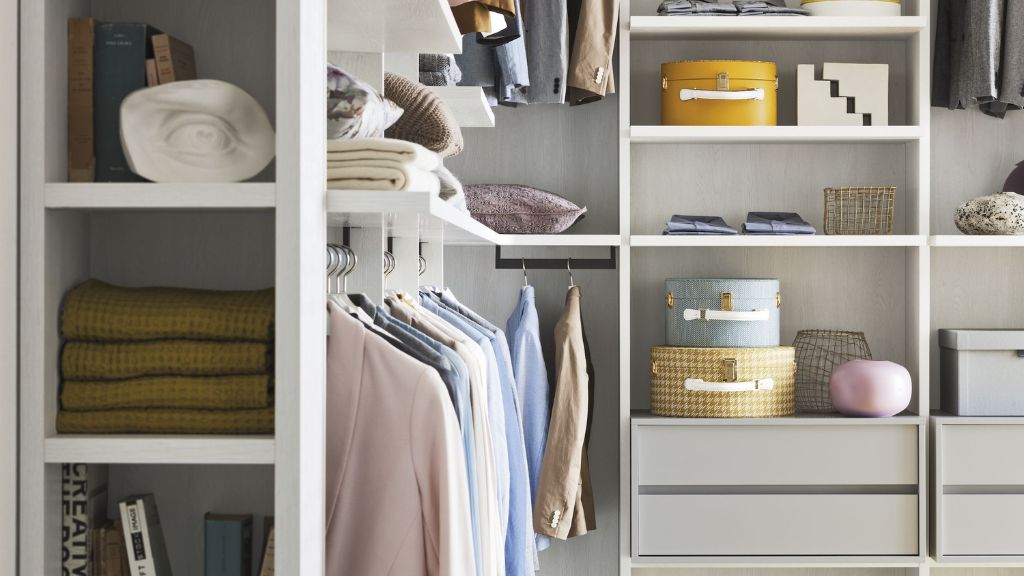 Finding your clothes, watches, or other essentials when you are rushing outdoors is such a mess without having organised drawers or storage spaces. An organised wardrobe inner design can save the day so get yourself organised with some sets of drawers, hangers, racks, shelves, and baskets to store your essentials and not-so-essential items. You can arrange whatever you need daily in one section of your wardrobe so that you know where to look for that one missing piece of accessory.
Perfecting the wardrobe internal design can be time-consuming and confusing and you might end up spending way more than needed if you make the wrong decisions. Make sure you draw a layout of the design you are looking forward to incorporating to avoid unnecessary eros in the designing process.
In this blog, we have brought to you some awesome best wardrobe inside design for ladies and men. Some of them are simple add-ons that will blow your mind with their ways of saving space yet giving your clothes the space they need. Investing in the wardrobe inside design can be a one-time investment that will last you for years.
Why Do You Need a Perfect Design for The Interiors of Your Wardrobe?
Having a well-designed interior for your wardrobe is crucial for several reasons. Firstly, it can save you time and reduce stress when you're in a hurry to find something specific. With a well-organized wardrobe, you can easily locate what you need without rummaging through cluttered spaces.
Secondly, a well-designed wardrobe can help you make the most of the available space. With cleverly placed drawers, shelves, and racks, you can maximize the use of every inch of space in your wardrobe.
Should You Build or Buy a Wardrobe?
Once you have figured out what the wardrobe internal design should look like it's time to figure out the crucial question: should you buy or build your wardrobe? In the fast-growing market of wardrobe designs, the choices are endless. If you are short on time and budget, consider purchasing a ready-made wardrobe that is perfect for your room.
Building a custom wardrobe needs meticulous planning, time, and money but it ensures that the quality stays uncompromising. You can curate the external and internal design of the wardrobe to meet your specific needs with some research on designs and DIY ideas.
Thirdly, an organized and attractive wardrobe internal design can enhance the aesthetic appeal of your room. A beautiful and functional wardrobe design can elevate the overall appearance of your bedroom, making it look more organized, clean, and spacious.
Finally, a perfectly designed wardrobe interior can also help preserve your clothing. With proper storage solutions, your clothes are less likely to get damaged, crumpled, or wrinkled, ensuring that they remain in excellent condition for longer.
Some Best Wardrobe Internal Design Ideas for Both Men and Women
Plywood, veneer, particleboard, fiberboards, etc. are some of the most commonly used materials to make designs on wardrobes. When choosing which material to design with, study the aesthetics and colour combinations of the room so that the design you create for your wardrobe blends in seamlessly. Laminates often come in glossy or matte colours. If you want an easy-to-maintain finish, we suggest you go for polyurethane or lacquer paints. 
Here we have brought to you some of those materials that make the interior look of your wardrobe stand out. Let's get to the details!
The most popular wardrobe designs are made with plywood. A popular choice among design enthusiasts, plywood is made by layering thin wood sheets on top of each other. They have different types including marine, boiling water-resistant, and moisture-resistant plywoods.
Are you a contemporary and chic design enthusiast? Or are you looking to turn your wardrobe into one? Mirrors or glass are your choices to create an illusive effect in your room. Go for tinted glasses or see-through ones that can go hand-in-hand with your room's interiors.
Surprisingly, metal can bring a lot of aesthetic appeal to the interiors of your wardrobe if used correctly. You may use it in conjunction with other materials to create a personalised and unique look that even compliments your room's interiors. Mix and match metal with other materials and see what suits your taste.
4. Create a Layout of The Plan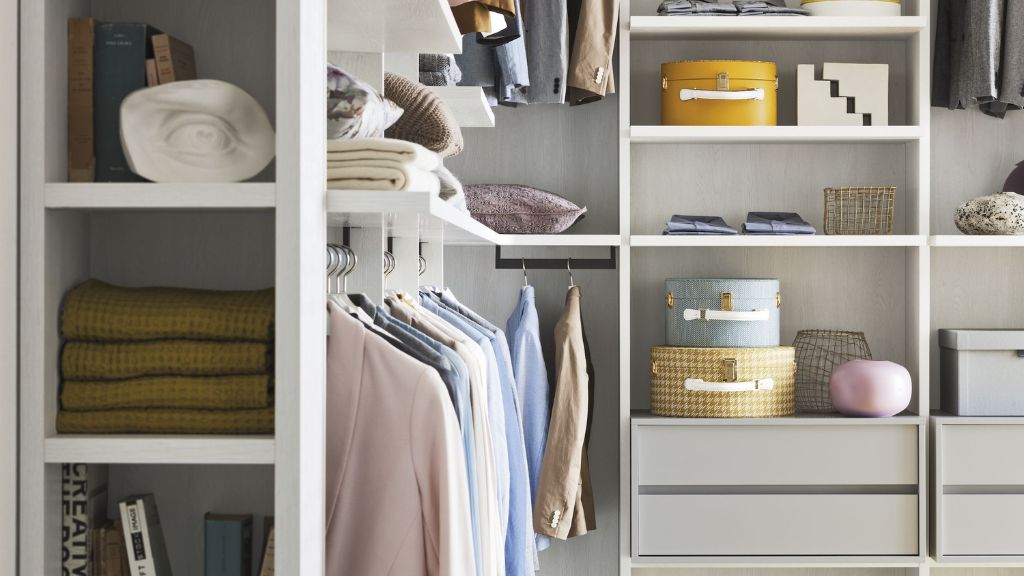 Creating a layout of your plan is the best wardrobe internal design idea. The layout must be in tandem with placement. First, you need to work out the space allocated for your upcoming wardrobe, and then you can move on to designing the layout of the interior of the wardrobe. This way you get an idea of how many drawers or hangers to incorporate.
This wardrobe inside design for ladies can use hanging shelves to store clothes  because then you save the maximum space possible. You may also just install shelves or mix them with drawers. Basket storage may be old-fashioned but they go a long way in saving space and increasing storage (pretty lifesavers!).
This is one decision that you need to make right when you create your wardrobe in the first place. A no-door wardrobe can display all your stuff and it will be open access but if you have young kids around, it might not be a good idea. They'll definitely pull everything out and it'll be a mess. So, for safety, you can get closed wardrobes with doors, and that way you can keep your expensive stuff safe.
Also, keeping seasonal accessories and apparel like hats and winter coats in a closet with no doors can make them dusty. To get the maximum functionality out of your closed wardrobes, you can experiment with its exteriors and create designs that specify your tastes.
How to Accessorise Your Wardrobe?
Accessorising can make your wardrobe design stand out even if they are simple. An assortment of accessories should fit about everything that a simple wardrobe internal design lacks. Here's what you can do:
1. Saree Rack
Sarees are challenging to fold: Wardrobe inside design for ladies  take one out, everything else might fall out. Add in a rack to organise your sarees so that you don't have to create a mess whaling picking one out. With a saree rack, you can hang them horizontally and you can pull one out easily. Certain wardrobe models have a pull-out feature so you don't have to bend to pick one up. This is the perfect wardrobe inside design for ladies. A neatly packed saree rack can add to the ambiance of a well-functioning wardrobe.
2. Trouser Rack
A rack for pants and/or trousers can add a feeling of organisation to the wardrobe inside design. They are small in size so it won't take much time or space to install. You can easily install one at the bottom of your wardrobe; a simple yet efficient addition to your wardrobe.
3. Shoe Organiser
Do you also end up frantically searching for your shoes every day when you leave for work? Get a shoe organiser for the wardrobe inside design to save that hassle every day. It could be a set of shelves or a pull-out shoe rack within the wardrobe or even the bottom of your wardrobe.
4. Wicker Baskets
Wicker baskets are perfect for stacking away clothes that you need once a year, maybe, like winter clothes, blazers, coats, etc. they are small in size so you won't need much space to fit them inside your wardrobe.
5. Folding Iron Board
Iron boards can be tricky to store so when you buy one in the first place make sure you get a foldable one. Even then it could be large enough to take up significant space in your wardrobe. Make some easily accessible space to stove the iron box and the board away. You can fold up some of the clothes you may use daily on top of the board (smart utilisation!).
6. Tie and Belt
Ties and belts can be difficult to store as they tend to tangle and we are all used to seeing them lie around unorganised in-between clothes, on handles, or iron hooks on walls. Finding them dirty and wrinkled when you have to rush outdoors can be frustrating so get a holder for them to keep them wrinkle-free and easy to get. Separate a compartment for the holder so that it doesn't interfere with the other content of your wardrobe.
7. Trouser Hanging Shelf
Shelves to hang trousers are an alternative to trouser racks. Hanging trousers can make them even more accessible and hassle-free. Even storing them becomes neat and lines with a better alignment than what trouser racks offer. You might need a lot of hangars for a hanging trouser rack but it is worth the expense.
8. Cupboard
Cupboards design inside are optional units inside wardrobes but they are quite functional storage spaces for all sorts of things. They are generally placed in various rooms as independent units. If you have a walk-in wardrobe, cupboards can be the perfect addition to creating a functional wardrobe. Cupboards can occupy a lot of space and be bulky but they compensate for that with ample storage space.
9. Display Organization Drawer
Have a set of unique watch collections, makeup accessories, or wallets? Get a display drawer to store them and display them in your wardrobe. They come with glass windows that can be moved to get your things just like regular drawers. They take as much space as the regular ones so nothing changes except now you can view the contents of the drawer.
10. Jewellery Drawer
You can display your jewelry collection in a display drawer too. At the same time, you can get one of those essential drawers made specifically as a unit for the wardrobe inside design for ladies. Get drawer inserts for your jewelry to keep them stacked and separated.
The Bottom Line: Wardrobe Inside Designs
While planning the wardrobe interior design, make sure that you consider every type of clothing that you own. Why? Because that makes it much easier to decide what kind of drawers, hangers, shelves, or racks you need. With the items listed above, we covered all the wants wardrobe design enthusiasts would need. Feel free to add a bit of your own flavour when you accessorise your wardrobe for added elegance.
Wardrobe Inside Design: Ideas You Cannot Miss Out On! FAQs:
1. How do you design the inside of a wardrobe?
Let's check out some major do's and don'ts of designing a wardrobe:
Incorporate as many drawers as possible
Include hanging rails wherever you can
Do not waste the lower area of your wardrobe
Embrace all inserts
Make use of smart trouser racks
Do not forget the behind of cupboard doors and the inner sides of the cupboard
Consider some aesthetic lighting
Take your time to come up with the design
2. What is the internal depth of a wardrobe?
Wardrobes are built in three basic designs:
Walk-in closet
Sliding modular wardrobe
Hinged modular wardrobe
3. What types of materials are used inside a wardrobe?
Different types of materials and finishes can be done inside your wardrobe, such as,
PU or frosted finish glass
Acrylic or transparent glass
Lamination
Mirrored shutters
Solid wood
Veneer
4. What is the standard size of a wardrobe?
A standard wardrobe will have a minimum dimension of 7 feet by 10 feet. If it is a single-side closet then it will be
4 to 5 feet deep
occupying 24 inches in depth
With 6 inches as clearance