About Mantri Solitude:
Fitting for a city of such unique mettle, Mantri Group's latest offering accentuates Chennai's status as a metropolitan, a range of residential villas on the East Coast Road. The pinnacle of luxury living, Solitude offers resort-type living spaces that emanate exclusivity and a radiant peace, Weaving modern architecture with azure greenery end to end. Spread over a 1.2 acre swath of land, Mantri Solitude comprises of a limited 44 villas in 2 and 3 BHK configurations, further enhancing the desirability of this project.
Mantri Solitude, apart from offering world-class living solutions, also comes equipped with state-of-the-art facilities, making sure it is you who defines your work-life balance, with a jogging track for those early morning walks, a gymnasium to keep yourself fit, and a cafeteria for your food cravings. These facilities, just like your amazing residence, are secluded and accessible by the lucky few who choose to make Solitude their home.
Located in Akkarai, East Coast Road, Mantri Solitude is well connected by road, hence offering you a sweet transition from work to home. Various schools, colleges, hospitals, malls and IT hubs are in close proximity to Mantri Solitude. Each of the 46 villas come power packed with modern amenities complying to energy conservation norms.
Mantri Solitude – Distance from Prominent Places in Chennai
Mantri Solitude is located at Akkarai, South Chennai.
| | |
| --- | --- |
| Place | Distance (km) |
| Nearest railway station | 8 |
| Nearest metro station | 12 |
| Distance to airport | 23 |
1. Strategically located in growing micro market of residential villas in the locality, hence provides secure living environments.
2. Seamless connectivity with Sholinganallur via OMR.
3. Connectivity to IT hubs at OMR
4. Bridge widening at St. Buckingham Road will improve traffic flow and connectivity.
5. Chennai's first ISKCON Temple at Akkarai adds to the resplendent environment.
Mantri Solitude – Nearby Schools
The fact that Arakkai is a prime location allows for a multitude of institutions providing quality education, making the Locality a family-oriented scene. Some of the schools and colleges (including kindergarten and pre-schools) are listed below.
1. Velammal World Academy
2. Sharanalaya Montessori
3. The Bay International School and Junior College
4. MA Chidambaram college of nursing
5. Madras Christian college
6. Besant LVR matric Higher secondary school
7. John's a English School and Junior college
8. Ann's matriculation
9. Madras school of economics.
Mantri Solitude – Nearby Hospitals
1. Trust life hospital
2. Siva hospital
3. Gleneagles global hospitals
4. Shanthi hospital
5. Grace child health clinic
6. Arun hospitals
7. V-care hospital
Mantri Solitude – Unit Type, Size in Sq. Feet and Price
| | | |
| --- | --- | --- |
| Unit type | Size (square feet) | Price (Cr INR) |
| 2 BHK | 1080 | 1.01 |
| 3 BHK | 1285 – 1405 | 1.24 – 1.28 |
Mantri Solitude External Amenities
1. Landscaped garden
2. Gymnasium
3. Jogging track
4. Play area for children
5. Rainwater harvesting systems
6. Electronic lifts
7. Club house
8. Health outlets
9. Cafeteria and eateries
10. Sports area
Mantri Solitude Internal Amenities
| | |
| --- | --- |
| Staircases | Vitrified tile flooring |
| Service Lift Lobby | Vitrified Tiles |
| | |
| --- | --- |
| Master Bedroom | Vitrified tile |
| Kitchen | Vitrified tile |
| Master Bedroom Toilet | Vitrified tile |
| Balcony | Antiskid Ceramic |
| Living / Dining | Vitrified tile |
| | |
| --- | --- |
| Main Door | Pre – engineered veneer door shutter |
| Other Room doors | Pre-engineered door shutter |
| Toilet door | Pre-engineered door shutters  and white laminate on the other side |
| Balcony door | Pre-engineered door shutter |
| | |
| --- | --- |
| 2 BHK | 4 KW |
| 3 BHK | 4 KW |
| DG | 100% backup, based on metered consumption |
| Transformer Capacity | Calculated as per load |
| Modular Switches |  Modular electric switches |
| | |
| --- | --- |
| Borewell | Yes |
| Water Supply | Purified water by purification plant |
| Sewage Line | PVC sewage pipeline |
Mantri Solitude has a DG power backup ready to take over in case of power cuts.
| | |
| --- | --- |
| 2 BHK | DG Backup available |
| 3 BHK | DG Backup available |
Mantri Solitude Master Plan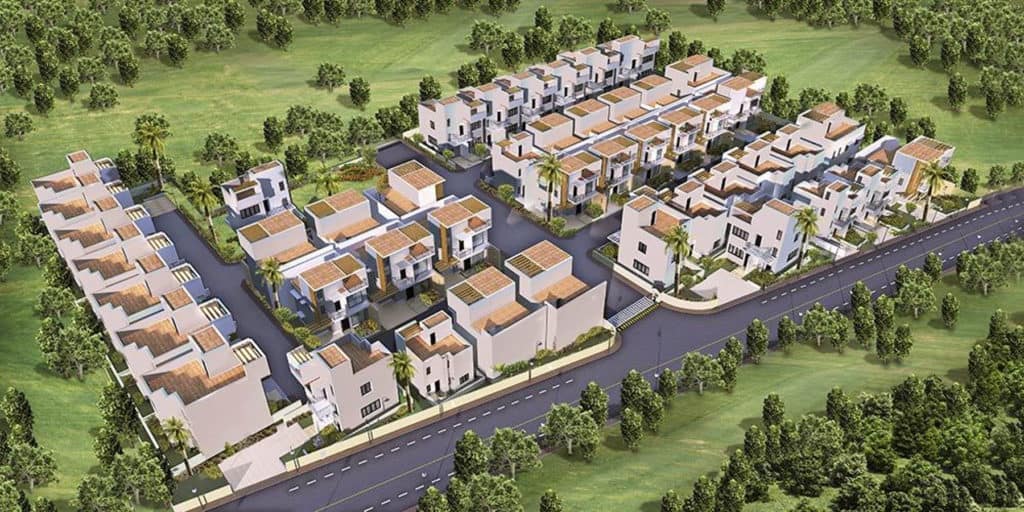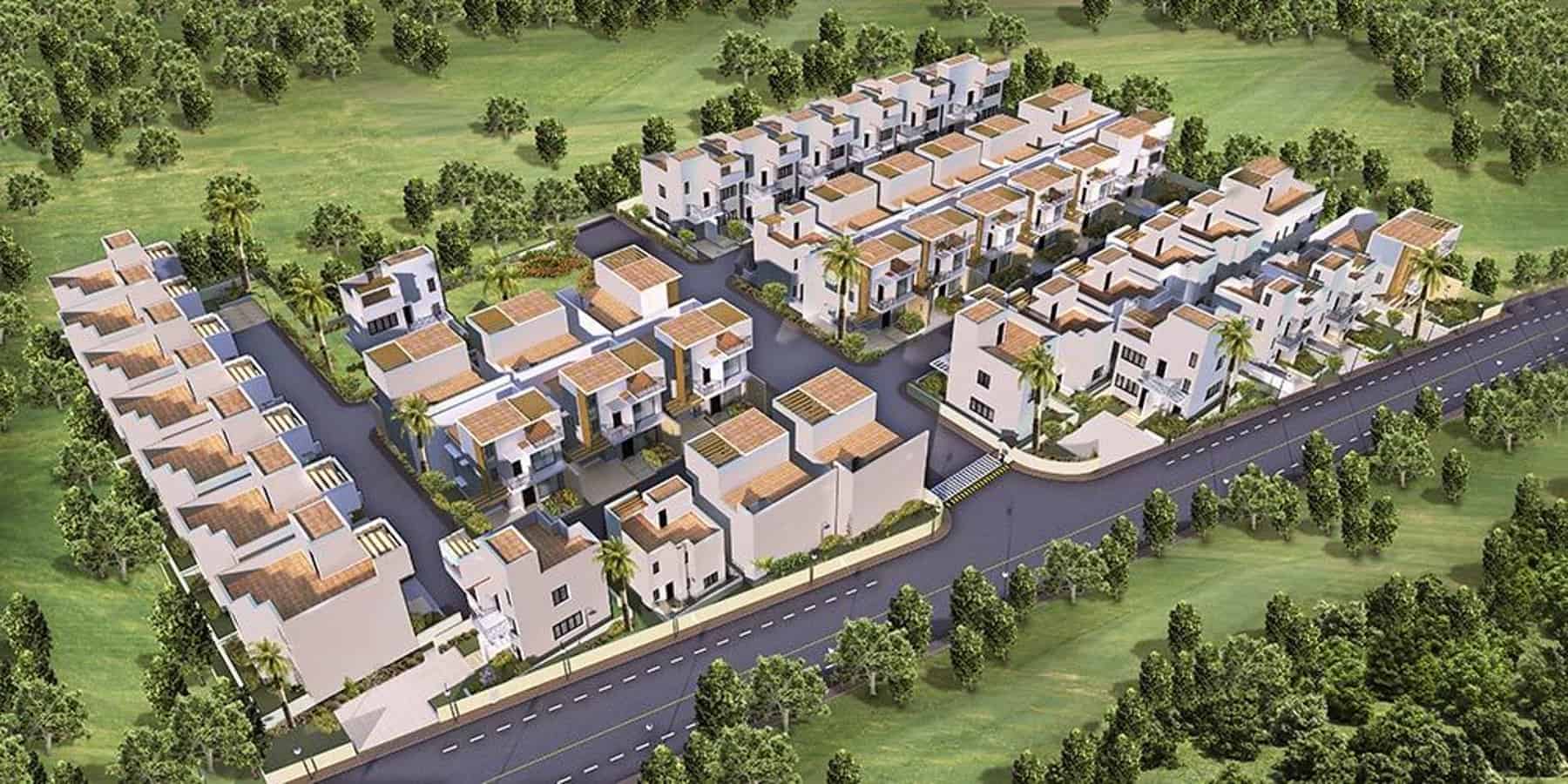 Mantri Solitude Location Map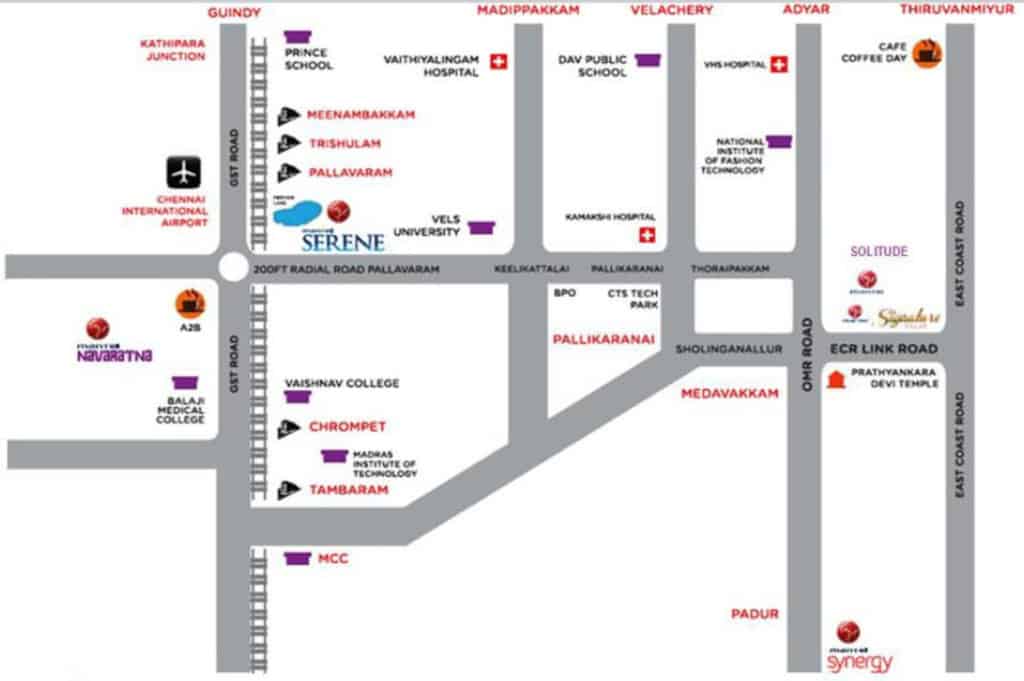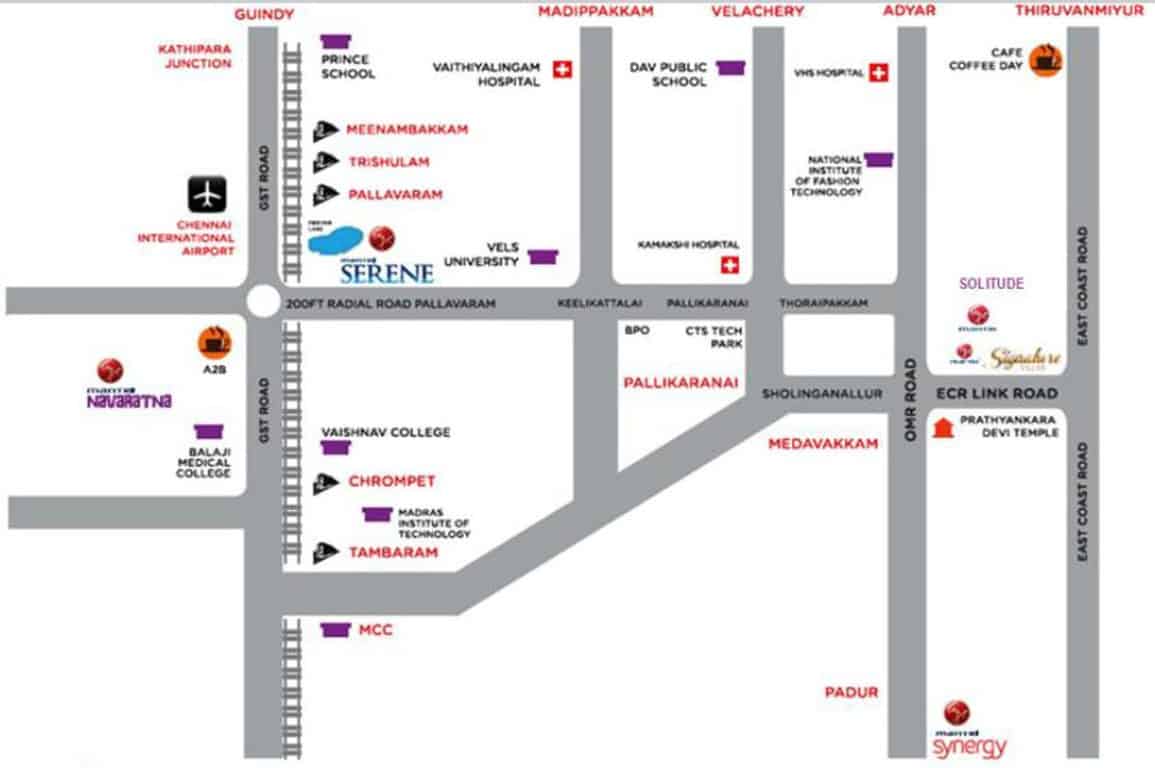 Mantri Solitude - Address and Google Map
Address: Mantri Signature & Mantri Solitude, # 138, Kalaignar Karunanidhi Salai (ECR Link Road), Sholinganallur, Chennai
Pincode: 600119
Email : [email protected]
Mantri Solitude Image Gallery
Mantri Solitude FAQs:
1. Which banks are associated with this project?
HDFC home loans, ICICI bank, Axis bank, SBI finance, and Punjab National Bank are the financial organisations associated with this project.
2.What is the total area over which Solitude is built?
Mantri Solitude is built over a 1.2 acre spread.
3. Where is Mantri Solitude located?
Mantri Solitude is located in Akkarai on the East Coast Road, Chennai.
4. How many Villas does Mantri Solitude accommodate?
Mantri Solitude has 44 Villas in the complex.
5.What types of residences are available on Mantri Solitude?
Mantri Solutide is a project that focuses on standalone Residential Villas which are available in 2- floor 2 BHK and 3 BHK homes.
6.How far Chennai International Airport from Mantri Solitude?
Chennai International Airport, Meenambakkam, is a 40 minute drive from Mantri Solitude which spans close to 23 km, the fastest route being through Old Mahabalipuram Road.
7.Can the club house be accessed by everyone for free?
Yes. Usually, club house charges are inclusive of the price you pay. These are charged as taxes or additional charges.
8.Is there a metro station in Akkarai?
No. Akkarai does not have a metro station. The nearest metro station is Velachery which is about 8 km away.
9.How is the traffic in Akkarai?
The benefit of owning a house in Mantri Solitude is that the ECR does not experience traffic bottlenecks despite hosting a huge number of vehicles flitting in and out of Shollinganallur.
10.What is the price range of villas at Mantri Solitude?
The villas at Mantri Solitude range from INR 1.01 up to INR 1.28 Crore.
About Mantri Group:
Founded in the year 1999 by Mr. Sushil Mantri, the Mantri group quickly rose to fame and earned its reputation as one of the pioneering establishments in the world of construction, owing to him imbibing qualities like punctuality, quality, reliability, speed and transparency into the brand.
Today, the brand represents the vertex of groundbreaking luxurious living with environmental sustainability, having completed more than 6000 projects in the form of homes, commercial buildings, shopping malls, IT parks and educational complexes. Mantri had its headquarters situated in Bangalore, India, with satellite divisions operating in the United States, United Arab Emirates, and Dubai.
It is a no brainer that Akkarai is a hub for secluded residences. And Mantri Group's latest offering is the icing on the cake for those who crave luxurious living, to come home to an azure landscape that let's you unwind on your own terms. The best part about this project is the limited number of villas Solitude has up for grabs. 46 villas with ready possession make sure you have an edge over the competition. The flawless connectivity to various schools, landmarks, and hospitals makes this an extremely sought after property. The ECR Road known for its flair only adds to the list of pros for Solitude.

Here's more to look into!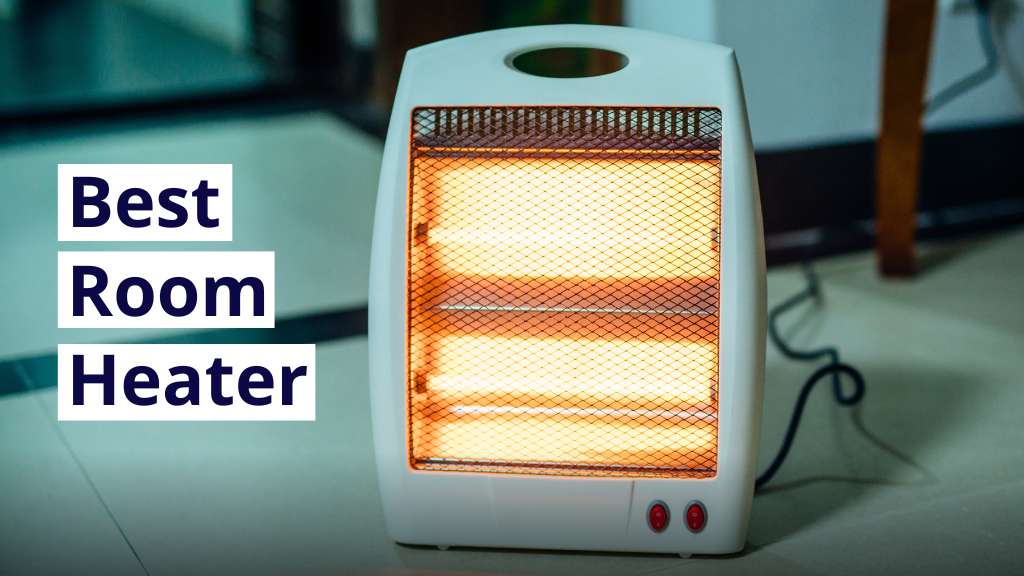 Choosing the Best Room Heater: A Comprehensive Guide to Staying Cozy Room heaters...