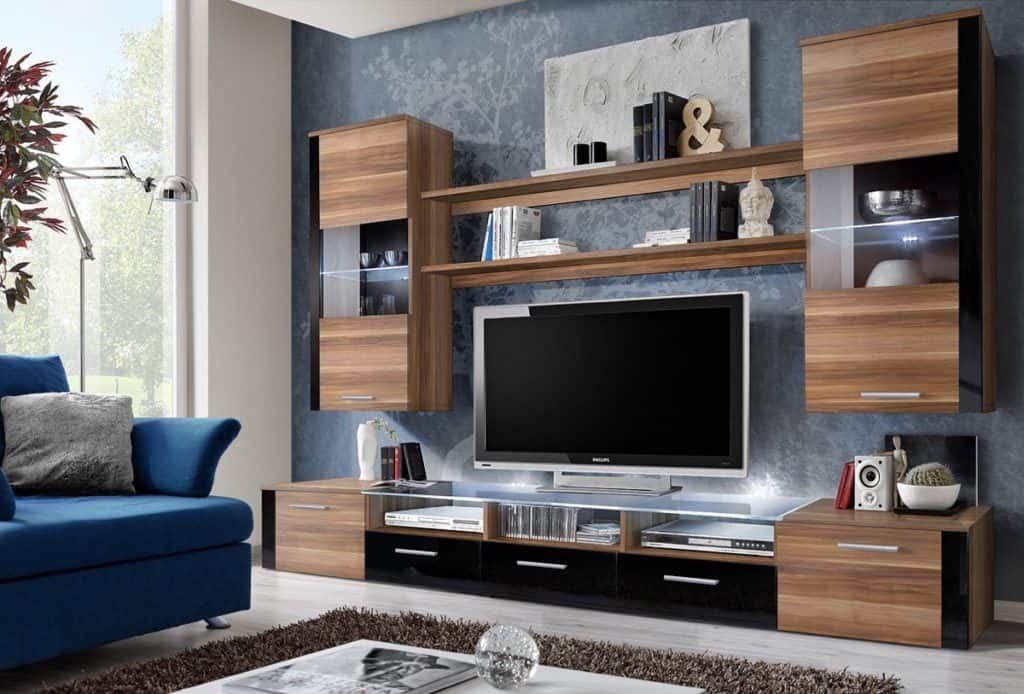 TV Panel Design for Bedroom: Combining Style and Functionality
Are you thinking of getting a new TV unit for your home and are you confused about the TV unit design or are you looking out exactly for tv unit design ideas for each room in your house? Well, you have reached the right place because we shall be focusing on the modern TV unit design ideas for your home.
In this article, we shall discuss the different and modern TV unit design ideas for your home and living room.
Modern TV Unit Design Ideas
For those who prefer a clean and contemporary look, sleek and minimalist TV panel designs are an excellent choice.  If you crave a cozy and warm ambiance in your bedroom, consider a rustic-inspired TV panel design. For those who desire a bold and eye-catching design, contemporary statement TV panels are the way to go. But if you are confused consider the following TV panel design for your small bedroom (or large ones too): 
1. Wall Mounted TV Screen On A Brick Wall
A modern wall-mounted TV panel design for bedroom is an evergreen trend. Wall mounting the television over a stone-finished accent wall might be enough to wow your guests. The contrast of contemporary technology against a traditional organic stone-look wall seems brilliant. Finish the design with floating shelves beneath the unit to showcase your decorative items.
2. Floating Panel On A Geometrically Designed Wall
Wall mount your TV against a geometrically styled wall on a floating wooden panel. Take note of how the floating panel unevenly covers the geometric and patterned solid wall to create a link between them. Right now, the layered effect is huge. It's a fantastic concept for a tiny TV unit that will fit in any area and won't take up too much room.
3. TV Unit In White Color
You can store and show your trinkets and books with a custom white TV unit. Electronics cabinets and shelves break up a plain white panel that covers all electrical wiring with contrasting lines. The attraction of this modern living room TV unit, which is as useful as it is fashionable, is enhanced by the presence of hidden backlighting.
4. Framed Wall Unit On Marble Stone Background
This distinctive and one-of-a-kind TV panel design for bedroom may add flair to any space in your house. The space is given an intimidating feel by the dark faux wood border, while the soft marble backdrop radiates beauty.
5. TV Unit Design Ideas For Master Bedroom
The master bedroom in your home has a huge significance and having a TV unit there would be a luxury because you can enjoy watching your favorite television shows from the comfort of your room. To make the TV unit in the master bedroom look elegant, create wall art using paint, posters, stickers, or a stunning panel.
Install a few handcrafted shelves or a cabinet to accommodate the audio-visual system and showcase it. Decor items such as flowers, books, and artwork may be used to round out the appearance of the TV unit.
6. TV Unit Design Ideas For Small Bedroom
A well-placed TV unit may transform a small bedroom into a comfortable and warm bedroom. The smallest of rooms may fit all of your needs with some clever planning of the TV unit design. Take full advantage of the room's architectural characteristics, such as an underutilized area in the room, and set up a TV unit over there. install customized cabinets for your audio-visual devices and wall-mount the television on your small bedroom to make it look complete.
7. Modern TV Unit Design For Bedroom
Place a TV unit at the base of the bed if you want the pleasure of watching your favorite comedy from the comfort of your bedroom. Ensuring that the TV unit matches in with the rest of the room's decor is a smart approach to get a unified effect.
Look for a TV cabinet that blends well with your bedroom decor and is matched to your television. If you can't locate one that fits your bedroom, consider customizing a TV unit according to your needs. This way you will make sure that your bedroom and TV unit both go well hand in hand.
8. Wall Mount For A 3D Effect
By putting your television on a creatively constructed wall above a free-standing tiered cabinet, you can make a smart and comfortable nook. The unit underneath the television plays with height, while the television itself plays with depth, giving your wall an extra 3d dimension.
9. Neutral + Contemporary TV Panel Design
Brown is a versatile and timeless neutral color that complements any home decor scheme. It is experiencing a significant resurgence in interior design and home styling. When combined with white, brown adds richness and dimension to a room, creating an uplifting effect. If you prefer a more subdued color palette without vibrant pops of color, a brown TV panel design for bedroom would be an excellent choice.
10. Built-in Panel with Storage
Maximize functionality by opting for a built-in TV panel with integrated storage. This design combines a stylish display for your television with shelves or cabinets to store media devices and accessories.
Create a versatile and stylish look with a sliding TV panel. This design allows you to conceal the television behind a sliding panel when not in use, providing a clean and organized appearance.
Transform your TV into a captivating piece of artwork with an artistic TV panel design. Choose a panel that doubles as a canvas for unique artwork or a digital display to showcase your favorite images.
13. Panel With Backlighting
Enhance the visual impact of your TV panel design for bedroom by incorporating backlighting. This design adds a soft and atmospheric glow behind the television, creating a stunning focal point in your bedroom.
Optimize space and add a touch of glamour with a mirrored TV panel. This design combines the functionality of a TV panel with the elegance and practicality of a mirror, reflecting light and visually expanding the room.
15. Industrial-inspired Panel
Embrace an edgy and contemporary look with an industrial-inspired TV panel. This design incorporates materials like metal, exposed pipes, or concrete finishes, adding an urban and modern vibe to your bedroom.
Add a touch of sophistication and elegance with a curved TV panel. This design creates a visually pleasing and dynamic focal point while enhancing the immersive viewing experience in your bedroom.
Mentioned above, were the best TV unit design ideas which you can use to customize your TV unit design in your living room, bedroom, or anywhere in your house. Television plays an important part in our day-to-day lives and we need to have a good and excellent TV unit design in our homes.
We would like to end this article by quoting Joey Tribiani from the TV show Friends, who says that, "If You don't own a TV? What's all your furniture pointed at?", and that is how TV is important and shall continue to be important.
TV Unit Design Ideas FAQs
1. What should be the height and depth of a TV unit ?
In general, 36 inches is a suitable base height, and 20 to 24 inches is a reasonable depth of the media cabinet of a TV unit, where you can comfortably store your PlayStation, TV set up box, and other TV accessories.
2. Is it necessary for me to have a TV unit ?
A TV unit makes your watching experience as easy as possible. The table design of a TV unit integrates usable storage and enough surface area into a short piece of furniture with a single, comprehensive shape.
3. What is a TV Unit ?
A TV unit is furniture that prevails over all other pieces of furniture in the home. It is the focal point of the living room design. It emphasizes the importance of the living room. As a result, a TV unit is a piece of furniture that serves as the heart of your living room.