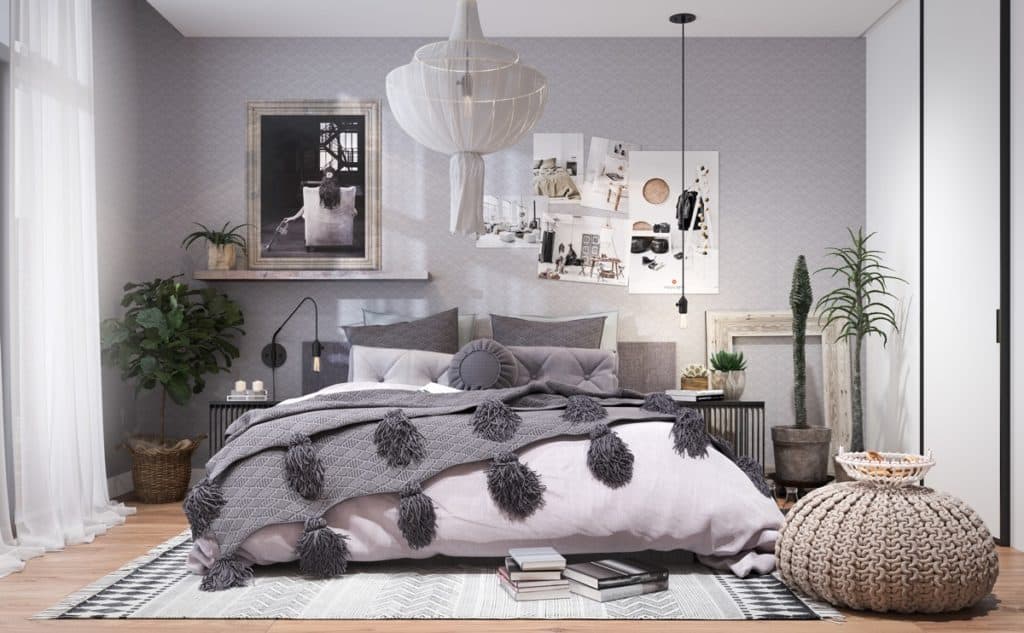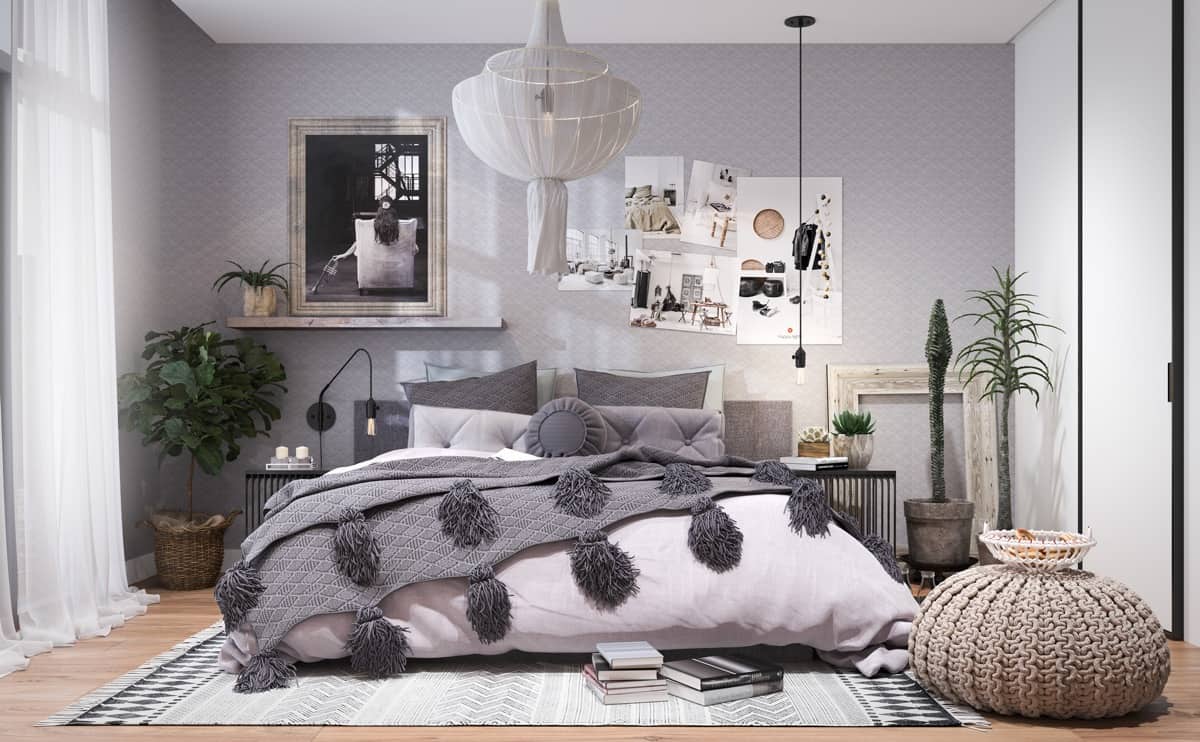 Are you a student living in a small rented dorm room or a newly married couple trying to make the most of your little new house you guys now own together? No matter what your reason and scenario may be, we have some of the best small bedroom design ideas and inspirations that will help you transform even your tiny space into a surreal abode!
When it comes to owning and living in a small bedroom, truth be told, more than the space issues, the problem arises when you do not know how to utilize even the last inches of your room and not let any room space go to waste. We will list tens of simple ways to help you figure out all the otherwise hidden space that just goes ignored. Trust us, even the smallest of efforts like keeping your floor clutter-free, using enough lighting that highlights your den, and just having some storage space under the bed go a long way.
All small bedroom design ideas for inspiration in this list below will help you not only make your bedroom look and feel more spacious but will also help you add that splash of missing personality your room can benefit so much from!
So, let's get started?
Here are 20+ best small bedroom design ideas that will help you transform your room from small and cluttered to functional and aesthetic!
1) Cozy Small Bedroom Design Ideas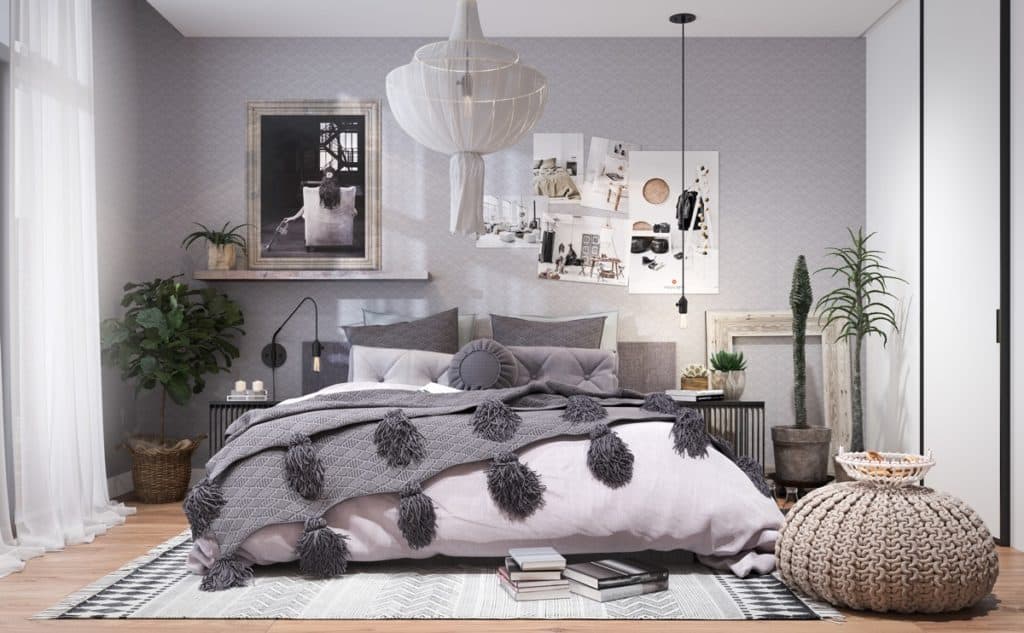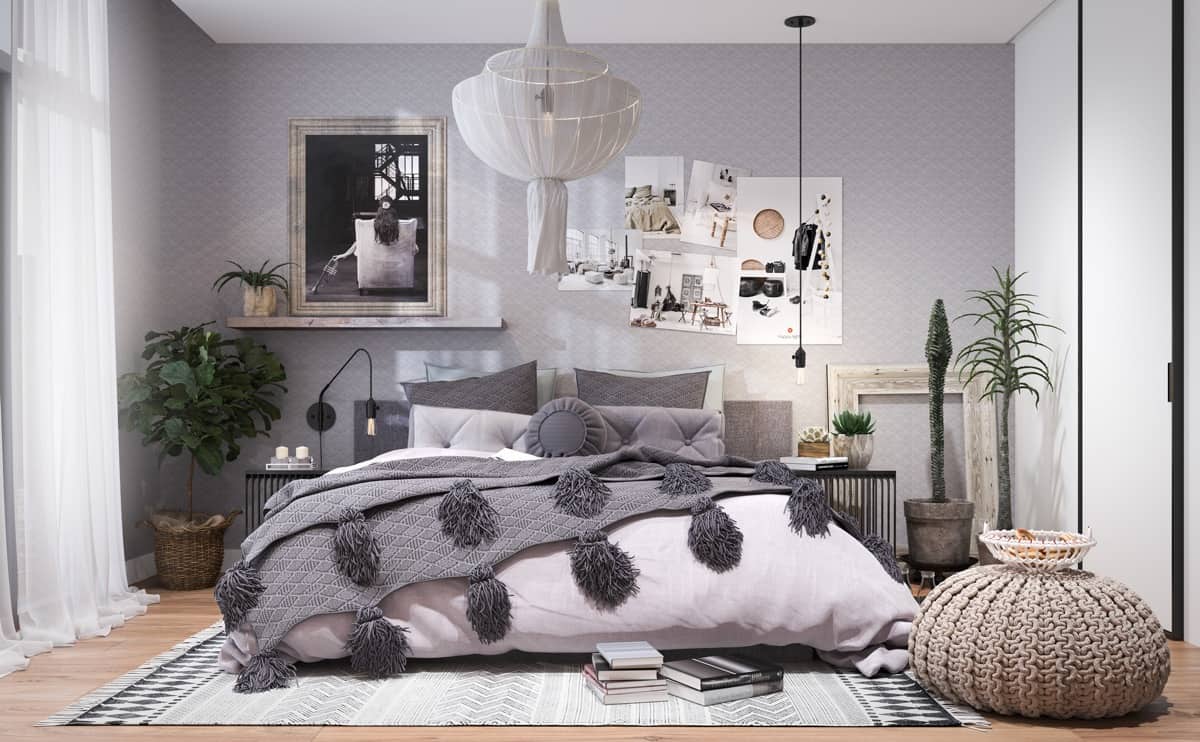 How do we do it? Make use of blankets and soft furnishings. This kind of small bedroom vibe works best for live-in or newly married couples still in their honeymoon phase! Apart from your regular furnishing, focus on your bed. Add in some snuggly blankets/throws/quilts of varied textures and cushy, cloudy pillow to add instant oomph. Like it a little too cozy? Some candles or room diffusers neer harm anyone! Using Blankets and Soft Textures
2) Boho-Bohemian Small Bedroom Design Ideas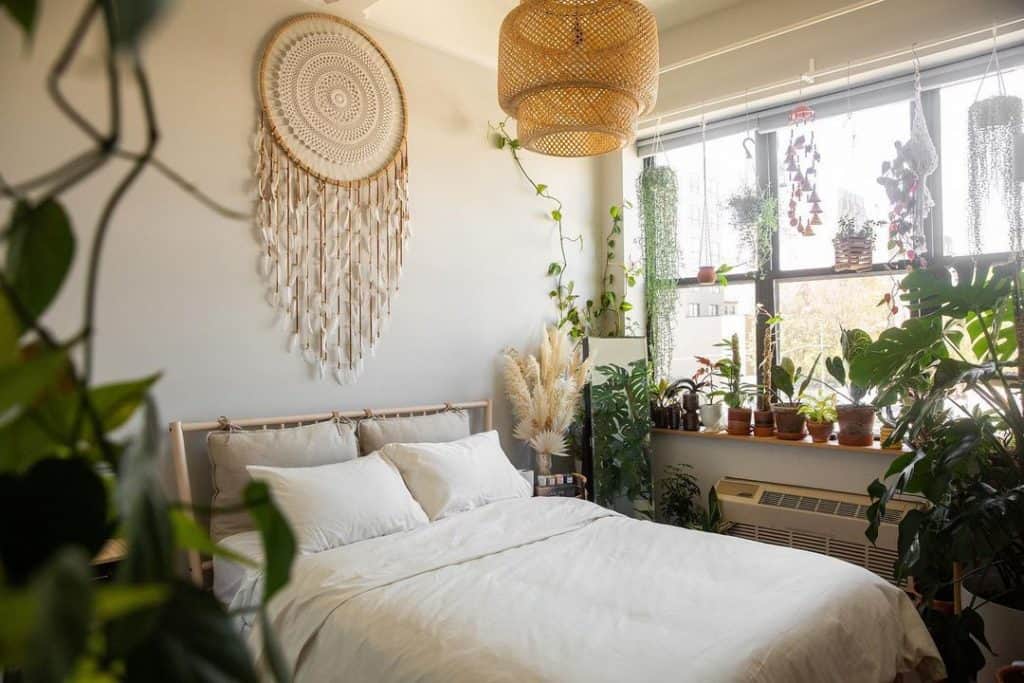 If you like the boho vibe, incorporating a lot of simple blacks and whites into your room can help you achieve just that. Use a white bedspread and contrast it with black wallpapers to have your room look more spacious than it really is. You can also use some layered white/beige pillows and cushions to not only add some dimension to the otherwise flat B&W but also because earthy elements break the monotony of black and white While coffee tables work great, even if you don't have space for a coffee center table, you can try infusing a mid-century-vibe bedside table for added functionality while not compromising simplicity!
3) Naturally Lit Small Bedroom Design Ideas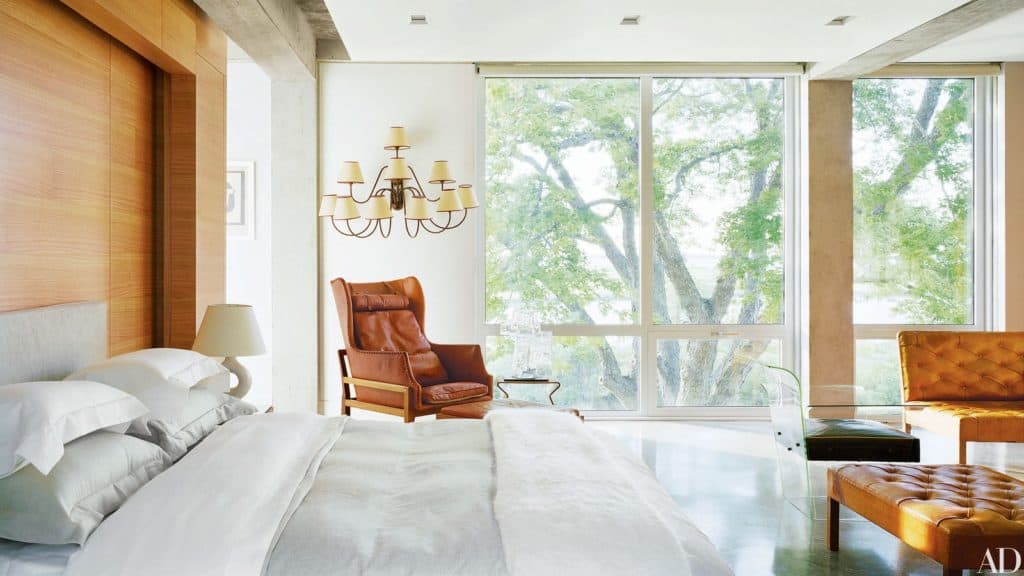 If your bedroom offers an east-facing window as a light source, trust us on this, half your battle is already won. Natural light helps add in so much symmetry, dimension, and life even in the smallest of nooks and corners. Use simple lampstands, low tables, and perhaps a couple of plants to add some splash of personality. If you are a sucker for pop colors, you can also use brights paintings and wall tapestries- colors add so much life to bright rooms!
4) Ceiling To Floor Curtains Small Bedroom Design Ideas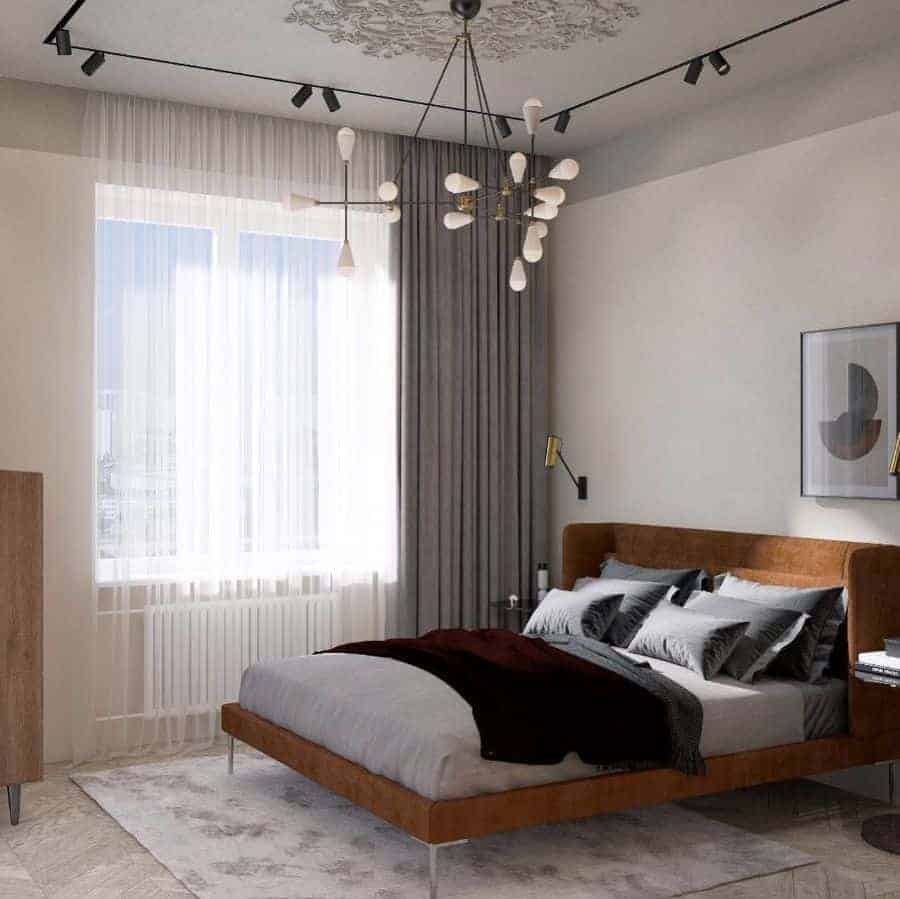 If your small room space comes with an offsetting wall or a window with ugly, unappealing views? Do not have the budget to repaint the walls or cover the ugly area with artwork? That can be a recipe for an everyday disastrous mood. Nobody should have to wake up in a room they don't like! Use lightweight wall-sized curtains against your ugly walls as an instant, inexpensive way to amp up the aesthetics of the room!
5) Dark Small Bedroom Design Ideas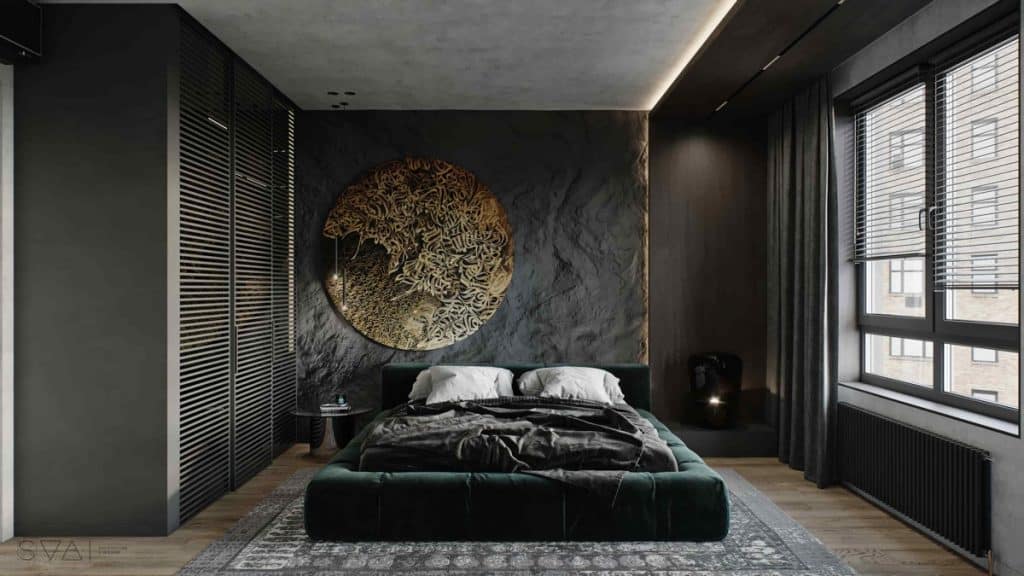 While natural light and bright rooms are fun, you, as an individual, may have a preference towards dark colors and it is absolutely OK! Don't be afraid to replace your simple bed sheets and quilts with bold, geometric, dark-colored patterns. Adding geometry will not only help you incorporate your love for dark colors but will also help give your bedroom a more spacious feel. If you can, you may also want to upgrade your bed to a black-colored bed or maybe add some dark-colored floating shelves for utility and a splash of 'dark' on blank walls.
6) Santorini Vibe Small Bedroom Design Ideas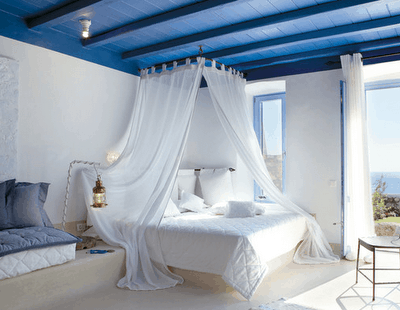 When we say 'Santorini' do you also imagine sparkling, bright, and charming combinations of blue and white? You've come to the right place! Magnify your small white bedroom by adding cool blue hues, accents, and depth on the backdrop of white furnishings to wake up in the middle of a summery, oceanic feeling every day! If you do happen to add some furniture, look for dark-colored wood for an added touch of class!
7) Whites and Grays Small Bedroom Design Ideas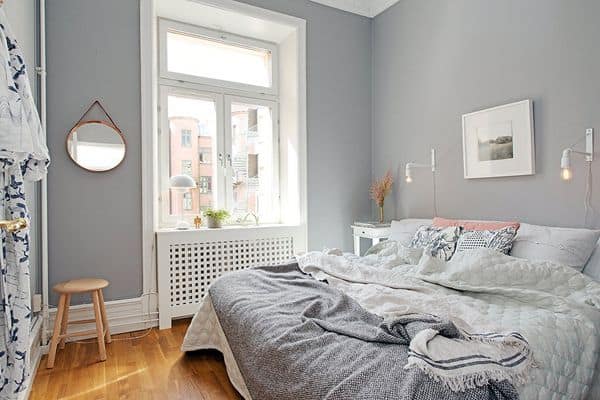 While simple whites and grays may sound boring- hear us out here! Just simple colors and decor like neutral accents of grey and white can often make a small room appear rather refreshing and defined. If you are not too sure about designing the entire room in these colors, you could add small pops of decor pieces around the room in bright colors like teal and yellow to tie it all up together.
8) Basement Small Bedroom Design Ideas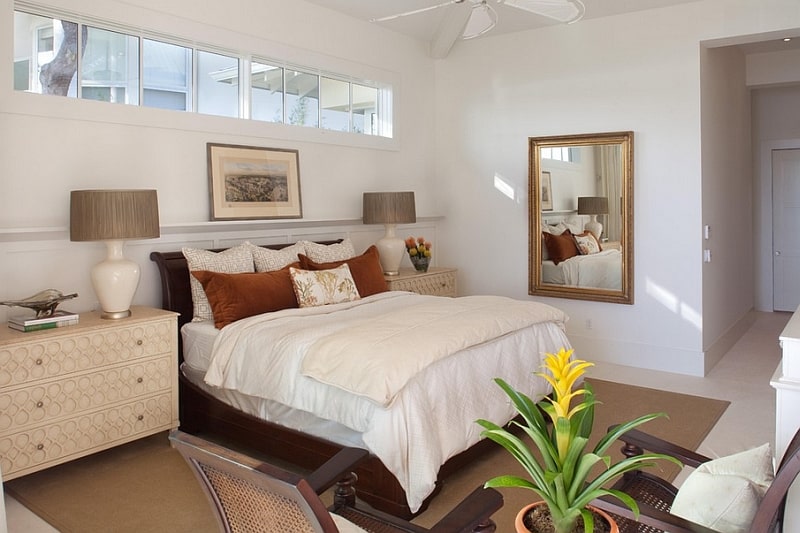 Living in a small, dingy basement room with not a lot of scope for design and life? Well, intelligent interior design does not differentiate between a small space and a big space! You can always beautify even the darkest and dingiest t rooms such as a basement room with light-colored wallpaper/ art pieces, light-colored bed sheet/ comforter/ pillows, and maybe even some playful characters like an oversized cushion or plush toy on the bed. Indoor plants that thrive even without sunlight like a snake plant or a cactus plant can also help. Just make sure you do not use any dark-colored soft furnishings and you will be good!
9) Wallpaper Focus Small Bedroom Design Idea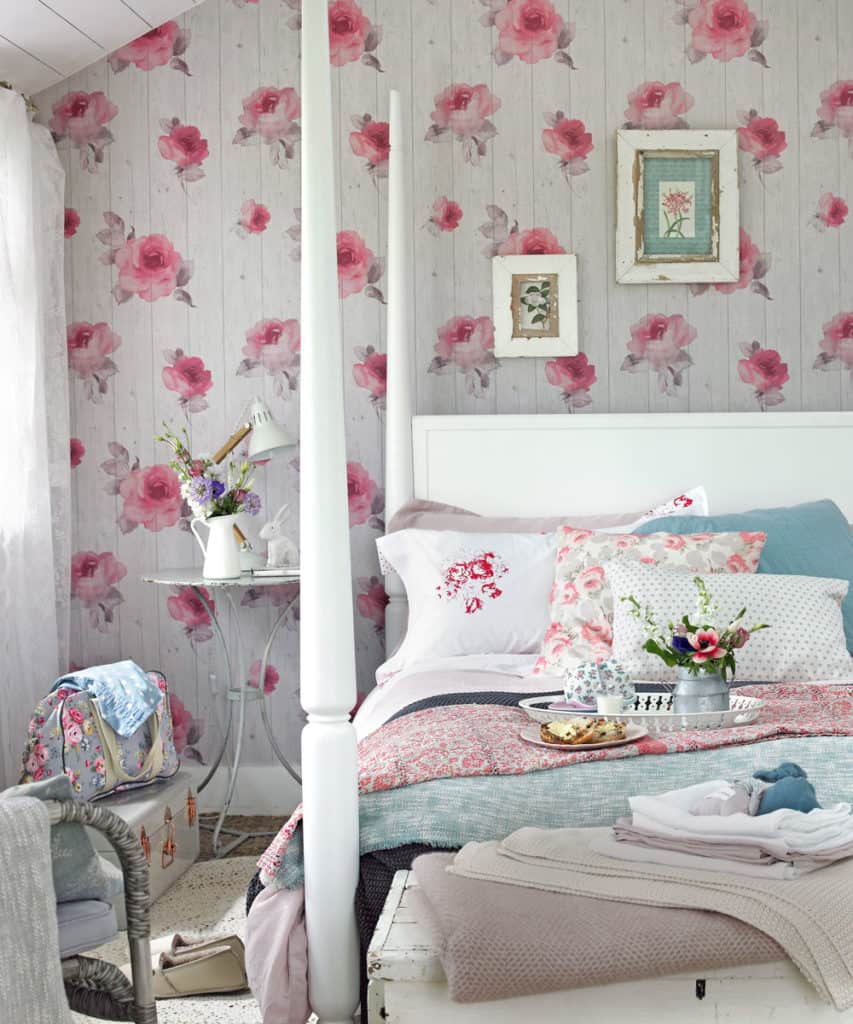 If you have a small space with a huge wall, using wallpaper as a focal point can work marvelously to create the illusion of a flowy, spacious room. If you choose a printed, patterned, and busy wallpaper, we recommend keeping it as it and not adding other elements to it. However, if the wallpaper of your choice is plain and not very busy, you can add elements like floatings shelves with plants or old pictures or even an artistic mood board!
10)Mirror and Wood Small Bedroom Design Ideas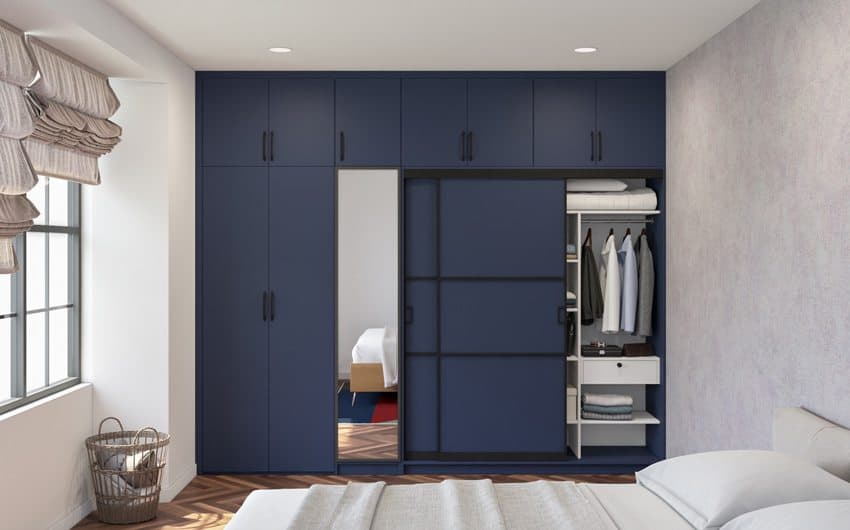 The look of mirror and wood put together instantly can add a touch of rustic romanticism in a small room. Apart from adding mirrors in assorted shapes and sized on a blank wall, you can also invest in or DIY rough wood potters and hanging wooden frames for an instant touch of panache. If you already have a bed with a wooden bed frame, you'll surely be in for a treat!
11) Storage-Oriented Small Bedroom Design Ideas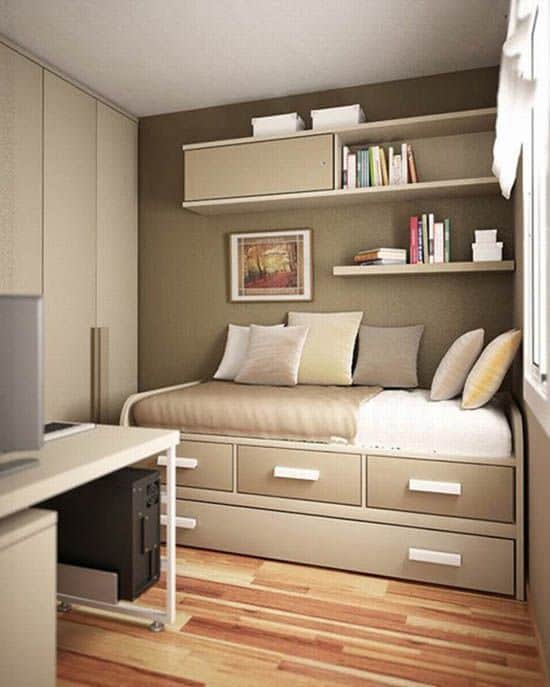 If your bedroom is small but you own a bed that is high off the floor and offers some space underneath, you can use the space for your benefit by using it to store your extra linen and clothing items that don't fit in the wardrobe. If your bed happens to be in the center of the room and you want to use the space underneath for storage, we recommend you instead keep the bed in a corner to make your room look clutter-free. But as a bottom-line focus should always be on making the most of the space at hand!
12) Black, White, and Pink Small Bedroom Design Ideas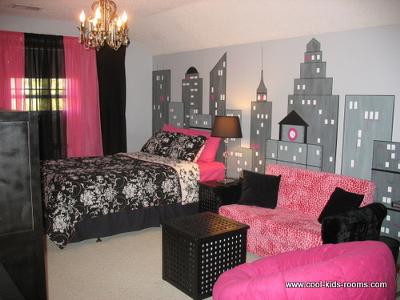 Black, white, and pink as a color combination for room decor have been quite the trend on Pinterest for the longest time now. These three colors are not only chic to look at but also work very well to make the small bedroom space look bigger as blacks fade to a lighter pink and then white. If you're not too sure about investing in wall painting/wallpaper or furnishing, you could just download a few digital art pieces in these colors or DIY some cool designs and amp up your room instantly!
13) Bookworm Small Bedroom Design Ideas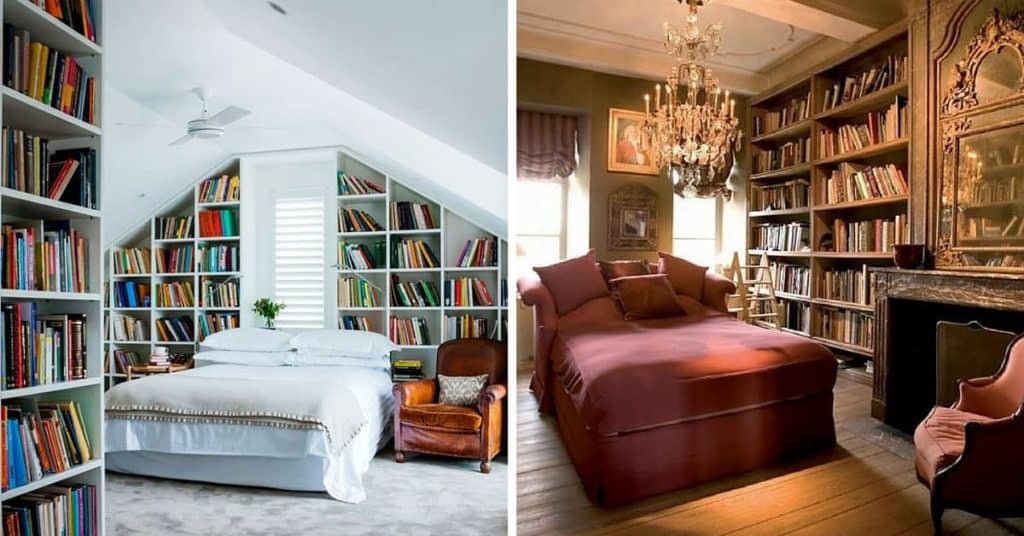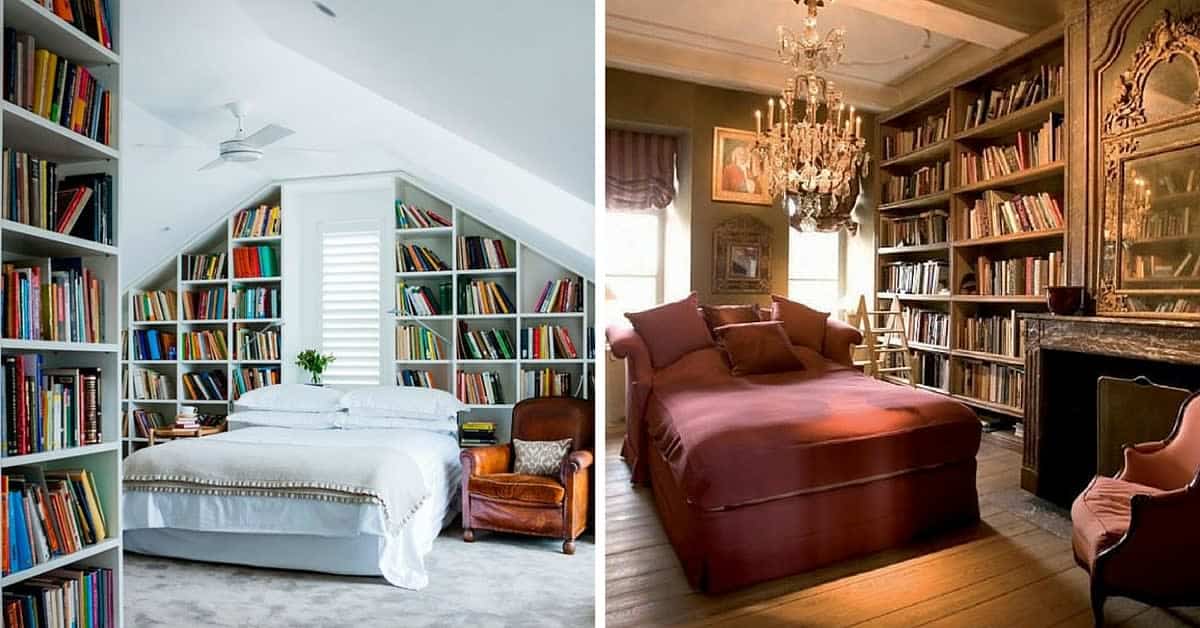 Are you a full-time reader with no full-fledged space to preserve your books? Even the available space in your room can be plenty of space if used right. You can try to create a small rustic book space for book storage. Even if you are not interested in buying a bookshelf, you can just place all books on the floor, throw in some pillows and make it your reading corner, nerdily partitioned from the sleeping space.
14) Hide Off-Center Windows with Curtains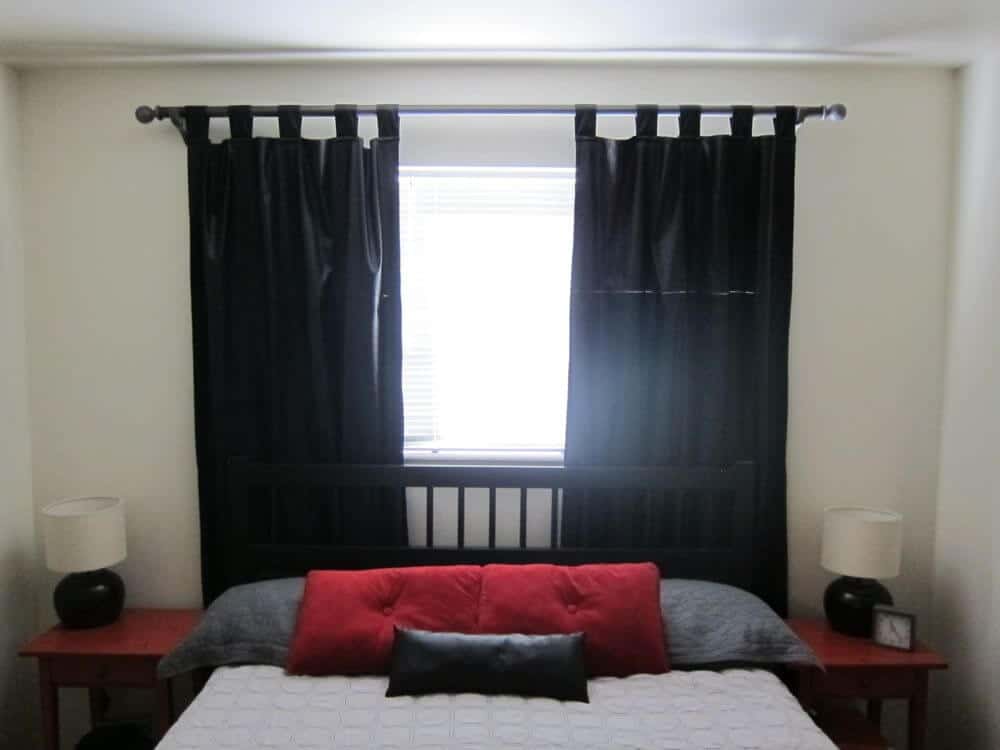 If you have a small bedroom with a big window, you can literally use long flowy curtains blinds to instantly not only add light but also space to the room. Once you open the curtains, the entire world outside will become a part of your small bedroom; and when you shut them, you have your little private room to enjoy!
15) Work From Home Small Bedroom Design Ideas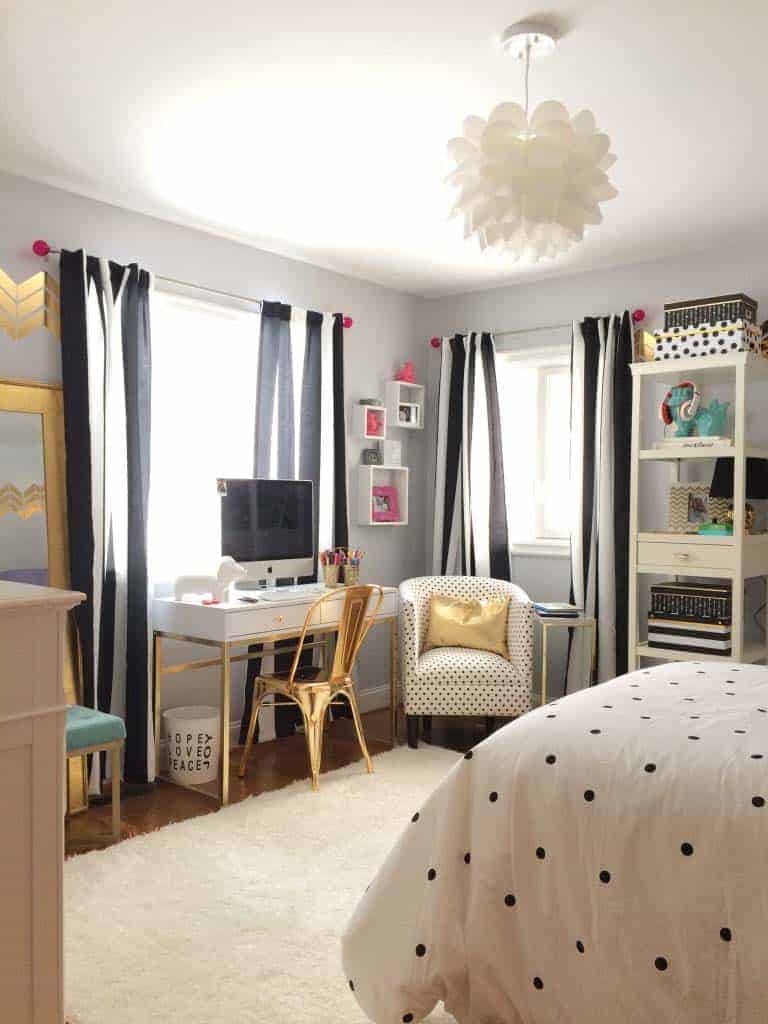 Have been working from home and hate to sit in the same room every day? You might as well amp your small bedroom and make it more home-like, a place you wouldn't mind working in. Instead of buying a study table, we advise investing in a long and medium height end-of-the-bed table. Use a chair that can be tucked under the table and you can also use the wall space above to adore office items and other miscellaneous items.
16) Tight Corner Small Bedroom Design Ideas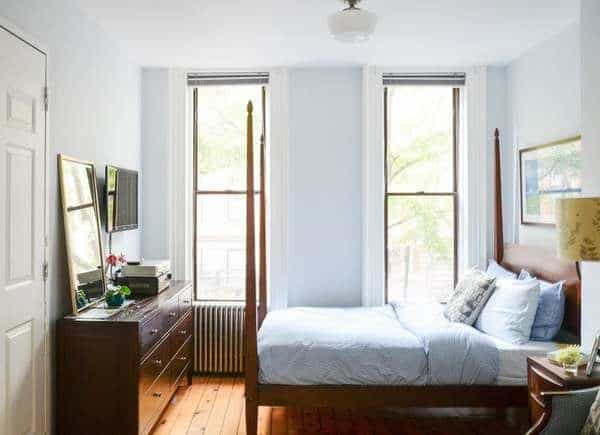 Do you have a small bedroom but would want to transform it into a space that people look at and go like "I want this bedroom!"? We have some tight corner-based bedroom ideas to help you achieve just that! Add a floor-to-ceiling shelve or a tall lamp built-in shelf to instantaneously add not only organization options but also aesthetics to your corner. If you are yearning for more living space than organization space, you can instead make a corner bed placement with a simple rug, throw, and some cushions to make a cozy corner within your small bedroom! When you gotta make the most of tight corner spaces, think vertical!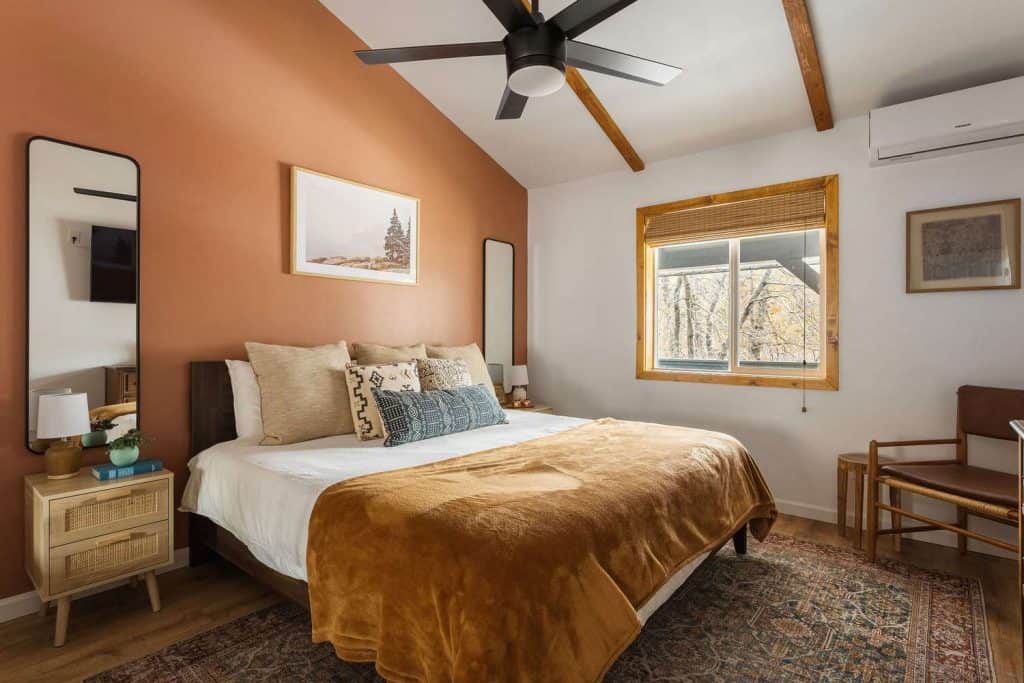 The earthy warm shade of brownish pink paint envelops the room, inviting a sense of calm and tranquility. To optimize the limited space, a wall-mounted live edge shelf serves as both a functional and decorative element, while a suspended bedside light adds an intimate and comforting glow. This thoughtfully designed bedroom provides a retreat for relaxation and cocooning, offering a peaceful haven within your home.
18) Install Removable Accent Wallpaper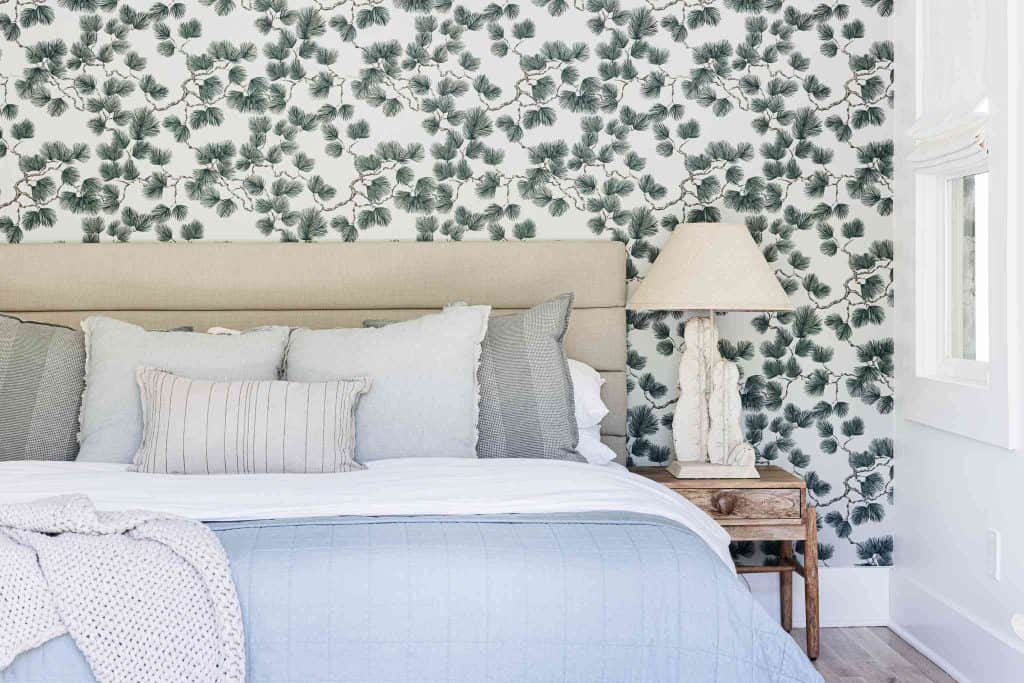 Bring a vibrant touch to a small space by incorporating a striking accent wall adorned with bold and colorful wallpaper. For those who rent their space, removable wallpaper offers the perfect solution to add a temporary burst of personality. To optimize functionality, a custom-fit headboard with open shelving has been installed, providing a stylish platform to showcase treasured objects. This attention to detail ensures that every corner of the house feels complete and well-cared for, creating a harmonious and inviting atmosphere.
19) Use Every Inch of Space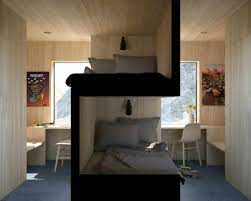 Masterfully transformed a compact bedroom into a cozy sanctuary, perfect for both restful slumber and late-night binge-watching sessions. By using a long console provides much-needed storage, while textured ceiling wallpaper adds an intriguing visual element. To create a captivating focal point, mount a pendant light close to the ceiling, casting a warm glow and enhancing the room's ambiance.
So here are our top chic small bedroom ideas that we hope will help beautify even the most unappealing corners of your bedroom! Let us know which theme you vibed the most with in the comment section below!
20) Vanity space Small Bedroom Design Ideas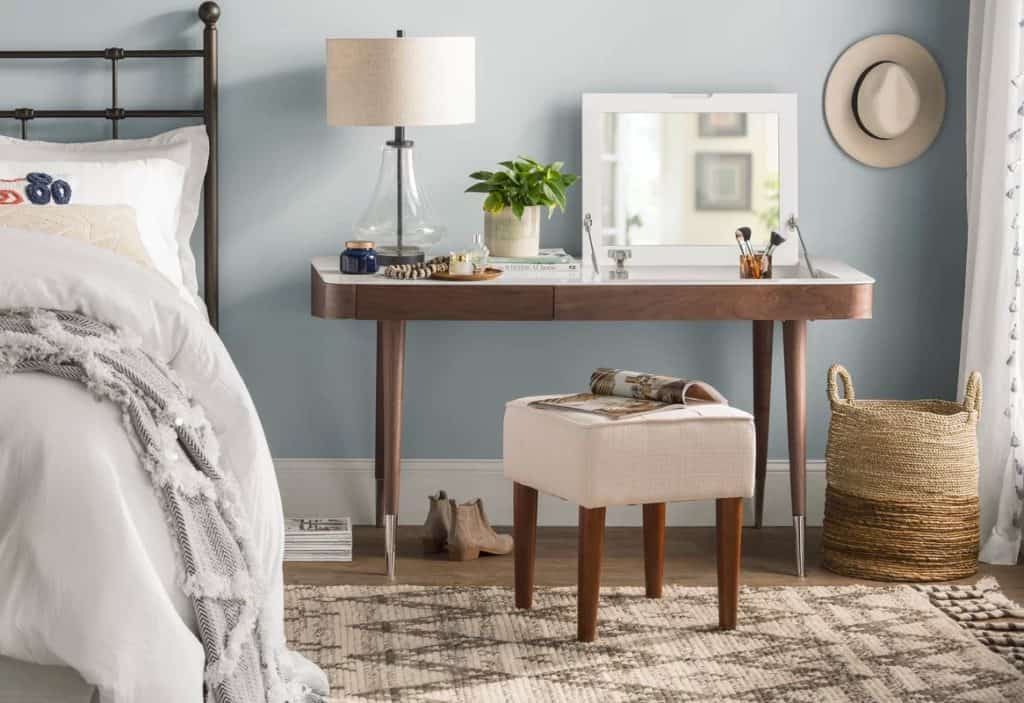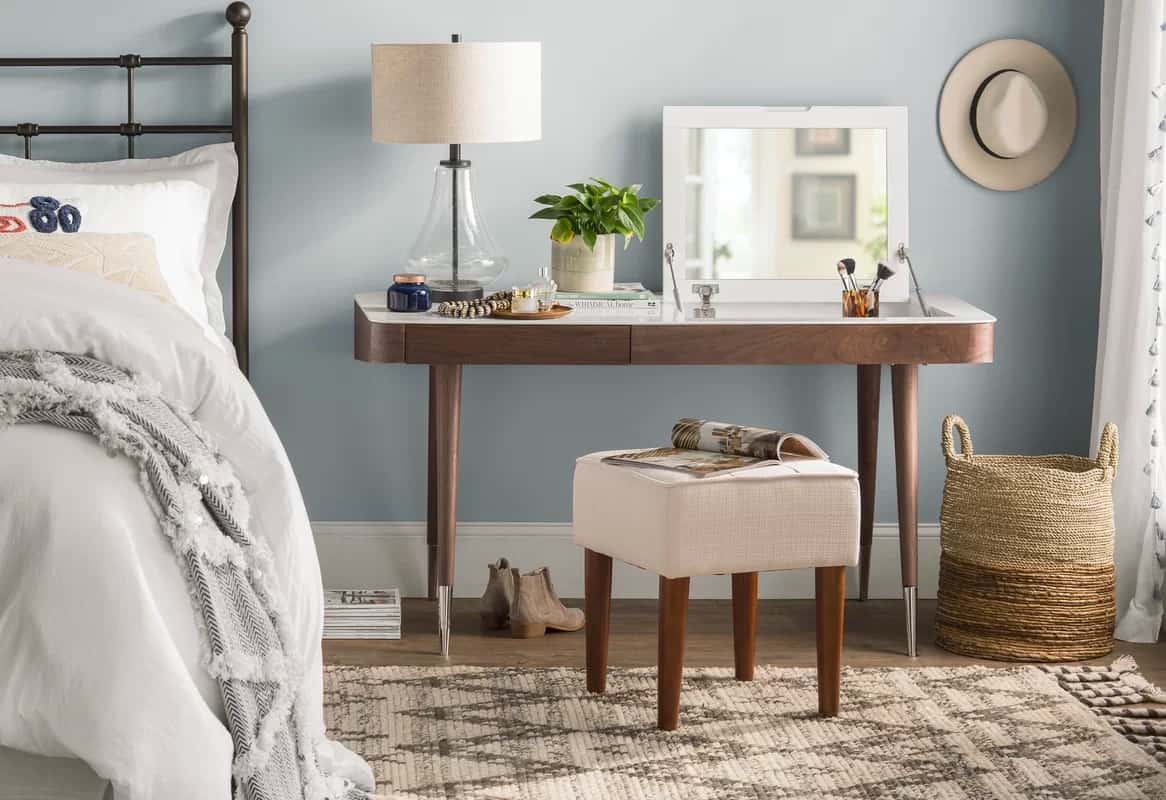 Love to have your little dress-up corner but are struggling to find enough space to make one in your small bedroom? Worry not! Vanity space does not come only with a big room – you can use your space intelligently to make a chic vanity corner even in the event of a small room. For small rooms, it is advised to use a low-profile chest of drawers and to add a lighted mirror right on top of it to add the illusion of space. You can in fact use a lot of hooks and perhaps a wall-hanging-chair or an ottoman that can be used in multiple ways around the room for intelligent space management!
So here are our top chic small bedroom ideas that we hope will help beautify even the most unappealing corners of your bedroom! Let us know which theme you vibed the most with in the comment section below!
The Bottom Line
What kind of design should you incorporate in a small bedroom? Compact spaces are difficult to design because of the limited space, light, and availability in them. So what do you do to make it livable? Small spaces need to look big so make use of lighter colors that can reflect light. Then , you could choose a theme to go with the colors and add furnishings accordingly. In case, you cannot choose a lighter color, you could simply paint the walls white. All kinds of furniture go perfectly in harmony with vote walls.
Small Bedroom Designs FAQs
1. What colors make a small room look bigger?
Colors that instantly make small rooms look bigger and spacious include light colors like off-white, pale white, dirty blue, sage green, light gray, beige, and caramel.
2. Is a 10x10 room spacious?
A 10x10 room is typically not considered a spacious room. For a room to be spacious, it should at least be able to accommodate a twin-sized bed, if not, it is referred to as a small bedroom.
3. What kind of bed should I use in a small room?
Compact and functional beds like foldable, stackable, bunk, folding, storage, and murphy beds work best for non-spacious rooms.