A brand new project launched in Electronic City, just off Hosur Road in Chandapura, Bangalore, the Imperial Address Plots are a themed residential villas project. The Imperial Address, a project that is so unique and exquisite on its own, features the well-renowned Address Maker's Plotted segment. Built in style and panache, the project's theme is based on Roman-style imperial architecture, and all the houses are built in spacious and premium, luxurious configuration. Besides, the beautiful landscape that surrounds the property in over 3 acres of land makes it all the way a more aesthetic and naturally appealing location to be in.
Location wise, The Imperial Address Plots stand right in the melting point of Bommasandra, Chandapura, and Hosur Road junctions, close to a lot of other community living buildings and societies. The builders of The Imperial Address plots are committed and guaranteed to provide a top-notch living experience for you and your loved ones.
The range of amenities one can indulge in and enjoy at The Imperial Address Plots include a fully equipped clubhouse, health center, gymnasium, swimming pool, recreation rooms, outdoor sports courts, children's play area, party hall, and much more.
The Imperial Address Plot takes good care of your security with its 24×7, highly meticulous security system, and above all is also Work From Home Ready to suit the current day's needs.
The Imperial Address Plots Location: Chandapura, Off E City
1. Project's Total Land Area: 31 Acres
2. Total Number of Units: 424
3. Unit Size Variants: 1200 – 2400 Sq.ft
4. Possession Offered: Dec 2021 Onwards
Upsides of the The Imperial Address -
1. Lavishly planned and well spread out Roman Imperial themed residential plotted development
2. Tastefully located in the fastest developing area of Chandapura. near Electronic City, Hosur Road in South Bangalore
3. In close proximity to Alliance University and right off Hosur Road near Attibele, Anekal
4. The location is also ideal and accessible for professionals working at the IT Hubs of E City
5. 20 minutes in distance from the renowned Narayana Health City
6. Peaceful, natural, and calm surroundings, competitive pricing, and exclusive launch schemes and offers are also extended by the builders
7. A great location for investment purposes and self-use alike
Downsides of the The Imperial Address -
1. A lot of construction still undergoing in close proximity of the project
2. Sever traffic jams could be faced while commuting to Electronic City, Hosur Junction, Satellite Town & Jigani from The Imperial Address Plots
The Imperial Address – Unit Type, Size in Sq. Feet & Price
Unit Type
Unit Size
Unit Basic Price
Tentative Approximate All Inclusive-Price
30×40
1200 Sq. Ft.
23.8 Lakhs
Rs. 35 Lakh onwards
30×50
1500 Sq. Ft.
29.8 Lakhs
Rs. 43 Lakh onwards
30×60
2400 Sq. Ft.
47.7 Lakhs
Rs. 68 Lakh onwards
Tentative Approximate All-Inclusive Prices comprise- Basic Price, GST, Club House Charges, Maintenance Deposit, BWSSB, BESCOM charges. Prices are not inclusive of preferred Location Charges Franking Charges, Stamp duty & Property Registration Charges Extra as per Govt Norms.
The Imperial Address External Amenities
1. ully equipped clubhouse
2. Swimming pool
3. Indoor Games Room
4. Gymnasium
5. Recreation Areas
6. Activity zones
7. Multiple outdoor sports courts
8. Party hall
9. State-of-the-art securities
10. Jogging Track
11. Retail Spaces
12. Landscaped Gardens
13. Health center
14. Work From Home Ready
The Imperial Address Internal Amenities
Waste Management      
1. Sewage treatment plant to meet the standard requirements
2. Dedicated underground sewer pipe network connected to each plot
3. Organic Waste Converter (if required as per statutory norms)
Power Facilities
1. Exquisite, designer street lights
2. Power supplied through HT works, LT works, Feeder pillars, Transformers and RMUs
3. Underground cabling network with power cable at each plot
4. Adequate arrangements for Telecommunication / FTTH Network at each plot
5. Street light cabling, poles with electrical fixtures

Green Features 
1. Expansive, wide-spread landscaped parks planted with over 10,00 trees that create a fresh, healthy living environment
2. Modern-designed streetscapes and open spaces for walks, exercise, leisure time
3. Lighting fixtures with cables in landscaped gardens
4. Streetside Tree Shrub plantation on feasible spots
5. Attractive, modern, security equipped entrance porch
6. Boom Barriers at Grand Entry & Exit Points
7. CCTV Camera at all strategic points
Water Conservation
1. Underground Water supply pipelines at each plot through an overhead water tank system
2. Water supply through Gravity/Hydropneumatic system
3. Underground Sump for storage of water sourced through Borewells/Municipal supply
4. Rainwater harvesting points
The Imperial Address Master Plan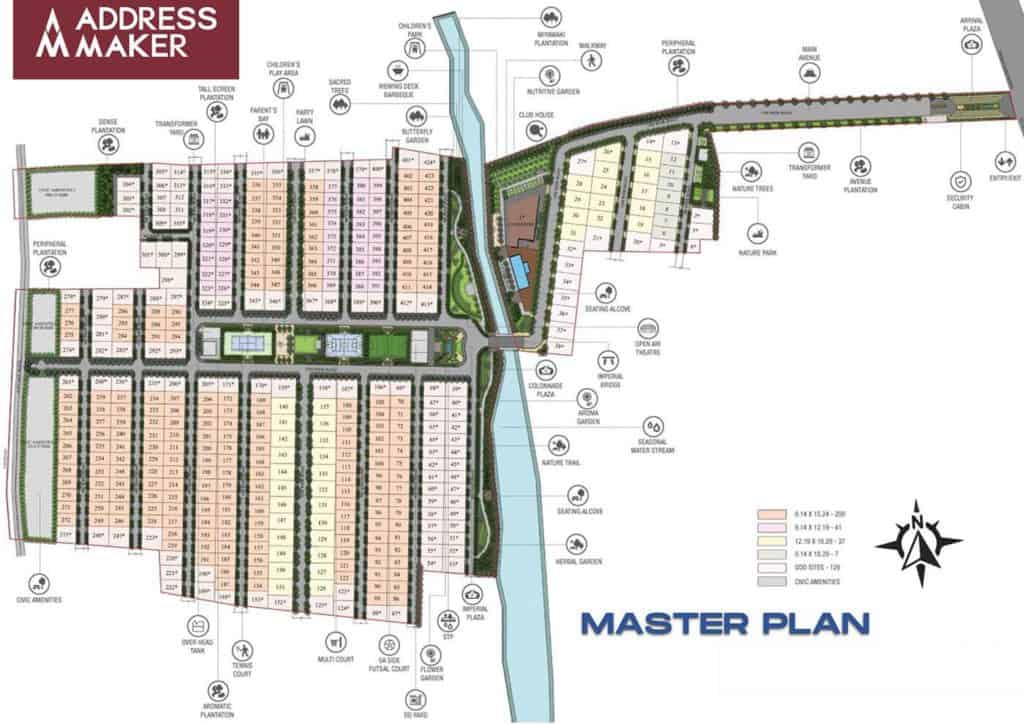 The Imperial Address Location Map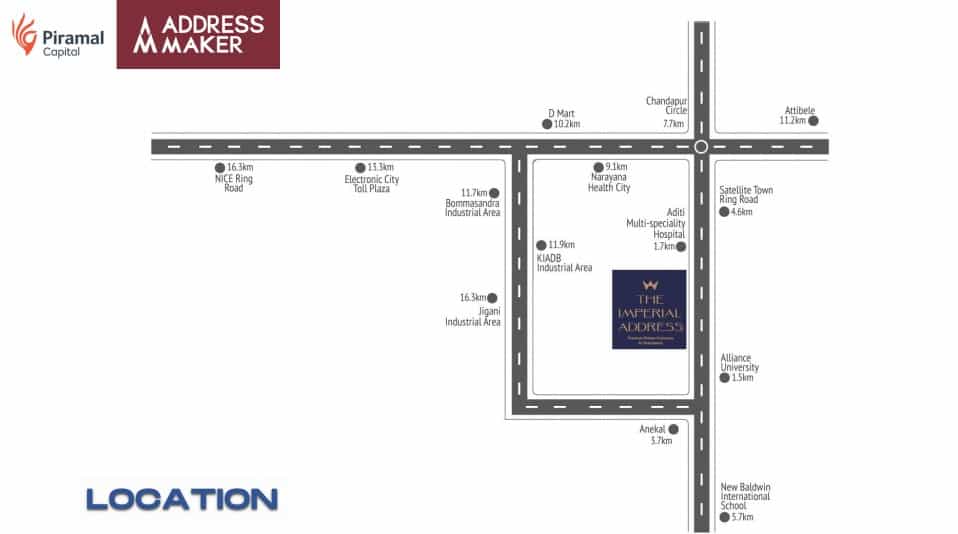 The Imperial Address - Address and Google Map
Address: The Imperial Address,Chandapura, Anekal Road, Marathi Layout, Chikka Hagade, Kammasandra Agrahara, Karnataka
Pincode: 562106
Email : [email protected]
The Imperial Address Image Gallery
The Imperial Address Apartments Video
The Imperial Address FAQs
1. What is the price of a plot in The Imperial Address Plots?
The price of a basic 1200 sq.ft size plot starts from Rs. 35.5 Lakh INR and upwards.
2. Where is the location of the Imperial Address Plots?
The Imperial Address plots are located in South Bangalore in Chandapura, right off Hosur Road and Attibele. The location offers easy and convenient accessibility to the business hubs of Electronic city and Bommasandra.
About the Builder – Address Makers
It is a leading Real Estate Private Equity and Debt platform which is promoted by Piramal Enterprises, which is a multi-billion dollar business. It has a diverse interest in pharmaceuticals, specialty glass, real estate, and financial services with operations in over 100 countries across three different continents.
The Fund Management encompasses an overall corpus of over INR 7500 crores across 7 Funds and 3 third-party mandates. Adding on, they have investments across various real estate projects, such as Mumbai, NCR, Pune, Hyderabad, Bengaluru, and Chennai.
THE ADDRESS MAKERS has carved out a vision that foresees to achieve in residential offerings with the expertise and practical understanding offering an inherent assurance of successful implementation & timely delivery of real estate projects. 
At present, the firm has successfully completed 6 projects, has 5 ongoing projects, and has 1 upcoming project in the pipeline.