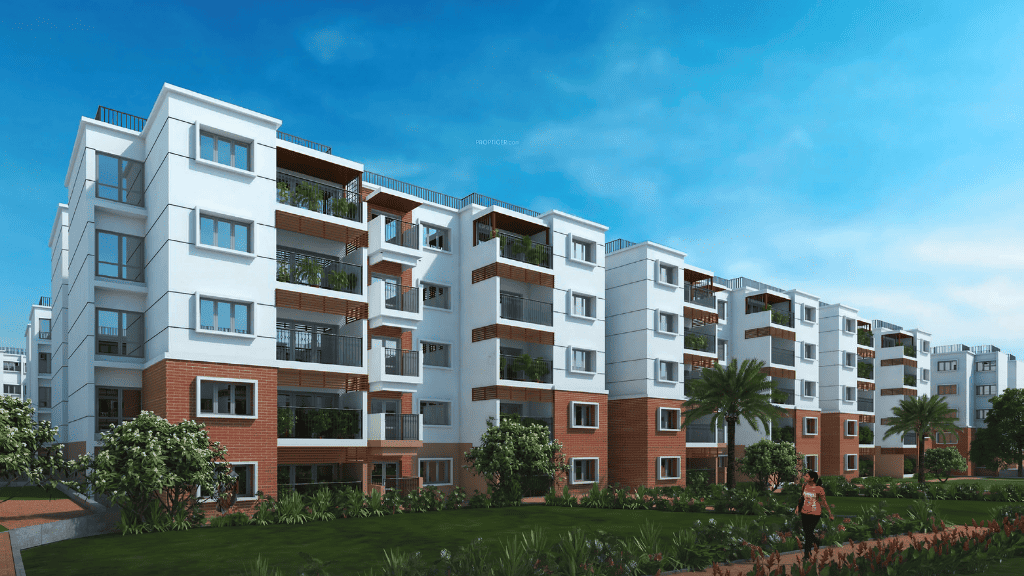 Live the epitome of urban elegance at Prestige Kew Gardens, Yemalur, Bangalore. Prestige Kew Gardens' state-of-the-art 1 BHK, 2 BHK, 2.5 BHK, and 3 BHK apartments are designed to deliver an unparalleled standard of living. Spacious, airy, and Vastu-compliant, these homes are a true reflection of the city's cosmopolitan vibe.
Embellished with luxurious amenities, Prestige Kew Gardens is a haven of comfort and style. From a multi-purpose hall to a fully-stocked supermarket, a yoga and meditation room to 24/7 backup electricity, this project has everything you need to lead a well-rounded life. Indulge in recreational activities like badminton, billiards, indoor games, and a kid's pool or hit the gym to stay fit. A library, lift, play area, security personnel, squash court, swimming pool, and table tennis are just a few of the many features that make this project truly special.
Safety is the project's top priority and the developers have installed top-notch security devices to ensure that you and your loved ones are protected around the clock. Experience the ultimate in urban living at Prestige Kew Gardens
Prestige Kew Gardens Location: Off Old Airport Road, Yemalur, Bangalore
Total Land Area of the Project:

15.74 Acres

Total Number of Units:

979

Towers and Blocks:

Apartments 

Unit Variants:

1,2, 2.5, 3-BHK

Possession Time: Ready-to-move-in
Recreational Amenities at Prestige Kew Gardens
24Hrs Backup Electricity

Badminton Court 

Billiards 

Covered Car Parking 

Gym 

Indoor Games 

Kids Pool 

Library 

Lift 

Play Area 

Security Personnel 

Squash Court 

Swimming Pool 

Table Tennis
Prestige Kew Gardens in Off Old Airport Road, Yemalur, Bangalore: Specifications
Reinforced Concrete Composite Structure

Utilization of Cement Blocks for Wall Construction (as deemed fit)
Ground Floor: Featuring a sophisticated look with granite/marble flooring and cladding in the lobby

Upper Floor: Elevate your style with the lobby dressed in stylish vitrified tiles and a lift cladding of marble/granite

Lobby Walls: Partly adorned with a touch of paint/textured paint, ceilings finished in OBD

Service Staircase & Lobby: Elevated practicality with OBD on the walls and ceilings for a seamless experience
Sleek and elegant vitrified/ceramic tile flooring

Chic ceramic tile detailing, stretching 2 feet above granite countertops

Sparkling chrome-plated faucets paired with a single-bowl stainless steel sink

Cohesive and stylish vitrified/ceramic tile flooring and dado in the utilitarian spaces and bathrooms
Toilets feature concealed pipelines within the grid false ceiling for a sleek, uncluttered look.

Non-slip ceramic tiles for the flooring

Ceramic tiles grace the walls up to the false ceiling
Master bathroom boasts a granite countertop with a ceramic basin and other toilets feature pedestal wash basins

EWCs and gleaming chrome fixtures

Shower mixer with a shiny chrome spout

Every bathroom is equipped with a geyser for ultimate comfort

For even more eco-friendliness, the top two floors boast a Solar Water Heater in addition to geysers in all toilets
Ground floor apartments showcase a stylish MS designer grill, elegantly coated in enamel paint

All exterior doors are adorned with elegant UPVC frames and shutters

 Sleek 3-track UPVC windows with clear glass, complete with provisions for mesh mosquito shutters
Hideaway electrical wiring featuring PVC-insulated copper wires and modular switches for a sleek look

Optimal power supply for each unit: 2.4KVA for 1BR, 4.0KVA for 2 & 2.5BR, and 6.4KVA for 3BR

Convenient entertainment connections with TV and telephone points in living and bedrooms

Split air conditioning in the living area and all bedrooms

Individual meter and Earth Leakage Circuit Breaker for safety and precision in energy consumption.
Highlights of the Project:
Experience Convenient Proximity to Novotel Bengaluru Techpark at a Distance of 4.1 km

Enjoy Close Access to Hal East Prm Sh Vimanapura just 3.3 km Away

Benefit from the Nearby New Akshay Mallya Hospital located just 3.2 km Away

Indulge in Shopping Sprees at the nearby Divyasree TP Mall, a mere 1.8 km away

Stay Connected with the World via Banaswadi Railway Station at a 13.4 km Distance

Enjoy Easy Transportation Options with Mysore Road Satellite Bus Station located 27.1 km Away

Enhance Your Learning Experience with C.M.R Institute of Technology located just 7 km Away
Prestige Kew Gardens Apartment Video
Prestige Kew Gardens Image Gallary
Prestige Kew Gardens Master plane
Prestige Kew Gardens Adress
About the Builder - The Prestige Group
The Prestige Group has its roots in the vision of Mr. Razack Sattar, who saw the potential for success in the retail business back in 1956. Since its establishment in 1986, Prestige Estates Projects has rapidly grown into one of South India's leading property development companies, shaping the skyline across the residential, commercial, retail, leisure, and hospitality sectors.
The Prestige Group's rapid growth was set in motion by Prestige Court on K.H. Road in Bangalore. It now boasts over 184 completed projects covering an overall developed area of 60.74 million square feet. Additionally, it has another 57 ongoing projects spanning 59.24 million square feet and 43 upcoming projects covering 44.11 million square feet, comprising apartment enclaves, shopping malls, and corporate structures across all asset classes.
Prestige Constructions, an ISO 9001:2000 certified company, is the only real estate developer in Bangalore to have won the prestigious FIABCI Award for its software and residential facilities. Prestige was recently awarded the Crisil DA1 Developer Rating in recognition of the quality of their projects and the ability to deliver them on time, making them the only property developer in India to receive this distinction.
Today, Prestige is a leading force in the industry and with ambitious growth plans across the residential, commercial, retail, and hospitality sectors in Bangalore, Goa, Hyderabad, Mangalore, Cochin, and Chennai, it has a bright future ahead.
Prestige Kew Gardens FAQs:
1. Where is Prestige Kew Gardens located?
Prestige Kew Gardens is located off Old Airport Road, Yemalur, Bangalore.
2.What is a group buy? What's in it for me?
Online real estate consulting firms make a group of interested buyers with all major property developers on a monthly basis. It gives you the absolute best-discounted price for the property. It's like choosing the best unit of the property at wholesale price.
3. What are the highlights of Prestige Kew Gardens?
The highlights of Prestige Kew Gardens include its convenient proximity to Novotel Bengaluru Techpark, Hal East Prm Sh Vimanapura, New Akshay Mallya Hospital, Divyasree TP Mall, Banaswadi Railway Station, Mysore Road Satellite Bus Station, and C.M.R Institute of Technology.