About Mantri Serenity
A home is an abode of latent energy. It hosts a confluence of personalities in the form of family members who live harmoniously with each other. Peace, abundance, tranquility, success, and an amazement of life's riches start from the home. And it's for this reason it has to be serene, calm, and meditative.
Mantri Serenity is one such property that has all the affections of a home. Located on Kanakapura Main Road, the property is set amidst a backdrop of greenery. Spacious homes, well-architected common-ways, lavishly landscaped exteriors, and an ambience that resonates with the vitality of good living is characteristic of Mantri Serenity.
Generously close to the metro station, transportation to and from any part of the city is possible. In the vicinity of schools, colleges and educational institutions helps parents and prospective parents plan for the education of their children. Inside of the property is a massive clubhouse –  the Lotus – a 6000 plus square feet area where leisure that once starts never wants to end!
Five blocks comprise the property. Starting from Serenity 1 to Serenity 5, each block is divided into several wings. The structure is seismic zone compliant although the region does not fall in a seismic zone. This aspect ensures that buying an apartment here is an investment for future generations as well.
Be it a 2 BHK or 3 BHK, the floor plan includes all aspects of a modern Indian home without compromising on space. All homes have a balcony overlooking the landscape that is resplendent with greenery. Master bedroom, living room, kitchen, bedrooms, attached toilet, common toilet and foyer are the common aspects of all homes.
Mantri Serenity – Distance from Prominent Places in Bengaluru
The location of this project is on Kanakapura Road, Bengaluru.
| | |
| --- | --- |
| Place | Distance (km) |
| M.G. Road | 15 |
| Nearest ring road | 1 |
| Nearest railway station | 5 |
| Nearest metro station | 2 |
| Distance from airport | 47 |
The following are some advantages of staying in Mantri Serenity on Kanakapura Main Road.
1. The property is situated away from the hustle and bustle of the city and is yet in close proximity to essential services.
2. It is surrounded by educational institutions such as City Engineering College, Hillside Pharmacy College to name a few.
3. There are many software companies in the vicinity too.
4. Located off Kanakapura Road, getting onto Kanakapura Road hardly takes a 5 minutes. Kanakapura Road is well-connected to all other major highways, city roadways etc.
5. Public transport is readily available. Bus stops and auto stands are easily accessible. The metro station close-by makes it even easier to travel to any part of the city and come back on time.
6. M.G. Road – once the heart of the city (and still is for many people) is only 15 kms away. All it takes is a few minutes of travel on a metro train to reach M.G. road.
7. It is a developing area. It's just a matter of time before exponential growth is seen. This makes this property a hot buy given its nominal pricing and also the bright prospects of growth in this area.
Mantri Serenity – Nearby Schools
Below are some of the schools near to the property:
1. Clarence Public School
2.  Sri Kumaran Public School
3. RMS International School
4. Delhi Public School
5. Alpine Public School
6. Ekya School
7. Flora English School
8. Suryodhaya International Public School
9. Orchard Public School
10. Brooklyn National Public School
Mantri Serenity – Nearby Hospitals
The fact that so many hospitals exist in the vicinity, staying here is safe bet. Doctors are readily available round the clock at these hospitals. All of these are renowned hospitals and therefore can be counted on for giving expert medical treatment.
1. Sagar Hospitals
2. Shobha Hospital
3. Sakra World Hospital
4. Manipal Hospital
5. Fortis Hospital
6. Vasavi Hospital
7. Samastha Hospital
8. Sri Sai Ram Hospital
Mantri Serenity – Unit Type, Size in Sq. Feet and Price
| | | |
| --- | --- | --- |
| Unit Type | Size (square feet) | Price (Lacs INR) |
| 2 BHK | 1025 – 1260 | 75 |
| 3 BHK | 1275 – 1710 | 94 |
Mantri Serenity External Amenities
1. Swimming pool for all age groups
2. Outdoor party area
3. Jogging track
4. Park
5. Basketball, football, cricket outdoor sports area
6. Health club
7. Sauna
8. Library
9. Yoga center
10. Salons
11. Clubhouse
Mantri Serenity Internal Amenities
| | |
| --- | --- |
| Staircases | Ceramic tiling and flooring – anti-skid, waterproof |
| Terrace | Rugged ceramic flooring for all type of uses |
| Reception/ground floor lobby/lift lobby | Marble flooring, vitrified tiling, granite flooring and cladding |
| Service lift lobby | Vitrified tiling |
| Balcony | Ceramic tiles |
| | |
| --- | --- |
| Main Entrance | Veneer Pre Engineered Door Shutter with PU Polish |
| Bedroom | Commercial Flush/Skin Shutter with Enamel Paint |
| Balcony | UPVC Sliding Doors |
| Shaft | Commercial Flush/Skin Shutter with Enamel Paint |
| Toilet | Designer engineered wood door shutters |
| | |
| --- | --- |
| Main Entrance | Veneer Pre Engineered Door Shutter with PU Polish |
| Bedroom | Commercial Flush/Skin Shutter with Enamel Paint |
| Balcony | UPVC Sliding Doors |
| Shaft | Commercial Flush/Skin Shutter with Enamel Paint |
| Toilet | Designer engineered wood door shutters |
| | |
| --- | --- |
| 2 BHK | 5 KW |
| 3 BHK | 5 KW |
| DG | 100% backup, based on metered consumption |
| Transformer Capacity | Calculated as per load |
| Modular Switches | Designer Modular electric switches |
| | |
| --- | --- |
| Borewell | Yes |
| Water Supply | Treatment WTP |
| Sewage Line | Exclusive Water Purification Plant |
Common areas and primary utilities will be provided complete backup.
| | |
| --- | --- |
| 2.5 BHK | Based on metered consumption |
| 3 BHK | Based on metered consumption |
Mantri Serenity Master Plan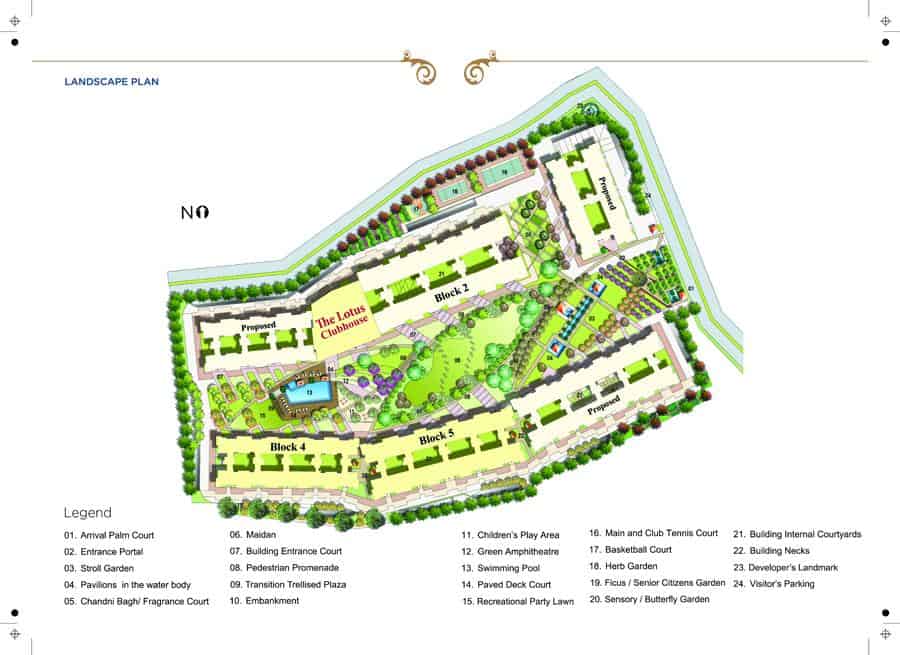 Mantri Serenity Location Map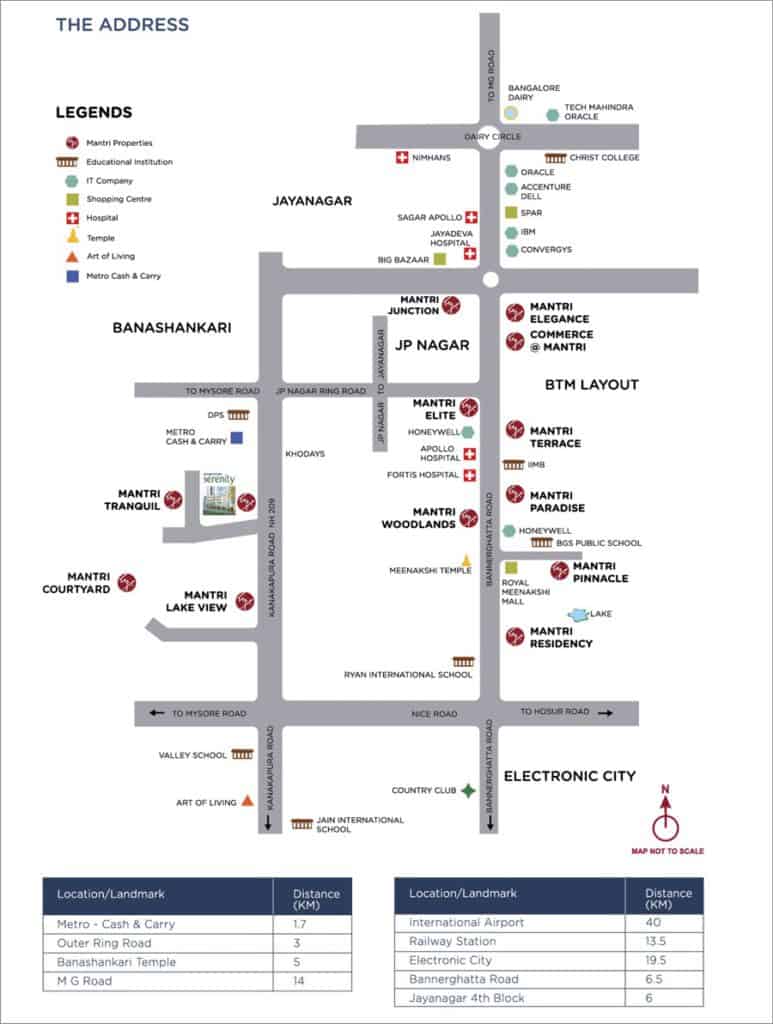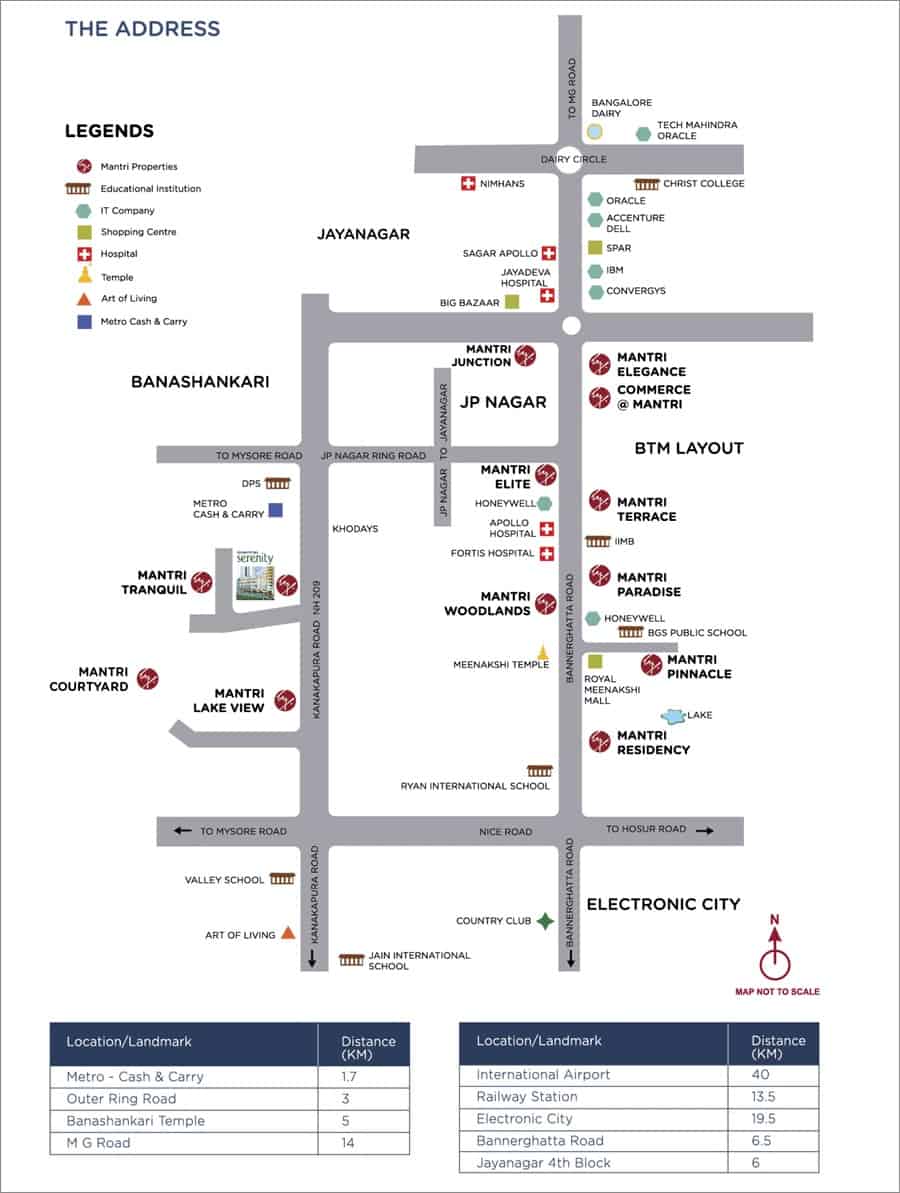 Mantri Serenity - Address and Google Map
Address: Mantri Serenity, Kanakapura Rd, Doddakallasandra, Subramanyapura, Bengaluru, Karnataka 
Pincode: 560062
Email : [email protected]
Mantri Serenity Image Gallery
Mantri Serenity Apartments Video
Mantri Serenity FAQs:
1.Do I have to pay extra to avail the club house facility at Mantri Serenity?
No. The club house charges are included in the price of the flat, no extra charges need to be paid by you
2.What is the price range of the apartments?
The price for 2 BHK starts at 75 lacs, and 94 lacs for 3 BHK.
3.What is the size or area range of Mantri Serenity?
Apartments at Serenity start from 1015 sq ft and go up to 1710 sq ft.
4. Where is Serenity located?
Mantri Serenity is located Off Kanakapura Road in JP Nagar in Banashankari.
5.What is the total area of the project?
The total area over which Mantri Serenity is spread is 19.6 acres.
6.Is the property well-connected to all parts of Bengaluru, like central Bengaluru?
Yes. Metro is hardly 2 km away. MG Road which is the central part of Bangalore is only 15 km away.
7.What are the health and fitness amenities available?
There is a full-fledged gymnasium. Apart from that there is swimming pool, kid's play area and games room.
8.What are some of the other projects by Mantri Developers for reference?
Mantri Webcity, Mantri Centrium, Mantri Courtyard, Mantri Blossom.
9. Which are the other projects near to Serenity?
Neela, Deepak Thippasandra Housing Village, IMG Windfall, Radiant Elitaire
10. Is buying a flat at Mantri Serenity a safe bet?
Yes. Kanakpura Road is a fast-developing area. Surrounding Mantri Serenity there are hospitals, schools, offices, malls, the Metro etc. New development is being undertaken around the region. This region will witness the next real estate boom.
About the builder – Mantri Group
Founded by Mr. Sushil Mantri in 1999, Matri developers has built over 6000 plus properties that includes homes, commercial spaces, shopping enclaves and IT parks. The company is headquartered in Bangalore. The company also has an international presence with offices in California, USA and Dubai, UAE.
The company espouses the values of quality and reliability. All properties either in-construction or completed manifest these virtues in terms of construction quality, state-of-the-art living spaces, secure living conditions, and environmental friendly designs.
Mantri Serenity is an excellent residential project located in a part of the city that is away from the hustle and bustle of the city, yet well-connected. The project is located off Kanakpura Road this road is seeing numerous development projects. The city is expanding and Kanakapura Road is the cynosure of attention for this expansion. Around the property are malls, shopping arenas, schools, colleges, hospitals, the metro etc. The property itself pans 20 acres, with well-designed living spaces surrounded by greenery.

Here's more to look into!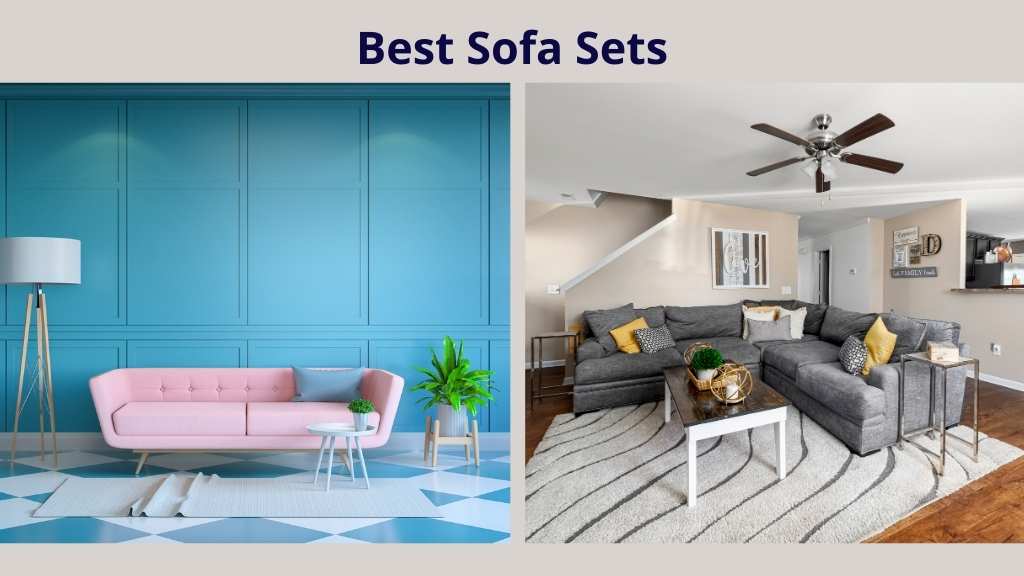 Sink into Luxury With The Best Sofa Sets of 2023 Your best sofa...