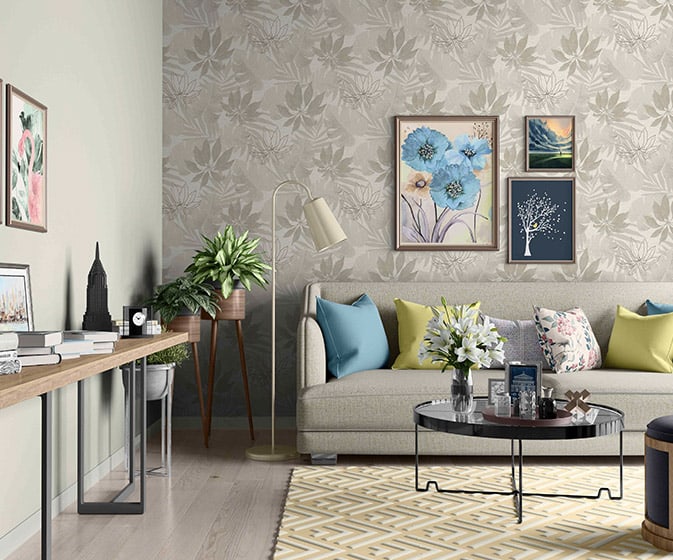 Wall design is simply not an aesthetic practice; it also requires a significant amount of investment in time and money. So whether you choose to beautify your walls by painting them or choose wallpapers to cover them, they need to be adept choices with respect to money and appeal.
In western countries, wallpapers are used almost exclusively in the entire house but in Indian households, they are used to create accent walls only. This choice is affected by the price, cost-effectiveness, and availability of wallpapers in India. If you are hoping to spice up your space by adding some wallpapers, here are some ideas on how to choose wallpaper for living room. Let's get started!
Types Of Wallpapers In India
6 types of wallpapers are widely available in India. Which one to opt for? Read on to know these 6 types better.
In paper-based wallpapers, some beautiful decorative designs are drawn over a paper base. This sheet could have a top coating to seal the design or it may be without one. Paper-based wallpapers are cheaper than other types of wallpapers.
Paper-backed vinyl wallpapers come with a paper base and decorative design printed on them. These wallpapers are most often moisture-resistant, affordable, and wipeable.
Non-Woven means that the wallpapers are made of synthetic or natural fibers that give the design a chic look. They are super easy to apply on walls and to remove you only need to simply peel it off. Compared to the paper-based wallpapers mentioned above, non-woven wallpapers are fairly expensive. 
Solid vinyl wallpapers are such wallpapers that have a vinyl coating over a fabric or paper base. The decorative design is printed over the vinyl coat. The coating ensures that it is washable and durable.
Coated vinyl or PVC is the cheapest option mentioned here. It is moisture-resistant as it has a layer of acrylic-coated in or sprayed over a paper base. The one setback is that the designs on this wallpaper will not have a refined finish.
Fabric wallpapers can be of two types: a fabric over which the design is printed or a fabric-backed vinyl layer over which the design is printed.
Benefits Of Using A Wallpaper
Wallpapers take no time to apply when compared to painting the walls. Pasting beautiful wallpapers on your walls will require no more than a couple of hours depending on the number of walls you want to cover. A big plus when compared to paints that require two or three coats and time to dry? Definitely yes.
Unlike paints that let out strong smells that give you a migraine, wallpapers are simply just way better. You would also not need to worry about staining your furniture or floors. It's a way cleaner process.
Yes, one hour before you could have had a pretty boring wall, and now you have a sparkling beautifully patterned wall. All that took was wallpaper to change the entire feel and vibe of your room.
How to Choose Wallpaper for Living Room: Exploring Different Wallpaper Styles
The styles for your wallpapers depend on your choice of decor for the room. The design you choose for your walls should flow with the rest of the room. Some examples of different styles are,
A formal interior design will include elegant designs for wallpapers such as damask or a hand-painted print.
Glam wallpaper options include flocked, glitter embedded,  embossed, crystal embedded, or dramatic reflective designs.
You could keep your walls casual and chic with various patterns such as floral, plant, or textured prints.
A gingham, plaid, or country motif pattern would be a good choice for your walls if you want to give it an old-school country look.
Textured wallpapers such as a grasscloth will be good for depth whereas plaid wallpapers will be good for warmth. You could also opt for a wildlife pattern to give your room a rustic look.
A baroque floral damask will make an awesome wallpaper to imbibe a Victorian period in your room.
Modern wallpapers include abstract or geometric patterns that will modernize your room in just a couple of hours.
How to choose a wallpaper that will do justice to the overall look of the room? Choose the appropriate color, texture, patterns, and other such factors to make it worth your money and time. Read on to know more!
The colors you choose for your wallpaper must match the windows, furniture, and flooring. You could get a color saturation of a bold color like violet or red with light-colored patterns on them. Choose your favorite colors and choose the wallpaper that has repeated patterns of that color. You could use an accent color as the primary color of your wallpaper and create contrast and drama. For smooth flow in the room, you could repeat the paint color as the wallpaper color.
2. Texture Of The Wallpaper
The texture of the chosen wallpaper could be plain or with patterns but it depends on the rest of the decors in your room. If you have patterned upholstery or draperies then find a tone-on-tone textured wallpaper. If you have chosen patterned wallpapers then make the fabric of the drapery and upholstery have small or larger patterns. Plain wallpapers will offer a visual break to the contrast of the patterned decor.
Let's break this myth that small patterns are for small rooms and large patterns are for large rooms. Though it's not wrong to do it, the designs will become rather mundane. Large patterned wallpaper in a small room will be one dramatic choice whereas small patterns in a large room can create even more space. The visual breaks by the windows, furniture, and doors will be a soothing sight.
Use textures wallpapers to create depth to the design. For instance, select grasscloth for home office. You could choose an accent wall for behind the desk or use a chair rail or wainscoting. For a cozy living room, opt for a textured wallpaper like, embossed, flocked, or grasscloth.
A shiny metallic wallpaper can work well in rooms with poor natural light as it will help to reflect the light deeper into the room. A small windowless half bath will also benefit from metallic wallpaper. Vintage dining rooms or vintage kitchens are yet another ideal candidates for faux tin ceiling wallpapers.
Small Or Large:

The size of the patterns can be small or large to make the room appear likewise. A larger print along with a dark background will visually decrease the size of a large room. The color contrast and the patterns will provide the room with an optical illusion of closing of the walls and the room can be perceived to be cozy and comfortable. Depending on the pattern and color, a wallpaper with small patterns will make a small room seem larger than what it actually is.

Tall Or Long:

Horizontal stripes can make a wall appear longer whereas vertical stripes will make the room larger in height than what it actually is. You can also use narrow or wide stripes which can be irregular too such as paisley or vine patterned stripes.
How To Use A Wallpaper at Home
Wallpapers have the ability to transform a room into a whole new world with their depth and style. The easiest and economically viable way to accentuate a wall is to use a solid color for an accent wall. For instance, the wall behind the bed could have an elegant and warm design. You could also use two different wallpapers in the same room with striped wallpaper for one wall and a jacquard printed wallpaper for the other walls. Bring in some drama by opting for a zebra print wallpaper or tropical leaves patterned wallpaper. Your favorite geometric patterned wallpaper could even be the wow factor that has been missing from your room.
To add depth and warmth to your dining hall or hallway, introduce wallpaper below or above the chair rail. Choose mixed and matching patterns for those wallpapers. You could even opt to paint the wall below the chair rail and paste wallpaper above.
Use wallpaper above the wainscoting to add aplomb to the room decor. Remember to choose a pattern that goes with the style and color pattern of your chosen room.
It's easy to choose the ultimate wallpaper for your living room when you follow the pattern and style tips. The points to be considered have been mentioned above and we hope you could choose your chosen style easily. Now, easily transform the plain and drab room into a dramatic and classy one in a few steps.
How To Choose Wallpaper For Living Room FAQs:
1. Which wall is best to wallpaper?
Avoid the walls that are out of your sight or behind you as you enter your room. For the optimum impact, choose the wall that you first see when you enter a particular room. Avoid choosing plain wallpapers or light-colored ones for a highly decorated area. Your wall should stand out.
2. How do you stop wallpaper from going in the middle of the wall?
To stop the wallpaper from going into the middle of the wall you can make use of a seam roller that will press down the two sheets of the wallpapers together. You also have to use a large wet spoon to wipe off any excess paste that might ooze out of the seams.
3. Can you put wallpaper on just one wall?
Yes, and it is way easier than wallpapering the entire room. If the wall doesn't have any doors or windows then that would be the ideal wall to wallpaper as it becomes super easy.