Stamp duty is a kind of a one-time tax that needs to be paid at the time of sale of a property or property ownership to legally complete the transaction. Imposed by the state government, stamp duty, which could only be paid the traditional hard-cash way involving physical presence earlier can now also be done online in the form of 'e-stamping.
'E-stamping has not only made paying stamp duty easier, quicker, and more convenient but it also, in fact, helps eliminate the chances of bribery.
If you are planning to buy a property or get the ownership of a property, e-stamping is an area that you should ideally equip yourself with. And, on that note, here's everything you need to know about e-stamping in India!
Stamp Duty: What Is Stamp Duty In India?
In India, at the time of purchase, selling, or even leasing your property out to another party, it is mandatory to pay what is called a 'stamp duty' to the central or the state authorities to legalize the transaction of the property. In case you fail to pay the stamp duty, the purchase, selling, or leasing of the property will be held illegal in the eyes of the law.
A stamp paper for property registration, on those lines, is the paper through which the stamp duty payment is made. Stamp papers in India are used for sale deeds, transfer of immovable property, affidavits, agreements, deeds, wills, etc. Once the stamp duty payment is made via stamp paper,  it acts as the official proof that the authorities have been paid the required fee. 
Where Should I Pay The Stamp Duty?
Stamp duty, in the olden days, could only be paid in the traditional method of exchanging cash, however, stamp duty can now also be paid online in the form of e-stamping. E-stamping, also known as electronic stamping, is a process that is carried out online, and hence, is the easiest and the quickest way to pay stamp duty. 
Online E-Stamping in India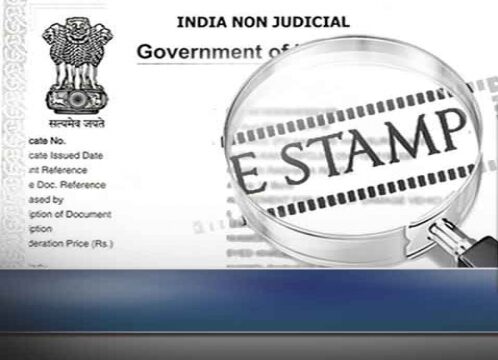 E-Stamping in India was announced in the year 2013 by the government in an attempt to reduce counterfeits and human errors that came with physical or traditional, offline stamping. Before we get to how to get e-stamping done in India, it must be noted that the only governing body authorized for all aspects of e-stamping online, right from user registration to maintenance of records is the Stock Holding Corporation of India Limited (SHCIL).
Advantages of Online E-stamping in India
No specific denomination is required for e-stamping in India.

You can verify the veracity of the

e-stamping

certificate using the inquiry module.

The

e-stamping

certificate has a unique identification number (UIN) so it can never be tampered with.

The

e-stamping

certificate can be generated within minutes.
SHCIL stands for Stock Holding Corporation of India Ltd. It is the largest leading depository participant in India that was incorporated as a public company in the year of 1989.
SHCIl jointly promoted as well as owned all banks and financial institutions of India including TOICL, UIC, NIC, NIA, GIC, SU-UTI, LIC, IFCI Ltd, etc. The company is a subsidiary of IFCI Ltd that held 52.86 stakes in the company as of March 31, 2019.
SHCIL pioneered e-stamping services in India that made payments to the government a hassle-free process. SHCIL is one of the early entrants in the depository services with a client base of over 650000 accounts.
SHCIL is also the only CRA (Central Record Keeping Agency) appointed by the Indian government that is responsible for:
Overall e-stamping maintenance and operations

Balance administration

User registration

Appointing ACCs (Authorised Collection Centres)

.
What is an ACC (Authorised Collection Centres)?
ACC comprises agents who are appointed by SHCIL and act as an intermediary between the stamp duty payer and SHCIL. People from scheduled post offices and banks can become ACCs.
Which of The Indian States Allow Online E-Stamping?
SHCIL, designated as a CRA by the Finance Ministry of India, provide e-stamping services in 22 states of India. Here is a list of the Indian states (in alphabetical order) that allow e-stamping online:
Andaman and Nicobar Islands
Andhra Pradesh
Assam
Bihar
Chhattisgarh
Chandigarh
Dadra and Nagar Haveli
Daman and Diu
Delhi
Gujarat
Himachal Pradesh
Jammu and Kashmir
Jharkhand
Karnataka
Odisha
Puducherry
Punjab
Rajasthan
Tamil Nadu
Tripura
Uttar Pradesh
Uttarakhand
How to Get Online E-Stamping Done in India?
If you have recently purchased, sold, or leased property in India, here are the steps for e-stamping online you'd need to follow-
Visit the official SHCIL website: As soon as you visit the e-stamp services page on the Stock Holding Corporation of India Limited (SHCIL) website, you will get a pop-up stating all the states that allow e-stamping online in India
Select your state: If your state allows e-stamping online, select your state from the dropdown list.
Fill out the application form: On the homepage, click on 'Downloads' and select the application suitable for you. For example, if you need to fill an application that requires a stamp duty of Rs. 1000, simply download the form for "Stamp duty payment more than Rs. 501" and fill it up.
Submit the form: Once the form is filled out, simply submit it along with the payment required for the stamp certificate, and your e-stamping is done!
What are the Different Modes of Payment for E-stamp?
A client can pay stamp duty online through e-stamping service in the following modes:
account-to-account transfer

NEFT

RTGS

Pay order

Demand Draft (DD)

Cheque

Cash
How to Pay for Stamp Duty Online For E-Stamping?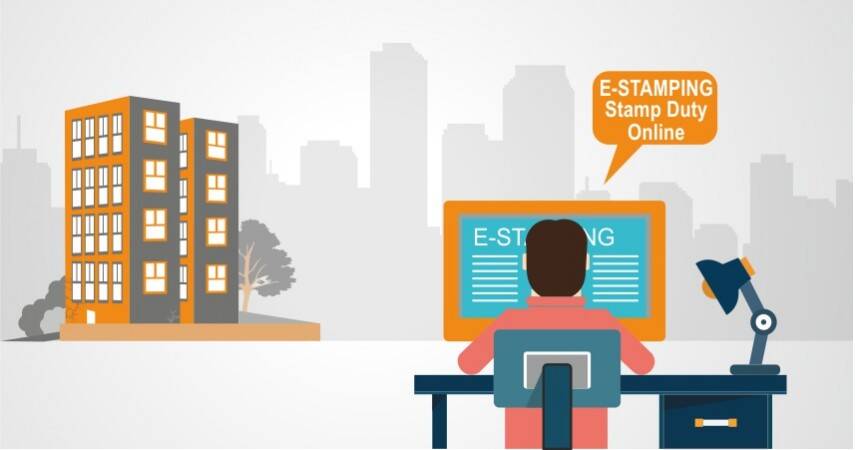 Online e-0stamping can be paid for via cash, cheque, demand draft, pay order, RTGS, NEFT, or an account to account transfer. If you want to pay for the stamp duty traditionally and offline at an ACC (Authorized Collection Center, typically state-authorized banks), only cash, cheque, or a demand draft (DD) is accepted.
Here's How To Pay Stamp Duty Online For E-Stamping:
Step 1: Login/ Sign Up- If you are a new user of the SCHIL (Stock Holding Corporation of India Limited) website, click on 'Register Now' to proceed. (If you are an existing user, enter your log-in credentials and follow the process step 4 onwards)
Step 2: Enter the required details- You will need to create a user ID, a password, a security question, and then fill in your bank account details.
Step 3: Activate the User ID- You will receive an activation link on your registered email address. Activate the user ID and you can then use the same login and access the services.
Step 4: Select the state- Now, select your state from the drop-down menu and then click on the 'Nearest SHCIL Branch' option. You will be prompted to input a few necessary details like First Party Name, Second Party Name, Article No, Stamp Duty Paid By, and Stamp Duty Amount.
Step 5: Generate the acknowledgment number- Once all the details are submitted, you will be able to generate an "Online Reference Acknowledgement Number" of the amount paid via Net Banking/Debit Card/NEFT/RTGS/FT.
Step 6: Get a print of the e-stamp certificate- Finally, you will just need to visit a Stock Holding Branch with your Online Reference Acknowledgement Number and take a print of the e-stamp certificate.
Is E-Stamping Mandatory in Bangalore?
E-stamping is not yet mandatory in Bengaluru, however, the Karnataka government is taking steps to transition and to make e-stamping compulsory. The government of Karnataka is aiming to totally eliminate franking (offline payments of stamp duty). The government has taken this step considering the following benefits:
E-stamping can put an end to stamp duty-associated frauds, given all applicants are given a unique certificate number.
The registration department also believes that Karnataka can generate higher revenues if e-stamping is made mandatory.
Few More Facts About E-stamping in India
In the state of Maharashtra, stamp duty is not paid via SCHIL but through an eSBTR (electronic Secured Bank Treasury Receipt), an online payment service.

If an e-stamp payment is cancelled, you can avail a refund only if you visit a SCHIL office.

No duplicate copies of an e-stamp will be issued.

Within 2 working days, you will be couriered the e-stamp certificate.

User registration on SCHIL is free of cost.
Final Thoughts: How To Verify An E-Stamp Online In India?
Once you get your e-stamping certificate, it can be verified on the homepage of the website of SHCIL by clicking on 'Verify E-Stamp.'
Just click on 'verify e-stamp on the home page
Click on it to continue
Enter the state, certificate number, type of stamp duty, date of issuance, and session ID
Click on 'Verify' and your e-stamping will be verified!
FAQs: E-Stamping For Property Registration
1. How does e-stamping help?
E-stamping is a progressive and helpful practice because not only does it help individuals gain convenience and speed in the stamping process, but it also majorly helps states to save on costs associated with stamping. This is because e-stamping saves the states the need to spend on costs like printing of stamp papers, filling up for leakages, and the manpower that goes behind ensuring efficacy and transparency. Jammu and Kashmir, for example, saved Rs. 35 crores only due to e-stamping since September 2018 alone.
2. How much does e-stamping cost?
If you buy an e-stamp paper offline, you will need to pay an additional service charge to the bank. If you opt for e-stamping, however, no e-stamping service cost needs to be paid.
3. Is e-stamping mandatory in Trivandrum?
The government of Trivandrum made e-stamping mandatory from February 1, 2021, as per an order issued by the taxes secretary. However, the mandate was later put on hold as the provision to generate e-stamps of denomination below Rs 1 lakh was not updated on the Treasuries Department's portal. For papers above Rs. 1 lakh, however, e-stamping is mandatory in Trivandrum.
4. What is E stamp paper in India?
E-Stamp paper, also known as electronic stamp paper, as the name suggests, is a virtual stamp paper issued in the process of e-stamping. E-stamping or electronic stamping, on those lines, is the process through which stamp duty can be paid online to the authorities.
5. Is franking the same as a stamp duty?
While e-stamping is the process of electronic or online stamping that collects the stamp duty of a property; franking is the process used to stamp the legal document. It is the process that affixes an indication or a stamp to a paper to verify that the stamp duty has been paid. Stamping, hence, is the process followed to stamp the papers.