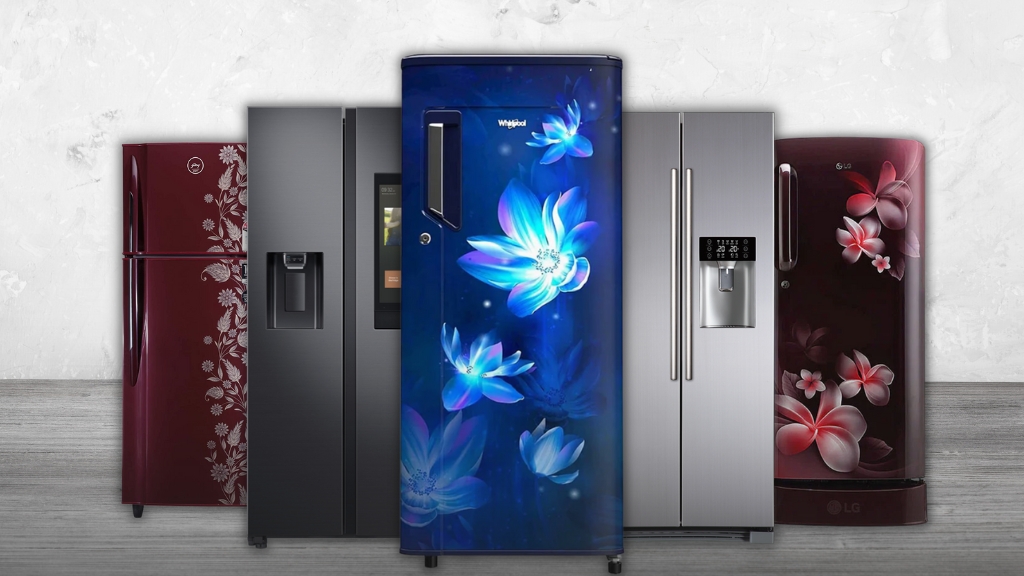 For most of us, a fridge is a fridge. We must have had the same grey box that keeps our food cold for more than a decade. When it comes to changing it, we are spoilt for options in the market. Almost all home appliance companies manufacture different types of refrigerators. So how can you zero in on one? Well, you could go for the exact same company you already have or research a bit more on what makes the best refrigerator brands the best.
We are here to give just that information! Go through the top 5 refrigerator brands in India along with the 4 basic types of refrigerators to choose yours. Well, all the brand names mentioned here are household names but how do you know which is the best one for you? Once that's decided how do you choose the design?
Let us brief you on the 4 types of refrigerators:
1) Top freezer: As the name suggests, the freezer section of this refrigerator is at the top third part. Since it's the most common design, it is cheaper than the others. They are also considered 10% to 25% more efficient.
2) Bottom freezer: The only difference here is that the freezer compartment is at the bottom. It can cost you more because the design is uncommon in India and it will also cost you more energy eventually.
3) Side-by-side: These refrigerators are wider than the others with one half being the freezer and the other half being the normal storage. If you are not a fan of frozen food, you should stick to the other types of designs. They also come with amazing features (which makes them more expensive) like
User interface panels

Ice dispensers

Water dispensers
4) French door: Here, the freezer compartment is at the bottom half of the refrigerator while the other half is a side-by-side door design. Some french door fridges have a single freezer door while others have side-by-side doors.
Take a Look at The Best Refrigerator Brands in India!
Established some 100 years ago, every Indian household has at least one Godrej almirah or keys. This iconic name is one of the best refrigerator brand in India offering luxurious refrigerators at a reasonable rate. You cannot simply miss their offers!
Features:
Minimal insulation

Little cooling loss

Energy efficiency

Large vegetable trays

Door locks

Deep bottom chiller trays

Toughened glass shelves
Most of their refrigerators are driven by inverter compressors with variable speeds. They also have automated defrosting which means no more ice build-up. The company aims to have zero footprints in the ozone layer depletion which is why their refrigerators are a boon to the environment.
2) Whirlpool (1911, Michigan)
One of the best refrigerator brand in India, Whirlpool makes it to at least one Indian home appliance (that's how common their products are). All Whirlpool refrigerators are equipped with AI microprocessors and IntelliSense. Here are what it does to blow your mind away:
Features:
Optimises the temperature depending on the contents

Sets the fridge environment to an ambient temperature

Flexi-vents ensure uniform chilling

The anti-bacterial filters distribute cold air to all compartments

They remain ON for 9 hours during a power outage
Whirlpool offers some of the most durable products ever by designing them according to an Indian family's needs. New designs come up with evolving homes and here's what they ultimately offer:
3 doors

4 doors

Side-by-side

Double door

Single door

Bottom mount
3) Samsung (1938, South Korea)
Samsung aims to adapt to your ever-changing lifestyle and that's the reason they have been relevant for 84 years. They offer their customers a wide set of refrigerator options like
French doors

Side-by-side doors

Twin cooling plus

Bespoke

Top mount freezers

Bottom mount freezers

One door
On their website, you can easily choose the type, features, colours, and capacity of your desired refrigerator model.
Features:
Adjustable bottle and shelves rack

Ice and water dispensers

Odour control

Auto-connecting with the house inverter

Stabilizer-free operation
Reasonably priced products and high quality are words associated with Samsung and they have constantly upheaval the status with ultimate customer support and services.
4) LG (1958, South Korea)
LG is yet another household name in India and one of the best refrigerator brand in India. They have made their mark in the Indian market with their dependable, innovative, and qualified service in the field of home appliances and more. At LG, you can get these refrigerators at super affordable prices:
Mini refrigerators

Side-by-side

Double door

Single door
Their intelligent inverted make sure that they run for a long time with little to no noise and high energy conservation.
Features:
Moisture control

Deodorisers

Ice and water dispensers

Thermostat controls

Adjustable shelves
Haier aims to be an omnipresent solution generator to a beautiful life through incessant innovation and excellent entrepreneurship. "Prioritizing people's value" has been their motto ever since and they have been the symbol of trans-culture and trans-industry fusion.
Their website has an unending list of refrigerators differentiated according to their capacity, design, colours, and a mixed match of all three. So you can never run out of options when it comes to Haier refrigerators.
Features:
Turbo icing technology

8 modes of chilling

Bigger cooling pads

Diamond edge design

90 degrees contour door

Toughened glass shelves

Anti-fungal gasket

Water and ice dispenser

Chill lock and door alarm

Stabiliser-free operation

Twin inverter compressor

Dual fans
The Best Refrigerators of 2023, Best French Door Refrigerators of 2023, Best Counter-Depth Refrigerators of 2023, and Best Bottom-Freezer Refrigerators of 2023 all ranked this Bosch refrigerator second.
 Bosch refrigerators are expertly crafted because special attention is paid to every detail. Along with capacity, integrated technical features affect the price of Bosch refrigerators. Bosch refrigerators come with either a double door or a side-by-side door. Use capacities to narrow your search, such as below 200 L, between 200 and 299 L, between 300 and 400 L, and over 400 L.
A Final Word on The Best Refrigerator Brands in India
Choosing the best refrigerator brand in India is not as complicated as it might seem. Check out our top 5 picks and you are good to go. The listed features of each brand will help you in zeroing in on one. Instead of going by model from each brand, we have listed what makes each brand stand out collectively. All these refrigerators come at an affordable and reasonable price so finance management is completely off your worry book.
Best Refrigerator Brands in India FAQs
1. Which refrigerator brand is best in India?
The best refrigerator brands in India are
Haier
Whirlpool
LG
Godrej
Samsung
Panasonic
2. How do I choose a good refrigerator?
Choosing the best refrigerator brand requires analyzing some points such as
Kitchen space and layout
The configuration and style
Storage options and fridge capacity
Any special features you want
The finish and colour of the fridge
3. What is the biggest problem with LG refrigerators?
Most LG customers have identified an issue with their refrigerators. The main cause of the issue is a faulty seal that stops the compressors from running. To check if you have the same issue, see if the fridge is running without cooling.