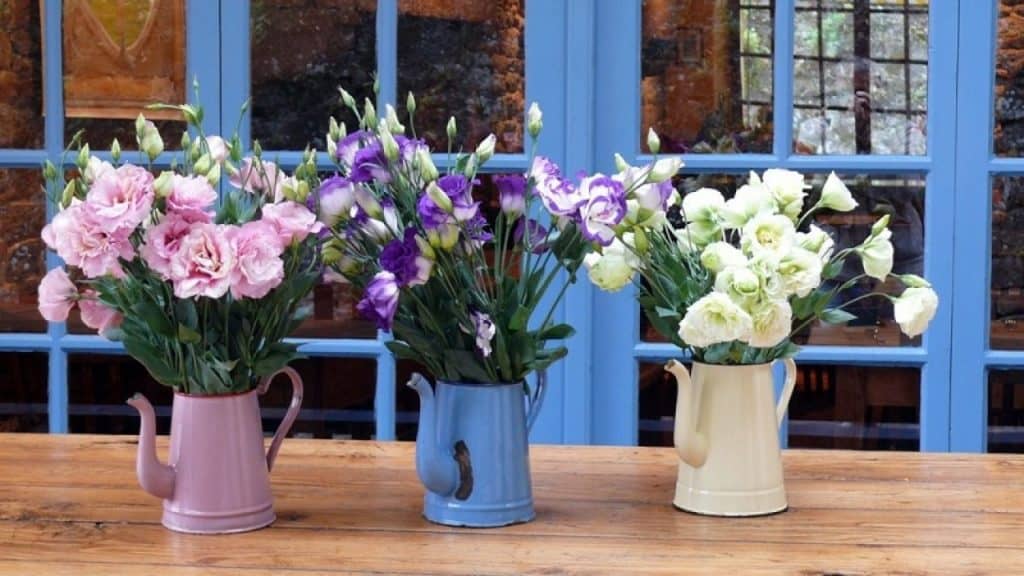 Who doesn't like bright, colorful flowers? Moreover, if they bloom inside your home, they can add a touch of aesthetics to your house. If you want to decorate your house, you may want to get the best flower plants for home.
Indoor plants are easy to maintain and cost-effective which is why many people choose it. With the wide availability of options, it may be surprising to observe how the best flower plants for homes in India can transform everything.
What Are The Best Flower Plants For Home?
If you want an extra layer of beauty to the interiors of your house, you need to consider the houseplants. As suggested above, they are cost-effective, easy to maintain, and have a lot of other perks.
If you do not have enough time to maintain the plants yet want to keep them, indoor plants are the best.
Some of the best flower plants for home include:
Best Flower Plants For Home In India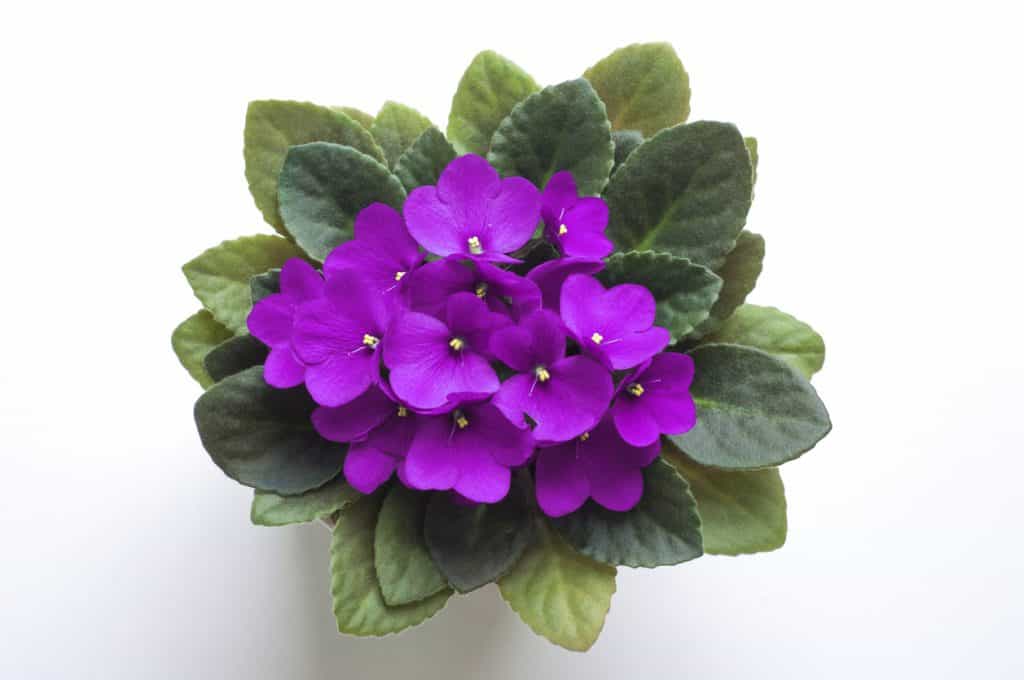 Although small, it can leave a significant impact on the aesthetic appearance of your house. Compared to other flowering houseplants, African Violets are pretty easy to maintain.
The best part about installing these in your house is that they are available in numerous variations. It is a pretty fuzzy flower plant with purple, blue, or white flowers blooming.
If you want more flowers, all you need to do is keep it root-bound. The flowering plant does not require a lot of sunlight; partial is enough. Nonetheless, it is advisable to prevent the leaves from getting wet as it will ensure the plant's longevity.
Begonia has to be one of the best flower plants for home because it requires the least care. Despite requiring very little maintenance, the flowers that bloom are drool-worthy.
These are small and yet available in thousands of varieties. You can choose from a variety of colors, shapes and sizes.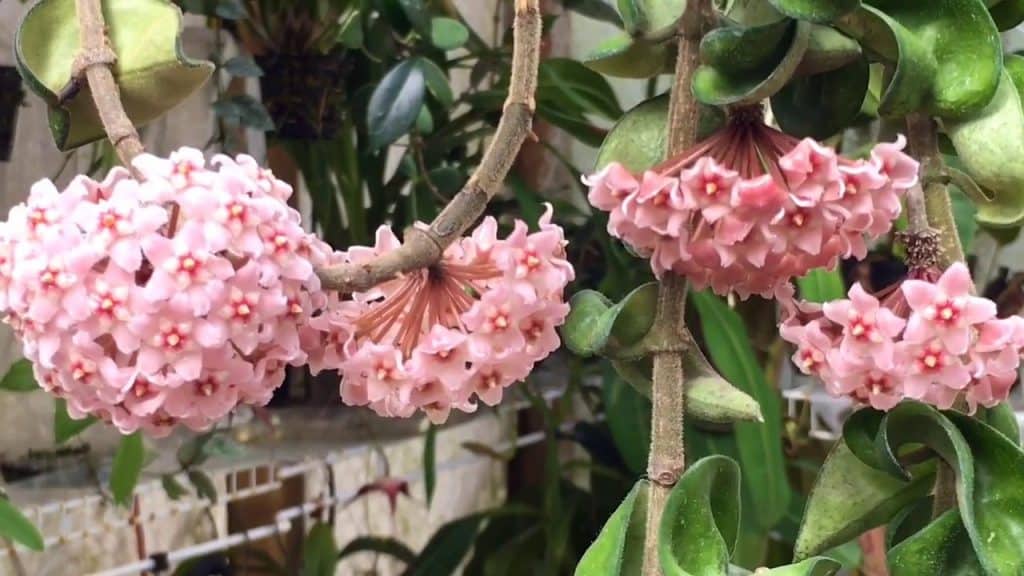 Hoya is also referred to as wax plants. Therefore, if you are looking for a house flowering plant that can add beauty, you should choose it. Unlike other flowering plants, maintaining Hoya is very easy, and therefore, they can grow indoors effortlessly.
Hoya Carnosa is suitable for different types of climates. Furthermore, these are capable of surviving in low-light settings too. The buds are waxy and have a star shape. Undoubtedly, this is one of the best tropical house plants to have.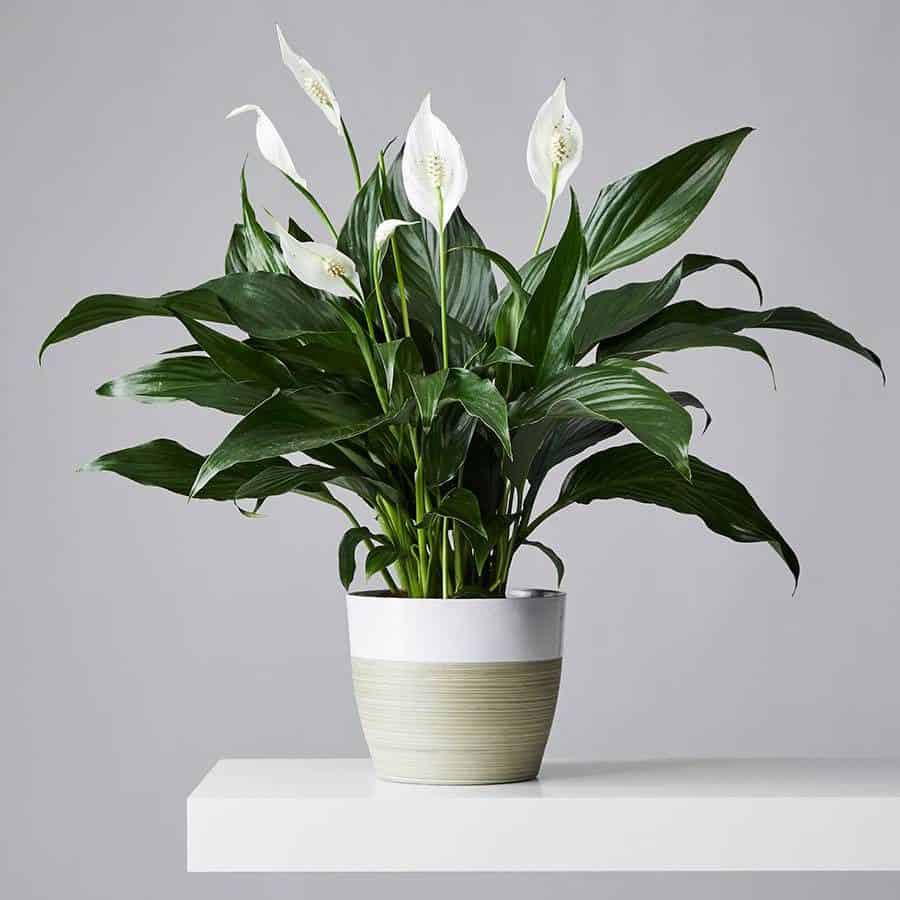 Peace Lily is as beautiful as its name. When it comes to the best flower plants for home in India, Peace Lily has to be the showstopper. Like other indoor flower plants, Peace Lily is relatively easy to maintain.
Although slightly larger than other plants, Peace Lily bears white flowers and sports large green leaves. It's not hard to understand when you should be watering it. If Peace Lily needs watering, the plant leaves will begin drooping.
However, if you have pets in your house, this may not be the right choice to make. Peace Lily is toxic for animals. Cats and dogs often have the habit of chewing plants, and ingesting these can be harmful to them. Therefore, it is advisable to keep the flowering plants out of their reach.
Bromeliads are extremely popular among the masses because of the bright-colored foliage. Adding these to the interiors of your house can be one of the best decisions.
These can easily sustain in low-light areas. Furthermore, it requires very minimal care, and it has a pineapple-like shape. The most surprising fact about Bromeliads is that they can grow indoors easily despite belonging to the rainforests.
Bromeliads do not bloom flowers easily. Therefore, you might need to follow certain tricks and tips to get it to bloom. Nonetheless, the bloom of flowers is worth the effort.
Spring will be arriving sometime soon due you may want to add a few bright-colored flower plants to your home. As a result, Hydrangeas can be one of the best choices to make. With little to no care, these can bloom perfectly during Springtime all by themselves.
All you need to do is position these in direct sunlight and keep the soil moist. As long as these two conditions are met, this plant can sustain easily within your household. Honestly, this will be one of the best displays that you can ever have.
Christmas is almost here, and you should get your hands on Christmas Cacti. These have been a favorite of many for years. One of the main reasons people love bright Christmas Cactus is that these can last for decades if properly cared for.
They have exotic blooms available in different shades such as corals, reds, and pinks. Each of these species has a particular time to bloom. For example, some will bloom around Easter, while some may bloom around Thanksgiving depending on when it is planted.
It is advisable to place these in direct sunlight. It would help if you refrained from watering them regularly, as they need water only when it is dry. Furthermore, you should check that the water does not sit in the saucer.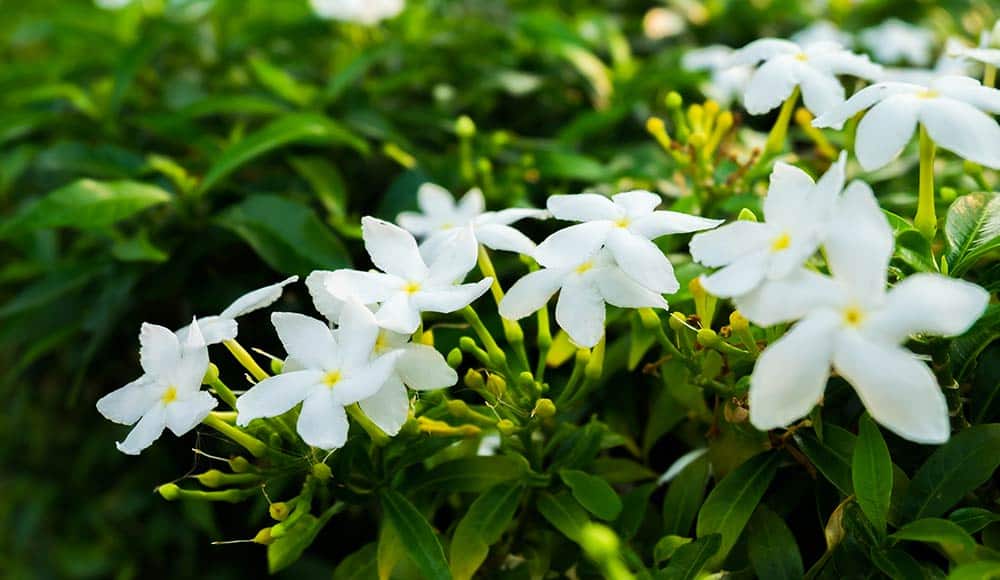 Do you want to freshen your room? There is no better choice than Jasmine. Many of us want natural air fresheners for our house; Jasmine is an extremely good choice.
Jasmine has a very strong fragrance. Furthermore, they have star-shaped flowers. If you have Jasmine flower plants, you should keep them in direct sunlight, and Jasmine can grow properly if they are kept away from cold.
Many indoor flower plants require partial or full sunlight. However, Kaffir Lily can strive perfectly in the shade. If you maintain this plant properly, it can grow with long, branching leaves. It is quite tall for an indoor house plant. Similar to Peace Lilies, you should keep Kaffir Lily away from the reach of pets.
The bulbs for this plant are sold in fall, and they grow to beautiful, bright flowers. If you don't keep them under enough light, the flower may dry, and the plant may die soon.
For the flowers to bloom properly, you need to keep the soil moist. Once you meet all the conditions, the flowers will bloom in six weeks. The best part about the blooms is that they can last for a month, and however, you will get the bloom only once a year.
Lipstick plants may not always be used as houseplants. However, this doesn't mean that they can't grow properly indoors. Unlike other flower plants, Lipstick plants need warm temperatures and humid surroundings to grow properly.
Crown of Thorns is one of the best flower plants for home. The flowers of the plant are delicate, whereas the leaves are floppy. However, the plant is a hardy succulent.
Even if you miss out on watering the plant for a day or two, these can easily survive indoors. However, the plant has a lot of thorns (as the name suggests). Therefore, you should refrain from planting these in places where children or pets can easily reach them.
Although a popular houseplant, not many people plant it indoors. Ixora has a cluster of bright red flowers. You can keep it on your terrace or balcony as they require proper sunlight.
The soil in which you will be potting the plant should be acidic. The best part about this plant is that the flowers bloom throughout the year.
Small yet beautiful- this is how anyone would describe Kalanchoe. These tropical succulents can be quickly grown indoors. It is advisable to keep it close to a window to receive adequate sunlight, which allows the flowers to bloom.
Cape Primrose requires very little care. You have to keep the soil slightly moist and provide the plant with direct sunlight, and this will allow the flowers to bloom properly.
Cape Primrose has different varieties of flowers available. The hybrid variety has bigger flowers that can bloom for a long time. Furthermore, the hybrid variety sports more compact foliage.
Almost every other Indian household has a Purple Heart. It is also referred to as Wandering Jew. The cluster of purple leaves forms a heart-like structure. This is one of those houseplants that may or may not have flowers.
These are very easy to grow, which is why you have them indoors. You can either plant them in colorful pots or hang them. Moreover, you can also use it as a table decoration. Nonetheless, it would be best if you kept it in direct sunlight for a couple of hours.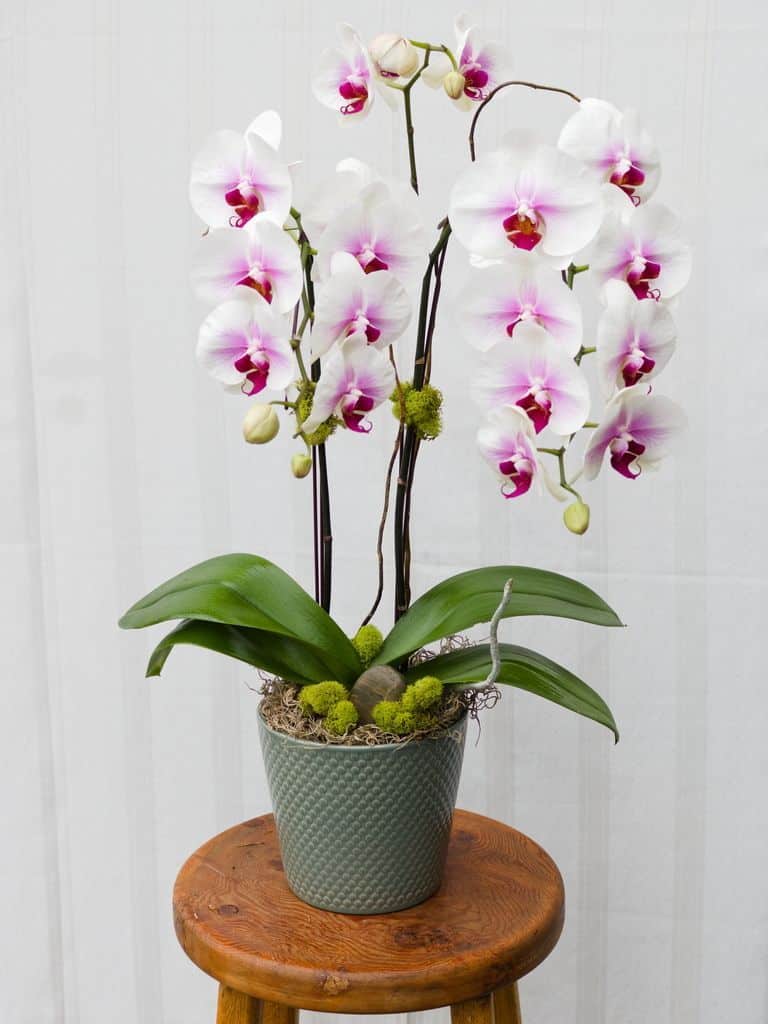 Orchids are epiphytes. Therefore, these do not proliferate in the regular soil. As a result, not many people prefer having Orchids as houseplants because they are tough to grow. If you plant orchids in the common soil, they will die soon.
Cyclamen is one of the best flower plants for home as it blooms in various shades like white, pink, red, and lilac. The flowers appear in the shape of a heart. No matter where you keep these in your home, this can be one of the best choices.
The fresh bloom of flowers can last for months. They can bloom adequately as long as you keep them in bright sunlight and soil moist.
Want the best flower plants for home? You may need to do some research on what you want. While many flower plants do not trigger allergic reactions, they may still be hard to keep. Unlike traditional plants, flower plants do not need a huge area for growth. You can easily grow these in your balcony or terrace. It is all about personal preference. Therefore, you may want to choose one that suits you and the interiors of your house the most.
Best Flower Plants For Home FAQs:
1. Which flower plants are home ?
Many people are allergic to certain plants. If you are allergic to any of these plants, you should avoid getting them. Furthermore, if you have pets at home, you should refrain from getting toxic plants such as lilies.
2. What is the best flower plant for home in India as per Vastu?
Bamboos are known to bring fortune, peace, and joy. They act as a good sign for your house. Therefore, these can be one of the best additions to your office desk or home. Orchids also make one of the best plants as per the vastu as they are a sign of success.
3. What flowers can bloom all year?
If you want to get flowers that bloom all year, you can get Crossandra, Ixora, Kalanchoes, or Bougainvillea. These plants are very easy to maintain and require full to partial sunlight. Since these flowers are climate-resistant, these flowers can bloom anywhere thereby adding a visual delight to your home.