Imagine your towels on the floor or your soap melting into a gooey puddle on the edge of the sink. Not a very pleasant sight, right?
There's no doubting the personal satisfaction of a tidy, beautiful bath, beyond its impact on your guests. This is the bathroom accessories list, whether you're planning a renovation, want to swap the entire theme in your new house, or just want to change up your décor.
When planning and designing a bathroom, bathroom accessories are frequently forgotten. They do, however, play a significant part in any bathroom area, both in terms of how they make the space more usable and also in terms of how they raise the user's overall comfort, thus every space should be designed.
Bathroom Accessories List
Let's take a look at the bathroom accessories names list with pictures.
Bathroom Hooks

Bathroom Shelf

Bucket

Dustbin

Mirror Cabinet

Soap Holder or Soap Dish

Shower Shampoo Holder

Shower Curtains

Shower Mat

Toilet Brush

Towel Rack

Toilet Papers Holders

Towel Hooks

Towel Ring

Toothbrush Holder
Let's read about each of these items in the bathroom accessories list with an image.
The first one on the list of bathroom accessories list is bathroom hooks. It might take up a significant amount of space to have a towel stand or rack. Bathroom hooks can function as a hook for garments.
Additionally, it is used in the bathroom to hang towels. Towel bars can help the towel dry without bunching it up as hooks or rings would. As a result, things dry out more quickly.
It is recommended to place towel poles between 42 and 48 inches from the ground.  You can keep either one or two fixed pairs in your bathroom as per your requirement.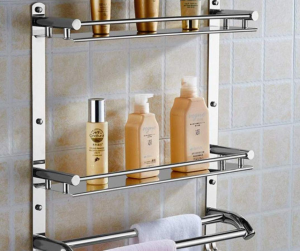 Do you have toothbrushes, lotions, soaps, shower gels, and other bathroom essentials lying around your bathroom sink?
Organising toiletries may be resolved by installing bathroom shelves. To improve the shelf's visual appeal, you may also add decorative items.
You may also put items like hand towels and toilet paper on the shelf. Instead of scattering them everywhere, you may put them in a basket. This can improve organisation and make things easier to manage.
This bathroom things name can be of two types:
Glass Bathroom Shelf

Towel Shelf

Corner Shower Shelf
These are the only kind of bath shelves, and they serve a similar function to the bath shelf. Glass shelves, however, improve visual appeal.
You can choose a towel shelf if you prefer not to hang your robe, towels, and clothing. On top of them, you may put folded towels and clothing. As an alternative, you could even put toiletries there.
Another variation of the bathroom shelf is the corner shower shelf. Rather than mounting it to the wall, it is positioned in the corner.
When there is little room, placing a shelf like this could be useful. Not all bathroom corners, nevertheless, are suitable for installing corner shelves.
Put this corner shower shelf in the corner opposite the faucets or the showerhead. This may make it simple to get the things you need for the shower while you're having a shower.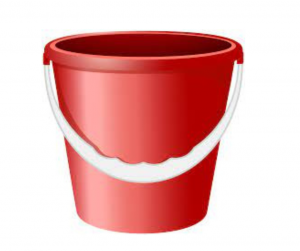 Bathroom accessories like buckets are often constructed of metal or plastic. It is a key necessity that must be present in every restroom.
You could decide against replacing it and choose a new one to go with your bathroom's decor. These days, there are many different sizes and designs of buckets, giving you a wide range of choices. The bucket's capacity range from 10 litres to 20 litres or even more.
Innovations are continually occurring and have not left any room. Additionally, buckets have been improved and are now more user-friendly than before. These days, folding or foldable buckets are also accessible. Such buckets make it simple to wash on the go.
You can't plan to have a clean and tidy bathroom, without having a dedicated place to throw trash.
It is best to put the trash can in a corner cabinet in the bathroom to keep it hidden. Add a cover and shut it as well. However, open garbage cans maintained beneath sinks are ideal.
The mirror cabinet serves two roles by providing extra storage space as well.
The essentials, such as moisturizers, creams, perfumes, cologne, hairdryers, and other similar items, can be stored in them. The cabinet is not particularly deep, so you may arrange the goods in a line. Their access is made simple by this.
6. Soap Holder, Dish, or Dispenser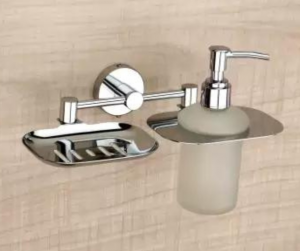 These sets of bathroom accessories' names can be a little confusing. So let's find out what each of these is:
Soap Holder
Most of the soap holders are mounted to the wall. The soap holder has to be mounted onto the same wall which has the shower, but 16 to 20 inches away on each side. This may allow for simple access to the soap dispenser while taking a shower.
An improved sort of soap holder that conserves soap is a magnetic soap holder. The soap bar can be suspended upside-down to prevent washing away.
Soap Dish
A soap dish is available both for free and mounted on the wall.
You can fit the soap dish there if your bathroom has shelves. Or you may choose a soap dish that is wall-mounted and has the ability to be attached to the wall.
A tray connected underneath a wall-mounted soap dish is occasionally included to catch any water that drips from it.
Soap Dispenser
When activated, the shower soap dispenser can release a little quantity of soap, generally only enough for one use. This mechanism is enforced by a pump.
There are two different kinds of soap dispensers: 
Manual soap dispenser:

Handles are used to control manual soap dispensers. 

Automated soap dispenser:

Sensors in automatic dispensers release a little quantity of soap as soon as the hands are placed beneath it.
Another great option for your sink is a soap dispenser. Keeping a bottle of soap full may be helpful because you need to use a little bit of it regularly anyhow.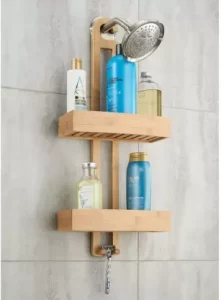 It resembles a soap holder in appearance, however, it is meant to hold shampoo.
Shower curtains are bathroom accessories that are available to guarantee privacy as well as to stop moisture from spreading.
A shower curtain's lining works well to keep water from dripping. Liners are quite inexpensive and significantly lower the amount of moisture and bacterial growth.
You might need to replace the shower curtain twice a year if the climate where your home is located is humid. However, the liner still has to be cleaned once a month.
Shower curtains can be replaced with hemp, cotton canvas, or linen.
Another addition to the bathroom accessories list is the Shower Curtain Kohl. It is used to hold the shower curtain in line and adjust it.
There is a significant risk of slipping after taking a bath since you are soaking wet and the floor is also moist.
A shower mat is similar to a silicone mat whose main use is to give feet traction. Since it absorbs water, it should be positioned such that you may step on it after taking a bath.
After pouring a liquid toilet cleaner inside your toilet, you should use a toilet brush to clean the interior. It should be cleaned with denatured alcohol or another disinfectant after cleaning.
The toilet brush is one of the essential washroom supplies for maintaining hygiene.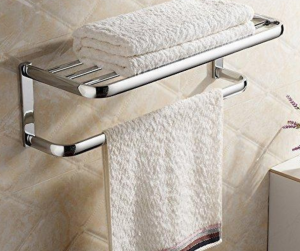 The towel and other clothing can be stored on a towel rack stand. They can be of many types, but two of the most popularly used bathroom things names are:
Over The Door Towel Rack

Wall Mounted Towel Rack
Over The Door Towel Rack
If your bathroom is even smaller, you might fasten the towel hanging to the door itself rather than the wall. Your bathroom door is obviously the furthest away, so you can be sure that water will fall on it the least.
This not only allows space for various accessories like toothbrushes or tumbler holders, but it also saves space.
This choice is not limited to your bathroom, though. Towel hooks are used in over-the-door towel racks. The pole has a few hooks where you may hang the towel and other items of clothing.
Wall Mounted Towel Rack
This rack is identical to the over-the-door towel rack, with the exception that, as its name suggests, it is mounted on the bathroom wall as opposed to the former, which is mounted over the door.
The same functions as the over-the-door rack apply to it. To avoid becoming wet, care should be given while positioning the rack so that it is not too close to the faucets.
12. Toilet Papers Holders
As the name suggests, a paper towel is kept in it. A toilet paper holder should be mounted around 26 inches above the floor.
Either way—under or over—can be used to mount this toilet paper holder. However, using toilet paper via rolling is challenging when there is "under." Additionally, if positioned in an "under" direction, it's possible that germs might breed.
Towel hooks are available for hanging towels or other items of clothing. Compared to a stand or rack, it also takes up less room. When looking for hooks, the bathroom often has two installed.
Hand towels are hung on it. Most often, it is positioned next to the sink so that people may wipe their hands after washing them.
The towel ring's height has been modified so that the towel hanging from it won't rub up against the vanity. Therefore, it should be a few inches higher than the sink, which is around 50 to 52 inches above the ground.
It might be difficult to set up a toothbrush area. It could lie around if it's not kept correctly. When the toothbrushes are not in use, they are stored in a toothbrush holder.
You must take the glue off a toothbrush holder before sticking it to the bathroom tiles or wall. A toothbrush should always be kept covered to prevent contamination from contaminants. Consequently, a toothbrush holder is a need.
Nowadays, electric toothbrush holders are also accessible.
Adding to your bathroom accessories list is something that may be done in any way. There are several directions you may go, from urban and sleek to rustic and bohemian, even if you've chosen a modern interior style. 
Above all things, the area should be useful, attractive, and comfortable for you and your visitors.
Bathroom Accessories FAQs
1) What are bathroom accessories?
Some of the essential must-haves names in your bathroom accessories list are:
Bathroom Hooks
Bathroom Shelf
Bucket
Dustbin
Mirror Cabinet
Soap Holder or Soap Dish
Shower Shampoo Holder
Shower Curtains
Shower Mat
Toilet Brush
Towel Rack
Toilet Papers Holdersr
Towel Hooks
Towel Ring
Toothbrush Holder
2) How do I choose bathroom accessories?
You can arrange your bathroom accessories list with the price. For this, you must first understand your style and budget. Then you must make a bathroom accessories list and buy the items accordingly.
3) Which material is best for bathroom accessories?
Bathroom accessories are available in various materials. The most popularly used ones are stainless steel, solid brass, aluminium, copper, gold, galvanized steel, and so on.