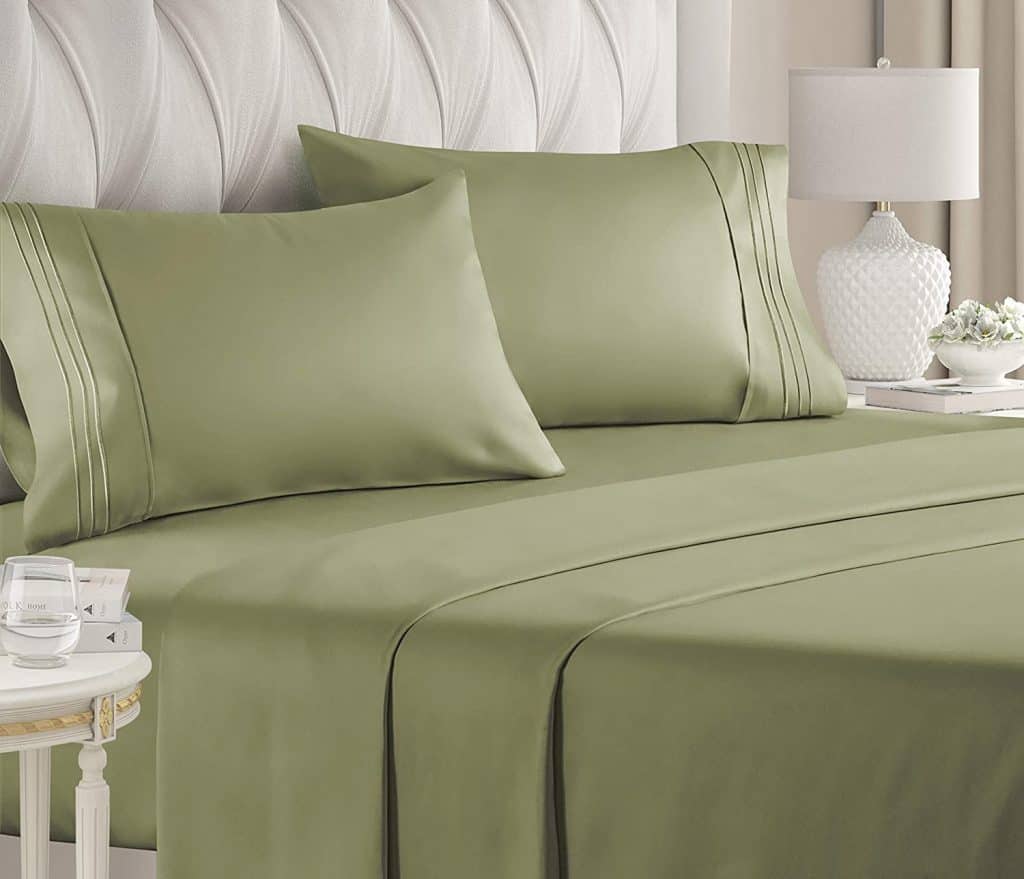 Everybody wants the bedroom to be a calm, comfortable and cozy space. After wrapping a hectic day at work, this is where we come back to relax. While our mattresses need to be highly comfortable, the bed sheets have an essential role. The market is filled with various types of bed sheets. It is necessary to do proper research about what will suit you the best in such situations.
No matter how much time you spend in your outdoor space or living room, at the end of the day, you're going to come back to your bed. If your bed sheet isn't comfortable, it will be a huge problem. Everyone wants a good night's sleep, and if your bed sheet isn't providing you the comfort you're looking for, there is something wrong that you're doing, and you need to fix it.
What Are The Most Popular Types Of Bed Sheets?
When you have a suitable bed sheet, you won't have to worry about keeping rotating around your bed to get a good night's sleep. After all, we all crave a deep slumber at night. Buying the right bed sheet can play an important role in bringing the difference.
Some of the most popular types of bed sheets that you can opt for include:
Cotton bed sheets are extremely popular in the market because they offer breathability. Cotton is one of the types of bed sheet material that stays cool throughout and can be easily cleaned for stains and damages. Many people fear that the cotton bed sheet will harden after washing. Well, it isn't so. Cotton can easily stand the test of time and soften with each wash.
When you choose the types of bed sheet material for cotton, you will need to be a little mindful about it. This material can outperform others, and you may not make the difference.
Some of the different types of bed sheets for cotton include:
●        Pima
This is American Pima cotton and is extremely soft and durable. It is affordable and offers the best quality.
●        Egyptian
This has to be the royal cotton material. With a very premium finish, it offers extreme durability and is resistant to pilling. If you're looking forward to purchasing the best quality cotton, Egyptian has to be the best one because it uses the longest cotton fiber. Despite all the royalty that cotton offers, it is extremely affordable.
●        Upland
You can never go wrong with Upland cotton. Although not as high-quality as Egyptian and Pima, Upland has a pretty good quality. Nonetheless, the only downside is that these types of bed sheets aren't very comfortable.
●        Jersey
Almost all of us are familiar with what Jersey is. It's the stretchy material from which our t-shirt is made. This is one of those cotton materials that can be readily used. Unlike other bed sheets, the jersey is one of those materials that can be easily cleaned. Moreover, it is pliable and can be easily stretched. However, the only problem is that it isn't very durable.
Flannel has to be one of the warmest materials from which bed sheets can be made. While there are different types of bed sheets available in the market, you may choose flannel if you want comfort and warmth. The bed sheet is made using shredded threads and has a fuzzy feel. Therefore, if you're living in cold weather, you may want to use flannel bed sheets over the others.
Sateen offers a comfortable and luxurious shine with a silky texture. Comparatively, it is one of the most durable types of bed sheets, and this is one of those bed sheet materials that are slightly heavy and warm. Therefore, people who feel cold can consider using this bed sheet.
Linen is one of those types of bed sheets that have been around for quite some time now. Over the years, this bed sheet has become one of the most popular materials. The bed sheet is the most beneficial to those who are allergic or have a certain kind of skin disease.
Linen can prove to be extremely comfortable for children as it offers sufficient airflow. If you're using a linen bed sheet, you will not worry about getting uncomfortable or overheated. After every wash, linen can become soft and shine more. The best part about linen bed sheets is that the shine increases with each wash.
The only problem you will face with linen bed sheets is that they become wrinkled. You can also combat this problem if you make the bed properly, and the wrinkles on the bed sheet are likely to fade away with time
Not many people prefer using silk bed sheets. However, if you want to add a touch of luxury and royalty to your house, you should choose silk. Silk bed sheets can feel incredibly cool and comfortable. The best part about silk bed sheets is that it is hypoallergenic, so it is the ideal bed sheet material for people who suffer from allergies all year.
Putting a silk bed sheet on your bed can make your bed extremely comfortable. One disadvantage you are likely to face with silk bed sheets is slightly expensive. One of the main reasons silk bed sheets are expensive is that they are made using silkworm fiber. You need to handle silk bed sheets with extra care. You may have a tough time sleeping on silk bed sheets because they are slightly slippery.
Many people refrain from using polyester bed sheets because they are rough, however, polyester blend bed sheets can instead be used for a comfortable and soft touch.
Polyester bed sheets are wrinkle-resistant and easy to wash. The best part about these bed sheets is that they are very affordable. Some bed sheets require constant steaming and ironing. If you want to stay away from these problems, then polyester is one of the types of bed sheets that can be helpful for you.
Polyester can easily absorb grease and oil, and you may have difficulty getting rid of stains. You can't even imagine owning a white polyester bed sheet and it getting stained by oil or grease.
Microfiber is a type of polyester bed sheet itself, and the only difference, in this case, is that the polyester isn't rough but woven with utmost care. Comparatively, microfiber bed sheets are very soft and breathable as cotton sheets.
If you want to have a comfortable good night's sleep, the microfiber bed sheets can suit the purpose perfectly. Even when your room is cold, this type of bed sheet material will keep you warm.
Unlike polyester, microfiber doesn't absorb grease or oil, making it resistant to stains. If you have kids in your house who tend to mess things up a lot, you may want to use a microfiber bed sheet. The microfiber bed sheet can also be a great choice for people who have pets.
Bamboo bed sheets are made using rayon and are extremely environmentally friendly. Over the years, the popularity of bamboo bed sheets has grown as they tend to make one of the best bed sheets for the house.
You may have a tough time choosing the best bamboo sheet for your house. Comparatively, bamboo bed sheets are extremely soft, much more than linen and polyester. Furthermore, these tend to be wrinkle-resistant too. Bamboo sheets are breathable, hypoallergenic, and durable. Therefore, you may want to use these bed sheets regularly.
If you are eco-conscious, you may want to use bed sheets made of Tencel. This is a branded material obtained from the wood pulp of certain Lyocell trees, especially the fast-growing eucalyptus.
Tencel is one of the products that are resistant to wrinkles. Furthermore, it is made using closed-loops, and the material is recyclable and can be reused. Like bamboo bed sheets, Tencel is also soft and hypoallergenic. Nonetheless, the only problem with Tencel is that it isn't as breathable as cotton or any other fabric.
10. Cotton And Polyester Blend
Cotton and polyester blend is affordable, smooth, and breathable. However, there are other blends available in the market, such as the cotton-rayon blend. The blended bed sheets are usually wrinkle-resistant and offer enough space for breathing.
What To Look For While Choosing Bed Sheets?
The right bed sheet can play an important role in enhancing the comfort around your house. You must focus on choosing the right bed sheets. Sometimes choosing the wrong bed sheet can turn out to be nothing less than a pain.
Some of the common things you need to look for while choosing the different types of bed sheets include the following:
1. Be Familiar With The Fiber Content
It is necessary to be familiar with the fiber content, and the details about the same are mentioned in the guideline. If you choose cotton, you need to check if you want Pima, Egyptian, and more. The more premium the material, the softer it will be.
Apart from premium materials, you can always rely on cotton or polyester blends if you want an affordable material. However, the fabric will have a synthetic feel, and polyester bed sheets are inexpensive and do not wrinkle either.
2.      Be familiar with the different weaves
There are different options such as sateen and percale when it comes to weaves. Percale has a crisp structure and forms a grid-like weave. On the other hand, sateen has a satin-like weave that is smooth. The type of weave you choose will depend on your personal choices.
3.      There is no one-size-fits-all material
No bed sheet material follows the concept of one-size-fits-all. The sizes will not determine the depth of the mattress. Before buying a bed sheet, you need to measure how your mattress fits. Many bed sheets are prone to shrink, and choosing a mattress that can easily withstand the fit test is advisable.
What Are Different Kinds Of Sheet Weaves?
When choosing the types of bed sheets, the materials are of utmost importance. The material can vary from being soft to thick to sturdy and more. It is advisable to pay attention to the material and thread count while choosing the bed sheet.
The percale sheets are made using cotton, and these are plain and tend to create a crisp and matte finish. One of the best parts about these sheets is that they can be suitable for hot sleepers, and however they are prone to warm wrinkles.
The twill follows a two under two pattern. It is a diagonal design resistant to wrinkles as it offers a thick background. Comparatively, twill woven sheets shrink more but are affordable.
Sateen pattern is very much the same as satin sheets. This weave structure uses yarn, and there's a huge difference in the material. The sateen weaves are smooth and silk. However, these are less durable than the percale sheets. These can be the most beneficial for those who are comfortable sleeping in cool weather.
Do not confuse these to be the ones in Harry Potter. The Dobby weave pattern is made using dobby loom and geometric patterns. Furthermore, it also features a stripe pattern. The weaves play an important role in determining the texture and shape. Some common shapes available in the dobby pattern include diamonds, dots, and squares. The most common design in this aspect includes thick stripes.
What Is The Sheet Thread Count?
The sheet thread count is the number of threads within the horizontal and vertical arena used for one square inch of every material. The higher number of sheet threads will offer more durability, and furthermore, it will also contribute to increased smoothness.
There are different types of sheet sleepers to whom the thread counts matter significantly. If you choose a sheet, you need to focus on the thread count. The quality of bed sheet material will also determine the thread quantity.
How Is Thread Count Different From Ply?
Ply, on the other hand, is the number of fibers that are made for making a thread. Each ply sheet has fiber, and while one has one fiber, two-ply fibers can make two fibers that are eventually created within a single thread.
However, the number of fibers does not always determine the quality of the bed sheet.
Numerous types of bed sheets are available in the market. However, the material you choose has an important role in determining comfort. You must do some research about the same to get extra benefits. The right material will help to enhance durability and comfort in your bedroom.
Types Of Bed Sheets FAQs:
1. Which is the best type of bed sheet?
Cotton is one of the best types of bed sheets. Many people suggest that these bed sheets have been used for more than seventy thousand years. One of the main reasons people use cotton bed sheets is that they are solid and durable. Cotton bed sheets are available in different colors to easily withstand the due.
2. Which bedsheet is better: Polyester or Cotton?
When it comes to choosing bed sheets, you need to understand your preferences. If you want premium bed sheets, you can always select cotton ones. However, if you want affordability, you can rely on polyester. Each of them has its pros and cons. But cotton is the best bed sheet.
3. Are 50% cotton sheets good?
Yes. Polyester and cotton blends are extremely popular, and most of these have a ratio of 50-50 or 40-60. The 50% cotton sheets are wrinkle-resistant and less expensive. Furthermore, these are extremely durable and can last longer than usual.