'A beautiful haven awaits you' as the title rightly suggests, Prestige Group presents Prestige Pine Wood (PRM/KA/RERA/1251/310/PR/170913/000109), a well-planned project in Karnataka.  Strategically-located in the much sought-after and well-known Koramangala (Jakkasandara), Bangalore. Prestige Pine Wood is sprawling over 2.56 Acres and has ready to move/occupy 256 Apartments. This High-rise residential project, paints the picture of pure tranquillity in the form of luxurious high-rise apartments which comes with 2, 2.5, 3, 4 bedrooms available apartments. A rare combination of lush greenery, good social infrastructure and easy access makes Prestige Pine Wood truly unique Also, don't forget to submit your details in the 'Express Interest' form of this page to get in touch with our 24×7 available executives and to know more about your future dream home ,Contact – +91-7304090352 or write an e-mail to [email protected]
About The Story Of Prestige Pine Wood
Prestige Pine Wood guarantees you one-of-its kind experiences that no other can match. Exquisite independent Apartments with maximum natural light and ventilation gives it a distinct feature from rest others. This High-rise residential property welcomes you to the world of extensive green and enchanting views. Construction has been completed with Occupancy Certificate; these apartments are blessed with luxury, class, superior designs and are ready to grace you with the ownership of your dream house. Here you can enjoy plethora of amenities including multi-purpose hall, sports facilities, spa, squash, billiards, tennis and all that you need to make your life gratifying.  Inside, signature stone and bronze highlights will welcome you to relaxed luxury lifestyle that is part of your new home. These connections to nature, ground the building within its context and create a striking entry statement for residents and guests to meet.
Locality And Connectivity
Kormangala is situated in the south-eastern region of Bengaluru. It lies between Bangalore and Electronic City which made it much sought after for newcomers from across the country during Bangalore's IT booms of the late 1990s. As a result, it has steadily developed into a commercial hub. 
Bus Stops near Koramangala 4th Block, Koramangala
Koramangala Canara Bank 
Koramangala Junction Of 80 Feet And 100 Feet Road/Sony World  
Koramangala 4th Block (Maharaja Hotel)  
Koramangala BDA Complex Shinivagilu Main Road.
The locality is well-connected to other parts of the city via road and rail due to its strategic location. BMTC bus depots are present in every block.
The road to Bommanahalli and Bommasandra now houses Electronic City, home to many IT Companies.
BMTC Buses, private auto rickshaw and cabs improve intra-city connectivity to the locality.
It has excellent connectivity to Kempegowda International Airport which is located at a distance of 42.4 km via Bellary Road.
Majestic Railway Station is the nearest railway station to Koramangala which is located at a distance of 11 km via Seshadri Road.
Other stations are Bangalore Cantt and Bangalore City Junction Railway station
South End Circle Metro Station is located at a distance of 7.4 km from the locality.
Nearby Landmarks:
Chinmaya Vidyalaya (Koramangala) 0.6 Km
HCG Oncology (Koramangala) 1.4 Km
Kempegowda International Airport 42.9 Km
Total Mall (Koramangala) 3.7 Km
Krishnarajapurm Railway Station 10.6 Km
Kempegowda Bus Station 9.8 Km
Nearby Schools:
Francis High School,
Greenwood High Pre School,
Maple bear, The Freethinking School,
Little Elly Pre School, Bangalore Public School,
Neev, B Mona High School, Bethany High School
Nearby College:
Christ University
Jyothi Nivas College
Nearby Health Care Centers:
Leading hospitals in Koramangala includes the following:
Manipal Hospital,
Kamakshi Hospital,
Sagar Hospital,
Narayana Multispecialty Hospital, Sri Venkateshwara Hospital,
Marvel Multispecialty Hospital,
Spurthy Hospital,
Life Care Hospital,
Gangothri Hospital,
Primus Hospital ETC.
Nearby Shopping Destinations:
Forum Mall,
Tibet Place,
Total Mall
The Oasis Centre.
Proposed Infra:
Proposed Namma Metro Phase-3 with one of its route Carmelaram – Yelahanka (32 km) will pass through the locality.
Under-construction 2.4 km long flyover from the Kendriya Sadan Junction to the Ejipura Main Road junction in Koramangala.
A new sewage pumping station is set to come up at Koramangala Sports Complex.
Prestige Pine Wood Unit Area And Floor Plan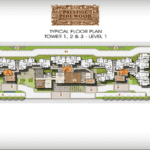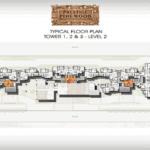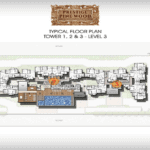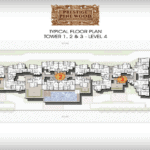 Prestige Pine Wood External Amenities:
Billiards
Gymnasium
Health Club
Mini Theatre
Multipurpose Hall
Squash Court
Swimming Pool
Table Tennis
Spa
Prestige Pine Wood Internal Amenities
1. LOBBY
Elegant Lobbies with Flooring and Lift Cladding in Granite/Imported Marble
All Lobby Walls in Texture Paint and Ceiling in OBD
Kota Stone in Service Lobby, Service Corridor and Staircases Textured Paint on Walls
2. LIFTS
Suitable Size and Capacity Passenger and Service Lifts in Every Block
3. STRUCTURE
RCC Framed Structure
RCC Sheer/Cement Blocks for all Walls
4. DOORS/WINDOWS
Entrance Door – 8 Feet High Opening with Frame and Shutter in Wood with Architraves and Polish on Both Sides
Internal Doors – 7 Feet High Opening with Wooden Frames and Flush Shutters
External Doors – UPVC/Aluminium Frames and Shutters
Windows – 3-Track UPVC/Aluminium Frames with Clear Glass and Provision for Mosquito Mesh Shutters
Enamel Painted, MS Designer Grills, for Ground Floor Apartments only
5. APARTMENT FLOORING
Imported Marble in the Foyer, Living, Dining, Corridors, Family Area and Master Bedroom
Vitrified Tile Flooring in Other Bedrooms
Master Toilets will have Imported Marble on the Floor and Walls up to the Ceiling
Other Toilets will be done with High Quality Ceramic Tiles
Anti-skid Ceramic Tiles in Balconies
6. ELECTRICAL
Concealed Wiring with PVC Insulated Copper Wires and Modular Switches
Sufficient Power Outlets and Light Points will be provided
8 KW Power will be provided for 4 Bedroom Units
5 KW Power will be provided for 3 Bedroom Units
4 KW Power will be provided for 2.5 Bedroom Units
Cable TV and Telephone Points provided in the Living Area and all Bedrooms
Internet Point will be provided in the Study Area
Provision for Installation of Spilt AC in the Living Room and all Bedrooms
ELCB and Individual Meters will be provided for all Apartments
8. DG BACKUP
Generator will be provided for all Common Services
100% Power Back-up provided for all Apartments would be provided at an Additional Cost
TOILET AND FITTINGS
Granite for the Counters with Counter Top Wash Basins and Wall Mounted EWCs
Geysers in all Toilets except the Maid's Toilet
Shower Panel in the Master Toilet
Glass Partitions in all Toilets with High Quality Chrome Plated Fittings
Wall Mounted EWCs
9. KITCHEN
Ceramic/Vitrified Tiled Flooring and 2 Feet Ceramic Tile Dado over the Granite Counter
Double Bowl, Single Drain Steel Sink with Single Lever Tap
10. UTILITY ROOM AND MAID'S ROOM
Ceramic/Vitrified Tiled Flooring and Ceramic Tile Dado for the Utility
Ceramic Tiles Flooring for the Maid's Room
Ceramic Tile Flooring and Dado in the Maid's Toilet
11. PAINTING
Cement/Textured Paint on External Walls
Internal Walls, Ceilings and Flush Shutters in OBD
Enamel Paint on all MS Railings
Prestige Pine Wood – Master Plan
Prestige Pine Wood – Location Map
Prestige Pine Wood Address & Google Map
Address: 6th cross road, S.T.Bed Extension, Cauvery Colony, 1st Block, Koramangala
City: Bengaluru, Karnataka
Pincode: 560095
Email : [email protected]
Prestige Pine Wood FAQs:
1. What is the scheme of maintenance?
First year: A sum of Rs.45/- per sq. ft. will be charged as the advance maintenance fee and will be collected at the time of closing of your account. Second year: maintenance charges will be levied as decided by the Association/Prestige Property Management and Services. All future payments are to be made favouring the property management company. • An additional sum of Rs.45/-per sq. ft. corresponding to the super built area will be collected as sinking fund. This amount will be deposited in an Escrow account and the accruals will be used for major expenditure. Amount will be eventually transferred to the owners association when formed.
2. Who is responsible for the maintenance of Prestige Pine Wood?
The maintenance will be taken care of by Prestige Property Management and Services. Professionals are hired to ensure all your needs are taken care of.
3. Has it been approved by Housing Finance Institutions for loans?
Yes. We will be seeking approvals from all the Leading Banks/HFIs who will extend loans to customers based on their eligibility criteria.
4. What is one's responsibility of disbursements of instalments through HFIs?
If you have availed loan, it is your responsibility to ensure timely disbursement of instalments from FIs and no demand will be made by us to the HFIs for the same. To facilitate smooth payments, customers are required to issue a consent letter. Post-dated cheques handed over for the instalments will be returned on receipt of the payment from the HFI.
5. What is the process of Assignment?
• Assignment can be done only after the Agreements have been signed, PDCs given and the new party complying with the terms and conditions of the principal agreement. • Transfer fee as applicable will be required to be paid. • Requests for assignments will be accepted only after 20% of the sale value and 3 instalment payments are paid as per the payment schedule.
6. What is the process of Registration and when does it take place?
Registration will be done only on completion of the development and on payment of the entire sale consideration including the additional charges. Registration will be facilitated by us through an advocate appointed by Prestige.
7. What are the agreements that needed to be signed?
The agreements that need to be signed are: • Agreement to Sell , • Agreement to Construct, • followed by a Sale Deed.
8. Are modifications permitted?
The specifications and designs have been carefully worked out. Considering the number of apartments and the delivery date, customization will not be possible in the collective interest of the purchasers.
9. Is title of the property clear?
Indeed! You are dealing with Prestige. The land is freehold, marketable and free from all encumbrances.
10. Has BDA sanctioned the plan?
All the NOC's have been obtained and the plan has been sanctioned by BDA.
11. What if one cancels the booking?
In case one wish to cancel after booking, 1% of the sale value will be forfeited before agreements and 15% of the sale value will be forfeited after agreements as cancellation fee and the balance will be returned (subject to statutory deductions if any) without interest.
12. Is car parking available with apartments?
• Prestige Pine Wood provides for one car parking space for each apartment. • Additional car parking requests can be taken up for 3 and 4 bedroom apartments only towards project completion at an additional cost based on the availability.
13. When does one get full allotment?
On payment of 20% of the sale value and submission of post-dated cheques for the remaining amount, the allotment will be confirmed.
14. How do I book my home at Prestige Pine Wood?
• Identify your Apartment from available options. • Fill the booking application form and submit along with supporting documents. • The Booking Amount is 20% of sale value including car parking.
15. Who are the designers of Prestige Pine Wood?
The RSP Architects are the designers for Prestige Pine Wood.
16. What is the time of completion? Is this a phased development?
The entire project will be taken up in one single phase and is expected to be ready for possession by June 2020.
17. Is there a differential price based on floor and orientation?
Yes, there is a differential pricing for apartments. Also a floor-rise charge of Rs25/- per sq. ft. per floor is applicable.
18. What is the procedure to pay the instalments?
Instalments are to be paid by way of post-dated cheques which is a pre-condition of the allotment. This schedule of payment is not linked to the progress of the construction but on a time bound basis as mentioned in the payment schedule.
Prestige Pine Wood Development Images