About Mantri Euphoria:
Mantri Euphoria located in Narsingi, Hyderabad is a residential project by the well known Mantri Developers. This unique project is built in the form of private villas which is the major advantage for the residents. These villas are available in 4 BHK. The luxury residential villas are equipped with world class facilities to ensure maximum comfort to the residents. Apart from this, the project is located a midst a forest reserve which makes it a more pollution free and sustainable place for living and is the best option for anyone who loves nature.
Mantri Euphoria is connected to the Outer Ring Road and also provides good connectivity to other major parts of the city. Residents can find important places such as schools, malls, hospitals and major business hubs nearby to the location of the project. 
The villas at Mantri Euphoria consist of 2 floors each. There are total 151 units in this project which include 4 BHK villas. The total project area for Mantri Euphoria is 18 acres. Mantri Euphoria offers various indoor and outdoor amenities to its residents. This includes Gymnasium, Club house, Jogging track, Pool table, Squash table, swimming pool, banquet hall and much more. As the name suggests, Mantri Euphoria surely does ensure its residents a sense of euphoria by offering a luxurious place to live along with excellent facilities and amenities nearby.
Mantri Euphoria – Distance from Prominent Places in Narsingi, Hyderabad
The location of this project is Narsingi, Hyderabad.
| | |
| --- | --- |
| Place | Distance (km) |
| Nearest Railway Station | 17 |
| Vishwa Bharathi High School | 3 |
| Shadan Medical College and Hospital | 14 |
| Distance from Airport | 18 |
1. Located in Narsingi, Hyderabad, Mantri Euphoria provides brilliant connectivity to various spots in the city.
2. Being located in Narsingi, the residents have easy access to the major industrial hubs in the city; this allows the working individuals the ease of travelling for work daily.
3. Mrugavani National Park is close to the property
4. Financial hubs like Microsoft, Wipro, Capgemini, ICICI Bank, Infosys, etc. Are in close proximity to Mantri Euphoria
Mantri Euphoria – Nearby Schools
Mantri Euphoria has a good list of impressive schools in its vicinity. These schools are located nearby Narsingi
1. Future Kids School
2. Vishwa Bharati High School
3. Phoenix Greens International School
4. Westside Grammar School
5. ZPHS School
6. Elate International School
7. Sri Chaitanya School
8. FirstCry Intellitots Playschool
9. Meluha International School
10. Raus School
Mantri Euphoria – Nearby Hospitals
Having hospitals in the locality where one resides is extremely important as an emergency may arrive at any time. Due to the ideal location of Mantri Euphoria, hospitals are easily accessible in the area. A few hospitals that are nearby Narsingi include:
1. Shadan Hospital
2. Anjini Devi Hospital
3. Image Hospital
4. Continental Hospital
5. Apollo Hospital
6. Balaji Hospital
7. Aditya Hospital
8. Rajitha Hospital
9. Elite Dental Care
Mantri Euphoria – Unit Type, Size in Sq. Feet and Price
| | | |
| --- | --- | --- |
| Unit Type | Size (square feet) | Price (Crore INR) |
| 4 BHK | 3140 sq ft to 4205 sq ft | 2.5 to 3.36 |
Mantri Euphoria External Amenities
1. Jogging Track
2. Swimming Pool
3. Landscaped Garden
4. Rainwater Harvesting
5. Toddler Pool
6. Badminton Court
7. Multipurpose Hall
8. Club House
9. Lift
10. 24/7 Security
11. Children's Play Area
12. Amphitheatre
13. Multipurpose Court
14. Steam Room
15. Sauna
16. Mini Theatre
17. Aerobics Room
18. Cafeteria
19. Parking
20. Library
21. Bank and ATM
22. Flower Garden
23. Meditation Area
Mantri Euphoria Internal Amenities
| | |
| --- | --- |
| Staircases | Anti Skid Ceramic Flooring |
| Reception/ GF Lobby/ Lift Lobby | Natural Engineered Italian marble flooring and cladding |
| MEP Rooms | Anti Skid Ceramic Flooring |
| Service Lift Lobby | Vitrified Tiles |
| | |
| --- | --- |
| Master Bedroom | Laminated Wooden Flooring |
| Kitchen | Granite flooring |
| Master Bedroom Toilet | Granite flooring |
| Balcony / Deck | Anti Skid Ceramic Flooring |
| Living and Dining | Vitrified Tiles |
| | |
| --- | --- |
| Main door | Wood Door Frame |
| Toilet door | veneer door shutter |
| Balcony door | UPVC sliding doors |
| | |
| --- | --- |
| DG | 100% backup at extra cost |
| Modular Switches | Modular electric switches |
| | |
| --- | --- |
| Water Supply | RO water system |
| Bore Well | Yes |
Common area, lifts and pumps will be provided complete backup. DG power usage to be paid for as per metered consumption.
| | |
| --- | --- |
| 4 BHK | DG backup provided at extra cost |
Mantri Euphoria Master Plan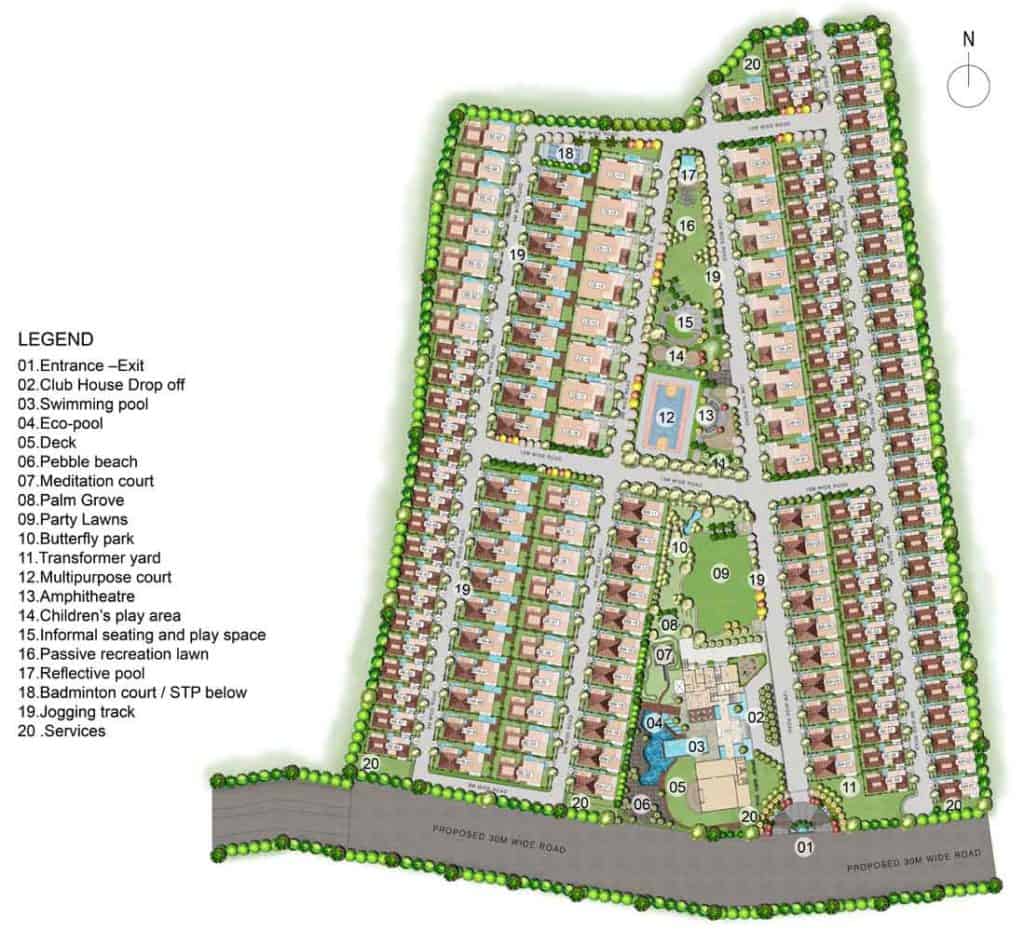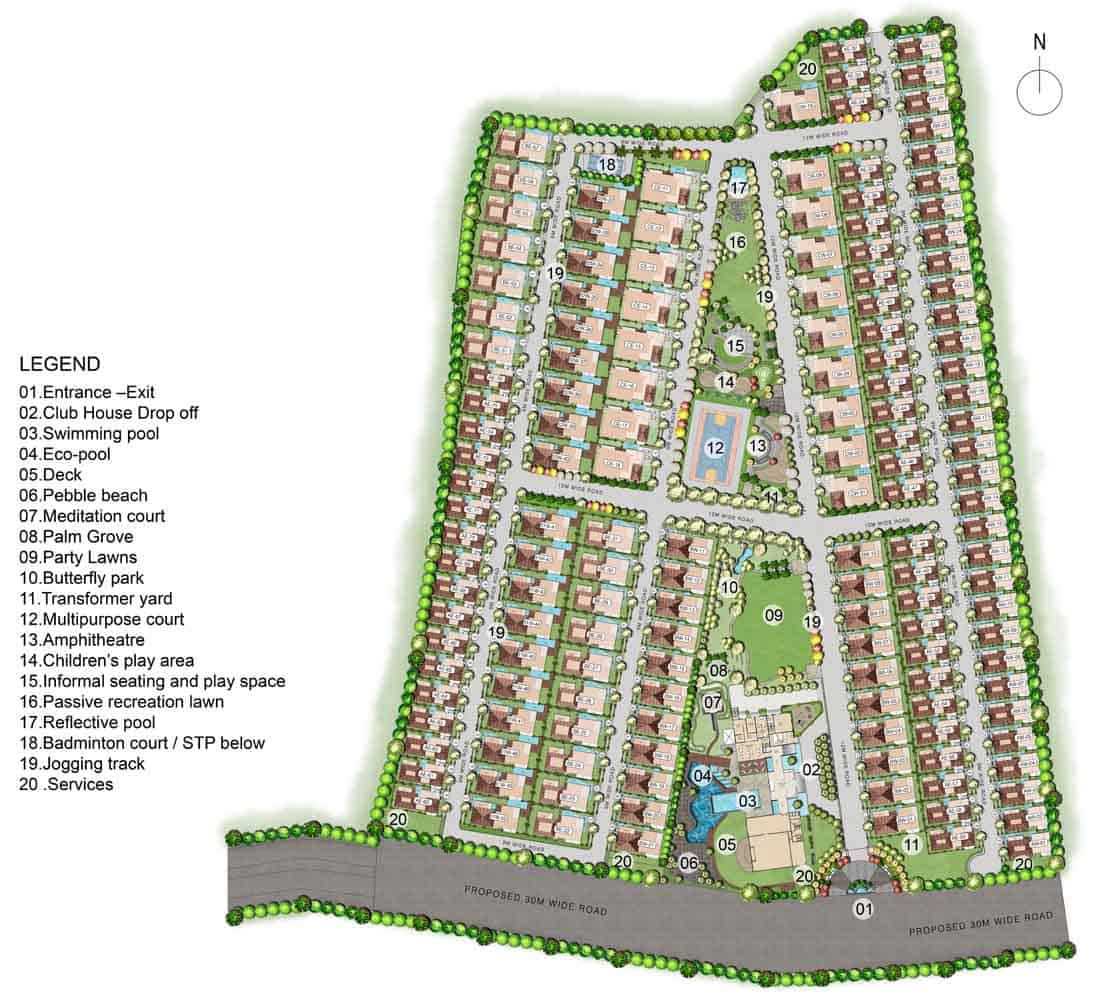 Mantri Euphoria Location Map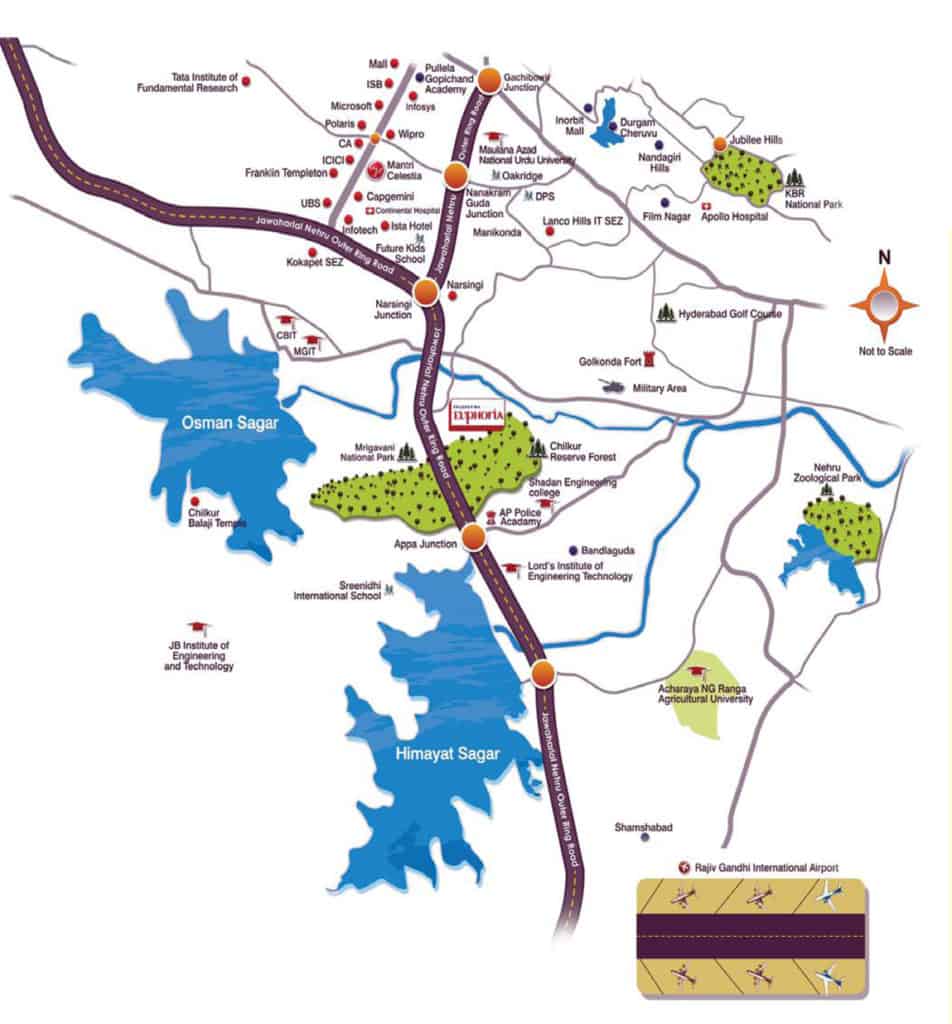 Mantri Euphoria - Address and Google Map
Mantri Euphoria Image Gallery
Mantri Euphoria Apartments Video
Mantri Euphoria FAQs:
1.What is the exact location of Mantri Euphoria?
Mantri Euphoria is located near Narsingi Junction, Manchirevula, Hyderabad.
2.Which banks provide home loans for Mantri Euphoria?
A few banks that provide home loans with low interest rate include Axis Bank, Kotak Mahindra Bank, HDFC Bank, ICICI Bank, State Bank of India, Bank of Baroda and more.
3.What is the payment plan for purchasing a villa at Mantri Euphoria?
The buyer must pay 25% of the total agreement amount on booking and the remaining 75% when the property is handover.
4.What are some of the recreational amenities at Mantri Euphoria?
The recreational amenities offered at Mantri Euphoria include club house, badminton and squash court, swimming pool, play area, barbeque pits, gymnasium and more.
5.What is the price range for 4 BHK villas at Mantri Euphoria?
4 BHK villas at Mantri Euphoria range from INR 2.50 Crore to INR 3.36 Crore.
6.What is the total area of the Mantri Euphoria project?
The Mantri Euphoria project is spread across an area of a total 18 acres.
7.Are there any kid friendly amenities at Mantri Euphoria?
Yes, Mantri Euphoria has a separated kid play area and toddlers pool.
8.What are some unique amenities at Mantri Euphoria?
Mantri Euphoria provides coffee lounges and food court that is accessible to all its residents.
9.Is the property Vaastu Compliant?
Yes, Mantri Euphoria is built in such a way that it is Vaastu Compliant.
10.Are there any transport facilities nearby Mantri Euphoria?
Yes, Mantri Euphoria has railway stations and metro stations in close proximity which makes commuting easier.
About Mantri Developers Pvt Ltd:
 Mantri Developers Pvt Ltd. Was established by Mr. Sushil Mantri in the year 1999. The company is a pioneer in the real estate world in South India today. Mantri Developers are well known for building eco-friendly and sustainable projects along with world class facilities. Mantri Developers have their various luxury residential apartments, commercials, educational institutions projects spread across states like Hyderabad, Bangalore and Pune. The company has achieved many milestones by building sustainable complexes with their skillful team.
Mantri Euphoria is a brilliant project developed by the Mantri Developers. It is an ideal location for anyone who wants to live in peace and at the same time have essential amenities around them. The project is nearby forest and is also close to various malls, schools, hospitals and parks. In addition to this, the external and internal amenities provided at Mantri Euphoria make it an excellent place to reside at. Mantri Euphoria is a place where nature and city life co exist to provide an ideal stay for the residents.                   

Here's more to look into!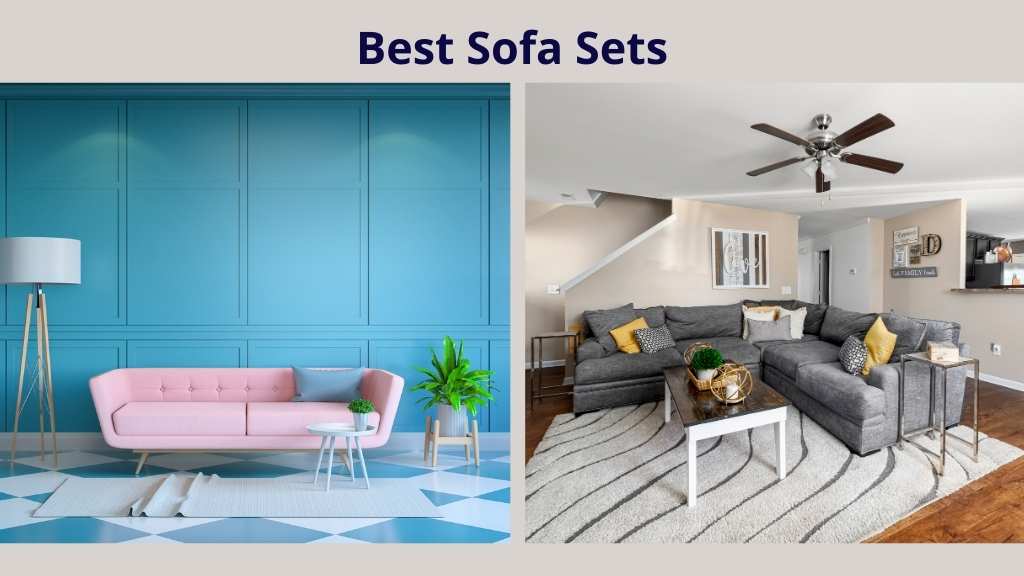 Sink into Luxury With The Best Sofa Sets of 2023 Your best sofa...