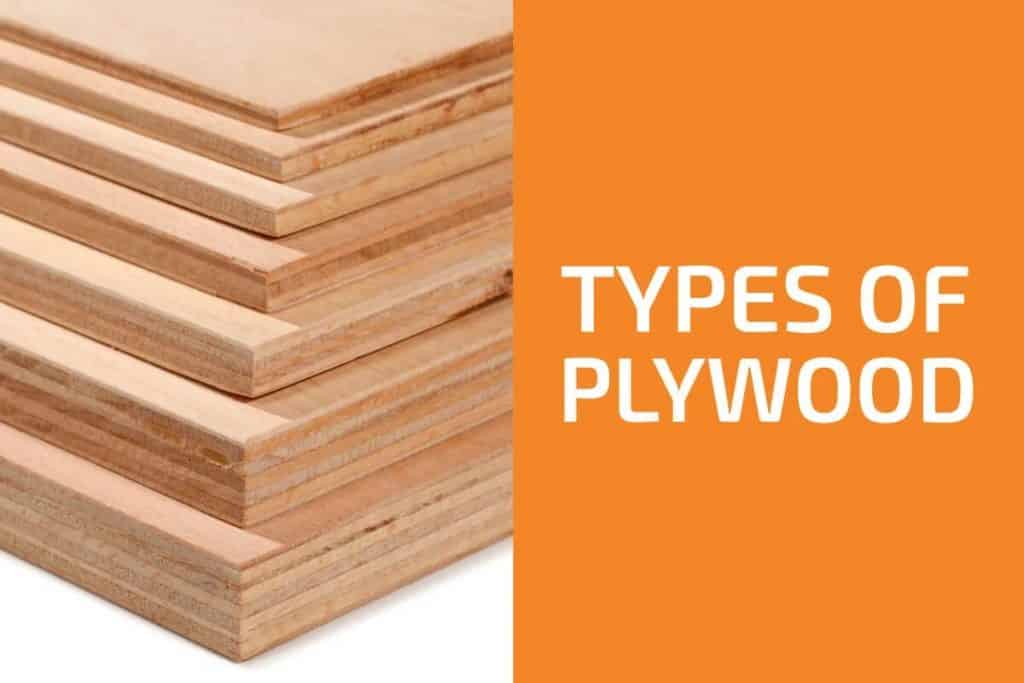 Looking for some plywood for a project? You will be spoilt for choices. Hence we have curated a list of 19 different types of plysheet based on ply, wood, and other uncommon types of plywood to give you the ultimate tour of different types of plywood. Plywood is the most widely used building material that is used to construct furniture, docks, walls, and other structures.
The term plywood is usually used to refer to hardwood plysheet. These woods are man-made so technically it's not natural wood but an engineered product. Ply is made by gluing 3 or more veneer boards together with a special adhesive, as simple as that. There are however different types of plyboard based on their grade (grades decide the quality of the ply) and make.
Different Types of Plywood According to the Number of Veneers
The number of sheets glued together that decide the thickness of each ply is called the plywood grade. Each layer of the plyboard is called wood veneer, where a veneer is a thin sheet of wood that is glued together to create the final finished product called plysheet. Keep in mind that veneers have different thicknesses so you must select them depending on the location of the finished product.
3-ply plywood is the most common type of plywood and is often used in furniture, cabinetry, and interior paneling. It typically consists of three layers of veneer, with the grain of each layer running perpendicular to the adjacent layers. This cross-grain construction gives the plywood its strength and dimensional stability, making it less likely to warp or twist over time. Additionally, the decorative finish of the outermost layer makes it an attractive choice for indoor projects.
5-ply plywood has 5 layers of veneer and is yet another type of plywood that is used for projects. 5-ply plywood is similar to 3-ply plywood but with two additional layers of veneer, making it slightly stronger and more durable. It is often used for flooring, paneling, and furniture where a stronger material is required.
Multi-ply plywood, also known as multi-layered plywood, is typically made up of six or more layers of veneer, making it much stronger than 3-ply or 5-ply plywood. It is used for structural applications such as roofing, subflooring, and exterior walls. Its high strength and rigidity make it ideal for use in areas prone to high winds and other environmental hazards. Multi-ply plywood is also less prone to splitting, which makes it an excellent choice for projects that require screws or nails to be driven through the material.
Different Types of Plywood According to Make
Softwoods like cedar, redwood, or pine are used by manufacturers to make softwood ply. As the name might indicate these woods are not as strong as other types of plywood but workers do use softwood plyboard for sub-flooring, roof sheathing, and exterior frame sheathing. You can also use these types of wood to create sheds, shelves, doghouses, temporary flooring, and more. Here are a few examples of softwood laminated wood.
Pine

Redwood

Cedar
The type of plywood that uses 3 to 7 layers of hardwood is called hardwood ply. The manufacturers glue all the layers of wood at right angles which creates an incredibly strong finish. Here are some examples of hardwood plyboard.
Poplar 

Walnut 

Maple

Oak

Birch
Hardwood plywoods are the best types of ply for furniture, musical instruments, sporting equipment, packing cases, and other similar projects that need to have strong framing.
Aircraft plywood is one of the highest grade types of plywood. It is the most durable kind you will ever find and uses hardwoods like birch or mahogany. These woods help in creating a strong finish that can resist both moisture and heat. The aircraft plywood incorporates a few thin veneers to keep it flexible and light all the while providing an unyielding strength for all the heavy jobs.
You will find the purpose of aircraft plywood in projects that require industrial strength wood-like projects related to furniture, boats, and airplanes. One common factor for all these projects is that they all need to hold a significant amount of weight.
Water and weather-resistant glue hold all the veneers of the exterior plywood, one of the biggest concerns of creating an exterior with plywood, is if they can handle rain, wind, and generally all kinds of weather conditions. Exterior plywood is meant to withstand extreme weather conditions and stand as a strong and sturdy frame for many years.
Exterior plywoods have many layers of veneers that are glued to each other so you can classify them as multi-ply plywood. Depending on the kind of area you live in, the types of plywood will vary. For locations that experience harsh conditions, you will need woods like oak that is resistant to mold and mildew occurring due to damp conditions.
The type of plywood made of 3 plies and 2 thin veneers on either side along with a thick core is called lumber core plywood. The exterior veneers are usually made of hardwood while the core is strips of wood glued together into a solid slab.
The inner core will help in grasping screws making it the ultimate choice for projects requiring strong screw holds. One drawback of lumber core plywood is that if it is poorly made, there will be voids inside the core which will diminish the total strength of the wood and they will not be able to firmly hold screws anymore.
Marine plywood is also called mare grade plywood. If the name made you think it's waterproof, it's not. Manufacturers use external glue that is water-resistant to layer the wood. Marine-grade plywood consists of Douglas Fir woods or Western Larch and has a B-grade. It is considered the best high-graded plywood in the market.
Marine-grade plywood is not resistant to rot, mildew, or mold from weather conditions. Manufactures do not treat it with any chemical so it will tend to rot and decay unless you treat it with pressure preservatives. All marine-grade plywoods are devoid of knotholes in all of their plies; it uses water-resistant glue between the plies to hold them together and no kind of dampness can affect the glue.
Marine-grade plywoods are mostly used in decorative pieces like benches, planter boxes, gazebos, and other kinds of outdoor furniture.
Overlaid plywood can be of two types, high density overlaid (HDO) and medium density overlaid (MDO), and utilizes regular sheets with layers of veneer glued to each other with an overlaid face that lends it a finished appearance.
The exterior's finish is not necessarily decorative but will make the surface of panels durable. It will also prevent other particles from sticking to it or damaging it. The coating also prevents scratches and other abrasions on its surface that might happen during construction and transportation.
Manufacturers bind the veneers with the external surface by applying pressure and heat. HDO panels have more resin content than MDO panels which is why they are more expensive. But both of them can make a finished project stronger and more durable than traditional plywood.
Structural plywood is also known as sheathing plywood and is mainly in use because of its strength in framing as well as building structures. It needs strong adhesive to keep all the plies together.
You may use structural plywood for both exterior and interior construction but keep in mind that they are not particularly weather-resistant. They only have a C or a D grade making them an inexpensive choice compared to the other types of plywood. Their performance is also low if you use it outdoors.
This type of plywood is made by rotating a log against a blade, producing a continuous sheet of veneer that is peeled off the log in a long, thin strip. Because the blade follows the log's natural contour, the resulting veneers are wider and more varied in color and grain pattern than those produced by other methods. Rotary-cut plywood is often used in construction applications where appearance is not a primary concern, such as in subflooring and roof decking.
This type of plywood is made by slicing a log along its length into thin sheets of veneer. The resulting veneers are typically narrower than those produced by rotary-cutting, but have a more consistent grain pattern and color. Plain-sliced plywood is often used in furniture and cabinetry applications where appearance is important.
This type of plywood is made by slicing a log at an angle to the growth rings, producing veneers with a straight, linear grain pattern. The resulting plywood has a more uniform appearance than plain-sliced or rotary-cut plywood, and is often used in high-end cabinetry and furniture applications.
15. Quarter-sliced plywood
This type of plywood is made by slicing a log perpendicular to the growth rings, producing veneers with a vertical grain pattern. The resulting plywood has a distinctive, striped appearance that is highly prized in high-end furniture and cabinetry applications.
Other Uncommon Types of Plywood
Apart from the types of plywoods mentioned above which are the main types, there are other uncommon types of plywood too that you might come across. The list of plywoods mentioned here could either be completely different types of plywood or could be the alternative names of the ones mentioned above.
16. Commercial plywood
17. Flexible plywood
18. Tropical plywood
19. MR grade plywood
20. Decorative plywood
21. Veneer core plywood
22. Sanded plywood
23. Composite plywood
Here's a list of a few boards that are used as replacements for plywoods. These are not plywoods but are used in similar circumstances as plywoods.
24. Composite wood
25. Blockboard
26. Foamboard
27. Fiberboard
28. Hardboard
29. Particleboard
30. Moisture resistant particleboard
The quality of different types of plywood is based on a grading system where A is the best grade quality plywood you will get while grade D is the lowest and often the cheapest quality plywood. So while choosing your preferred plywood check out which grade it is. Hopefully, our list has helped you get your plywood type for your project.
Different Types of Plywood FAQs:
1. What is the origin of plywood?
The first evidence of plywood was in the year 1797 when Samuel Bentham applied for patents that included the production of veneers through veneers. In his patent, he described laminating several layers of veneer with a special glue to form a single piece. After roughly about 50 years, Immanuel Nobel described that several layers of wood can be glued together to make a single durable piece of laminated wood. This, later on, came to be known as plywood.
2. What are the uses of different types of plywood in India?
The use of plywood is based on the types of plywood available. Here is the full list of what kind of plywoods are used for what purpose.
Structural plywood: roof bracing, wall bracing, shipping crates, subfloor, internal structures, beams
Exterior plywood; walls, roof linings, outdoor flooring
Interior plywood: indoor furniture, interior cladding, ceilings
Marine plywood: building docs, boats, and everything else that needs a weather-proof wood
3. Can I recycle plywood?
If you want to recycle plywood it mainly depends on which type of plywood has been used. If your plywood is unpainted, unstained, and untreated then it is turned into wood waste which is later turned into mulch or compost. You can also use the wood for raw soil improvement, landscaping, and animal bedding. Solid pieces of plywood can be repurposed to make distressed aesthetic finished furniture.
4. Is it okay if my plywood furniture gets wet?
Most plywood furniture will not retain any water on them and there are stronger varieties in the market that can manage water damage better. If however, the furniture is exposed to water for a long time then moisture will wear and damage the wood. Untreated plywood pieces will not be able to stand water at all and rotting and warping will soon damage it completely.
5. Can you bend plywood?
Only special types of plywood can be bent as most plywoods will either solitaire or break if you bend it. The best type of plywood that can be bent is close-grained because it's surface does not separate on bending. These hardwood plywood faces include plywoods made from birch, poplar, mahogany.