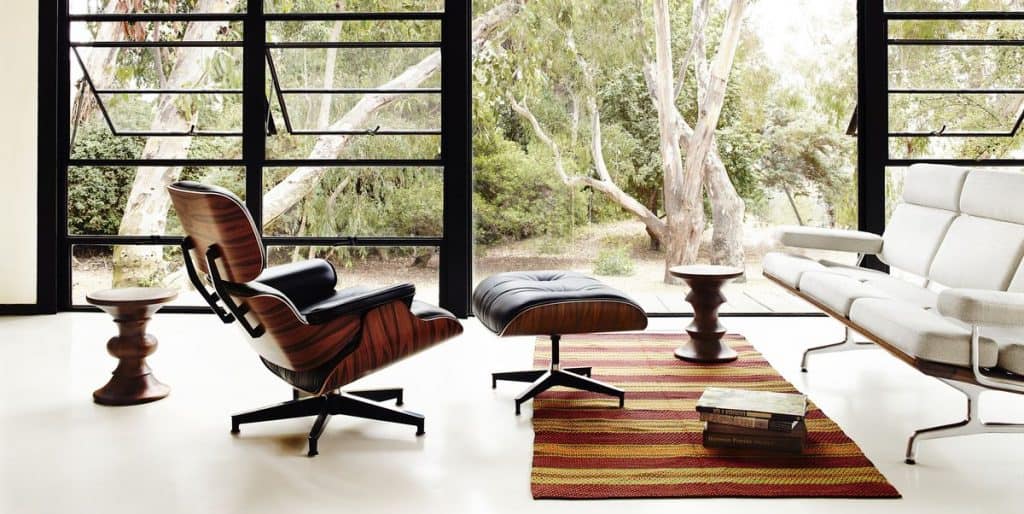 Chairs are of many types! The following article has a list including styles of chair, complete with names. There are several types of chairs, and you may find yourself needing to look for one in particular. If that is the case, knowing the terms for various kinds of chairs will come in helpful.
We decided to put up this large chair buying guide to help you understand all of your chair options. It lists many different types of chairs you may buy for your house.
Different types of Chairs
A chair is a kind of furniture having an elevated surface and legs that is often used by people to sit. Chairs may be found in a variety of areas in houses (e.g., living rooms, bedrooms, etc.), schools, offices, and other businesses.
List of the styles of chairs
Armchair.
Recliner.
Contemporary Round Chair.
Loveseat.
Accent Chairs.
Your house should be a place where you may unwind, relax, and take pleasure in life. That is why having comfy seats to sit on throughout the house is vital. You have a wide range of chair kinds to choose from, regardless of the room you're purchasing for.
A. Different kinds of living room chairs
The living room, more than any other room in the house, needs the most comfortable and attractive seats. The living room is where the whole family congregates, where you entertain guests, and where you binge-watch your favorite program. Make sure the living room chairs you pick are capable of handling these responsibilities.
Armchairs are excellent accent chairs since they allow you to show your creativity while also offering additional sitting. Unlike its sofa and loveseat counterparts, armchairs only sit one person at a time. They are available in a variety of styles, ranging from contemporary to classic and everything in between. When it comes to purchasing an armchair, set out at least Rs 15000. Many of these sorts of sitting chairs start at this price and frequently increase from there. Some armchairs are even more expensive than Rs 75000.
The chair appears to be a recent innovation, and it is in some ways. Some historians claim that the earliest version of this calming chair belonged to Napoleon Bonaparte. Since Napoleon's time, designers have achieved significant advances in recliner design.
Recliners are the pinnacle of household comfort. Leather or fabric upholstery, manual or electrical mechanisms, and a variety of designs are available for these chair kinds. These seats come in a variety of colours and designs, including camouflage.
Certain recliners are ideal for those who struggle to get out of their chairs on a regular basis. People with certain impairments can be more autonomous in their homes thanks to these lift-assist recliners.
3. Contemporary Round Chair
Traditional chair options making you feel hemmed in? If that's the case, a contemporary circular chair could be ideal for you. The width of these large chairs is usually approximately 58 inches, while the cushion depth is usually around 30 inches. With such proportions, it's the ideal cuddling or resting chair, ideal for curling up with a nice book and a blanket!
These chairs are also wonderful accent pieces because of their form. Round chairs come in a variety of fabric options, but suede or leather upholstery is the most common. The majority of contemporary round chairs are also available in neutral colours, however, some may include a burst of colour in bolder tones and hues. These seats are one of the most costly chair kinds, costing about Rs 50000.
A lot of seats are only meant to hold one person at a time. Loveseats, on the other hand, increase the snuggle factor by providing just enough space for two individuals to sit together. Although some loveseats are large enough for two people to sit together without touching, several are intended to encourage intimacy.
Loveseats, like many other types of living room chairs, come in a variety of designs. A loveseat to match your living space may be found in a variety of styles, from modern to traditional. Similarly, these chairs are available in a variety of colours and are upholstered in a variety of materials. A nice loveseat can cost anywhere from Rs 40000, depending on the store, design, and size.
The club chair, wingback chair, English rolling armchair, Bergère chair, barrel chair, and Lawson chair are all examples of accent chairs in the living room. All of these are listed separately below. Please see our illustrated guide to sofa and chair arm styles for more information. The many styles of accent chairs available are shown below.
A club chair is a sort of armchair that is usually covered in leather, but it is so much more.
A club chair creates a comfortable and relaxing atmosphere in a room, as though the individuals within are being serenaded. The term "fauteuil comfortable" (comfortable chair) was used in France to describe this style of chair. The original term refers to the way a club chair envelops you in comfort and has more rounded edges than other types of chairs.
Deep seats, leather chair upholstery, a lower back, and general roominess are all characteristics of club chairs. These chairs may give a living space a particular something, and they're generally inexpensive. A basic club chair costs approximately Rs 7000, whereas a luxury club chair costs around Rs 45000.
A wingback chair, also known as a wing chair, is a sort of accent chair that may bring flair and fashion to your room. The high sides that encircle the sitter, or the chair's "wings," define this kind of living room chair. Wingback chairs are great for reading, resting, and entertaining, and they're a traditional and timeless style that can withstand a variety of home décor modifications.
The front side panels protruding from the chair back are a wingback chair's defining design element. A high chair back is another typical characteristic.  Wingback chairs are available in a variety of styles to complement any home design. You may select a wingback chair to match your style, whether it's contemporary, classic, eclectic, or something else. A gorgeous wingback chair will cost between Rs 10000 and Rs 20000, just like other accent chairs.
The bergère chair is an excellent accent item for aficionados of traditional French decor. This sort of chair can make you feel like a king by adding a touch of grandeur to your home. The Bergere chair became a cornerstone of French home décor style thanks to royalty, such as French King Louis XV and his family. A deep, broad seat with an (occasionally) loose seat cushion, as well as exposed wood, is characteristic of Bergère chairs. The exposed wood on a bergère chair is usually found between the upholstered armrests and the chair back; on the legs of the chair and on the chair back are outer borders.
A bergère chair is a piece of art that may also be used as sitting. As a result, you may anticipate paying a bit more for a Bergere chair than for other types of chairs. On the low end, a new Bergere chair would set you back around Rs 35000. These chairs, on the other hand, can cost up to Rs 100000 and in some cases much more. After all, living like royalty costs a fair fortune!
We'd need a textbook-sized amount of room to cover all of the many
sorts of chairs that come in so many different styles, sizes, and prices. Here
are some of the greatest styles on the market today that are fashionable and
distinctive. There are numerous well-known varieties as well as some uncommon
ones.
FAQs : Different Types of Chairs
1. What is a small chair called?
A side chair is a tiny chair with an unupholstered frame. It has a sturdy frame and may or may not be equipped with arms. Upholstery for the seat and back is optional.
2. What actually is a Bergere chair?
A covered upholstered French armchair known as fauteuil having an upholstered back and armrest on the upholstered frames is known as a Bergère Chair. With a deep, a broad seat than a typical fauteuil, it is meant for reclining in comfort, however, the bergère chairs are more formal.
3. What do you call a chair without legs called?
A zaisu is a Japanese chair that lacks legs but has a standard chair back. They're frequently seen in traditional Japanese rooms with tatami mats, and they're frequently used to rest beneath hot kotatsu tables.
4. What is a two person chair called?
A loveseat is a two-seat chair that comes in two forms. One style, known as "British two-seaters," is virtually the same as a "two-seat sofa." It usually comes with two cushioned seats.
5. Why is it called a chair?
Etymology. The word chair is derived from the English word "chaere" used in the early 13th-century, which is derived from Old French word chaiere which means chair, seat, throne, and also derived from Latin cathedra ("seat").