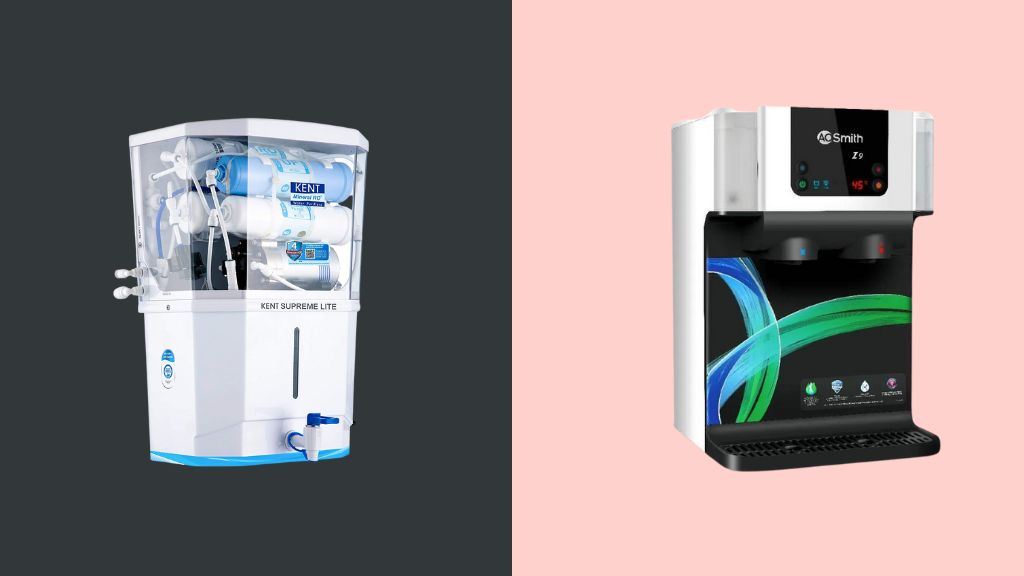 Almost all households have a water purifier to help in retaining essential minerals and remove harmful heavy metals, dirt, and other contaminants. Based on different capacities, filtration stages, and mounting types, we have brought to you a set of the best water purifiers at price that will suit your budget and your needs. Let's take a look at why these brands have been chosen before we get into their exclusive features and negligible downsides:
Best water purifier in India: Eureka Forbes
Best water purifier for extended warranty: Kent Elegant
Best water purifier for home with free accessories: V-Guard Zenora
Best water purifier for home on a budget: Blue Star Aristo
Best non-electric water purifier: Tata Swach
Best water purifier on UV+UF technology: AO Smith
Best smart water purifier: Mi
Best water purifier to handle voltage fluctuations: Aquasure
Best water purifier with smart TDS adjuster: Livpure Glo Pro++
Best water purifier with a high water recovery rate: HUL Pureit
Best water purifier for home with patented corner installation: Havells FAB
Best water purifier with optimum pH: Havells Delight
Best water purifier with patented HRR technology: Zero B Eco
Let's Check Out The Details Of The Best Water Purifier With Price!
1. Eureka Forbes: Best Water Purifier in India for home(₹19,999)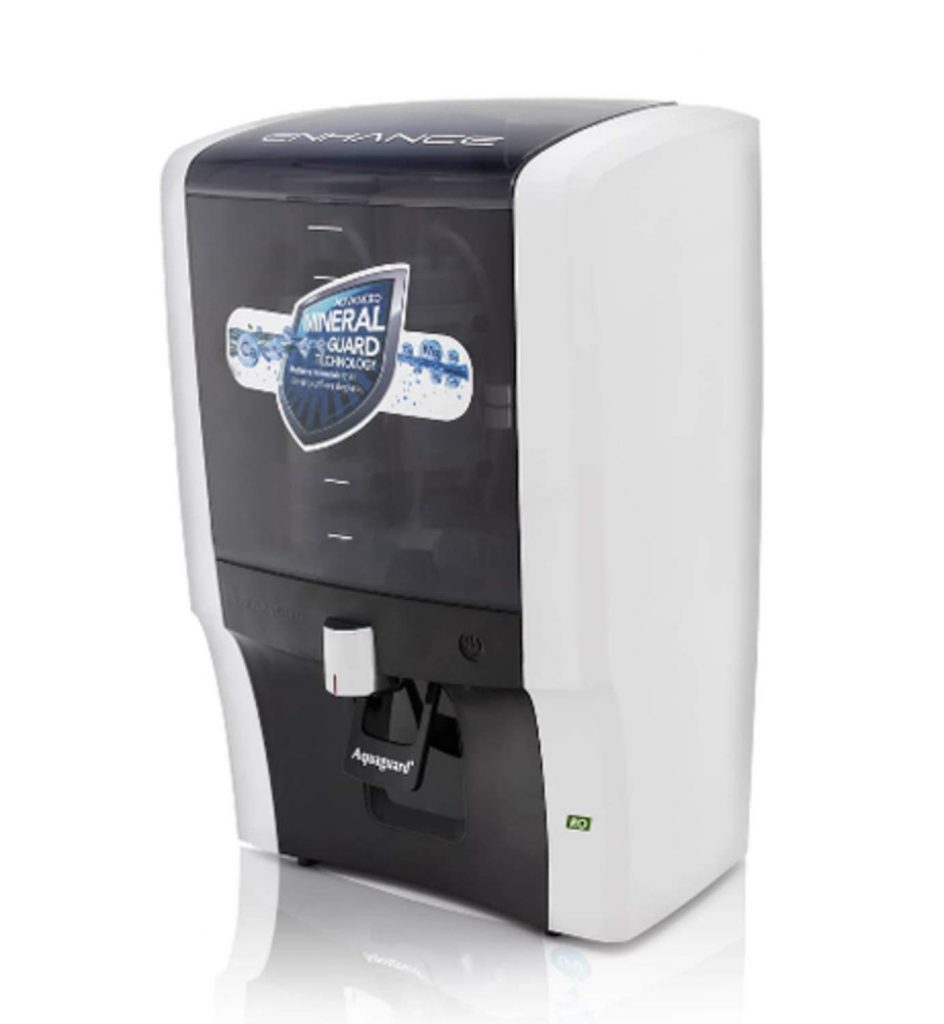 Features
The water filtration process comes with 8 stages of purification.
The process is 75% water efficient which cuts down on water consumption and wastage.
The RO filter removes
Cysts
Protozoa
Viruses
Bacteria
Heavy metals
Pesticides
Hardness
TDS
The purifier is suitable for all types of water no matter its source.
It also prevents scaling which increases the membrane's life.
Storage capacity: 7 liters
Weight 8.5 kg
Dimensions: 26.3 ✕ 32.8 ✕ 47.9 cm
Warranty: 1 year
Downside
The alkaline features are not quite likable.
2. Kent Elegant: Best Water Purifier for Extended Warranty (₹13,299)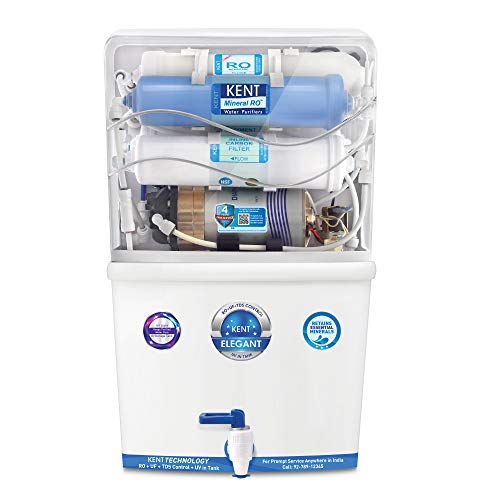 Features
The purifier has a RO+UF+TDS control that removes fluorides, pesticides, rust, and arsenic.
The TDS control retains all the essential minerals in the water.
Installation: Wall mountable
Storage capacity: 8 litres
Purification capacity: 15 liters per hour
Warranty: 1 year + 3 years extended service
Downside
Pre-filter unsuitable for purifying municipal water, tap water, and brackish water.
3. V-Guard Zenora: Best Water Purifier for Home With Free Accessories (₹8090)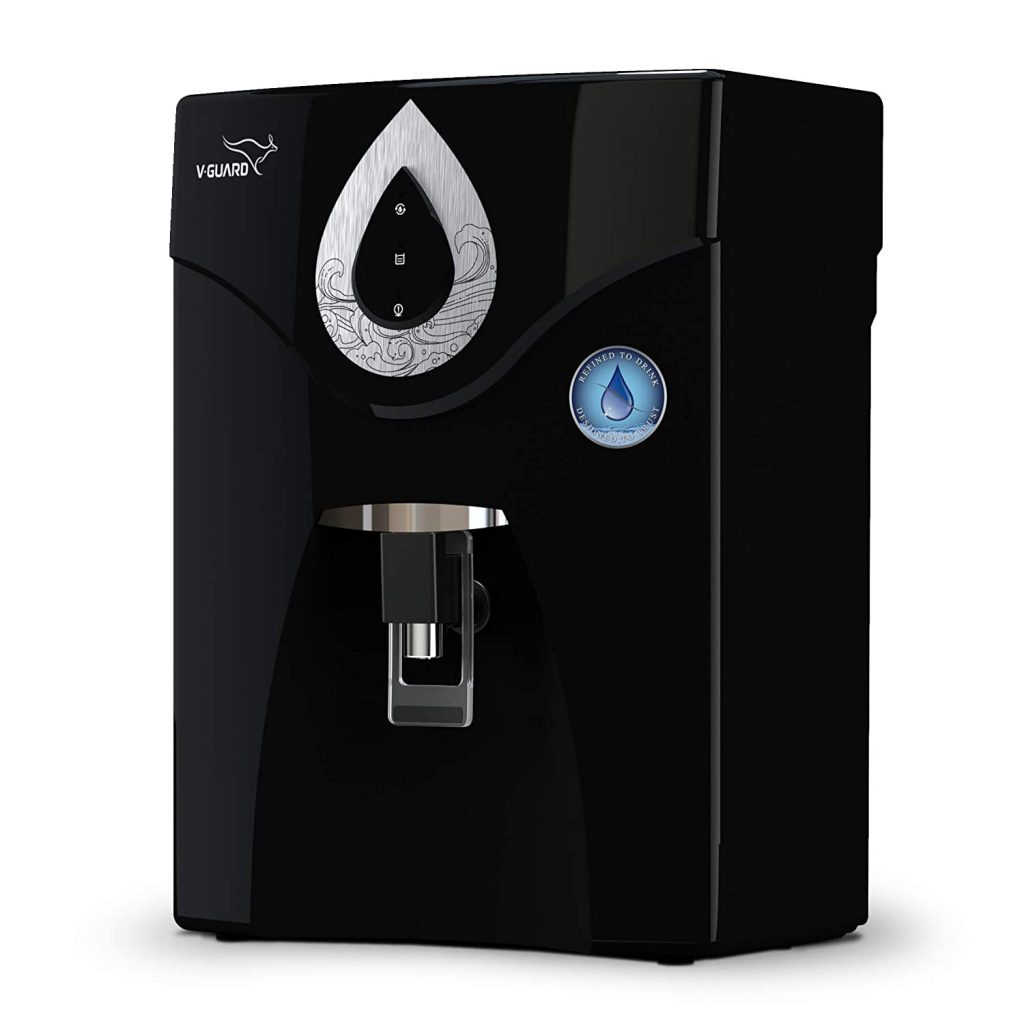 Features
This purifier has RO+UF+MB technology.
The purification process has 8 stages.
A pH balancer balances the water's pH keeping it safe.
It can handle a TDS of 2000 ppm.
The immerse LEDs indicate three stages:
Low pressure
Tank full
Purification On
Installation: Wall-mounted and tabletop
Storage capacity: 7 litres
Warranty: 1 year
Weight: 8.7 kg
Dimension: 34.5 ✕ 20.5 ✕ 45 cm
Downside
It can be a tad bit noisy.
4. Blue Star Aristo: Best Water Purifier for Home on a Budget (₹9890)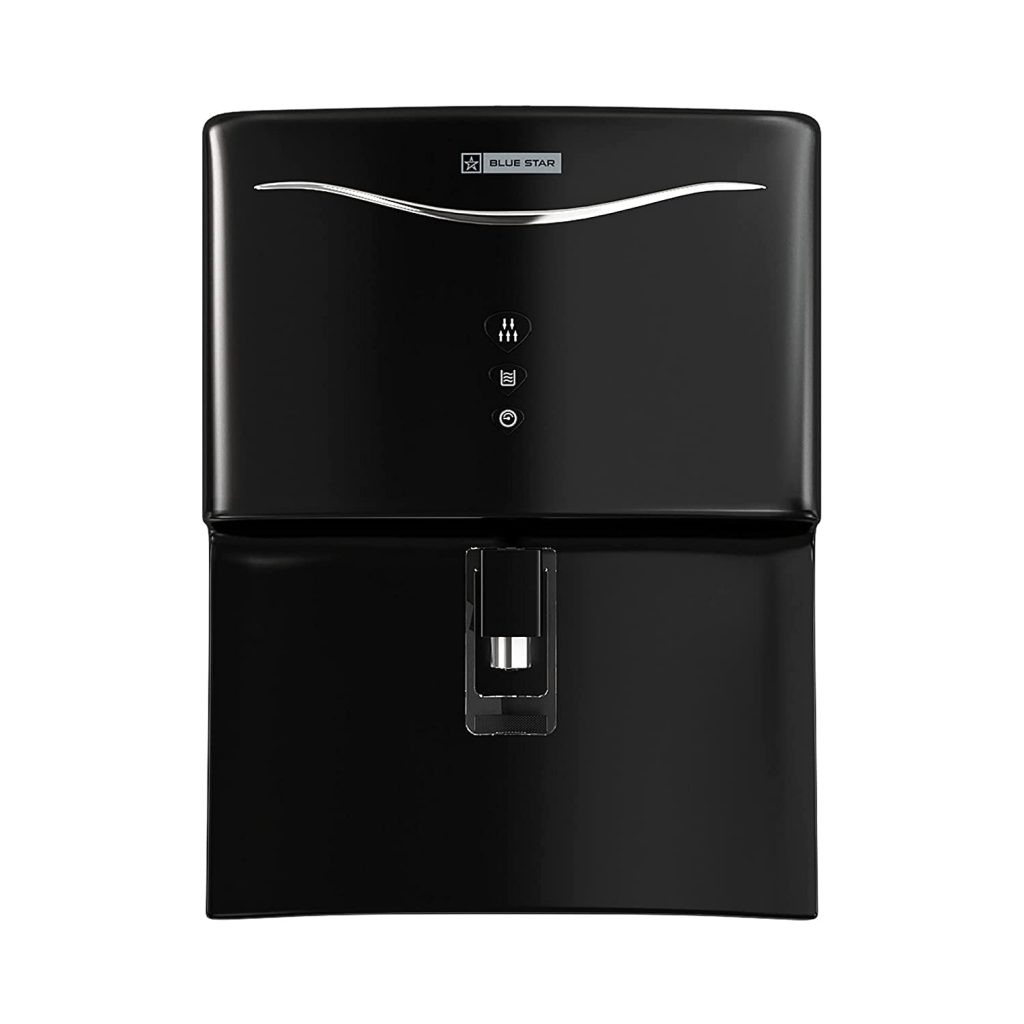 Features
It comes with triple layer protection with RO+UV+UF technology.
The ATB (aqua taste booster) keeps the water safe for drinking.
The copper-impregnated activated carbon enhances the water's taste by removing volatile organic compounds, smells, and odours and giving the water antibacterial properties.
The filter maintained its water's pH between 5.8 and 8.5.
The RO filter removes
Viruses
Cysts
Bacteria
Radioactive matter
Heavy metals
Microorganisms
Impurities
The purifier can alert you if its UV lamp fails.
Purification capacity: 20 liters per hour
Storage capacity: 7 litres
Warranty: 1 year
Installation: countertop or wall mounted
Downside
None noticeable
5. Tata Swach: Best Non-electric Water Purifier (₹2435)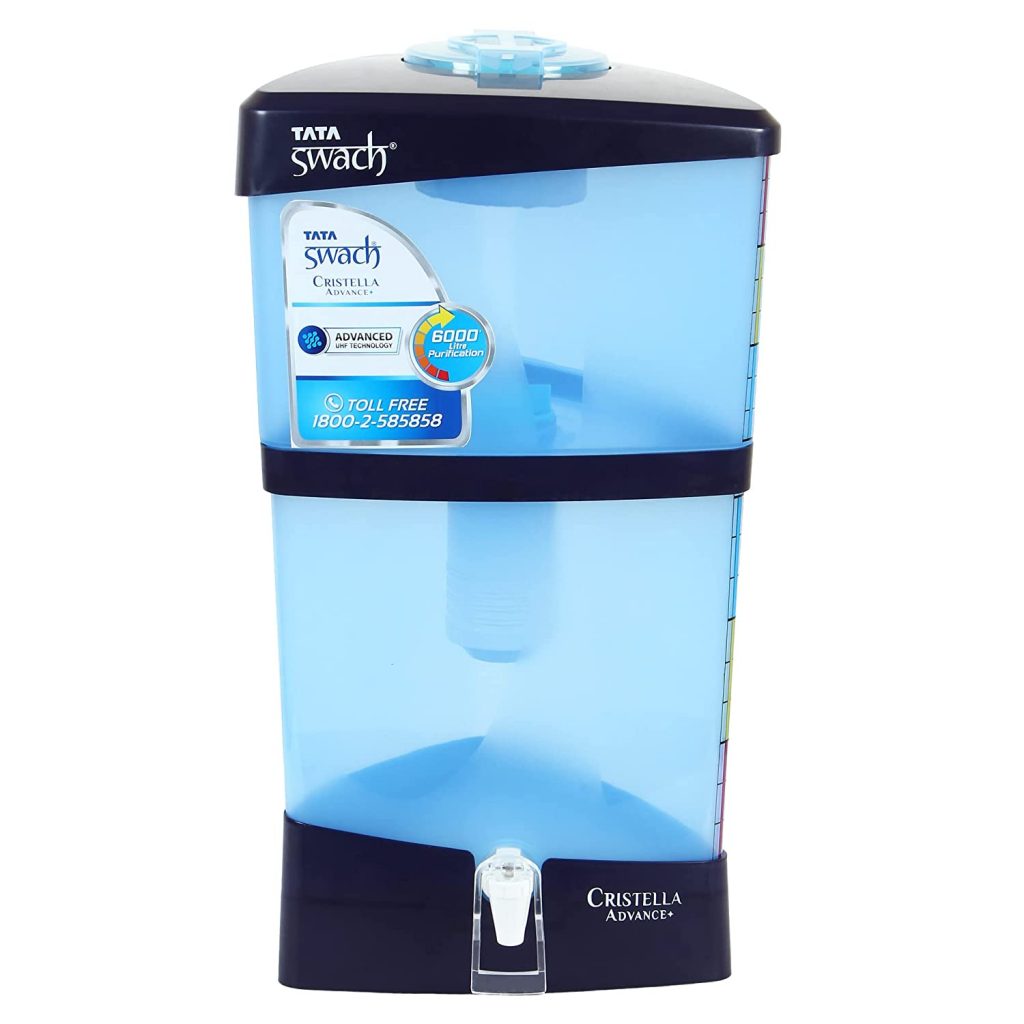 Features
This non-electric water purifier is made of stainless steel.
It is easy to set up.
It is a gravity-driven hollow fibre membrane filtration process.
Storage capacity: 20 litres (10 in the water storage + 10 in the lower container)
LRV (Log Reduction Value) is retained for cysts, viruses, and bacteria as per USEPA guidelines.
Its anti-biofouling property gives it a better life.
The cartridge can handle a TDS of 1500 ppm and a pH of 5.5 to 9.0.
Flow rate: 4 liters to 5 liters per hour
Cartridge life: 6000 liters
Weight: 2.79 kg
Dimension: 36.4 ✕ 27.2 ✕ 26.8 cm
Warranty: 6 months
Downside
You have to manually fill the water storage.
6. AO Smith: Best Water Purifier on UV+UF Tech ($6999)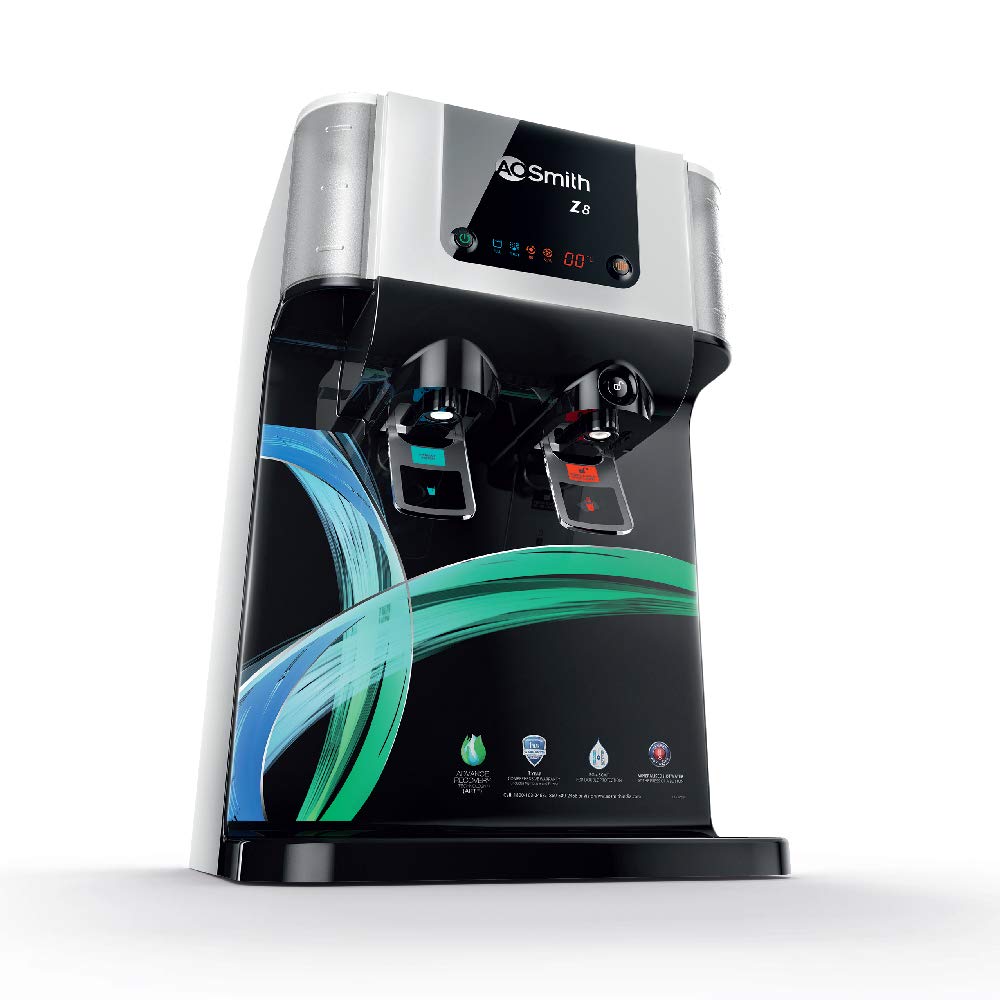 Features
The RO water purifier has 6 stages of water filtration.
They offer free installation services.
Here are its types of filters:
MAT/Post carbon filter
Sediment filter 5 micron
Pre carbon filter
Sediment filter 20 micron
Its storage tank material is ABS food-grade plastic that is equipped with germ block technology.
Storage capacity: 7 litres
Installation: wall-mounted
Warranty: 1 year
weight : 2.5 kg
Dimension: 30 ✕ 21 ✕ 18.5 cm
Downside
Noisy to operate
7. Mi: Best Smart Water Purifier (₹12,999)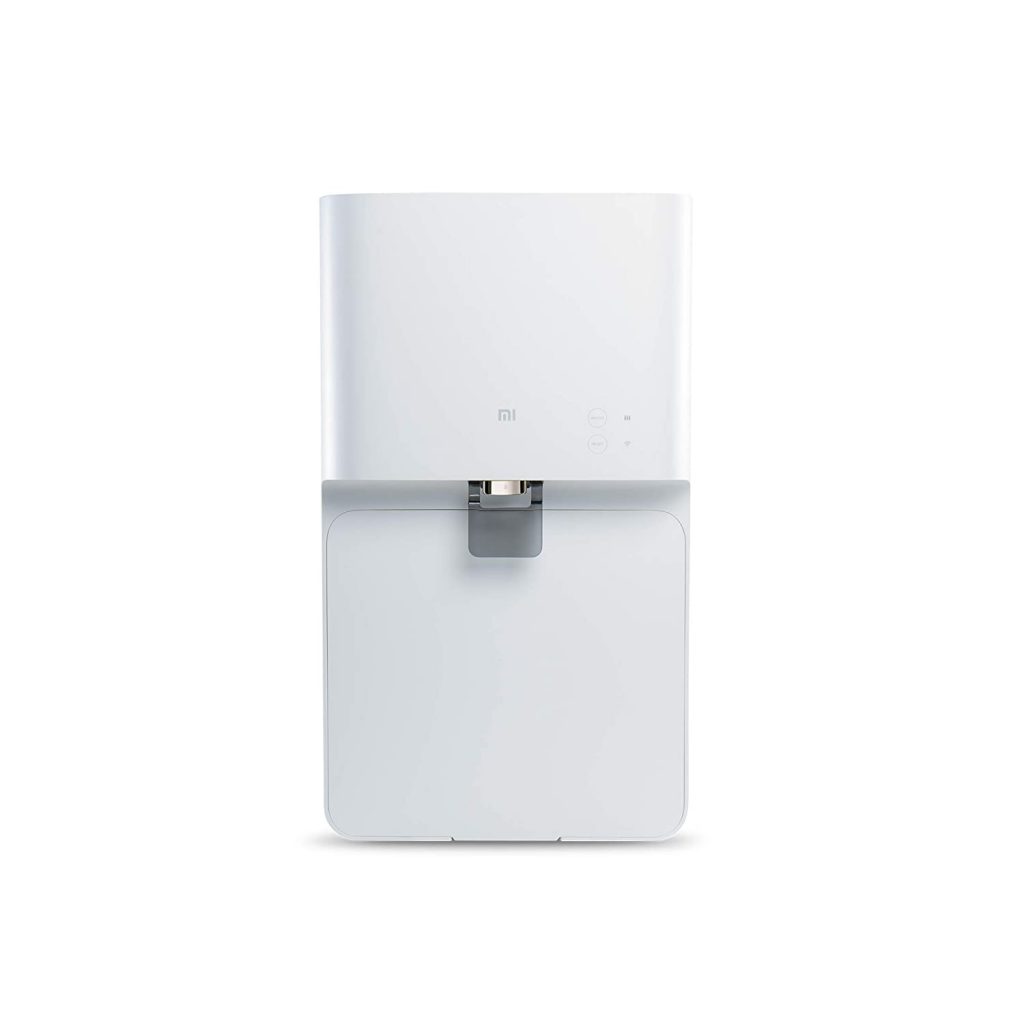 Features
The RO+UV purification process is of 5 stages.
You can connect this Mi smart water purifier with your smartphone through WiFi.
Its real-time TDS monitoring makes the purifier error-free.
It has a longer filter life of up to 1 year.
Their app will alert you that it's time for a filter replacement.
Installation is provided free by Xiaomi.
UV sterilised tanks kill bacteria with 99% efficiency.
The UV light inside the tank ensures the water is treated by UV and disinfected of all disease-causing microorganisms.
Storage capacity: 7 litres
Warranty: 1 year
Weight: 6.7 kg
Dimension: 30 ✕ 20.7 ✕ 52.3 cm
Downside
No water wastage monitoring system
8. Aquasure: Best Water Purifier To Handle Voltage Fluctuations (₹9499)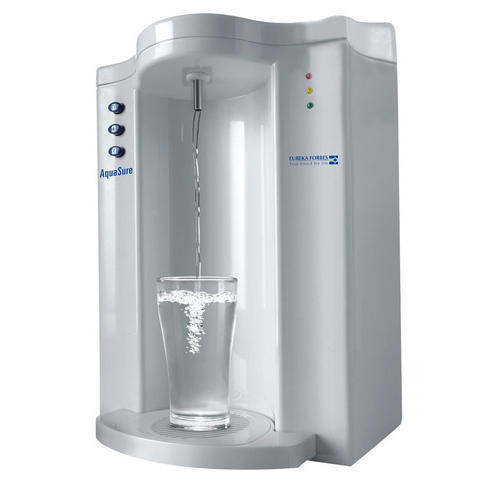 Features
The purifier runs on the RO+UV+MTDS purification process.
It has 6 stages in its purification process.
The storage tank is made of food-grade engineered plastic.
The purifier can remove
Dissolved organic impurities
Foul odour
Excess chlorine
Sand
Dirt
Cysts
Protozoa
Viruses
Waterborne bacteria
Its smart energy-saving mode shuts down the power when the tank is full.
The Smart Plus protects the purifier when the voltage is fluctuating between 150 volts to 270 volts.
It can handle a maximum TDS of 300 ppm.
Cartridge life: 6000 litres
Storage capacity: 6 litres
Installation: wall-mounted or countertop
Warranty: 1 year
Weight: 5.9 kg
Dimension: 23.8 ✕ 30 ✕ 43 cm
Downside
Pre-filter is not included in the package.
9. Livpure GLO PRO++: Best Water Purifier With Smart TDS Adjuster (₹8199)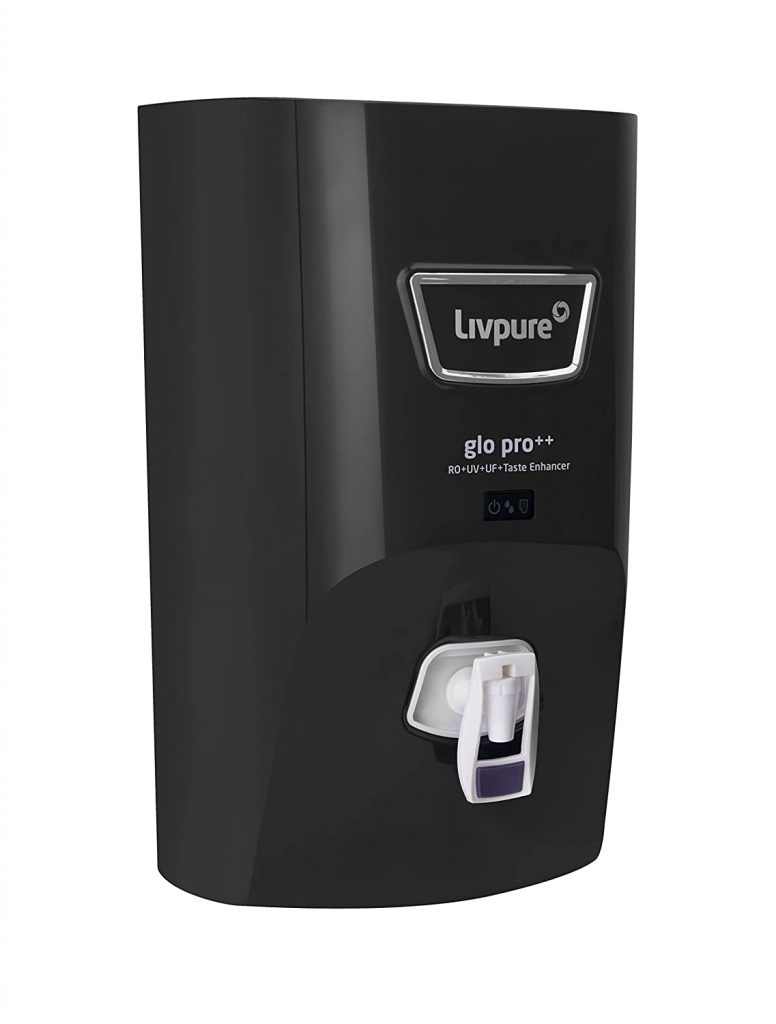 Features
Innovative HR70 technology that preserves 20,000 litres of water over time.
The LED display shows the status of the filter.
Multiple-step filtration (7 stages) provides you with clean drinking water:
Sediment filtering
Pre-activated carbon absorption
Antiscalant cartridge
RO membrane
UV disinfection
Ultrafiltration
Silver impregnated carbon filtering
The copper cartridge enriches the quality of water.
UV sterilization keeps the water drinkable for a long time by removing viruses and bacteria.
The smart TDS adjuster (up to 2000 ppm) is ideal for purifying water.
The taste enhancer maintains the taste of the purified water.
Storage capacity: 7 litres
Installation: Wall mounted
Downside
Some users might find the 7-litre storage tank a bit small.
10. HUL Pureit: Best Water Purifier With High Water Recovery Rate (₹13,299)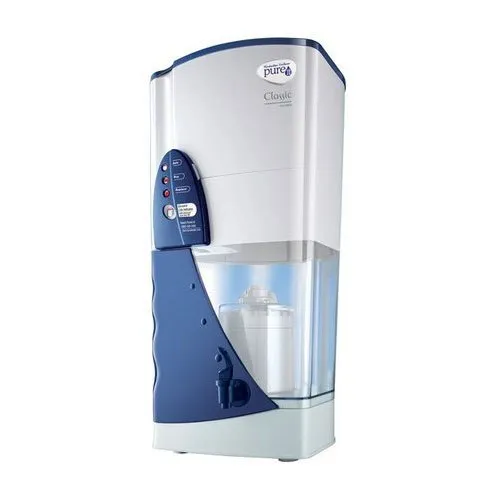 Features
The purifier from HUL has an advanced 7-stage purification process.
Ensures safe RO purified drinkable water
The water recovery rate (60% according to claims by the company) is also high which cuts down water wastage.
Easy to operate
Retains all essential minerals in the output water.
The purification technology follows the RO+UV+MF process.
The maximum TDS for which it can be used is 2000 ppm.
All types of water (tap water, bore well, tanker) can be purified.
Storage capacity: 10 litres
Installation: wall-mounted or countertop
Material: Food-graded engineered plastic
Warranty: 1 year
Dimensions: 45.5 ✕ 31 ✕ 67 cm
Downside
The installation is not free and you may have to pay extra for PRV, external booster pump, extra pipe, and other required accessories.
11. Havells FAB: Best Water Purifier for Home With Patented Corner Installation ($10,000)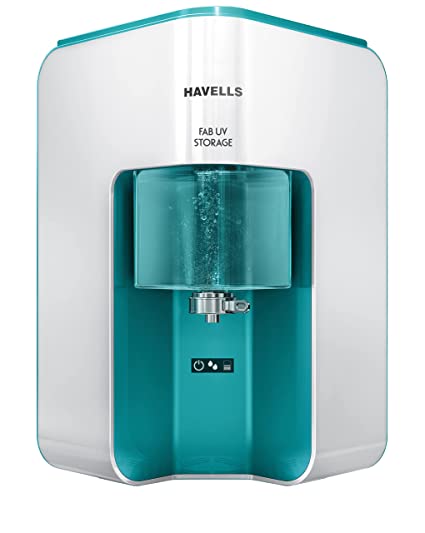 Features
This transparent RO purifier can fit in a corner of your kitchen optimising the available space.
With its multi-step filtration, it can revitalise water molecules by reconstructing them and improving hydration, mineral absorption, and alkalinity.
It has 8 stages in its purification process:
Membrane performance enhancer
Sediment cartridge
Activated carbon cartridge
Reverse osmosis membrane
Mineralz fortification
Germicidal UV
Bacteriostatic taste enhancer
Revitalizer charge
It comes with a Mineralz technology of RO+UV that maintains the ideal pH balance.
It also adds trace amounts of
Zinc
Copper
Sodium
Potassium
Magnesium
Calcium, etc.
The water conservation mode increases the water recovery rate and cuts down on the water bill eventually.
Its smart alerts are quite helpful:
Pump failure
SV
UV
Low water pressure
Tank full
Cartridge life indicator
Purification process
Self-diagnostic
iProtect ensures your water is safely purified.
Installation: free wall-mounted installation in the corner
Storage capacity: 7 litres
Downside
Additional charges may be required for PRV, extra pipes, external booster pump, and other accessories if required.
12. Havells Delight: Best Water Purifier With Optimum pH (₹21,989)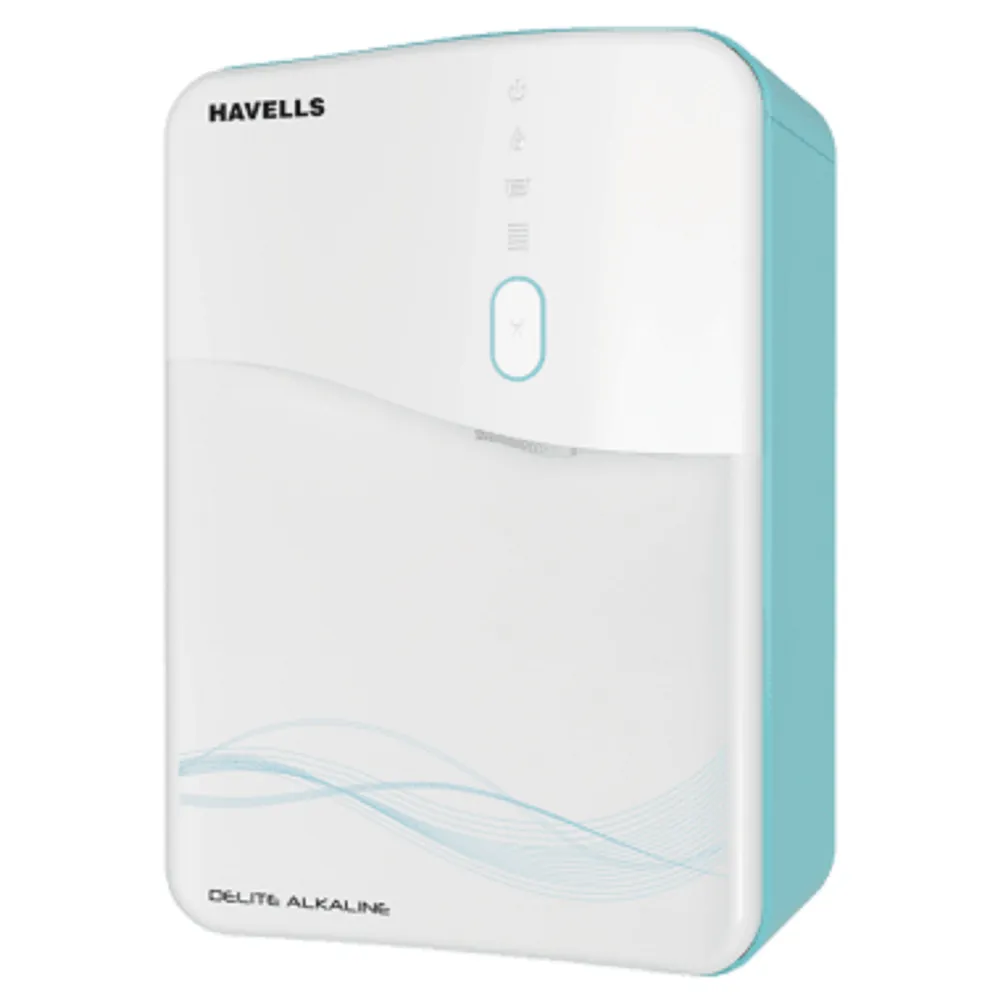 Features
The purification process of RO+UV gives safe, drinkable, and alkaline water.
Its revitalizer can reconstruct water molecules and make it biologically active (meaning increased mineral absorption, alkalinity, and hydration).
Its RO membrane prevents the formation of scales and improves its life.
The water-saving mode conserves water by cutting down consumption and the water bill in the long run.
There are 8 stages to its purification process after which the tank is sterilised.
UV LED prevents the formation of biofilm and maintains the water's hygiene.
It maintains a recovery rate of over 50% water.
The UV disinfection column clears threats like viruses and bacteria.
The alkaline taste enhancer maintains a pH of 8.
Storage capacity: 6.5 litres
Warranty: 1 year
Downside
Additional charges might be required for fitting external booster pumps, pipes, PRV and any other accessory that may be required.
13. Zero B Eco: Best Water Purifier With Patented HRR Tech (₹24,990)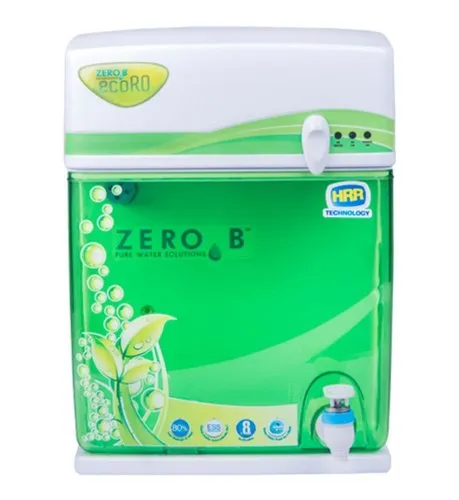 Features
The RO filter from Zero B Eco has patented high recovery rate (HRR) technology that provides up to 70% to 80% water recovery.
The silver ionising ESS (electrolytic sanitising system) gives double protection to the water and saves the tanks from contamination.
Its 8-stage purification process gives you the safest drinking water as per USEPA guidelines.
For a square size family, this filter saves 25,000 litres of water every year.
It comes with a 6-litre detachable water tank and built-in LED lights.
It can have a maximum TDS of inlet water of 1500 ppm.
The rejection of salt TDS is up to 95%.
Storage capacity: 6 litres
Dimension: 275 ✕ 239 ✕ 370 mm
Weight: 12 kg
Downside
The storage capacity might be insufficient for some.
The Bottom Line: What is Considered The Best Water Purifier for Home in India?
The best water purifier will contain revitalizers, taste enhancers, pH balancers, and other means to give you safe and healthy drinking water. It's a bonus if your water purifier is smart tech-enabled. Make sure whichever you buy has a warranty period of a minimum of one year. We hope our exclusive list has helped you choose the best one!
Best Water Purifiers FAQs:
1. Which is the best water purifier for home in India?
Here's a list of the best water purifier companies in India:
Eureka Forbes
Kent Elegant
V-Guard
Blue Star
Tata
AO Smith
Faber
Mi
Aquaguard
Livpure
HUL
Havells FAB
Havells Delight
Zero B Eco
2. What kind of water purifier is best for health?
The UV water purifier is perfect for good health because it can kill all the harmful microbes in the water without alerting its taste. In a UV water filtering system, the UV rays completely disinfect pathogens from the water making it safe for our health.
3. Why is RO water not good?
Reverse Osmosis (RO) water does not contain adequate minerals so when it is consumed, it leaches the minerals present in the body. This means minerals you absorbed from vitamins and foods have been urinated away leading to health issues in the long run.
4. What should we check before buying a water purifier?
Here are 5 things to remember while burning a water purifier:
Test the quality of the filtered water from the purifier
Check which contaminants are being filtered out
At what intervals do you need to change its filters
How much would it cost to replace the filter
How much water is required by your household
5. What is the TDS level in a water purifier?
If your purifier is based on reverse osmosis, make sure that its TDS level is less than 80 mg/L. Most Indians have access to water with a TDS range of 250 mg/L to 350 mg/L. The ideal TDS range is 150 mg/L to 250 mg/L.