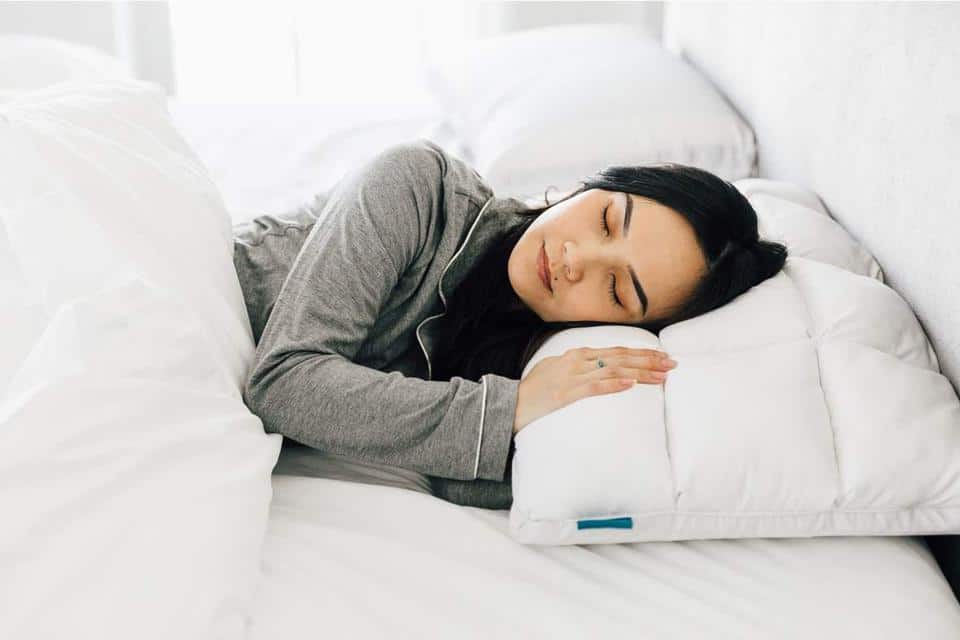 Stressing out in the rat race? Serve yourself with the best pillow for sleeping in the market even if it means a dig into your pocket. Pillows are the most crucial factor to give you a good night's sleep after a tiring day. It will reflect on your overall health to have a good pillow in your bed.
Pillows help in keeping your upper body in alignment when you are asleep. It relieves pressure and counterbalances various points on your body. The pillow you buy should be adjustable to fit into your unique curves, shapes, and preferred sleeping position. Pillows should also be able to alleviate all pressure points.
Let's first take a look at the different types of pillows to have a better understanding of what kind of pillows you need to ensure a good night's sleep.
Memory Foam Pillow
Down Pillow
Polyester Pillow
You need to know what makes these three different types of pillows stand out from each other.
Memory Foam Pillows tend to conform to the neck and the head supporting it comfortable sleep. It is also of a firm structure for those who do not prefer softer pillows.
Down Pillows are ideal for those people who want soft pillows. But more the softness less will be the support to the neck and the head. These pillows contain feathers and are the most comfortable of them all when many are propped against one another.
Polyester pillows are made of hundreds of polyester fibers that are conformed to suit the needs of the head, neck, and side. These are machine washable. They are firm, cheap, and commonly found in all Indian households.
Points To Remember For The Right Pillow
Softness: Pillows must be soft enough to not hurt your head but also be enough firm to give support to the neck and head. Otherwise, you could end up with a headache and disturbed sleep.
Firmness: Ideal pillows are firm enough to act as a support to your head and neck while you sleep. You should wake up with a neck cramp because of the hard pillow. The right amount of firmness is what an ideal pillow needs.
Fabric: The pillow covers should be made of breathable fabric because as you sleep you tend to sweat in negligible amounts. These should not be avoided, however as these could build up on your pillow fillings and eventually give out an uneasy smell.
Washable: Pillows must be washable preferably machine washable as these could over time collect a person's sweat.
Durable: After regular usage, the pillows should still be fluffy and in proper shape.
Price: The cost of pillows should be fairly affordable and reasonable.
Let's now dive into the list of the top 10 best pillows for sleeping. Here we have the details of each brand along with their weight and cost and a table form of its price comparison for your assistance in choosing the best pillow for your precious sleep.
1. Kuber Industries Pillow: Best Pillow For Sleeping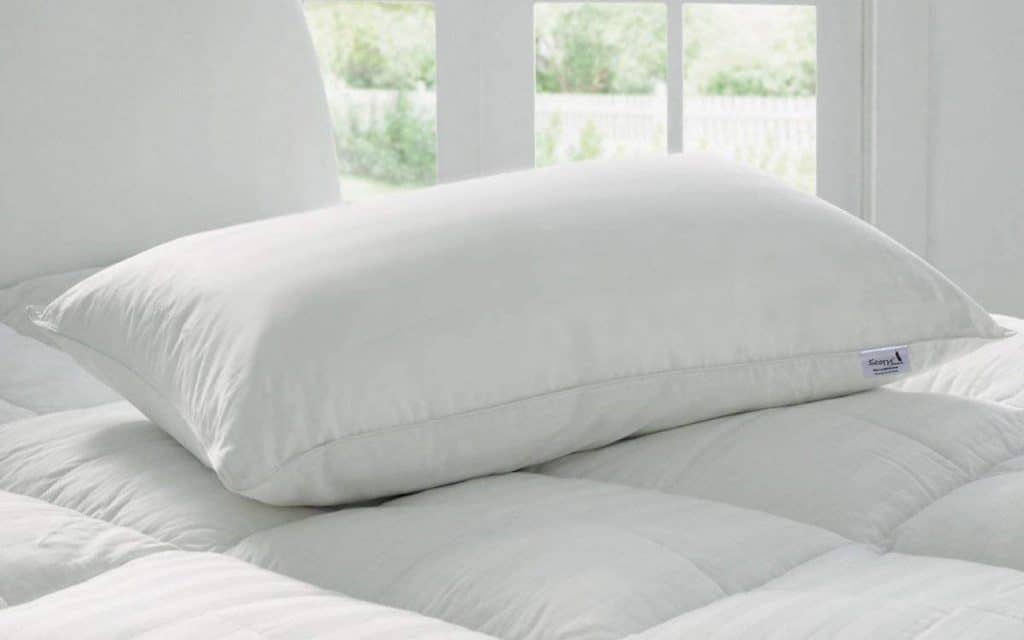 The microfiber pillow from Kuber Industries is at the top of this list whose primary material is microfibers. These pillows are available in the standard size and with vacuum packaging so as to retain their proper shape that could be lost while transportation. It's white in color and remember to put it on a pillowcase before using it. It's both subtle and minimal making it appropriate for designers as well as moderate settings.
Primary Material: Microfiber
Weight: 400 g
Dimension: 30 x 20 x 7 cm
Rating: 3.4/5
Price: Rs. 189
2. JY Hotel Collection Bed Pillow: Best Pillow For Sleeping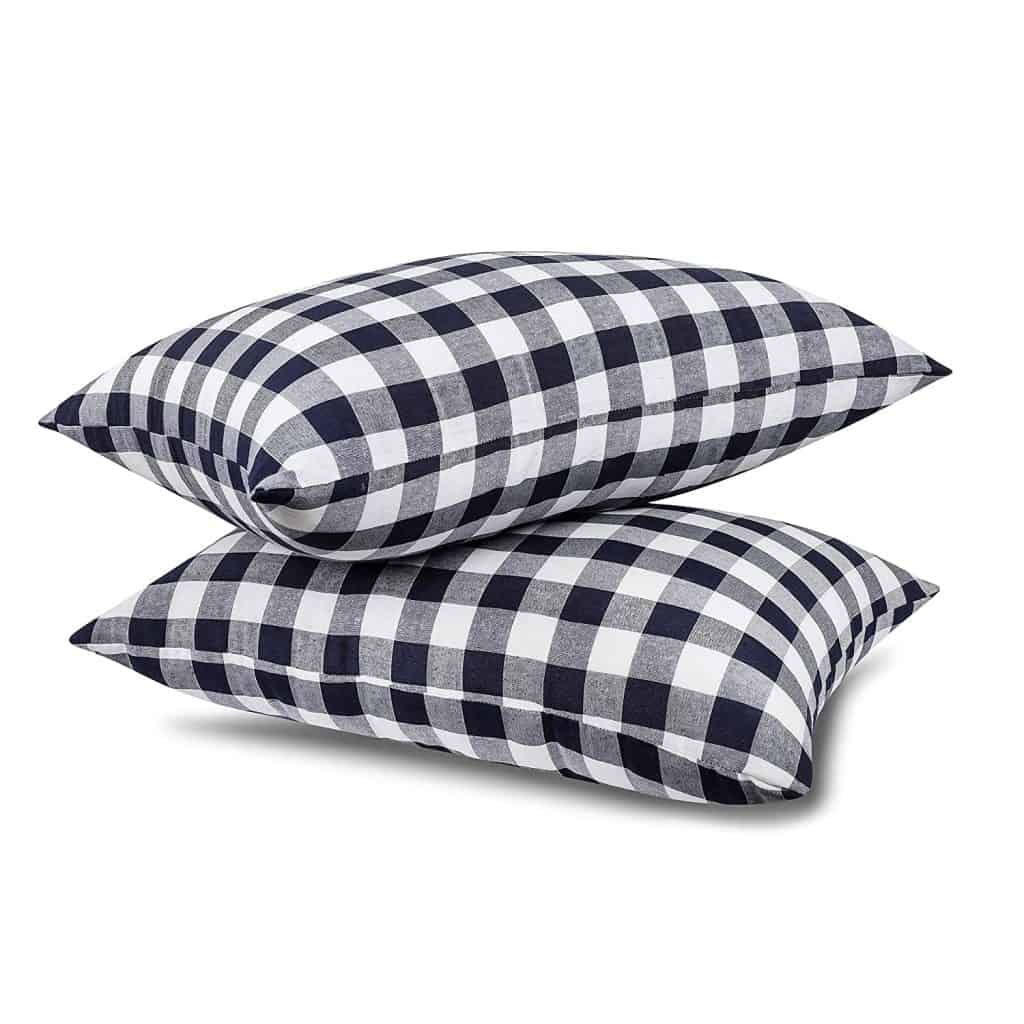 The primary material of the pillows under the JY Hotel Collection is cotton making it the softest pillow ever. It comes with a ventilated core to ensure breathability which means no sweat is entrapped in the pillow. These pillows are made by keeping the orthopedic factors in mind so that you can soundly sleep at night without worrying about your neck or head hurting.
Primary Material: Cotton
Weight: 800 kg
Dimension: : 26 x 16 x 3  cm
Rating: 3.6/5
Price: Rs. 369
3. Urban Basics Pillow: Best Pillow For Sleeping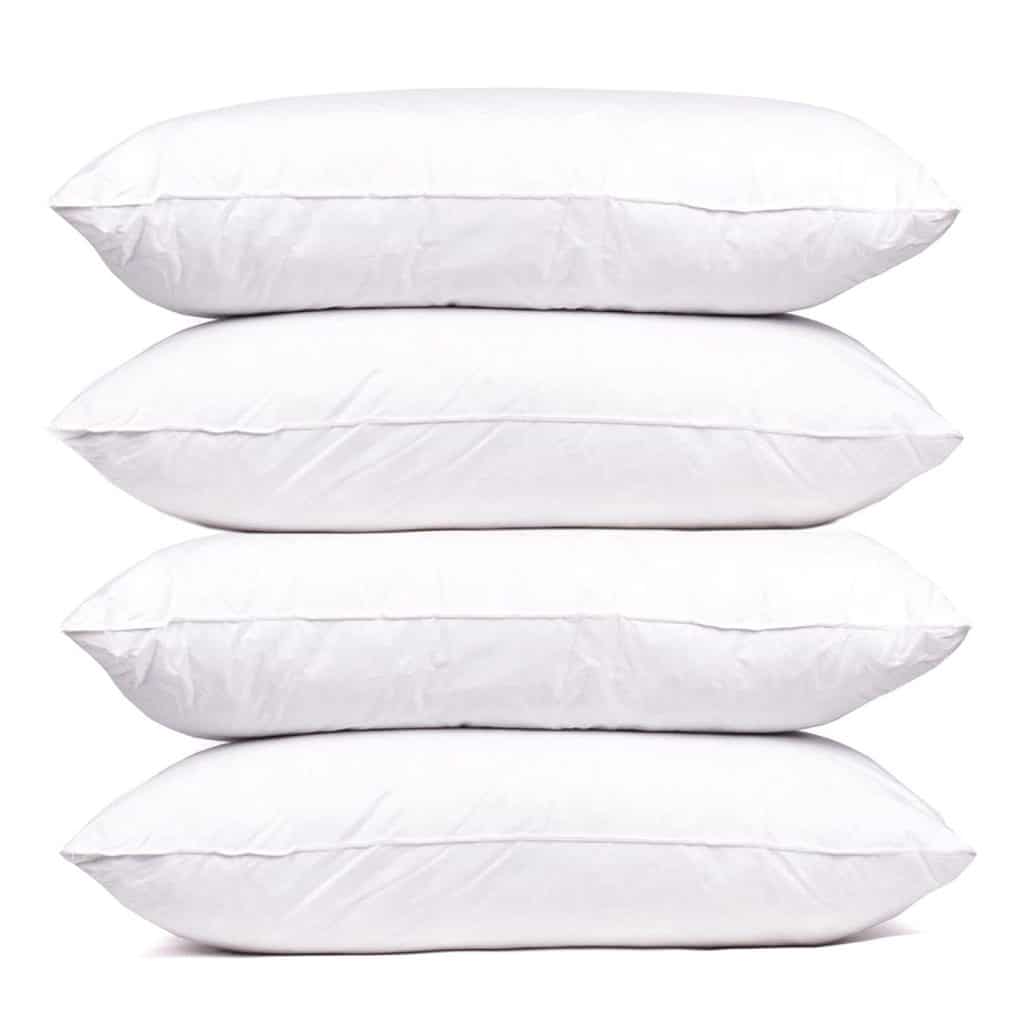 This microfiber-filled pillow is made with a 100 percent cotton cover that makes your sleep sound and dreamy. They come in vacuum packaging which means it retains their shape throughout the wear and tear of transportation. It's also the best for side sleepers due to its firmness as well as efficient softness and its standard size ensures that it's the perfect support for your neck and head.
Primary Material: Microfiber
Weight: 800 g
Dimension: 69 x 43 x 8  cm
Rating: 4.1/5
Price: Rs. 1,199
4. Takiyawala Sleeping Pillow: Best Pillow For Sleeping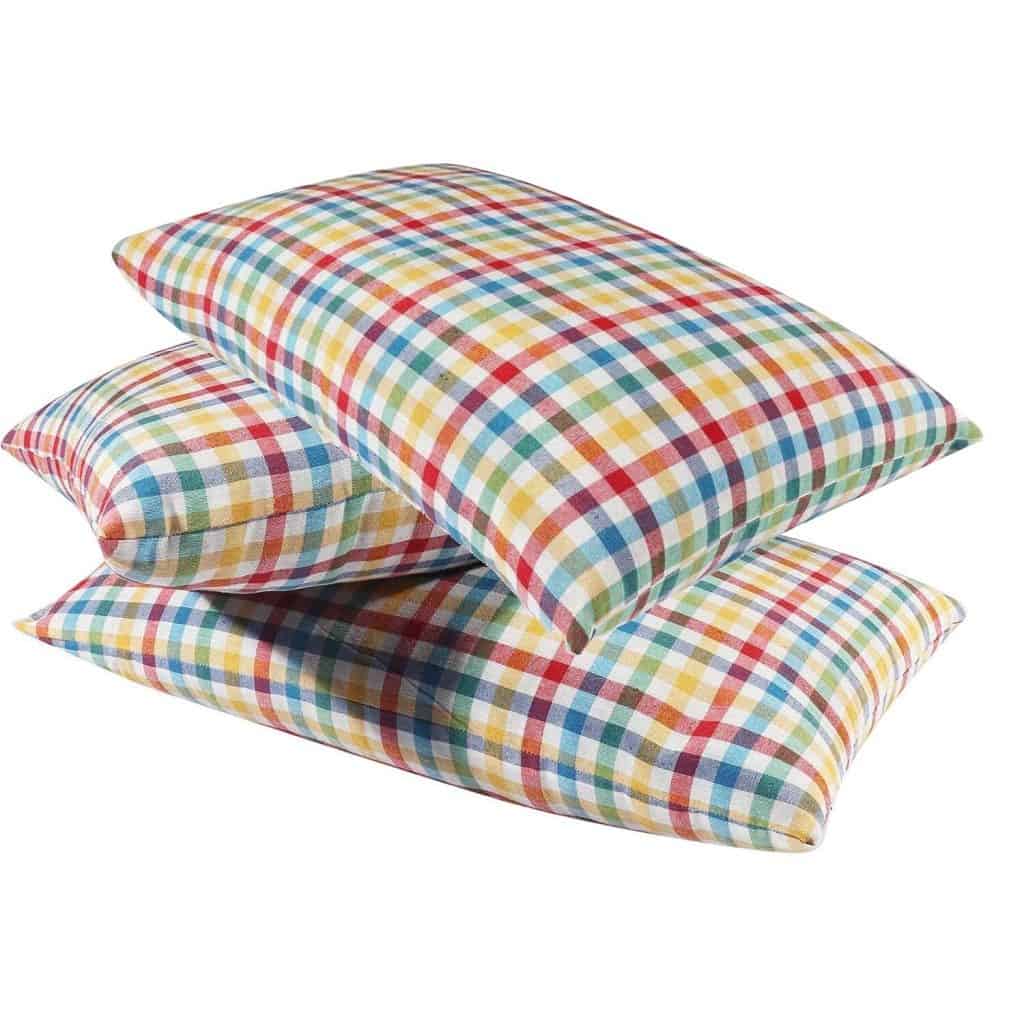 Takiyawala sleeping pillows are filled with cotton to make them soft and comfortable. Its covering is also made of 100 percent cotton which ensures breathability. It comes with a striped design that is appealing to the aesthetics. The most convincing feature of this pillow is that it is machine washable so no more hassles to handle for a clean pillow.
Primary Material: Cotton
Weight: 400 g
Dimension: 16 x 25 x 6 cm
Rating: 4.1/5
Price: Rs. 498
5. Pindia Dreamfactory Sleeping Pillow: Best Pillow For Sleeping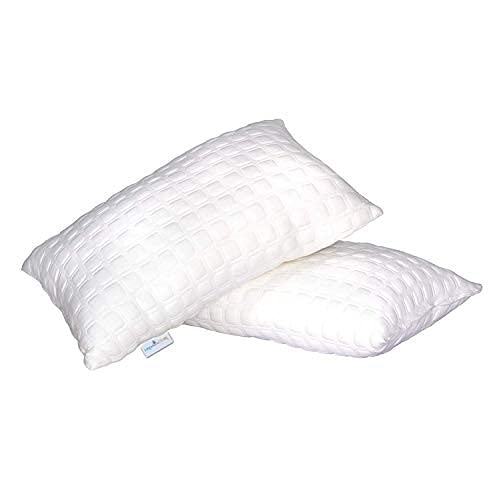 The soft and fluffy pillows from Pindia Dreamfactory are another of the best pillows for sleeping that made this list. They are available in standard size and are great for side sleepers as they are filled with knitted fabrics that make them cozy and soft. Apart from being suitable for all sleeping positions too, they are antimicrobial and breathable. Hence, be rest assured that your sleep will be undisturbed and sound for the entire night.
Primary Material: Knitted Fabric
Weight: 900 g
Dimension: 68.6 x 43.2 x 16.8 cm
Rating: 4.8/5
Price: Rs. 449
6. AMI Royal Sleeping Pillow: Best Pillow For Sleeping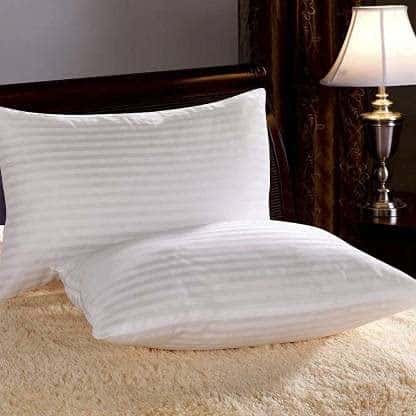 AMI Royal pillows are filled with 7D virgin ball fiber that makes the pillow super comfortable to sleep in. The fabric of the top cover is highly durable and breathable making it your best friend for a good night's sleep. This fabric is basically virgin polyester with hypoallergenic properties. This pillow is ergonomic when it comes to supporting the back, neck, and head.
Primary Material: 7D virgin ball fiber
Weight: 1 kg
Dimension: 66.04 x 40.64 x 7.62 cm
Rating: 4.5/5
Price: Rs. 399
7. Amazon Brand - Solimo Two-Piece Pillow Set: Best Pillow For Sleeping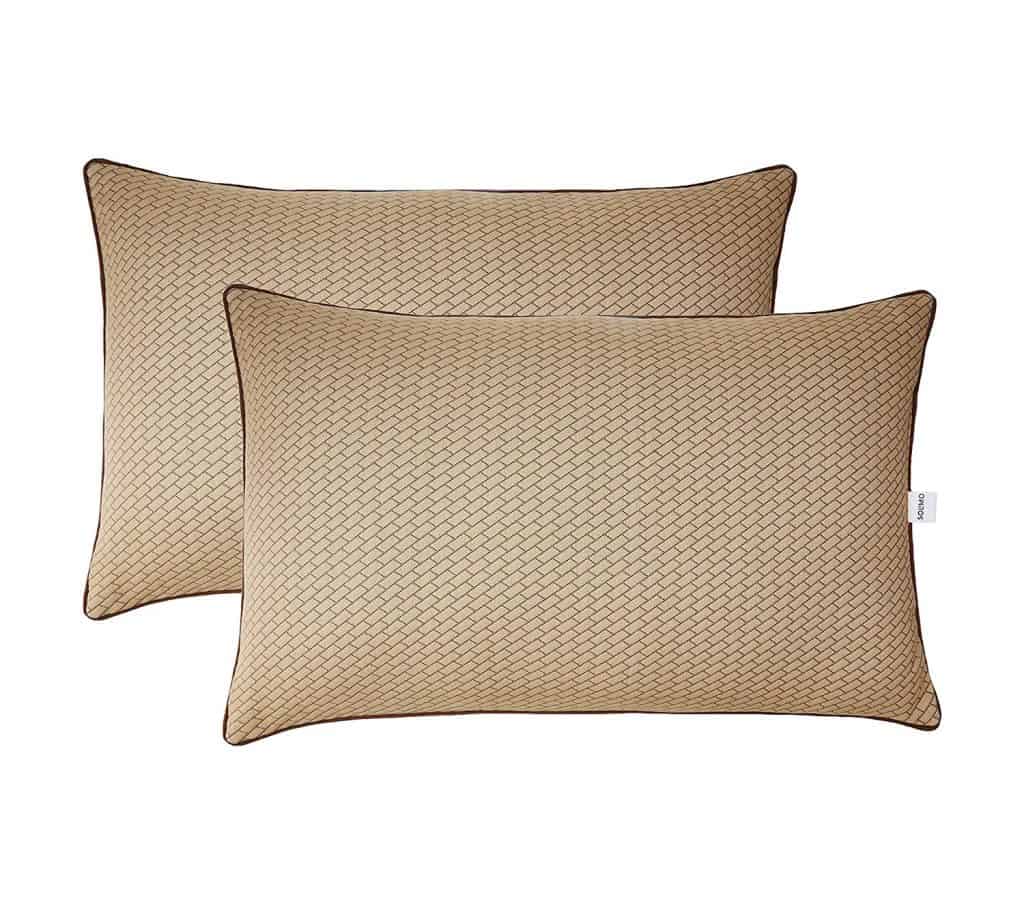 This pillow from Amazon has a filling of silicone polyester making it super comfortable and cozy as you can sleep in any of your preferred sleeping positions with it. It also supports the neck and prevents neck ache. The outer cover of the pillow is knitted lending it a smooth and aesthetic feel. They are also highly durable and machine washable. One setback is that the fluffiness of the pillow can reduce over time.
Primary Material: Silicon Polyester
Weight: 2.40 kg
Dimension: 43 x 69 X 17 cm
Rating: 4.1/5
Price: Rs. 749
8. Cost Plus Bed Pillows: Best Pillow For Sleeping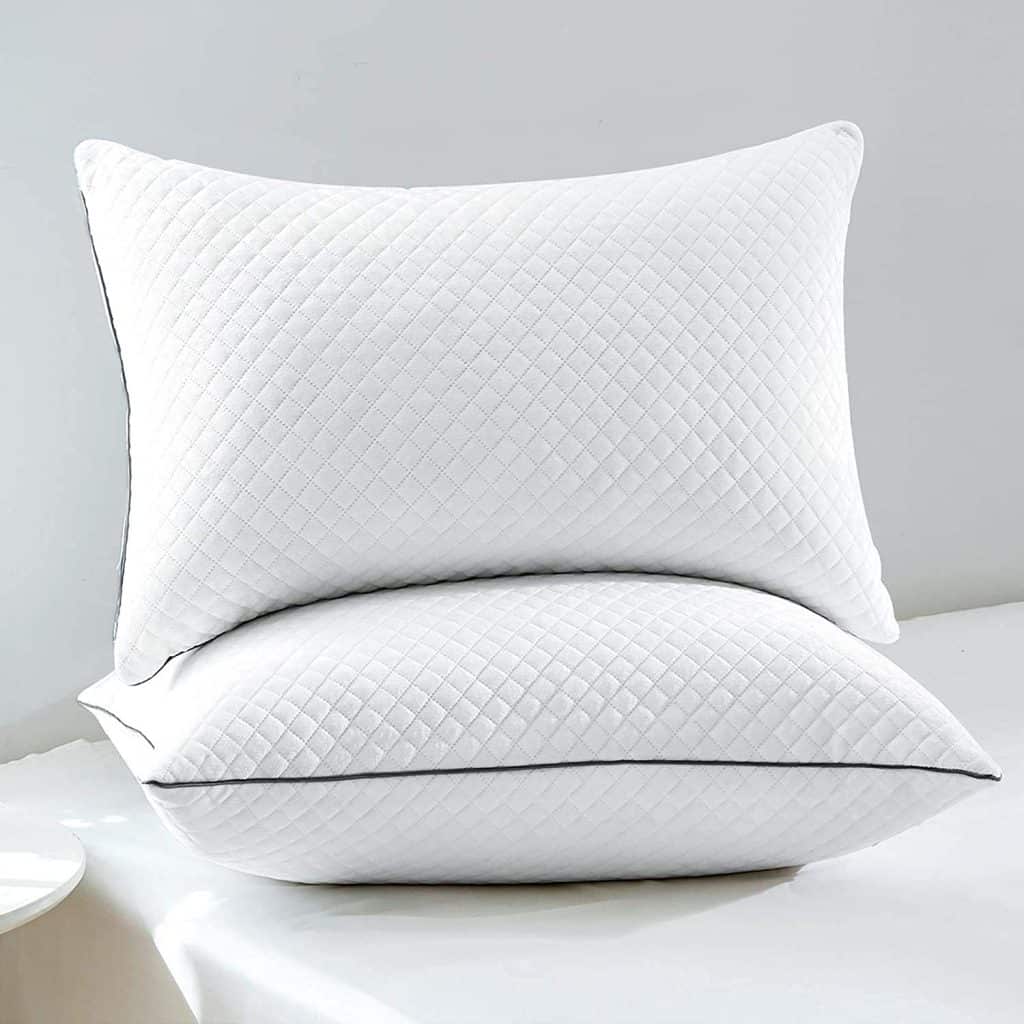 Are you a side sleeper and have trouble sleeping peacefully at night then Cost Plus pillows are for you? With microfiber fillings, a 100 percent velvet top cover, this pillow is best for back pain and neck aches. It is manufactured by the three-layer quilted technology which makes it more durable when compared to other pillows on this list. However, it lacks the benefits of cool dry technology so it may not be preferred by some.
Primary Material: Microfibre
Weight: 400 g
Dimension: 43.18 x 68.58 x 10.16 cm
Rating: 4/5
Price: Rs. 698
9. Desired Decor Down Pillow: Best Pillow For Sleeping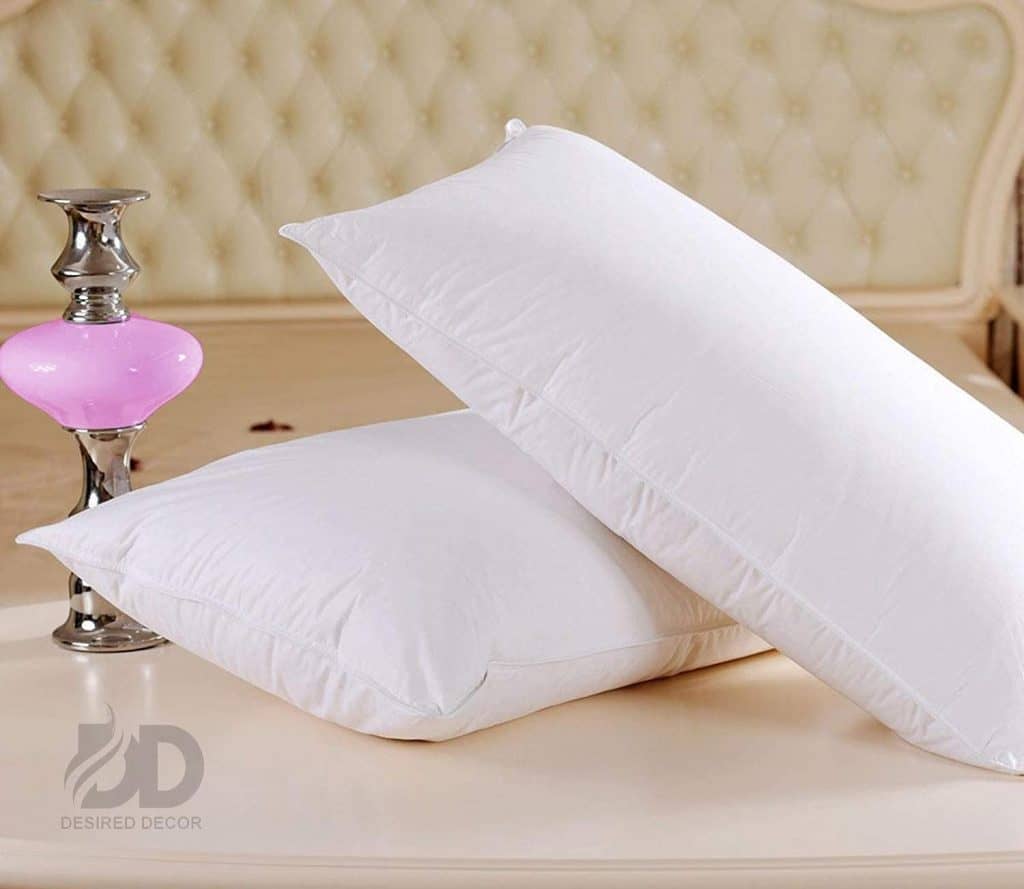 The stand-out factor of Desired Decor pillows is that it comes in solid colors. Now there could be no better options when it comes to pillows with ample support for your body and a good aesthetic touch. These pillows are filled with microfiber that lends a soft texture to them all the while providing the required support and comfort.
Primary Material: Microfibre
Weight: 500 g
Dimension: 20 x 10 x 5 cm
Rating: 4.5/5
Price: Rs. 1,225
10. Wakewell Pillow: Best Pillow For Sleeping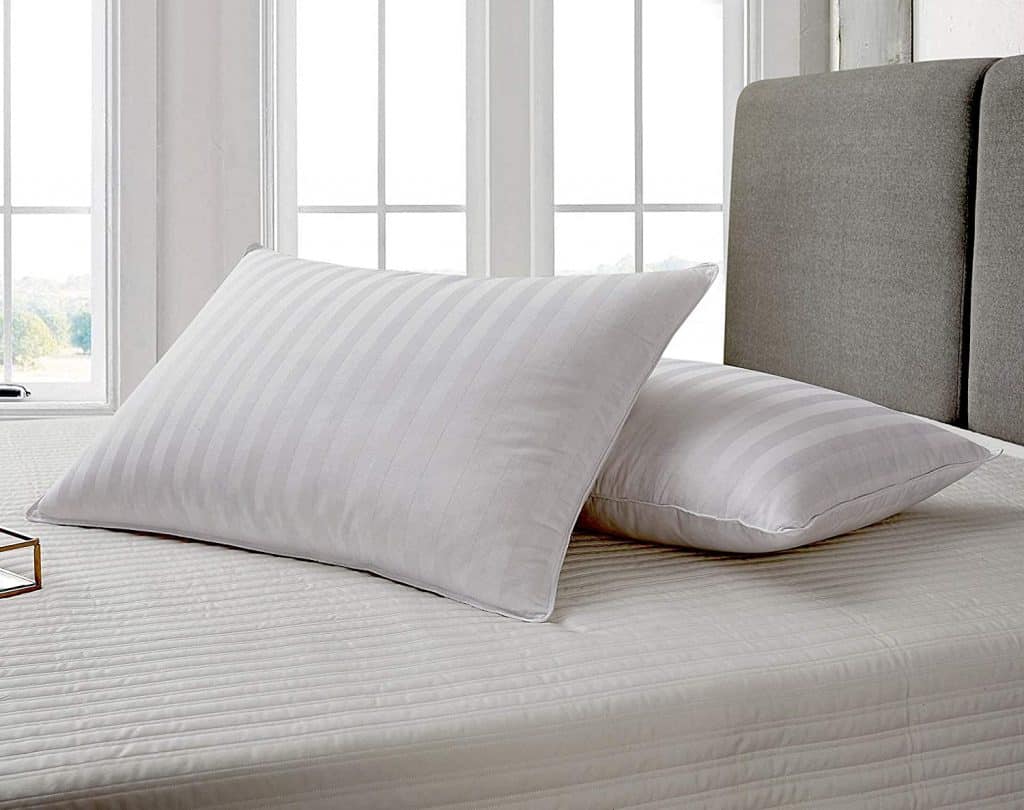 Looking for the perfect thickness for your pillows? Wakewell pillows are here to your rescue. The perfect pillows will help you maintain the correct spine posture and assist in relieving neck pain and backache. The top cover has been designed to breathe thereby maintaining dryness and freshness. The siliconized fiber filling makes it highly durable and efficient in giving you a sound sleep on your tiring nights.
Primary Material: Siliconised fiber
Weight: 700 g
Dimension: 61 x 41 x 8 cm
Rating: 3.7/5
Price: Rs. 399
Miscellaneous Points To Check
Always remember to look out for the features that you prefer before committing to a brand. Take a look at your needs like back pain relief or neck ache relief and then check out the details mentioned by the manufacturer. You do not want to be disappointed by your purchase afterall.
Reviews from the customers that have been verified are of utmost importance. It will assist you in choosing your dream pillows. These reviews tell you the actual quality and comfort factors.
Look out for any complaints from the customers on your preferred product. The ideal brands would have responded to customer dilemmas and resolved them outright. If your chosen brand shows no such activities then go for the nest.
Pillows can be an investment if you have chosen the best of the best accordion to your needs. Remember to check out for durability, comfort features, and aesthetics if you want to snuggle to that pillow for years.
Overall best: JY Hotel Collection Bed Pillow
Budget fit: Takiyawala Pillows
Quality sleep provider: Wakewell soft fiber pillow
Most soft: India Dreamfactory pillows
Best Pillow For Sleeping Final Conclusion
Pillows need to be your best friend to whom you can run back and be welcomed with warmth and comfort. The above list has been put forth by conjuring everything a pillow should possess like comfort, neck adjustment, headache relief, and affordability. Hope this list has helped you find your dream pillow. Happy sleeping!
Best Pillow For Sleeping FAQs:
1. Which pillow is best for sleeping soft or hard?
The best pillow is decided considering your sleeping position. If you are a back sleeper, your pillow must be very firm or at least wedge enough to elevate the upper half of the body. If you sleep on your tummy, then you need to have a soft pillow that will keep your head closer to the
mattress
. If you are a side sleeper then you need something that would protect your spine alignment so opt for firmer pillows.
2. Which is the best pillow filling?
Feathers of the Hungarian goose also known as the European white goose is considered the best filling for pillows in the market. These down clusters are clear white and are larger than most.
3. Are gel memory foam pillows good?
Shredded memory foam pillows and solid foam pillows are the most common types of gel pillows. Memory foam is desirable due to its ability to reduce pressure points. But some have complained that it retains heat so it may not be preferred by some.