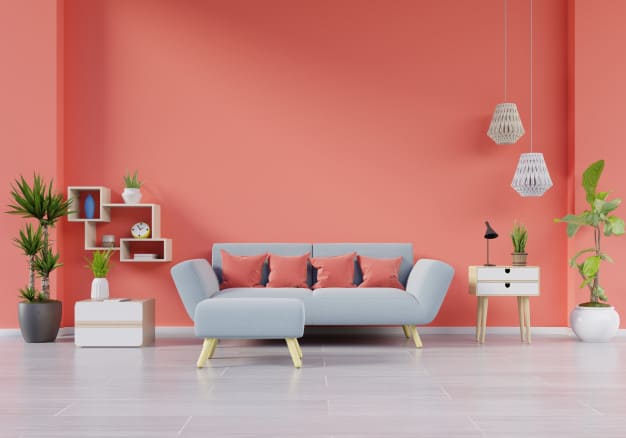 When an individual thinks of the best paint for walls, the first thing that comes into their mind is for the setting to be a rather major project for which they might have to exclude some time. And, why not? Given the time each layer takes to dry, with first priming the wall and then adding layers to reach the perfect quote, it is only fair for them to think so. 
Is it?
While most might agree, modern interior paints choose to defer and put forward their evolved selves. With the solution being a package offering a single primer/paint, it is best used and dried quicker in addition to its easy application. 
While we might have now caught your attention, let's just say – we are here to help and rescue you from the neverending paint smell and the process for sure. While we researched to help bring an ideal solution into play, including the colour selection, different finishes, and more, we have curated this article as the best paint for walls. 
What's the wait, let's quickly get started. We don't wish to keep you waiting as the earlier paints did!
What to Look for When Choosing The Best Paint For Walls in India
Here are a few things that you might want to keep a check on when choosing your best paint for home walls:
This is the first and primary thing that you might want to look into to give you the best ideation of the setting and style. Although you might think you have this sorted in terms of the pick, don't forget to also look into the shades and choose the best one for your liking. 
There are paint manufacturers who offer an extensive selection of colour chips, don't miss out on using them to help narrow your options down. In addition to this, you might also want to consider purchasing a pint-sized tester paint in case you are unable to make a choice. 
In a rare situation, in case you are still unable to find an exact match, you could consider having a custom colour mixed in the local paint store. Make sure to carry a sample of the shade for a better understanding.
There are three basic categories to choose from; flat finish, glossy, and low-luster finish.
Flat paint is as it sounds and does not reflect much light, also known as a matte finish. This kind is the best paint for interior walls for surfaces that aren't much in play like the ceilings. They are the least expensive but can be tough to clean and look fresh.
Next is the low-luster finish that offers a slight reflection of light and includes both satin and eggshell (slightly more matte) finishes. This kind is generally prevalent as it is versatile, durable, and easier to clean when compared with flat paint. You might want to use these in the living and bedroom, bathrooms, hallways, etc.
Lastly, the glossy finish, as it sounds, offers the highest amount of light reflection and is harder than flat paints. This includes semi-gloss paints that have a light matte finish, and are best used for windowsills or handrails. You may want to use this kind in places with the highest humidity, such as the kitchen.
VOC or the Volatile Organic Compounds are mostly included in paints. They are compounds that are emitted from solids or liquids. Most latex-based paints are considered to be low VOC formulas and make a better option as they will minimize the during wall painting and afterward.
Adding to this, oil-based paints and thinners also have a higher concentration of VOCs, however, while using them, you must keep the ventilation of the room in check.
There are many interior paints that come with additives to help enhance the finish of the paint. To make the best pick, make sure to consider the "kind" you are trying to achieve with the painting project in order to determine the necessity of additives.
Enamel is one common additive that you'd find in interior paints and reduces the porosity of the paint, resulting in a harder and durable finish. Best used in high-traffic areas with infiltrating dirt.
Adding to this, acrylics prevent the wall from yellowing- a common downfall of interior paints. With its addition, the paint stays true to its original hue longer, and also improves its durability and finish.
Now that you know what to look into when choosing the best home paints, let's dive into the best pick of 2023!
Top 10 Best Paint For Walls In India
Listed below are the top 10 best paint for walls for all budget and interior aesthetics:
1. Sherwin-Williams Interior Cashmere Acrylic Latex - Best Paint For Walls
Interior Cashmere Acrylic Latex
Sherwin-Williams Acrylic Cashmere paint is a combination of both, paint and primer, offering a smooth buttery application. Helping the paint to level out with ease, this paint leaves the walls to be ultra-silky, has a rich finish, and offers exceptional coverage. These are available in five different kinds of sheens and you can also upload your colour to help create a customized hue.
HGTV Home Infinity Advanced Performance Paint & Primer
Have no time for two coats? This self-priming wall paint that can be tinted to almost any colour is one-and-done and promises ultra-smooth perfection in just one layer. In addition to drywall, you can use it to good effect on concrete, masonry, and wood.
The fact that, in contrast to many self-priming paints, this one can be used on basement doors and walls is something we like.

A lifetime warranty backs up the high-performance acrylic formula's ability to repel stains, scuffs, scratches, and mildew. Additionally, washing it off with soap and water is a breeze.

While many customers agree that a single coat is sufficient to cover walls of a light or white colour, darker surfaces may require additional coats.

For additional coats, the manufacturer does not specify a drying time, but we recommend at least two hours.
This paint is only available at Lowe's stores and comes with a limited lifetime warranty.
Duration Home Interior Acrylic Latex
We say that Sherwin-Williams Duration is the best paint for walls in busy homes and places that get a lot of traffic. The flat, matte, satin, and semi-gloss textures of the combination paint and primer are available in all Sherwin-Williams colours.
The manufacturer claims that its antimicrobial agents will prevent mould and mildew from growing.

Its stain-blocking technology will conceal previous marks and make it easier to clean new ones.

It has been noted that two coats can be applied on a typical day.

It will take about two hours for a coat to dry sufficiently for a second coat.
2. Glidden Interior Essentials Paint - Best Paint For Home Walls
If you are stuck with your tight budget and the urge to paint your walls differently, then this is the best paint for home walls to look into. Glidden Paint is a high-quality budget-friendly option that helps to refresh your living room, bedroom, entryway, or home office. 
This pick of wall paint provides excellent coverage, comes with a super clean finish, and can be tinted upwards for about 1,100 colours, and is best to choose from flat/matte, semi-gloss, or eggshell. Lastly, these are low-VOC paints, have a minimal odour, and come with a 15-year warranty.
3. KILZ Interior Primer & Paint - Best Paint For Walls
This is a pick that offers more colour options to choose from and is a premium acrylic paint for interior walls. Produced by KILZ, an individual can choose between matte, eggshell-finished, and semi-gloss. 
These are long-lasting and stain-resistant options with matte offering the lowest level of sheen (between 0 to 4 units at 85 F). Chose KILZ if you want the best paint for walls in your bedrooms, ceilings, and other rooms with not much traffic. While the semi-gloss and eggshell come with a slight sheen (between 17 to 22 units at 85 F) offering a decorative and easy-to-clean finish.
The paint offers a depth of colour and thick coverage, one coat does for two, and has 32 shades of versatility and elegance. It is low in VOC and can be applied with a nylon or polyester brush, an airless paint sprayer, and/or a roller.
4. Backdrop Finish Standard Interior Paint - Best Paint For Home Walls
Backdrop Finish Standard is a water-based premium paint that is formulated with acrylic resin, making it easy to apply. It is self-priming, has a formula that is low in VOC, has minimal odours, and dries quickly. The finish of the backdrop delivers a rich pigment, a low-sheen effect, and a semi-matte finish.
5. Clare Wall Paint With Low-LOC - Best Paint For Walls
If you prefer choosing low-VOC paint for walls, then this is your pick to choose from. Clare paint has a VOC-free formula, is a Greenguard Gold-Certified paint, emits zero organic volatile compounds, and has an ultra-low odour.
Adding on, this interior paint offers impressive coverage, is remarkably smooth, comes with a durable finish, can resist dirt, mildew, and mould, and is super convenient for peel-and-stick colour swatches before purchasing a full can of paint.
6. Rust-Oleum Best Chalked Ultra Matte Interior Paint - Best Paint For Home Walls
If you are looking for chalked paint, then this is the best option in the market to pick. Rust-Oleum Chalked interior paint offers an ultra-matte formula that creates a charming effect, has a semi-distressed look, is ideal for a rustic, and is a vintage-inspired design scheme.
Besides your interior wall, Rust-Oleum Chalked can also help you transform any wood furniture, ceramic item, and metal fixtures in your house. It is a low-odor latex paint that is super easy to apply, effortlessly adheres to moist surfaces, and dries as fast as 30 minutes.
7. Valspar Signature Flat Matte Interior Paint - Best Paint For Walls
Do you like matte finish? If yes, then we strongly recommend using the Valspar Signature Flat paint. It is a tintable interior formula, is a combination of both- paint and primer, and offers a special "scuff shield technology" which helps protect against stains and scuffs and is resistant to fading, scrub marks, and scratching.
It is smooth, effortlessly conceals the existing paint on the walls including marks or imperfections, is a Greenguard Gold-certified product, and is a low-VOC paint.
8. Valspar Ultra High-Gloss Paint & Primer - Best Paint For Home Walls
Valspar paint is another edition that offers a high gloss finish to any wall kind. Similar to its flat counterpart, this paint+primer formula can resist stains, scuffs, scrub marks, and general wear and tear.
It also offers a washable finish, is best suitable for both indoor and outdoor use, and has a burnish-resistant finish to help retain the glossy appearance of the paint on the walls.
9. BEHR Plus Semi-Gloss Enamel Paint & Primer Interior Ultra Pure White Paint - Best Paint For Walls
Plus Semi-Gloss Enamel Paint & Primer Interior Ultra Pure White Paint
In case you are looking for paint that is the perfect white colour shade, then you must check this interior paint out. Behr Plus Enamel Ultra Pure White is a combination of acrylic paint with primer that comes with five sheens (flat, satin, eggshell, semi-gloss, and high-gloss).
It comes with a low-odour formula, is easy to glide, and can help cover any kind of existing wall colour (even darker shades!). It helps resist mildew and is best used in highly humid areas like bathrooms, laundry rooms, kitchens, basements, etc.
Ultra Scuff Defense Satin-blocking Paint & Primer With Gloss Finish
BEHR Ultra Scuff Defense is an excellent choice for a surface that benefits from a flat finish, such as the dining room or bedroom.
Because it is so long-lasting that it is almost impossible to scratch, it is an excellent option for homes with children and pets as well as places where there is a lot of foot traffic.

In addition, it offers ongoing resistance to stains and mildew growth and conceals existing flaws.

This is not paint for quick projects. Before applying flat paint, glossy surfaces typically require scuffing and sanding. Before applying a second coat, the manufacturer recommends a drying time of 2 hours, which is slightly longer than average.

Dark colours might take longer to develop. Additionally, the paint needs 30 days to fully cure.
Although the manufacturer describes this paint as a primer and paint in one, we should be aware that not all surfaces need to be primed first. The cost is comparable to that of many of the paints we looked at. A lifetime warranty is also provided by the manufacturer.
Dynasty Advanced Stain Repellency Interior Matte
After 4 hours, BEHR Dynasty is tacky-free and dry to the touch in an hour. Because of this, you can use it on drawers and doors. This paint is available in matte, eggshell, satin, and semi-gloss finishes for purchase. It can only be purchased at The Home Depot stores.
The manufacturer claims that this one-coat paint is the most long-lasting, resisting scuff marks like shoe heels.

A single coat is probably sufficient to cover up light-coloured surfaces that have already been painted.

However, the manufacturer concurs that darker hues might require a little bit more time to cure.

We appreciate the antimicrobial finish of this paint, which repels stains and wipes clean with little effort.
Additionally, the manufacturer provides a limited lifetime warranty for this best paint for home walls.
10. Benjamin Moore Waterborne Ultra Flat Ceiling Paint - Best Paint For Home Walls
Waterborne Ultra Flat Ceiling Paint
This interior paint wall offers a flat finish that is the best paint for walls and ceilings. It offers an ultra-matte sheen, helps hide any past imperfections on the ceiling, and leaves a virtually flawless finishing touch. Benjamin Moore Waterborne is easy to use and can resist splattering and gravitational dripping. It is a low-odour ceiling paint that emits zero VOCs and helps breathe clean air.
Regal Select Premium Interior Paint & Primer With Eggshell Finish
Anyone who has ever painted knows how difficult it can be to apply primer before applying even the best paint for walls. Benjamin Moore Regal Select, which combines paint and primer, is a favourite of ours. We especially like that it comes in nearly 4,000 colours and can be purchased in flat, matte, eggshell, pearlescent, or semi-gloss finishes.
This paint adheres well to most surfaces, according to the manufacturer, including wallboard, plaster, wood, and metal. Whether you use a sprayer, roller, or brush, it should apply smoothly.

The self-priming formula covers up imperfections and colours in your wall paint, but two coats are probably necessary.

It has stain-release technology and a coating that prevents mildew, making it easy to clean.
The manufacturer states that this paint is VOC-compliant everywhere, but state VOC regulations may prevent it from being available everywhere.
We hope that the blog post above has helped you pick your best paint for walls. Make sure to consider the checklist as given above in perspective of what you wish to have and use on your home walls. Is it a flat finish, glossy finish, or low-luster, keeping the area of paint in mind?
Painting your rooms as per your choice could be a little time-consuming but the most fruitful journey of satisfaction of choice. Make sure to make the most out of this and paint your walls as per your preference!
Best paint for Walls FAQs:
1. What type of paint is the most long-lasting for a wall?
Satin paint is regarded as the most adaptable and best paint for indoor walls due to its high durability and soft sheen finish. It is easier to clean than flat and eggshell finishes and resists mildew and fading.
2. Which wall paint is best in India?
Asian Paint Limited is the lead paint brand on this list of the top best paint for walls in India:
Dulux Paints Limited
Berger Easy Clean
Indigo Paints
Nerolac Paints
Shalimar Paints Limited
Nippon Paint Holding Co.
3. Which emulsion is best for walls?
We recommend the following emulsion paints:
Crown Trade Matte Vinyl
Matte Tikkurila Vinyl
Matte Dulux Trade Vinyl
Matte Armstead Vinyl
4. What are the 4 main types of paint?
Here are five flat/matte wall paints and finishes:
Flat Paints: The least amount of shine is present in flat paints, which are also known as matte paints.
Eggshell finishes are a very common finish for paint.
Satin: The most widely used interior paint finish is satin.
Semi-gloss: Paints with a semi-gloss finish shine and reflect light.
5. What paint gives the smoothest finish?
Paints with a semi-gloss or gloss finish shine brightly because they reflect light. Paints with a glossy finish can be scrubbed after drying and are simple to clean, whereas semi-gloss and gloss paints require more preparation and sanding to ensure a smooth application.
6. Which paint is best and long-lasting?
Acrylic Paint lasts the longest and is known to withstand a wide range of damage from the elements and the weather. Additionally, acrylic paint is excellent at resisting fading and sun damage, making it ideal for homes in hot climates.
7. What paint finish is best for dark rooms?
Painting flat, matte, or satin finish will absorb light, whereas painting in finishes that are semi-gloss, high-gloss, or lacquer tend to reflect light, making a darker room appear brighter and lighter.
8. Which paint is easiest to clean?
Due to food spills, oil splatters, and other spills, the glossy finish is the easiest to clean. will be much easier to wipe off glossy paint than other paint finishes. Everything should be able to be removed from the wall without leaving a mark with just a sponge or rag.
9. Which paint is not washable?
In new homes, non-washable painted walls are typically painted with flat paint or the dreaded "builder paint," which can frequently be removed with even mild cleaning. Cleaning efforts may also result in permanent streaks on low-quality satin or semigloss paint.
10. What is the safest paint to use?
The three types of paint that are safest to use are as follows:
Oil Paint Made from Linseed
Latex paint, which includes paints made of acrylic and VAE
Natural paint, such as milk paint, mineral paint, and clay paint