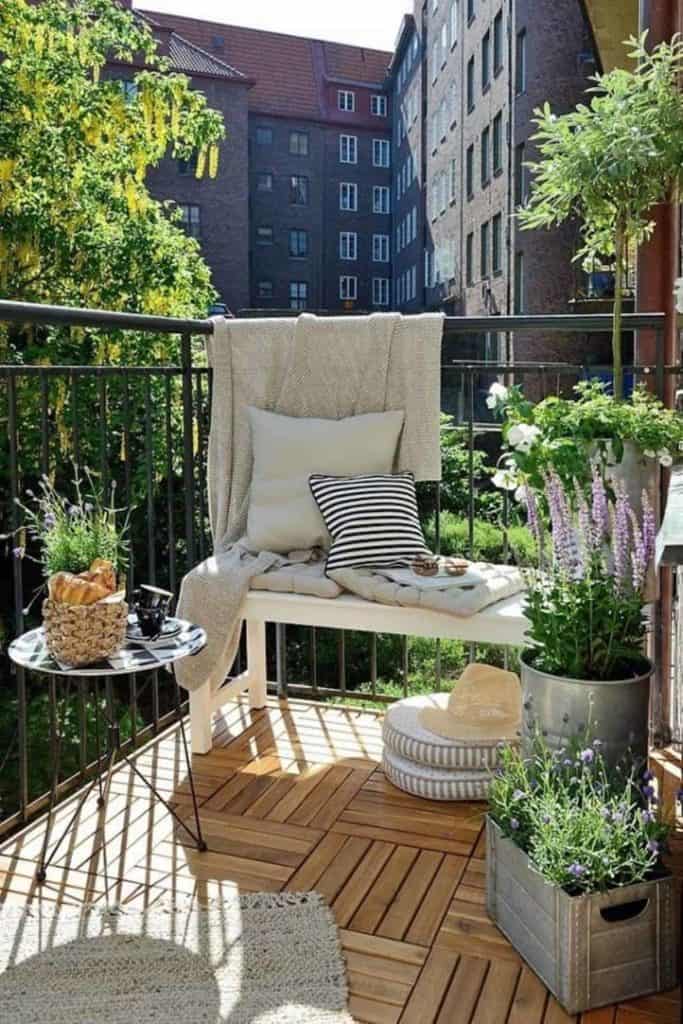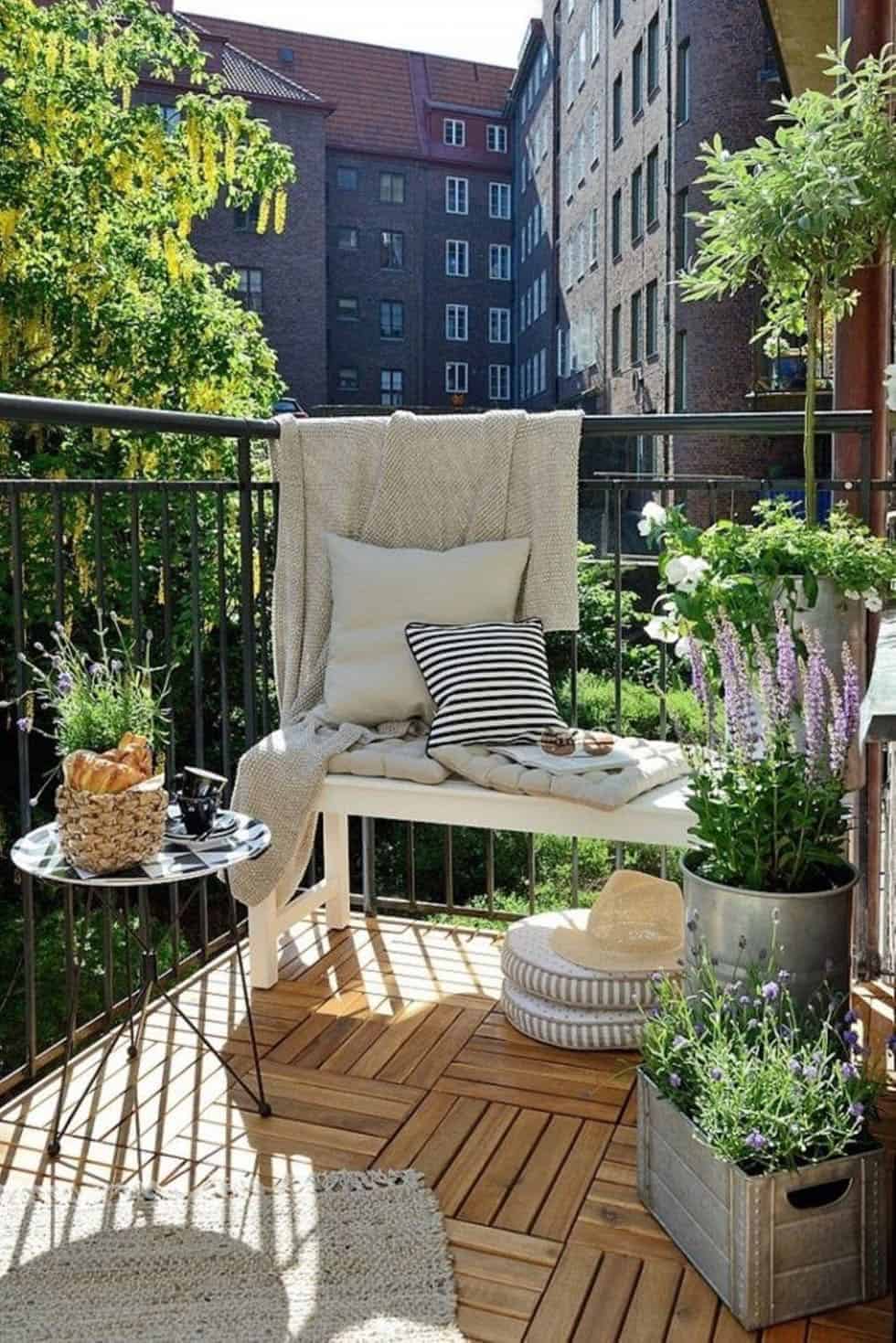 A few years back, the idea of gardening was always on a flat ground where people used to plant their favorite plants. However, in recent times, the whole idea of gardening has shifted to having a garden on a small balcony of their apartment. This is perhaps one of the most recent gardening ideas that has helped those who didn't have as much space as they thought they needed to plant a mini garden, known as a balcony garden.
Nowadays, you will find most people investing more time even in their small condos in balcony garden decoration ideas, perhaps, most people are drawn towards transforming their balconies into a personal space of bliss and comfort.
Keeping that in mind, the hardest part at times is observed to be, how must one get started with the garden on a small balcony. For which, we have commenced this article that will help you with the top 10 best garden design ideas to make in your apartment balcony. Choose the ones that would suit your style the best, we have some garden ideas in a balcony that too without spending much money, with the amount of sunlight your balcony receives, and the plant you choose. Also, do you have a small apartment and are looking for balcony garden ideas? If yes, you'd require some lighting on your balcony too.
Now, without wasting any time, let's dive into the top 10 best garden ideas on the balcony!
12 Best Garden Design Ideas For A Balcony
Here is a list of our top picks for small balcony garden ideas in India.
1) Sunny Side garden in a small balcony
This balcony garden is known to be one that is quite sunny and bright in terms of its appearance. The best plant to grow on a sunny balcony is a citrus tree as it loves the sun, also making the balcony an ideal location for growing your own fruit. One wouldn't need matching pots in this stunning area and also there is no need to have a sunlight protector as the trees do the work in the best manner by the white umbrella securing the railings of the balcony. Adding on, this could be a space that is child-friendly too by adding a collection of play toys to the red and white striped fabric shade, also its hanging light, allowing the small balcony garden to be a space of attraction during the night as well.
2) Scrap Wood balcony garden decoration ideas
This is the simplistic yet rustic design for your small balcony as it uses the vertical space, with rustic wood elements and the light that creates a cozy space. This can be easily replicated by using two wood pallets or even by making use of a scrap wood repurpose wood as flower boxes, isn't this inserting and unique! Also, as the design uses more wall space, it allows your small balcony floor to remain clean and also saves valuable floor space. Adding on, the tea light candles happen to invite warmth and romance, so why not throw in a few colorful cushions already?
Why not have both, a tiny yard and a garden? Make sure of the AstroTurf on your balcony floor, and create a yard in your apartment balcony by using colorful yet edible kale showcased in the wooden crates. Adding on, the hanging garden boxes provide additional growing space on the balcony railing, with a predominantly green landscape and a pop of the fuchsia color from the flower that could be a nice addition to your garden space.
4) Terra Cotta - vertical
This is one of the many balcony vertical garden ideas that include the use of hooks that are used to hang little baskets or terra cotta pots by using simple eye hole hooks connected to the pots via metal rods, washers, and bolts. The highlight of this design is in its staggering pots that add visual interest to its appearance, as the metal rods create a kind of rain chain between the pots that allow the water to flow from the top to the bottle pot ( which means, by watering the top, it wouldn't drain out onto the ground).
How to design a small apartment balcony garden with a modern touch? No questioning or thinking is needed as this modern comfort theme helps you to create a balcony gardening area using elements of a home design. The basic idea behind this theme is to create a space that's inclusive of your balcony garden decoration, such as pillows, blankets, a serving tray, etc, in other words, no outdoor furniture. Try adding a stool with a plant display with a classic rug that potentially breaks the outdoor nature of the balcony and you're good to go!
6) Culinary Creations theme
Call it a culinary creation or a kitchen garden, this theme works best when you want to grow a wide variety of edible food and herbs in the balcony space. Try to reuse wooden pallets and chalkboard paint, and plant a vertical balcony garden by drilling holes at the bottom of each level. This will help your herbs to grow without developing root rot in addition to prolonging the life of the wood. A word of caution – be sure to check the wooden pallets you use to ensure that they were not used as a wood preservative, or it could leach the plants.
7) Colorful tiny space big blocks apartment balcony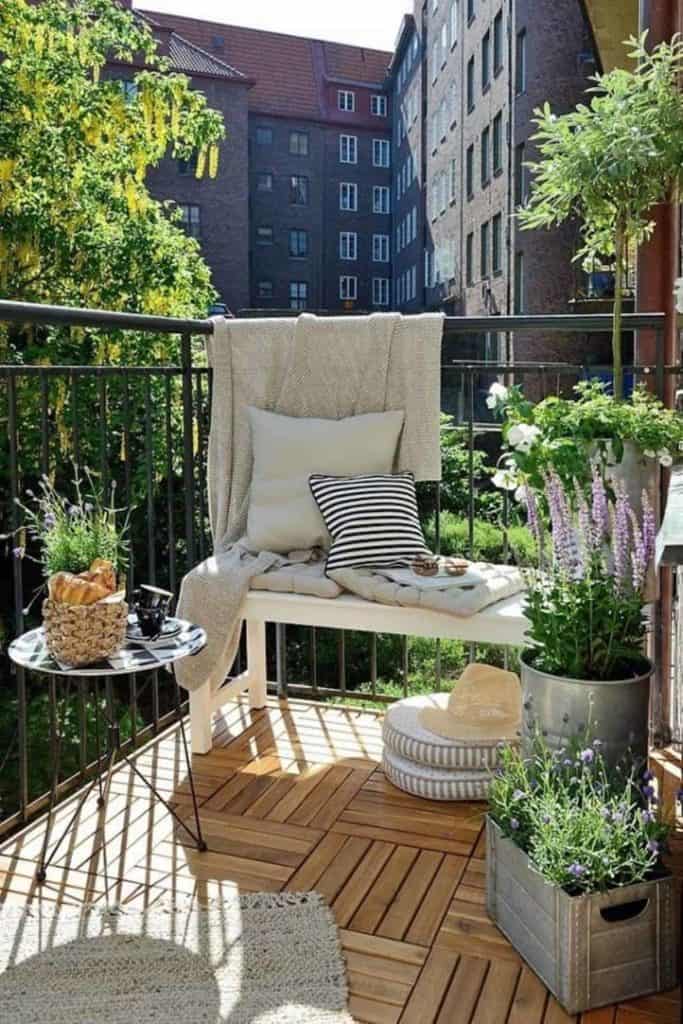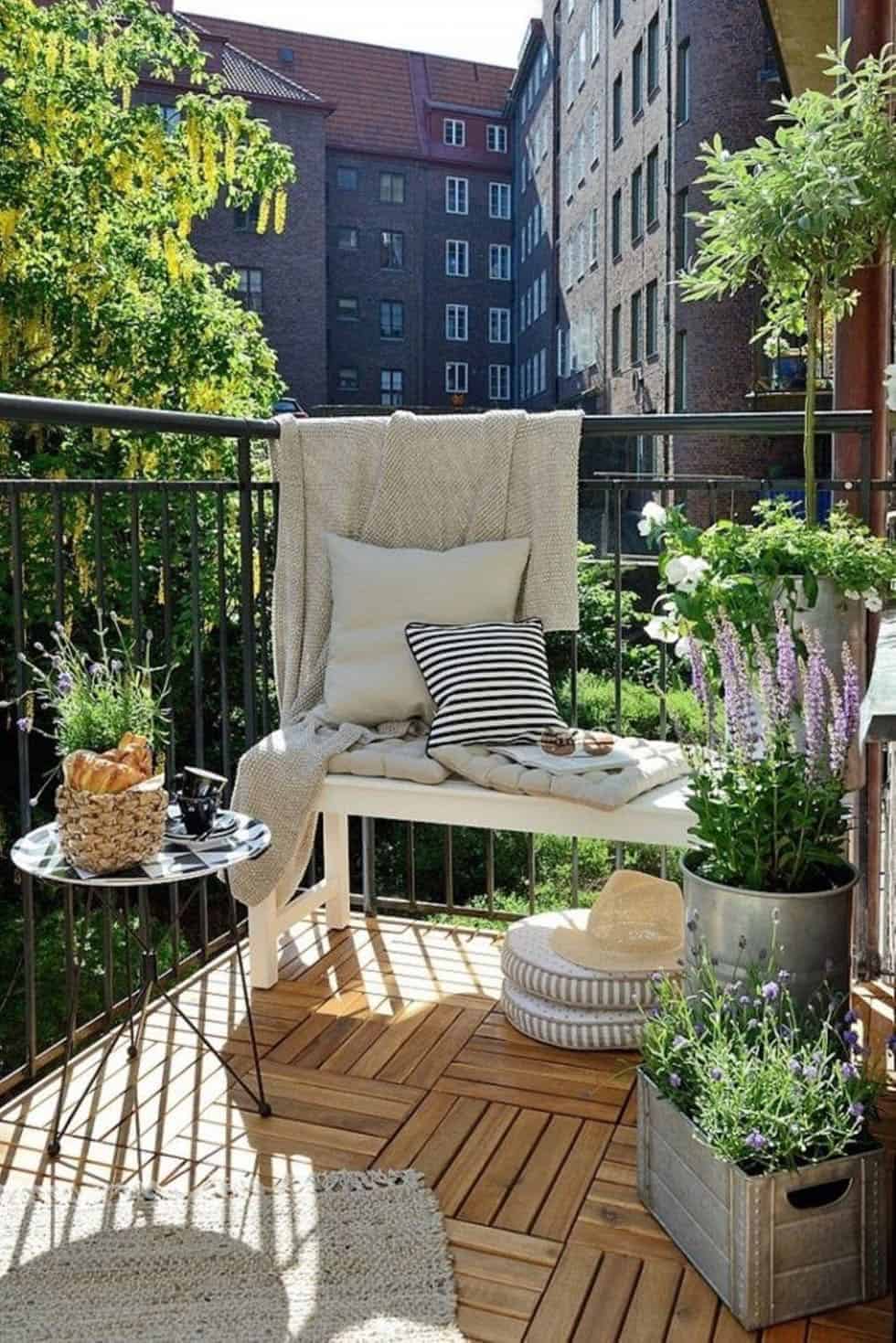 This balcony gardening theme has a predominant use of bright colors that are used to build upon the emphasis of the balcony garden design. Here, you could attempt to add your creativity by using colorful pots along with the matching plant markers over the wall with a net around the balcony that allows fresh air and an unobstructed view from the home. It also allows you with some space on the floor where you could choose to spend time and create more colorful themed design plans.
8) The blissful private oasis
This is a private oasis that works well with your balcony garden with a fine balance between the space and the greens, perhaps is also easy to create or design. If you are into more greens, need privacy, and love patterns, then this small garden in your small space would be your go-to. Add plants with taller pots around the edges of your balcony to create a private space and throw in a few floor pillows, a blanket to your balcony, a rattan rug, and bamboo chairs.
9) An upcycled balcony garden
This theme would be an inspiration for you as this is amongst the many balcony ideas look, as they transform your space using repurpose wooden crates. Adding on, the height of this themed garden allows you to help you water the plants easily without the need to bend with its rustic touch. All you'd need for your balcony gardens is to look for these wooden crates from a local store, check with small automotive, motorcycle, lawn, and specialty shops.
10) Contemporary Balcony Garden
Transform your balcony into a stunning modern oasis with a touch of minimalism. Embrace the beauty of simplicity by adorning your space with elegant white potted plants and a curated display that exudes cleanliness and fuss-free charm. Optimize your garden's layout by utilizing wall stands and shelves, creating a low-maintenance haven that maximizes space efficiency. Free up valuable floor space with the strategic placement of trellises and railing-mounted pots. Enhance the ambiance by incorporating lighting fixtures that add a captivating element to your balcony's aesthetic.
Maximize your terrace garden setup with a vertical garden, a smart solution for limited areas. Install trellises or wall-mounted planters and cultivate climbing plants, herbs, or cascading flowers. This creative arrangement not only adds depth and visual appeal but also optimizes your terrace garden's potential. Enjoy a lush vertical display that transforms your space into a green haven.
Functionality at its best describes this balcony garden idea as it tries in bringing traditionally used indoor pieces to this balcony space, projecting as an indoor room. Here, the flowers are grown in baskets and a garden box, a citrus tree growing in a metal bucket or a recycled wooden crate could be one example. However, the herbs and flowers are decorating wooden shelves with an old wooden chair seat. Add a few small home decor touches, like a tablecloth and a vase of flowers, and your little garden space is ready!
To Conclude: What Is The Need For Decorating Ideas For Your Small Balcony?
At the present time, garden design ideas have happened to take a huge leap when it comes to designing a balcony garden for your small apartment. Therefore, while you are reworking your house to be a dream home, the balcony garden is one area that allows you the whole space to be worked as per your personal touch. 
Grow herbs, flowers, or turn them into a small garden with a sitting space, it all depends on you, perhaps, make use of the ideas above and get cracking with your ideal balcony garden!
Tips for a Simple Balcony Design Garden
Enhance your balcony with the beauty of plants using these handy tips for decoration:
Make use of sunlight:

If you have areas that receive ample sunlight, consider placing citrus trees to add a refreshing touch. To provide shade for these trees, you can strategically position an umbrella for partial shade.

Create a kitchen herb garden:

Design a herb garden right in your balcony, bringing fresh flavors to your culinary adventures. 

Opt for terracotta pots:

They are ideal for creating vertical gardens or hanging plants, allowing you to make the most of your limited space.
4. Embrace recycling: Give your balcony a unique and eco-friendly touch by repurposing various items for DIY planters. Old wooden crates, unused bottles, pots, and even tires can be transformed into charming plant containers, adding character and sustainability to your balcony oasis.
Add Your Heading Text Here
Balcony garden ideas FAQs
1. What plants are good for the balcony?
(1.) Begonias
(2.) Chrysanthemum
(3.) Pansy
(4.) Fuchsia
(5.) Hydrangea
(6.) Petunia
(7.) Ferns
(8.) Herbs
2. How to start a balcony garden?
(1.) Observe the sunlight direction for good light on the plants
(2.) Decide on what plants you can use for your balcony garden
(3.) Purchase pots, seeds, and fertilizer, and get started with the planting
(4.) Make sure to water the plants enough and not too much
(5.) Once the plants are set, rearrange the balcony space
3. What vegetables can be grown on a balcony?
(1.) Leafy Greens
(2.) Broccoli
(3.) Peppers
(4.) Cucumbers
(5.) Tomatoes
(6.) Herbs
(7.) Blueberries