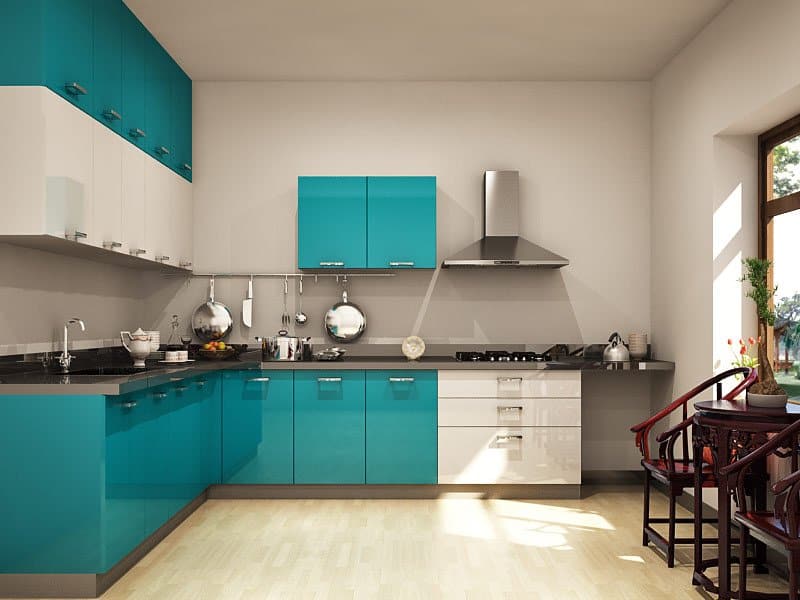 As contemporary interiors are turning into our favorites, the best material for kitchen cabinets is revamped in a modular style. Modular kitchens are sleek and compact, designed to be highly functioning. This kitchen design offers a wide variety of finishes based on your choice of material. Now let us take a look at the Best Materials for the kitchen cabinets in India.
What are the Best Material for Kitchen Cabinets in India?
Modular kitchens are replacing traditional kitchens primarily for their functionality. Modular kitchens take the form when multiple single units are fixed together as per the utility requirement and can be restructured by dismantling.
1. Best Material for Kitchen Cabinet: Wood
The wooden finish is a predominant style in Indian house interiors. Though an expensive choice, if maintained well it is a very durable material. Though it is an unconventional choice for a more modular kitchen, today there are plenty of wooden designs available for cabinets. You can even choose to just keep the outside of the kitchen cabinets with wood and the rest can be modified with other materials. Since the fitting goes inside it will not take away the feel of complete wood and will be a pocket-friendly option.
Since wood is a natural material, it is more prone to termite attacks and fungal infestations. Hence proper termite attack protection coats must be done periodically to maintain the wooden cabinets. Also, the absence of a perfectly smooth surface and the presence of knots and splinters can affect the finish of the modular kitchen.
2. Best Material for Kitchen Cabinet: Plywood
Plywood is a synthetic material, also known as engineered wood. It is sheets of veneer held together by resin. It gives a wood-like finish and is a very common choice for kitchen cabinets for its strength.
Since the kitchen is a place where heat, steam, and fire are quite often present, it is better to opt for Boiling Water Resistant Plywood and Moisture Resistant Plywood. As the name suggests, these variants are more safe and more durable for a space like a kitchen. Though these variants are slightly pricier than the normal plywood, they serve better protection from the kitchen environment and are resistant to fungal attacks. This makes the space easy to clean and maintain.
3. Best Material for Kitchen Cabinet: PVC
PVC is a material that delivers versatility without compromising on quantity. They are available in an array of colors and are budget-friendly cabinet materials. PVC is easy to maintain and fix into the desired design. PVC pipes are in general of two types: hollow and foam board. PVC foam board is a popular choice for kitchen cabinets over hollow boards because its higher strength can withstand more weight and provide better support.
However, PVC is a choice of material for a short period as it is not durable for a long duration.
4. Best Material for Kitchen Cabinet: Stainless Steel
Stainless steel is the latest addition to the best materials for kitchen cabinets in India. Its popularity is growing in the post-pandemic world for its hygiene values. Stainless steel is easy to clean. It is antifungal and antimicrobial in nature. It is also resistant to water and does not get rusted, adding to its durability.
5. Best Material for Kitchen Cabinet: Particle Board
Particle board is one of the best materials for kitchen cabinets that carries out only light cooking. It is one of the most economical options. The particle board is made up of sawdust and waste wood. If you are looking to make environmentally conscious choices, particle board is an eco-friendly choice as it reduces landfills. It also comes in a variety of color options. Since the material itself is on the heavier side, it can not hold much more weight. This property makes it unfit for regular kitchen space.
6. Best Material for Kitchen Cabinet: Medium Density Fibreboard
The medium-density fibreboard is engineered wood. It is an economical choice that gives the desired finish. It is formed by the combination of small firewood pressed together with resin. Since it is synthesized, it has better resistance to termite attacks and fungal infestation. With MDF you can go for any finish fitting on top. The addition of Boiling Water Resistance plywood along with MDF will improve its durability.
What is the Best Available Finish for Kitchen Cabinets?
Now that we have looked into the various materials available in the Indian market for kitchen cabinets, we must also be aware of the array of finishes to add the final detailing touch for the modular kitchens.
1.   Acrylic
The acrylic has a glossy finish to it, which adds more of a luxurious tone to your kitchen. The glossy finish also means you need regular cleaning as dirt, dust including fingerprints will be clearly seen. The acrylic finish also comes on the more expensive side but looks stunning.
2.   Laminate
Laminate is the most durable and perfect fit for your kitchen cabinets. Its properties like water resistance and heat resistance make it the most preferred finish for kitchens in India. It is also more of an affordable choice amongst the others.
3.   Glass
Glass is a popular finish these days. It goes well with the contemporary vibe of the house. It is also a finish that is easy to clean and maintain. Glass finished usually comes in two variants, plain and frosted. The added benefit of glass finish is it gives you better visibility of what each cabinet holds. This makes your cooking experience easier.
4.   Polyurethane
Polyurethane is also known as PU is a highly customizable choice of finish for your kitchen. It is a paint that can be painted over your fittings. It can give you a matte or glossy finish as per your choice. It has a smooth finish and is a quite budget friendly option.
5.   Membrane
Membranes are an option that gives an elegant finish like that by acrylic but on a much pocket friendly budget. This hard-wearing is both durable and easy to maintain as the surface can be cleaned with wet cloths to maintain it squeaky clean. 
Once you have picked the best material for the kitchen cabinet, opt for the best finish that will give you the kitchen of your dreams.
What to Do Before Building a Kitchen Cabinet?
Before building your kitchen cabinets, you need to measure the space where you want to install them. Use a measuring tape to get accurate measurements of the height, width, and depth of the area. Make sure to account for any obstacles like pipes, outlets, or windows that may affect the placement or size of your cabinets.
Once you have accurate measurements, you can begin to design the layout of your kitchen cabinets. Consider the placement of appliances, the flow of foot traffic, and how you want the space to look and feel. You may want to consult with a kitchen designer or use online design software to help you create a functional and attractive layout.
Select the material that best suits your design style, budget, and functionality. Some popular options include solid wood, MDF, plywood, and particleboard. Each material has its own strengths and weaknesses, so consider your needs carefully before making a decision.
Plan the construction of your kitchen cabinets carefully. This includes selecting the hardware, such as hinges and drawer slides, and determining the joinery method, such as butt joints or dovetails. Consider the tools you will need for the job and plan accordingly.
Once you have designed your kitchen cabinets, selected the materials and planned the construction, it's time to purchase the materials you will need. Make a list of all the materials you need, including lumber, hardware, and any other supplies, and purchase them from a reputable supplier.
Cut and Assemble the Cabinets
Using your design and plans, cut the materials to size and assemble the cabinets. Depending on your level of skill and experience, you may want to hire a professional to help with this step. Make sure to follow safety guidelines and wear protective gear as needed.
Once the cabinets are assembled, it's time to install them in your kitchen. Follow your design plan and use a level to ensure that they are straight and secure. Make any necessary adjustments to ensure a perfect fit.
The final step is to finish the cabinets with paint, stain, or another type of finish. This will not only protect the cabinets from wear and tear, but also add to their aesthetic appeal. Consider your design style and the overall look of your kitchen when choosing a finish.
Modular kitchens are a highly customizable option. From fit to finish you can opt for materials and designs that are the best fit for your needs. Along with their high functionality, modular kitchens are also durable and easy to maintain. It is important to select the right material as it provides support to the entire structure and the finish protects the surface from heat and moisture. The Indian market has a wide variety to choose from as per your requirement and budget.
Here is a comparison of the mentioned materials:
| | | |
| --- | --- | --- |
| Material | Cost | Durability |
| Wood | High | High |
| Plywood | High | High |
| PVC | Low | Low |
| Stainless Steel | High | High |
| Particle Board | Low | Low |
| MDF | Low | Medium |
Best Material for Kitchen Cabinets in India FAQs
1. What are modular cabinets?
Modular cabinets are functional units that provide storage areas. It is mainly used in bedrooms, kitchens, garages, etc., for storage purposes. Modular cabinets in the kitchen layout that are pre-made. These single units are fit together to form a structure as per the requirement.
These units are manufactured in the factory at fixed dimensions. Hence it can be purchased from anywhere and fixed together. They usually come in size increments of 3 inches.
2. What are the materials used to make modular cabinets?
Modular kitchens can be manufactured using a wide variety of materials. The most common choice is the MDF, for its durability and strength in a more economical price range.
MDF is engineered wood, hence its qualities are enhanced. Unlike natural wood, it has better protection from termites and other insect attacks.
3. What is the difference between a modular kitchen and a custom-made kitchen?
Modular kitchens are units that are produced in the factory whereas custom-made kitchen units are made on site.
While modular kitchen units come in fixed sizes with increments of two to three inches, custom-made units are made as per the requirement of the individual sizes.
4. What is the price of installing modular kitchen units in India?
The pricing of a modular kitchen depends on various components such as the material used, the finish given, area covered in square feet. In general, it ranges from Rs. 60,000 to Rs 2,65,800.
5. What are the components of a modular kitchen ?
Modular kitchens usually come with a minimum of two base units. One is where you can place your oven and the other is for storage space. The storage units can also be used as the base for the countertop.
6. What are the advantages of a modular kitchen?
Modular kitchens come with a lot of benefits. It is easily customizable as per the available space and requirements. It is affordable, functional, and has an aesthetic appeal.
7. What are the different types of modular kitchens ?
Modular kitchens come in up to six different shapes. You can choose the most convenient one for you as per the space availability and design value. The most coon ones are L-shape, U-shape, straight lines, islands, peninsula, and parallel ones.

Here's more to look into!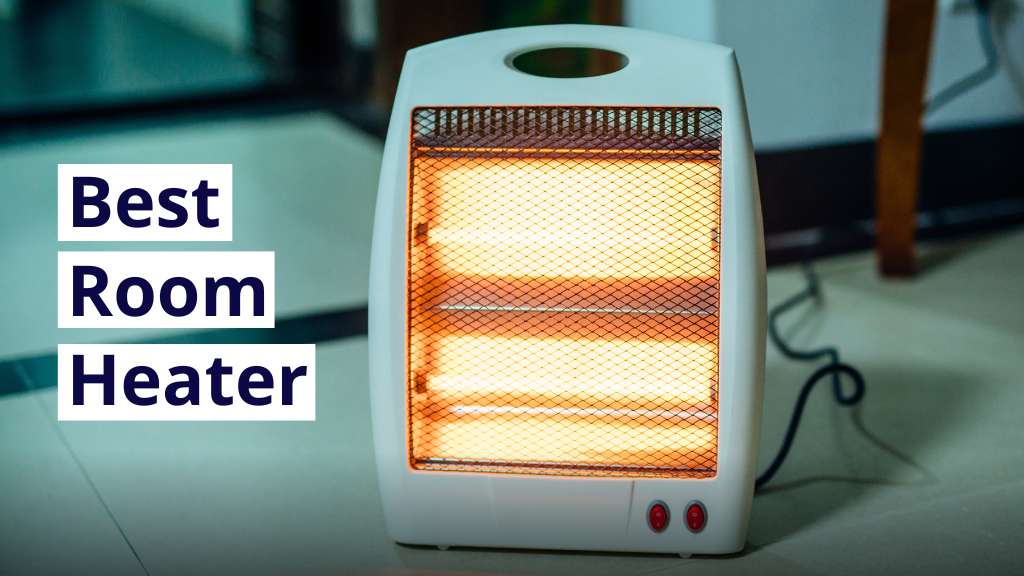 Choosing the Best Room Heater: A Comprehensive Guide to Staying Cozy Room heaters...