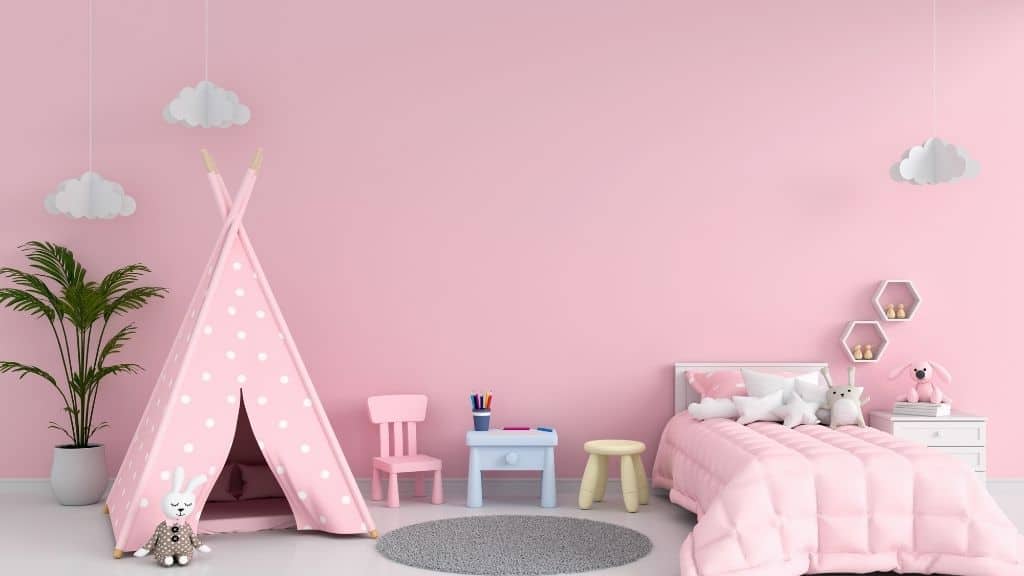 18 Pink Two Colour Combinations for Bedroom Walls in 2023
Modern homes sport a plethora of color combinations and the color pink is one of the most trending palettes owing to the calming charm alongside the pop it offers. Soothing and calming, pink is the go-to color for people looking for an aesthetically pleasing touch in their homes. Almost all the shades in the spectrum of pink are an exquisite choice for the walls of your stylish home.

Best Pink Color Combination for Walls
If you are searching for the best pink color combinations for walls, here is a list of the 15 top combos that we curated for you. Let's dive right in!
Paint it all in pink

Pink and black

Pink walls and white decor

Pink and yellow

Deep pink and white

Light pink and brown

Pink and white walls

Pink walls with marble floors

Pink walls with white and grey decor

Bright pink with floral curtains

Patterned pink wallpaper

Peach pink and ample green

Pink with soft pastels

Pink and blue

Pink decor with burgundy walls

Pink And Wooden Flooring
Pink and Floral Curtains
Pink and Green
Soft pastel pinks to deep black we have all best pink color combinations for wall and decor to accentuate assembled here. Let's read on to know more about how they add beauty to your home.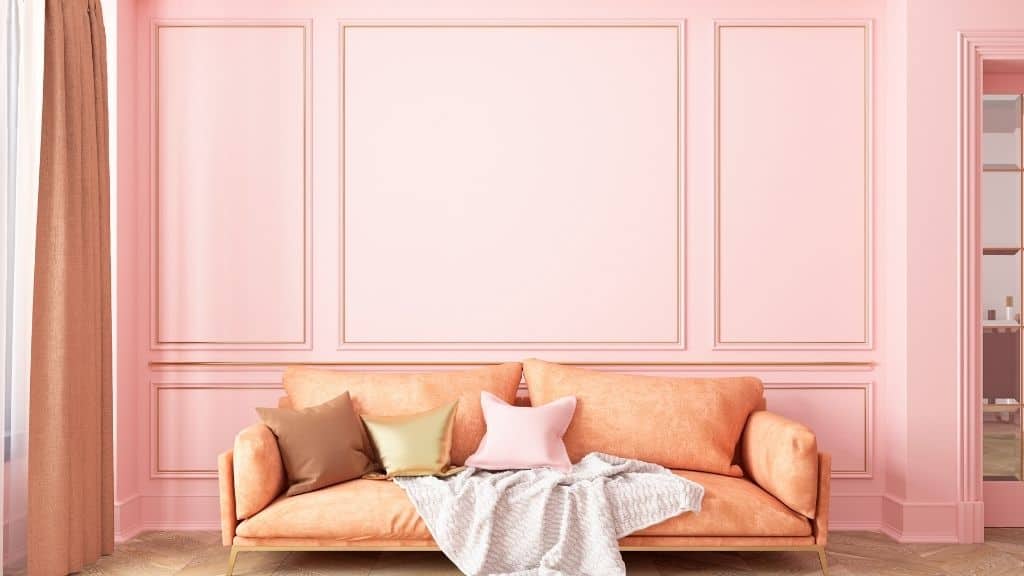 When you choose pink you do not have to worry about getting too much decor for your room. It is a very soothing and calm color that you can use on every surface and wall of your room without a second thought. In particular, soft shades of pink like peach and baby pink will work excellently well in bedrooms and living rooms with intricate pillars and high arches.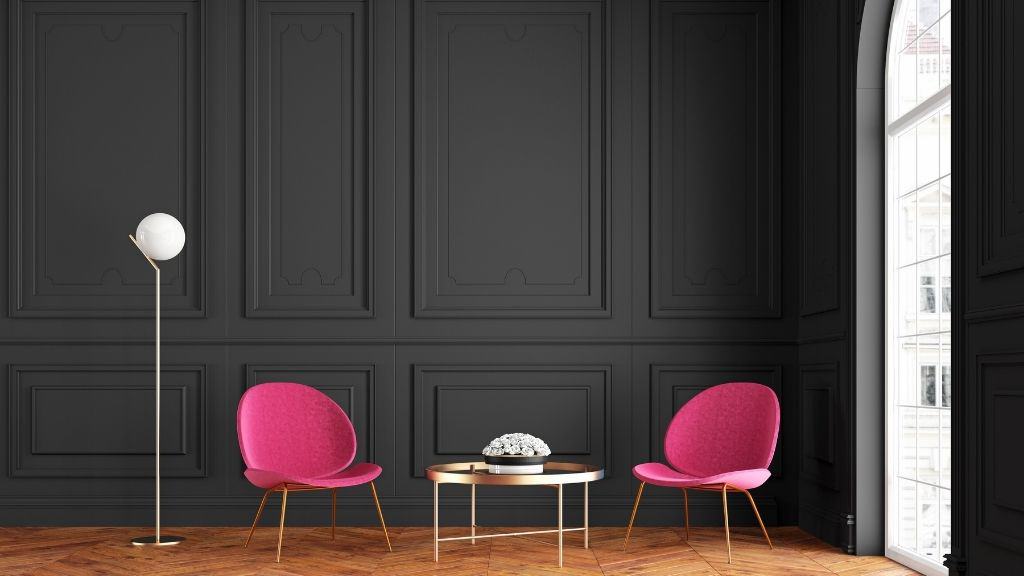 Want to jazz things up in your beautiful home a bit more? Then choose pink to go with the unique black. You could opt for shades of pastel pink and use matte black to end up with a chic finish. If your walls are pink-hued make sure you blend black with it through drapes, furniture, and laminations.
3. Pink Walls And White Decor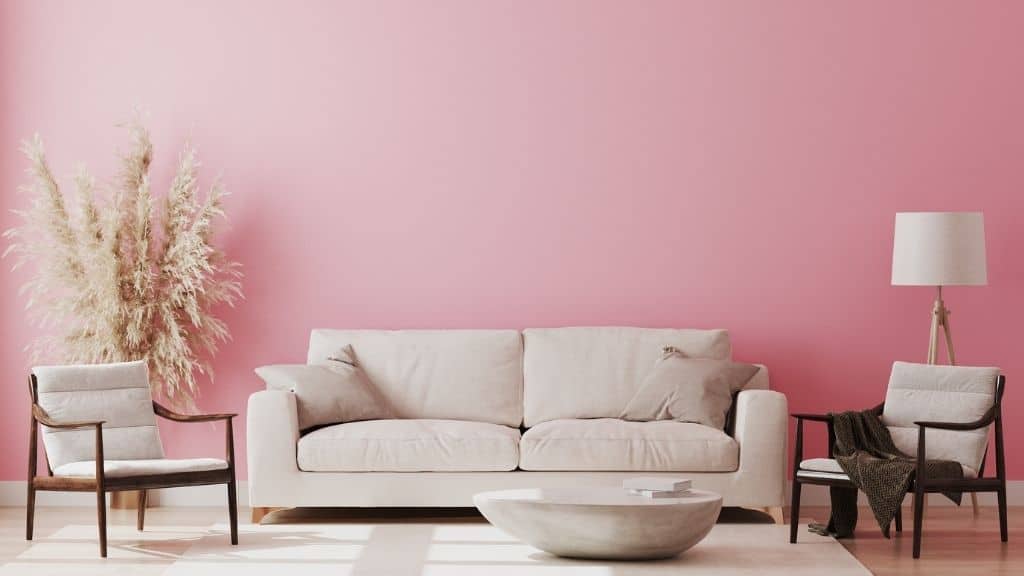 There is no better pink color combination for wall than white and pink when it is about playing around with hues of pink. Walls painted in baby pink go exceedingly well with white decor. If you prefer, you can paint alternate walls with either of these colors and have classic white Scandinavian furniture to top it off.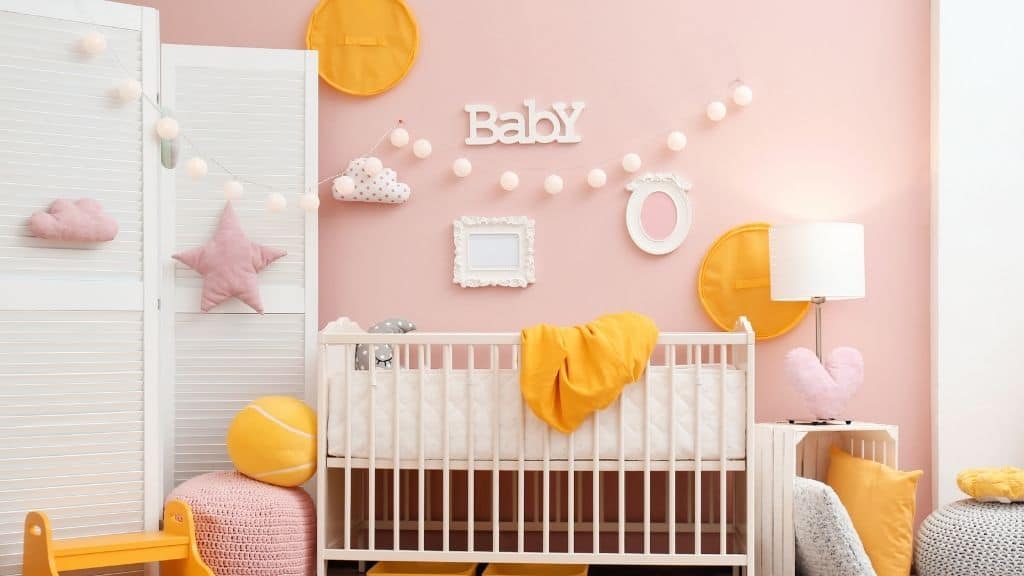 Pink and yellow is a very rarely used combination but it adds a fun and sporty feel to the room. Go for darker and bolder pink shades for the walls and the bold contrast throw in a vibrant yellow couch or other decor accessories. Pink and yellow will lend an airy and bright look to your living room.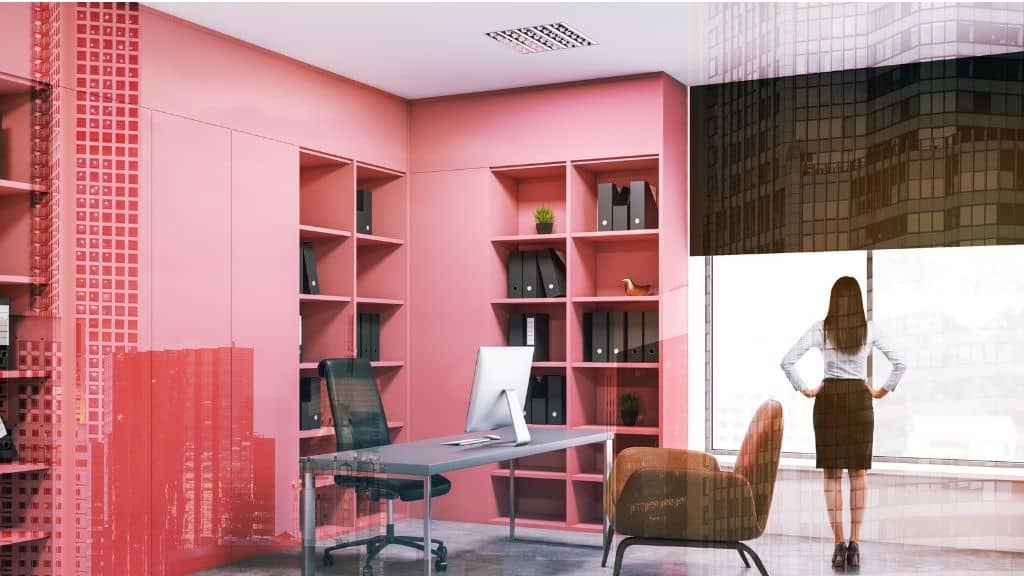 Have a toddler in your house? Deep pink and white are for their walls. Children love bright colors and the colors tend to have a huge impact on their mental growth. Paint your child's nursery with deeper shades of pink and add wooden or white furniture to add more definition to the room. These colors are also well suited for young adults and teenagers.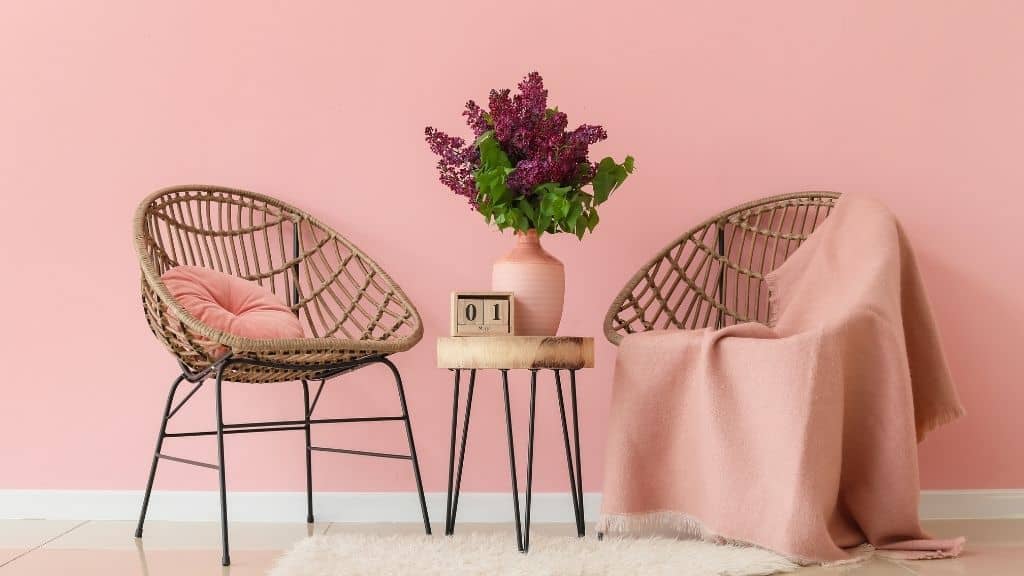 Pink is the perfect bedroom wall color as its delicacy speaks volumes. Walls painted with light pink go well for both living rooms and bedrooms along with some wooden furniture and polished wooden floors. Choose the gorgeous rosewood for the flooring to go with ambient pink in the room.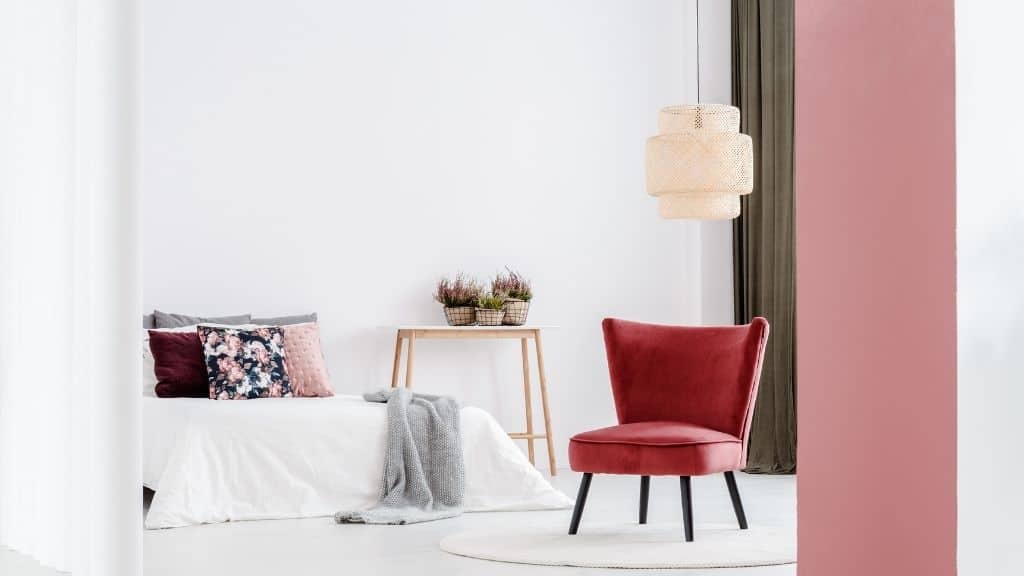 White walls and pink decor are the prettiest color combination ever. They add a sophisticated touch to your elegant room if you run on the principles of minimalism. Hence, a pale pink palette with matching undertones of white will suit your high-functioning room extremely well.
8. Pink Walls With Marble Floors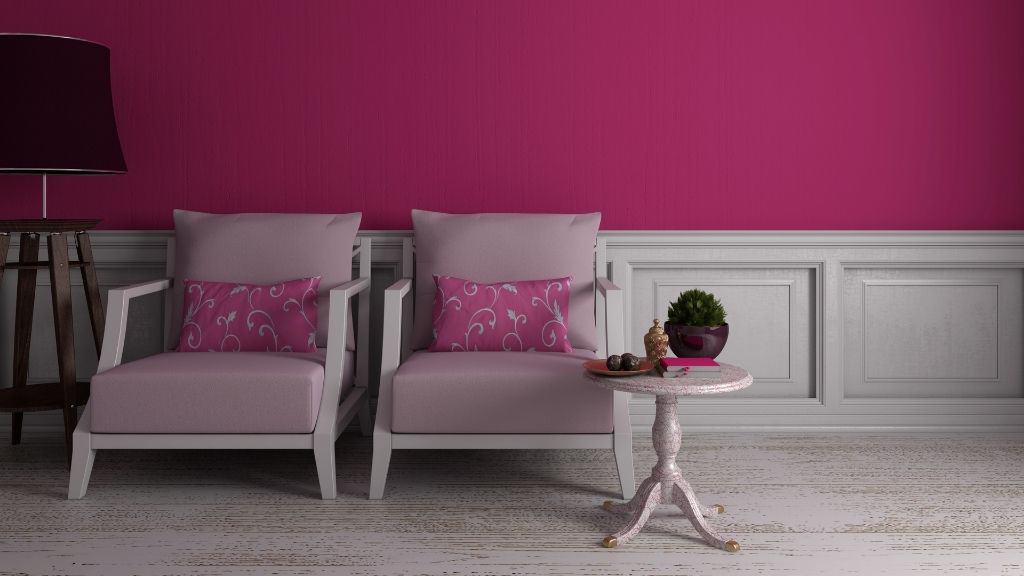 Marble floors and pink walls will do well for your bathroom setup as the pink color will accentuate the tranquil and peaceful environment of a bathroom. You could pair the marble floors with the floral shade of pink to get a stunning washroom.
9. Pink Walls With White And Grey Decor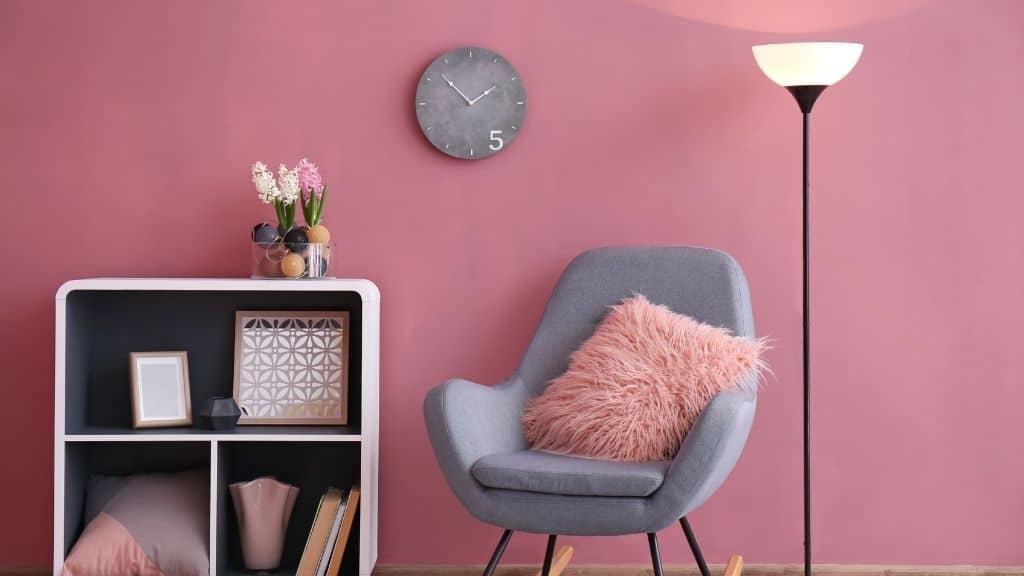 White and grey along with pink is an ageless color combination that suits all sorts of rooms and houses. This color combination will allow you to experiment in mix-matching with your existing decor. If you are going for soft pink shades for your walls then you can add grey and white elements through rugs, bean bags, wall art, or ornate photo frames.
10. Pink And Burgundy Walls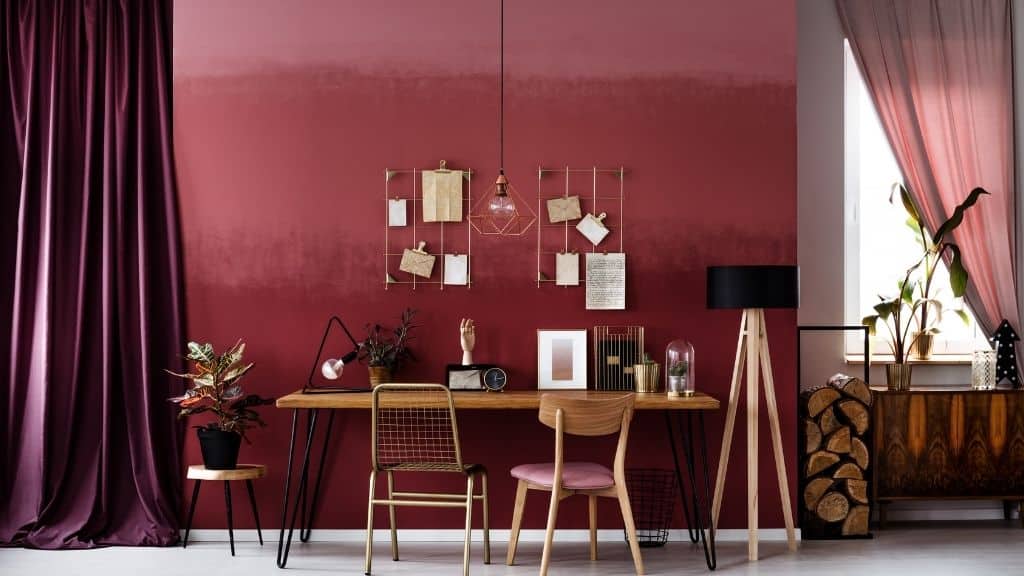 Burgundy and pink are other best color combinations of pink that you don't want to miss out on. Burgundy walls and pink walls? An absolute yes! These are perfect colors for spacious bedrooms and living rooms since they very well contrast each other due to their similar undertones. You could incorporate burgundy into the pink walls or with plush burgundy furniture.
11. Bright Pink With Floral Curtains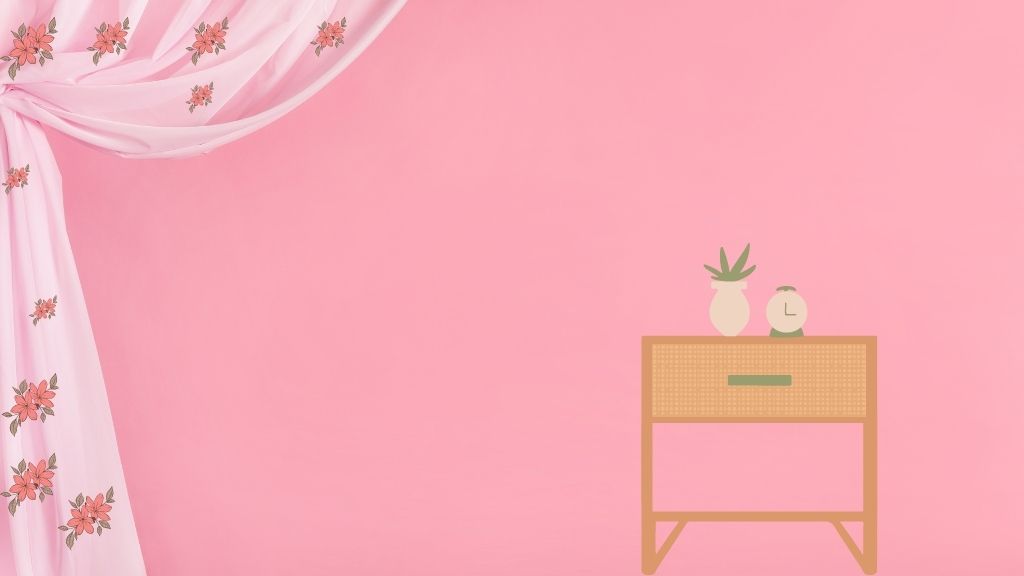 To enhance the brightness and calmness of pink color combinations for wall you must make sure you know how to color play with your room's decor accessories. Floral silk curtains with hints of pink and red along with complimentary pink walls will light up a bedroom very well. This color combination will not only bring an abundance of natural light into your room but also an extra tinge of beauty.
12. Patterned Pink Wallpaper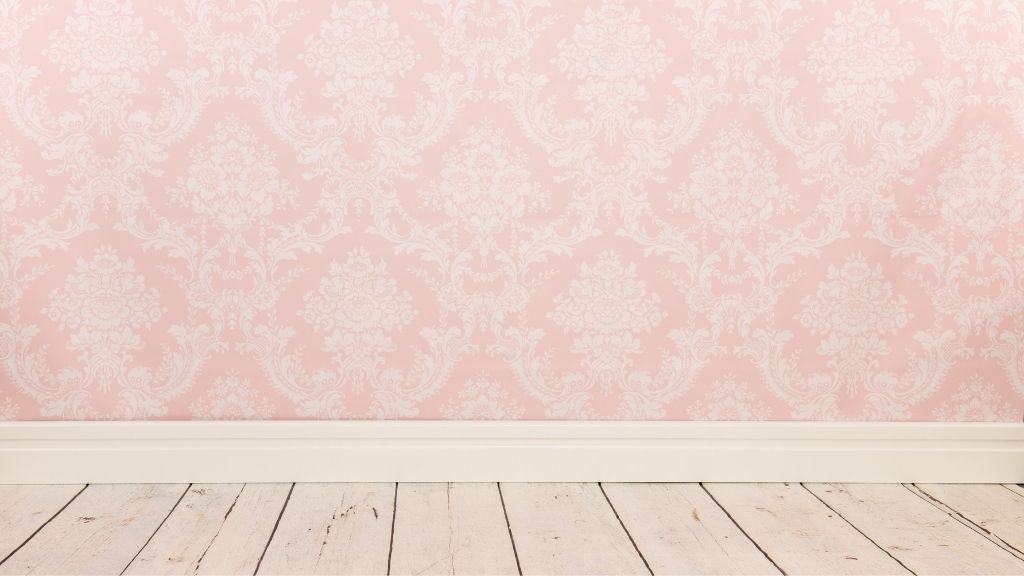 Gorgeous pink patterned wallpaper is the extra oomph to your bedroom decor. Remember to opt for intricate designer pink wallpapers with silver and gold tints. This would lend a regal touch to your space without an exorbitant cost.
13. Peach Pink And Ample Green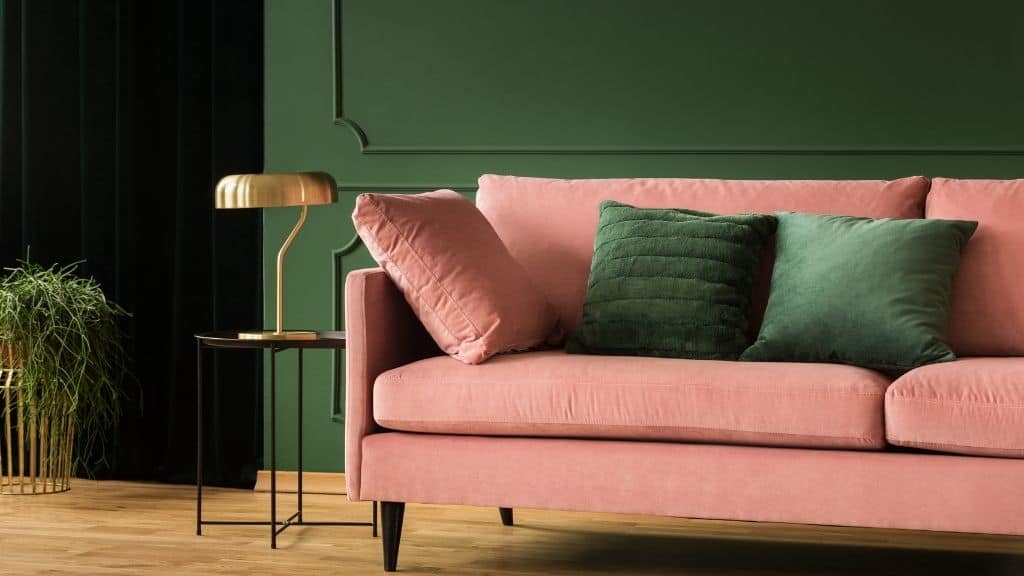 One of the beautiful shades of the color pink is peach pink which can be accentuated with natural green elements. You could add beautiful orchids, natural vines, and/or potted plants to compliment the pink hue of your space.
14. Pink With Soft Pastels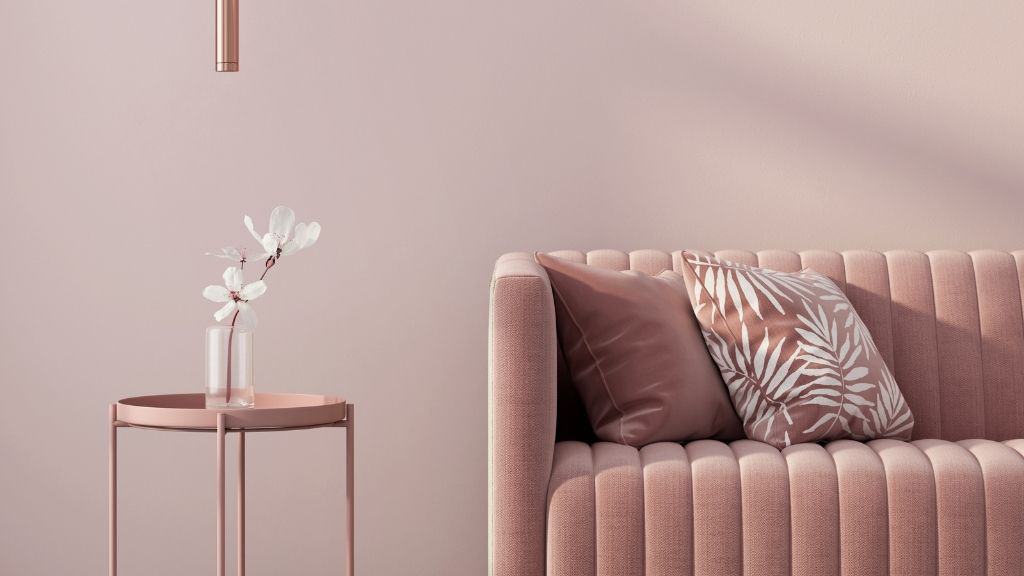 Pink might seem standard for some people but for them, the soft pastel shades come to the rescue. Use pink to adorn your cooking space with soft pastel shades of white, turquoise, and yellow. A striped wall paint pattern will do wonders to bring out the calmness of pink.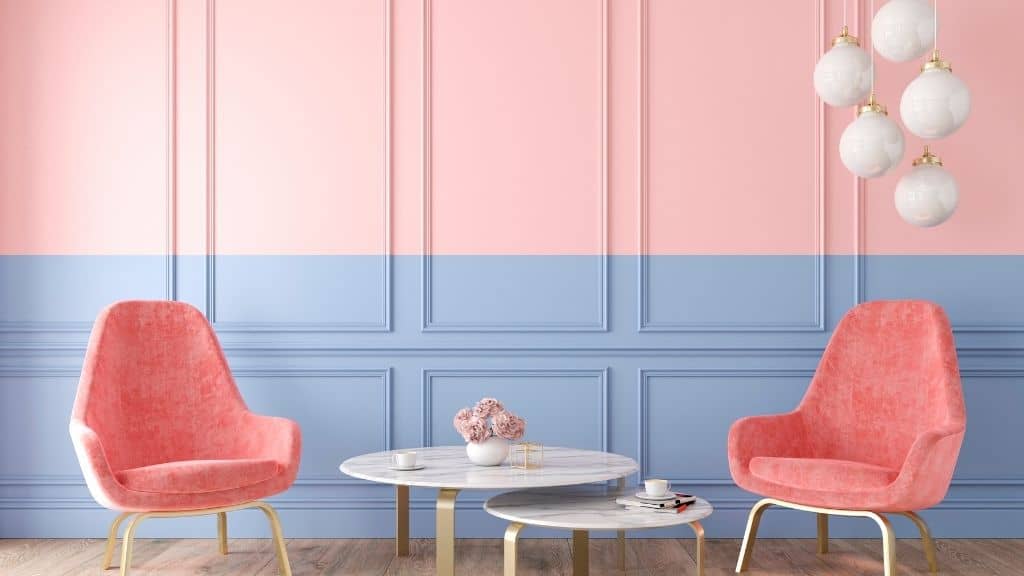 Blue and pink are the most balanced color combination in this list which would be perfect for your children's nursery as blue is such a rich shade. The richness of blue added with pink makes them the most suitable of all color combinations which is equally apt for both bathrooms and bedrooms.
16. Pink And Wooden Flooring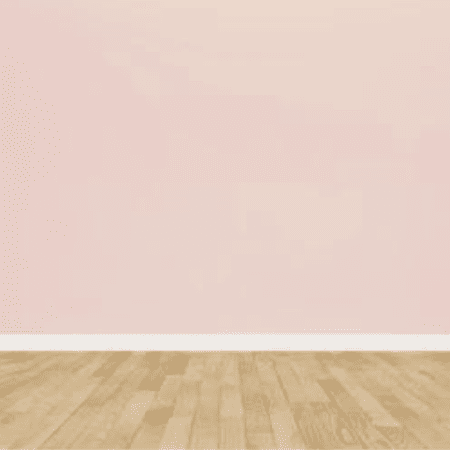 Create a serene and charming atmosphere in your bedroom with the perfect pink wall paint designs. Let the delicate hue take center stage, allowing its soothing presence to set the tone. Light pink wall colour combination harmonize beautifully with polished wooden floors, creating a captivating contrast. Consider pairing the soft pink ambiance with gorgeous rosewood flooring, enhancing the overall aesthetic of the room. This thoughtful colour combination will infuse your space with a sense of tranquility and elegance, making it a delightful haven for relaxation.
17. Pink and Floral Curtains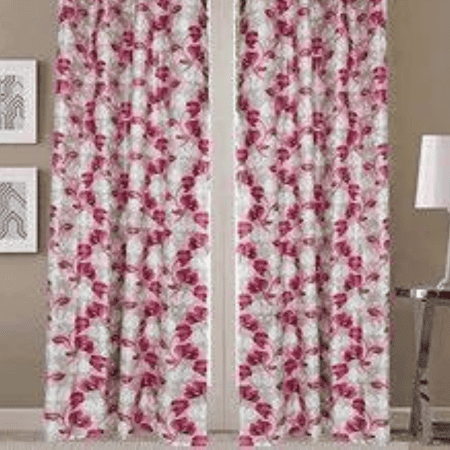 Achieving the perfect light pink wall pain designs involves considering the significance of home décor accessories. Floral silk curtains with subtle hints of pink and red serve as an excellent complement to pink walls, particularly in a bedroom. Combining pink for your walls with floral print curtains, along with delightful pink accents and a cozy lampshade, creates an enchanting atmosphere in your bedroom.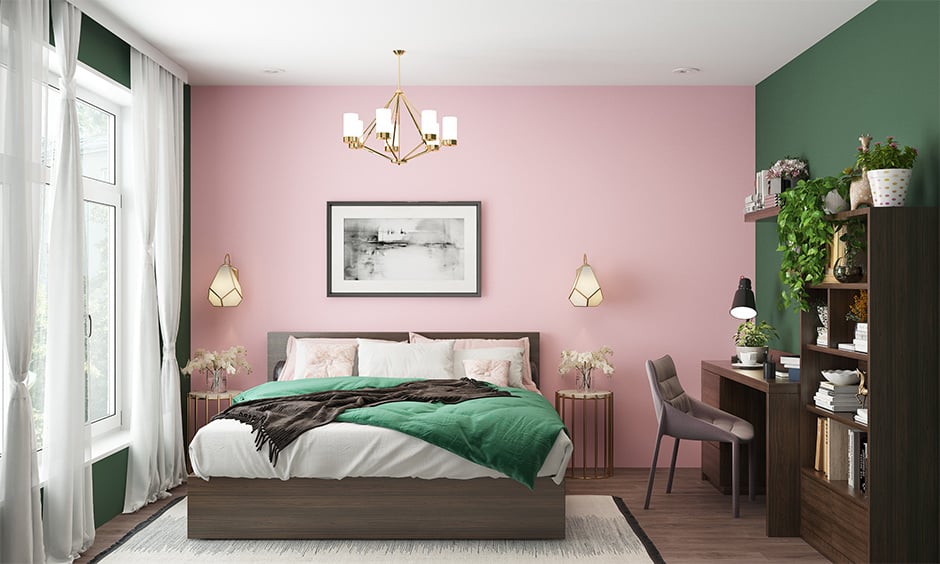 To enhance the beauty of peach-coloured walls in your room, consider pairing them with natural green elements. Incorporate the charm of potted plants and graceful vines to complement the soft pink colour of the space. This delightful combination of peach and natural green creates a harmonious and refreshing ambiance, infusing your room with a sense of tranquility and natural beauty.
Closing Thoughts - Two Pink Colour Combinations for Bedroom Walls
Pink can be the go-to colour for people who want their rooms to be soothing and just a happy corner. Amongst these pink colour combinations for wall curated here, my take would be the soft pastels with pink as they lend such a cheerfulness. Soothing to the nerves and bright, pink could be your best friend.
Pink Color Combination for Wall FAQs
1. Why is pink the best color?
According to color psychology colors
have a huge impact on behavior, moods, and even feelings. Pink is the color that is calming to the nerves as it is associated with kindness, love, and femininity. It also brings in a sense of romance and holiday vibes. Certain shades of pale pink are described to be relaxing, whereas vibrant shades of pink are considered to be stimulating.
2. How do you tone down a link wall?
If you find pink overpowering, here's a way to tone down its brightness. You could use the tones of warm green-gray or mustard yellow and accents in slate to tone down the pink color. Blue and gray with green undertones along with greenish grays and taupe will also bring down the brightness of pink. You could also add in some touches of peacock blue.
3. What color goes with dusky pink walls?
You need strongly contrasting shades to go with dusky pink walls. Either dark brown or black will be a perfect combination for both a living room and a bedroom. Make sure you balance the proportions between the chosen colors so that the interior does not look too dark.
4. Is pink basically red?
Yes, pink is basically red that has been diluted with white. All colors are essential combinations of yellow, blue, and red. If you mix black or white with any color you can have tones and tints.
5. What curtains go with pink and grey walls?
You could go for sheer white curtains for your pink and grey walls. Pink is all about bubblegum and princesses but if you want to tone down the color's brightness you could opt for grey to go with it. Grey changes its visual temperature according to the different lighting. White curtains would be a bright and soothing visual in this mixture.