Prestige Group presents Prestige MSR, a well-planned project in Karnataka (RERA No.- PRM/KA/RERA/1251/309/PR/180131/002490), strategically located in the much sought- after Mathikere in Malleshwaram constituency, North Bangalore. Prestige MSR is sprawling over 1 Acre i.e. 37,147 sqft. (approx.) and has 46 opulent ready-to-move low-rise apartments. This residential project, mixed-use development project paints the picture of tranquillity in the form of 2 and 3 BHK apartments with 2, 3, bedrooms available apartments. A rare combination of lush greenery, good social infrastructure and easy access makes Prestige MSR truly unique. Also, don't forget to submit your details in the 'Express Interest' form of this page to get in touch with our 24×7 available executives and to know more about your future dream home, Contact – +91-7304090352 or write an e-mail to [email protected].
Prestige MSR offers you ultra-modern yet simple, elegant homes nestled in lap of nature and well-equipped commercial establishments. Prestige MSR is especially designed to offer experience of serenity, social security and utmost civility within and around the area.  One is instantly immersed in the world of calm, as soon as one step inside the High-rise Apartments of Prestige group which never fail to deliver the most challenging model in the simplest way possible. The difference is in the entire look and feel of each Apartment spread out in over 6 acres. Another distinct feature challenging the traditional models is that on one hand it pampers you with all the amenities like clubhouses, supermarket space, opulent swimming pool, commercial destinations, hospitals, banks , schools all within proximity and yet manages to sustain the tranquillity of an ideal house.
Locality And Connectivity
It's a locality in Bangalore-City surrounded by, M S Ramaiah Nagar, New Bel Road, Sanjay-Nagar, West of Chord Road, Nagashettyhalli localities. It lies in the Bommanahalli and Malleshwaram constituency.
Shopping mall, supermarket, local market, schools, hospitals, banks and ATMs are short distance away from this house. Commuters can be relaxed as this property is only a kilometre away from metro station and even the local bus stop is at a stone throw distance.
Mathikere is 8 km distance from Kempegowda Bus Station
Almost 8kms away from (Majestic Station) and Bangalore City Railway Station
Yeshvantpur Railway Station is – 2 kms
G. Road is 10.7 kms away
MS Ramaiah College – 0.5 kms
Shirdi Sai Hospital – 0.2 kms
Prestige MSR Unit Type & Area & Pricing
| | | |
| --- | --- | --- |
|  Unit Type | Type of B/R | Area |
| Type A | 2 BR | 1169 sqft |
| Type B | 2 BR | 1210 sqft |
| Type C | 2 BR | 1212 sqft |
| Type D | 2 BR | 1249 sqft |
| Type E / E1 | 2.5 BR | 1378 sqft |
| Type F / F1 | 2.5 BR | 1389 sqft |
| Type G / G1 | 3 BR | 1623 sqft |
| Type H / H1 | 3 BR | 1636 sqft |
TYPE A – 2 BED UNIT SUPER BUILT-UP AREA – 1232 SFT / 114 SMT CARPET AREA – 786 SFT / 73 SMT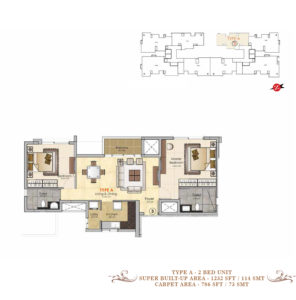 2. TYPE B – 2 BED UNIT SUPER BUILT-UP AREA – 1283 SFT / 119 SMT CARPET AREA – 816 SFT / 76 SMT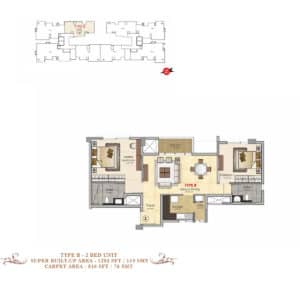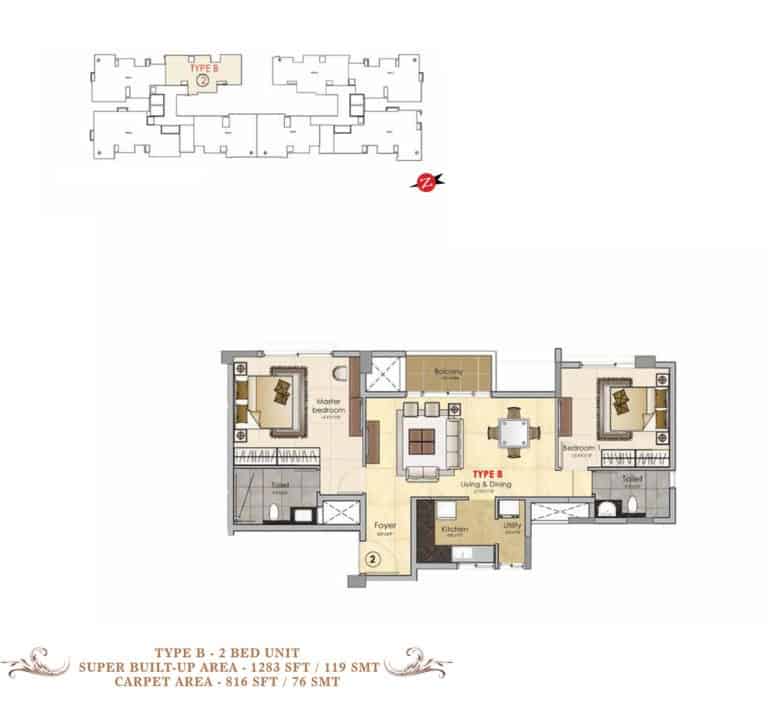 3. TYPE C – 2 BED UNIT SUPER BUILT-UP AREA – 1315 SFT / 122 SMT CARPET AREA – 817 SFT / 76 SMT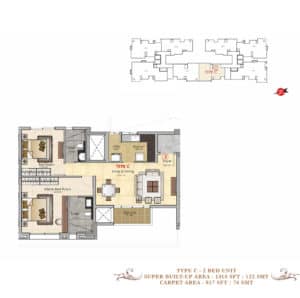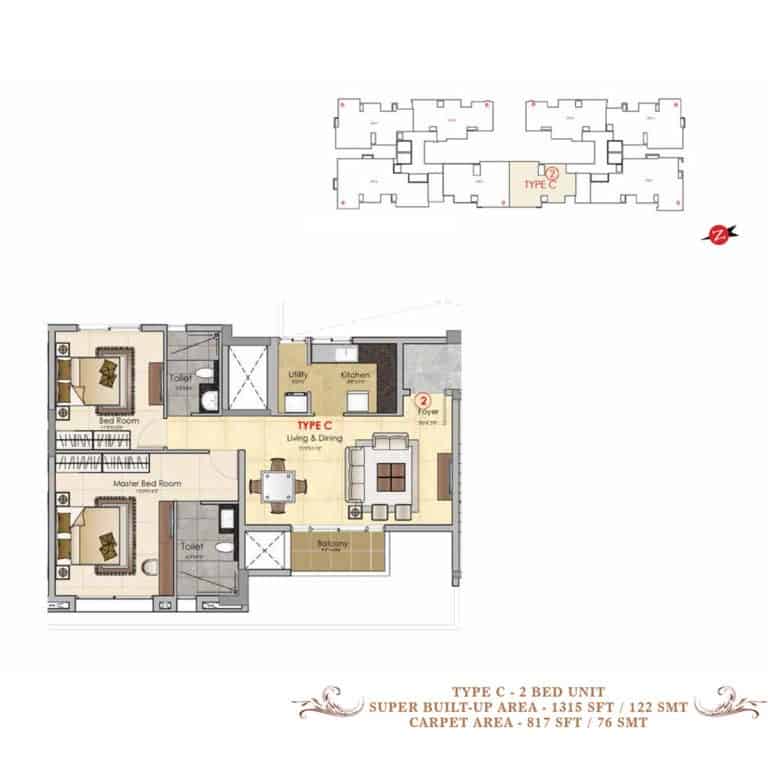 4. TYPE D – 2 BED UNIT SUPER BUILT-UP AREA – 1312 SFT / 122 SMT CARPET AREA – 847 SFT / 79 SMT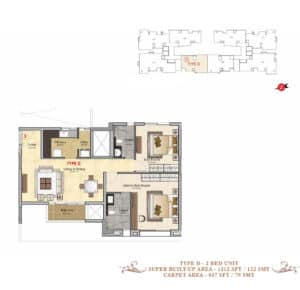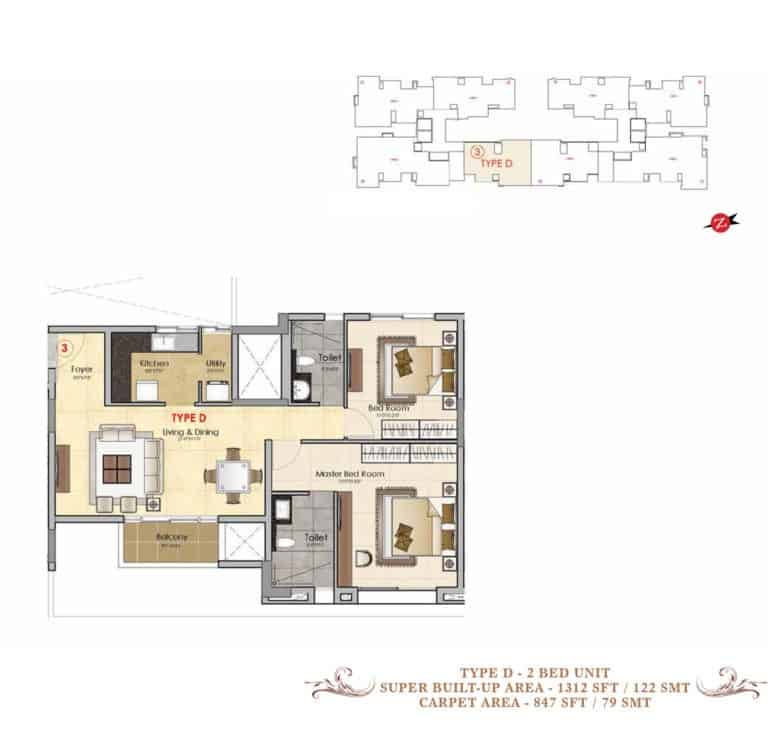 5. TYPE E – 2.5 BED UNIT SUPER BUILT-UP AREA – 1461 SFT / 136 SMT CARPET AREA – 935 SFT / 87 SMT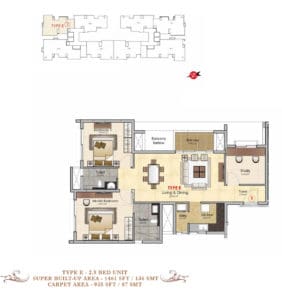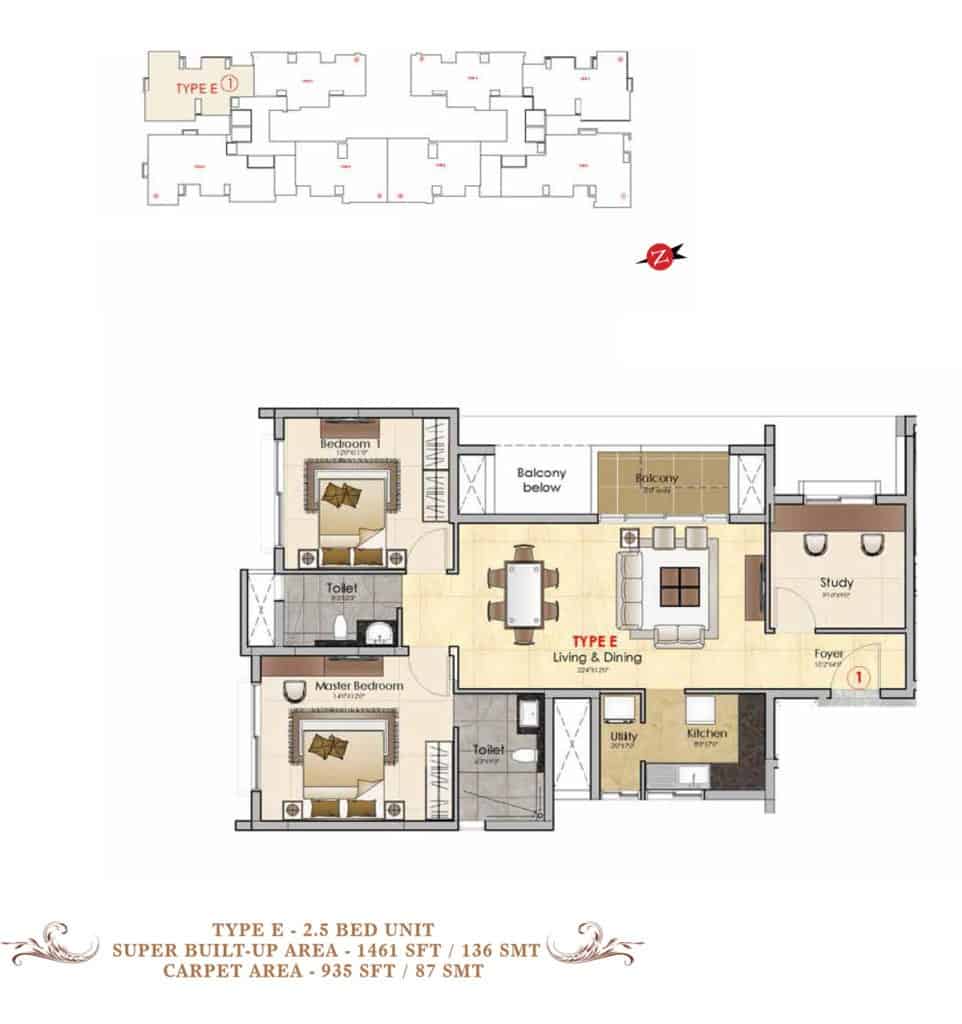 6. TYPE E 1 – 2.5 BED UNIT SUPER BUILT-UP AREA – 1461 SFT / 136 SMT CARPET AREA – 935 SFT / 87 SMT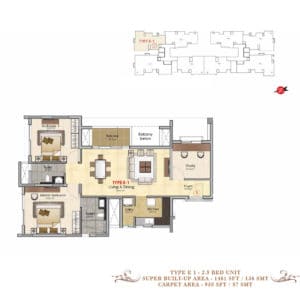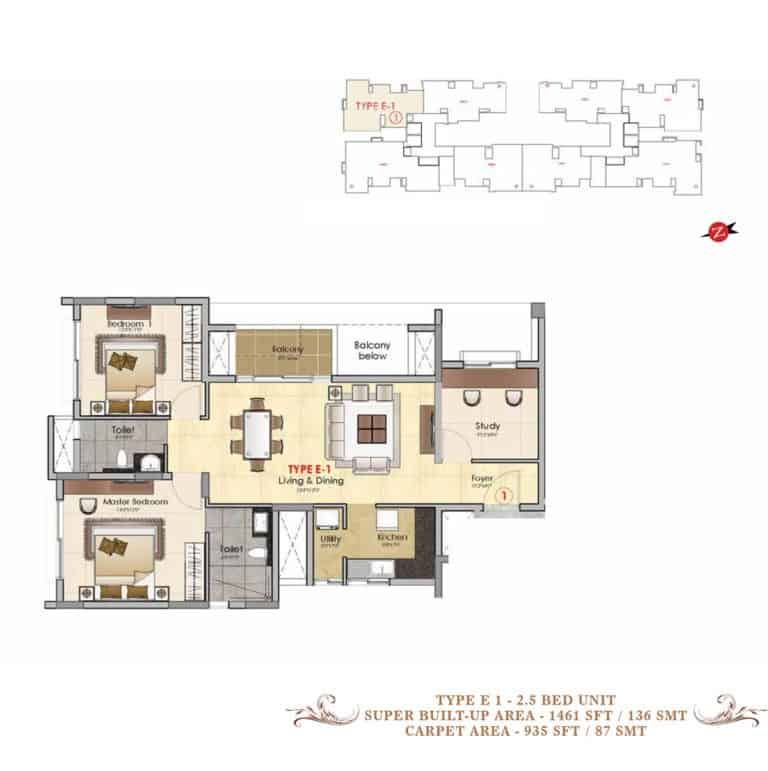 7. TYPE F – 2.5 BED UNIT SUPER BUILT-UP AREA – 1494 SFT / 139 SMT CARPET AREA – 942 SFT / 88 SMT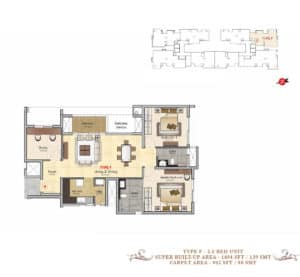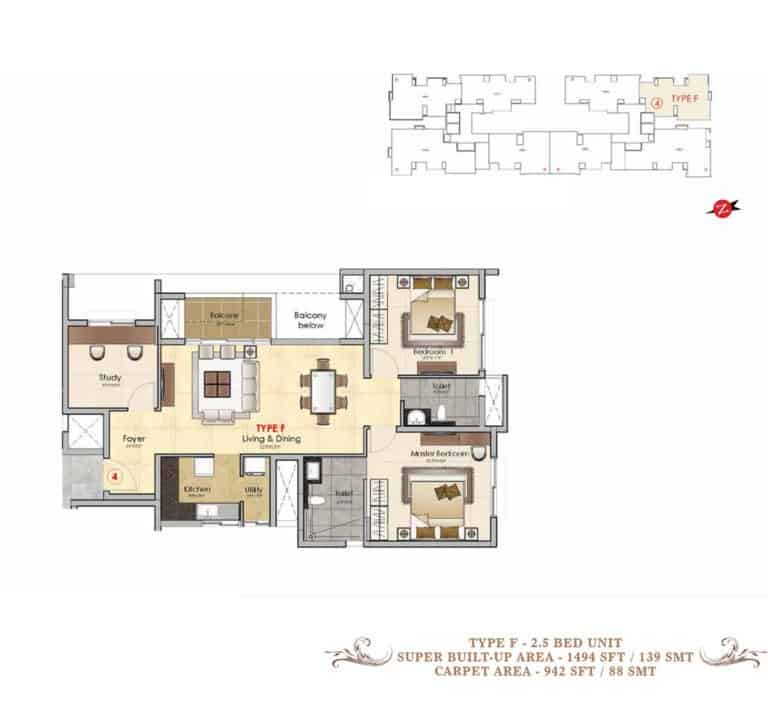 8. TYPE F 1 – 2.5 BED UNIT SUPER BUILT-UP AREA – 1494 SFT / 139 SMT CARPET AREA – 942 SFT / 88 SMT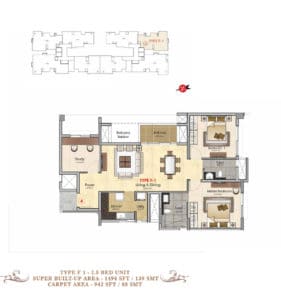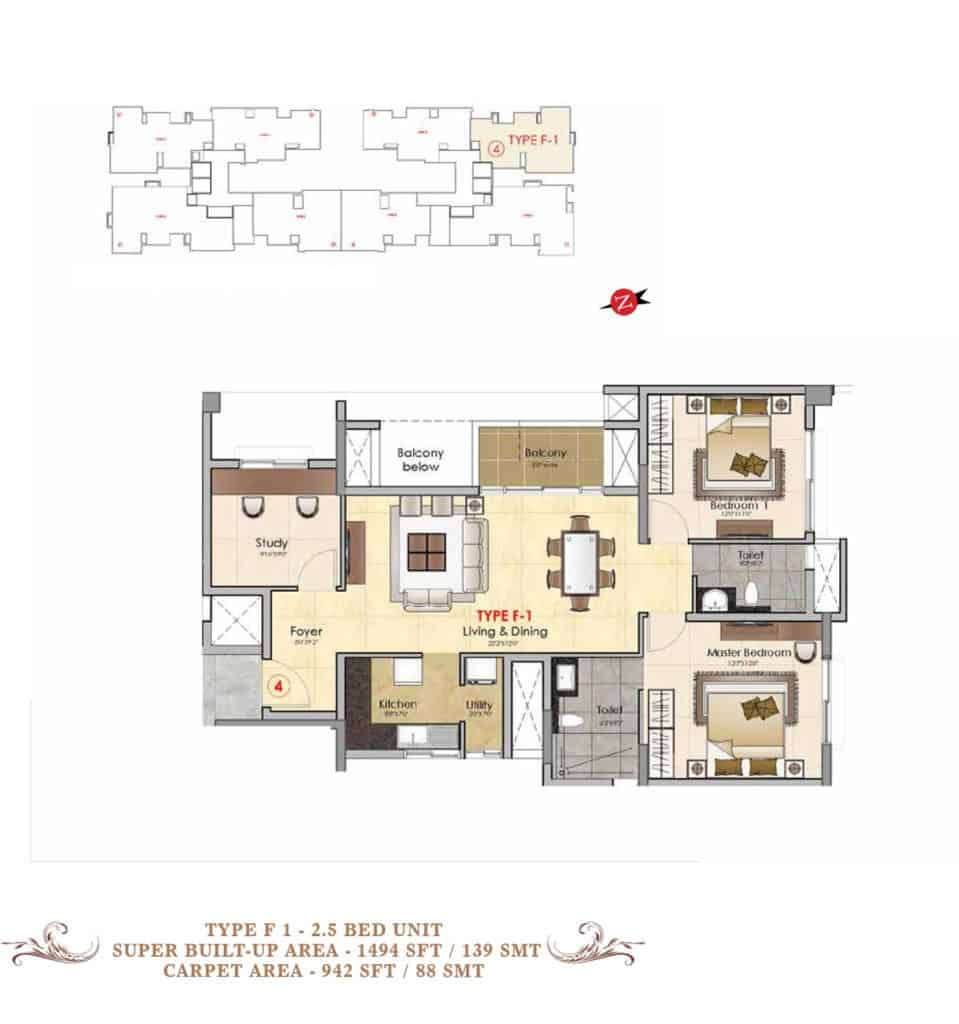 9. TYPE G – 3 BED UNIT SUPER BUILT-UP AREA – 1725 SFT / 160 SMT CARPET AREA – 1126 SFT / 105 SMT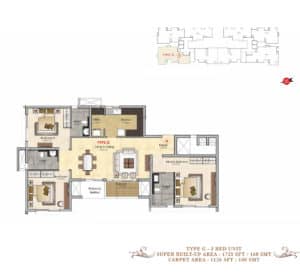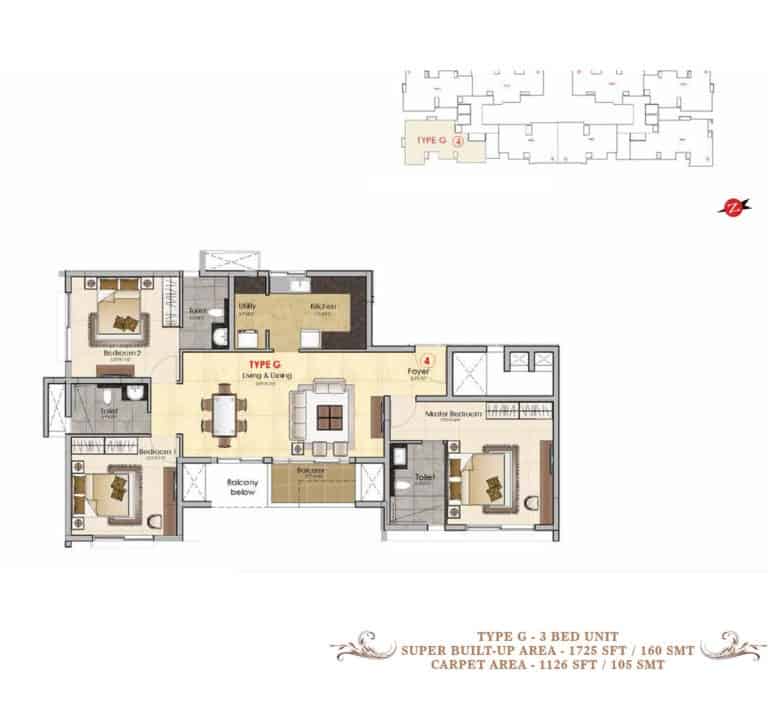 10. TYPE G 1 – 3 BED UNIT SUPER BUILT-UP AREA – 1725 SFT / 160 SMT CARPET AREA – 1126 SFT / 105 SMT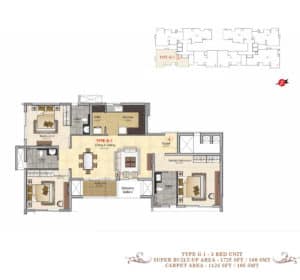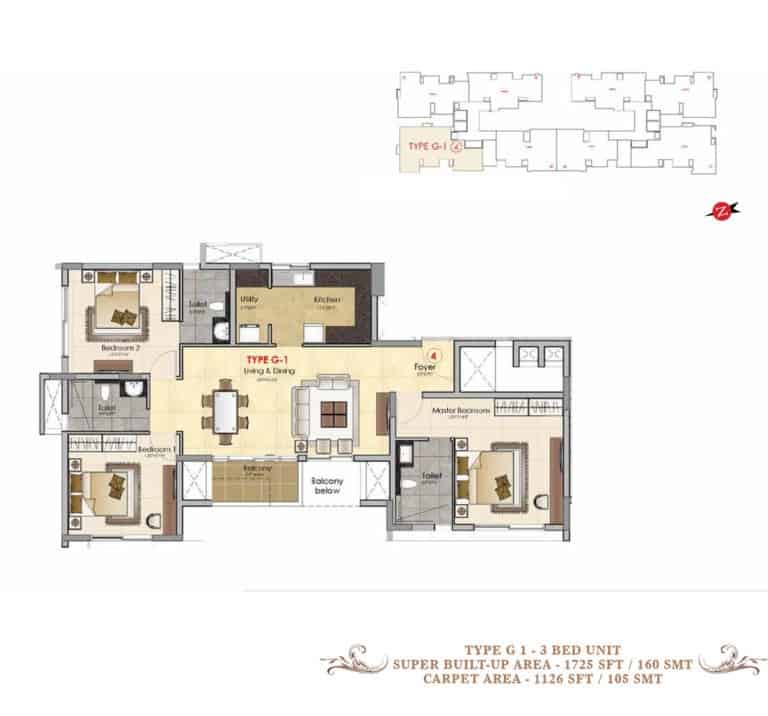 12. TYPE H – 3 BED UNIT SUPER BUILT-UP AREA – 1746 SFT / 162 SMT CARPET AREA – 1125 SFT / 105 SMT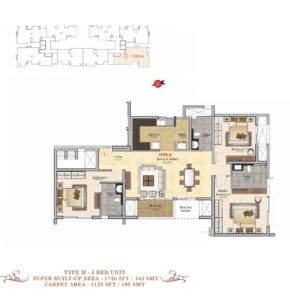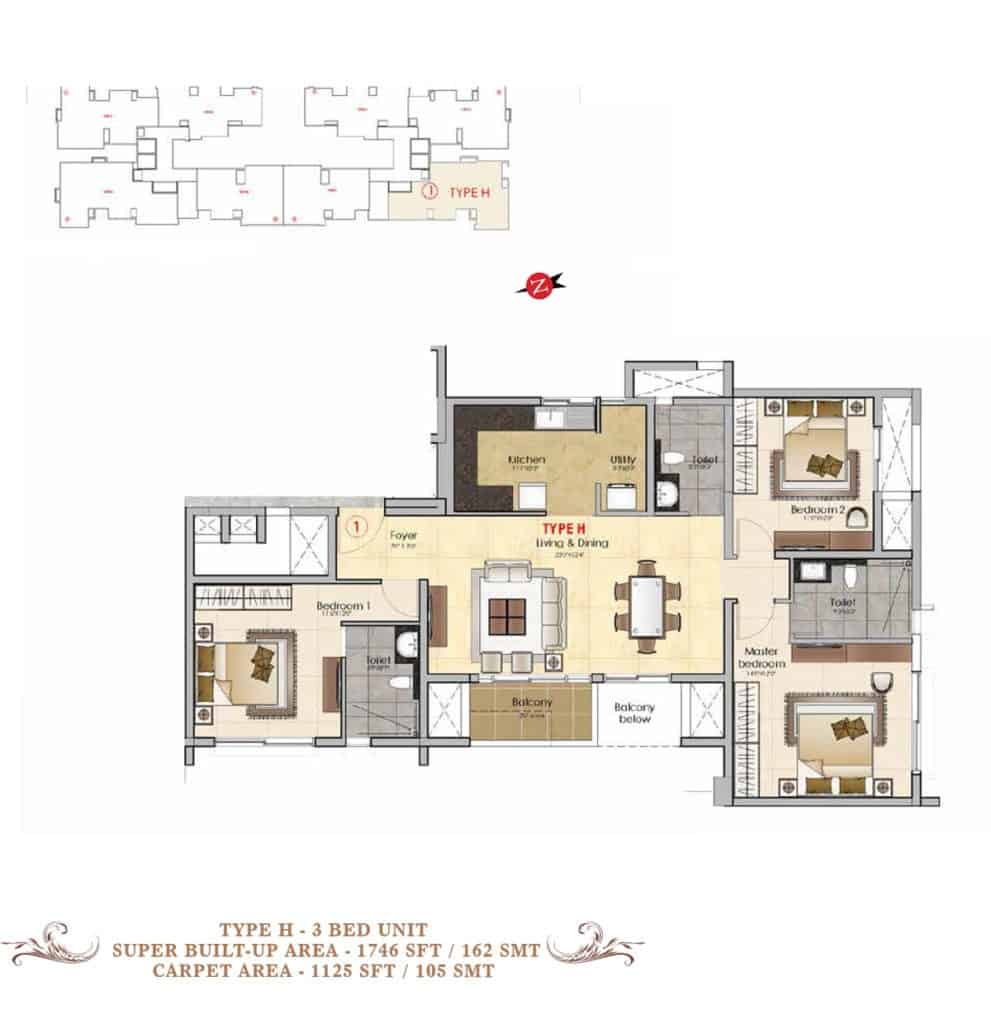 13. TYPE H 1 – 3 BED UNIT SUPER BUILT-UP AREA – 1746 SFT / 162 SMT CARPET AREA – 1125 SFT / 105 SMT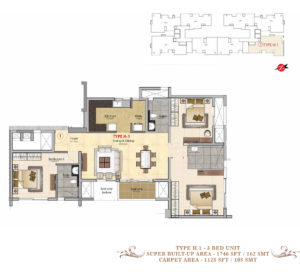 Prestige MSR External Amenities:
Aerobics/Yoga Room
Children's Play Area
Clubhouse
Convention Centre
Gymnasium
Indoor Games
Jogging Track
Party Hall
Swimming Pool
Table Tennis
Tennis Court
Prestige MSR Internal Amenities
1. LIFTS
Passenger and service lifts of suitable size and capacity are present in every block
2. FLOORING IN THE APARTMENTS
Imported marble in the foyer in living and dining areas
Wooden-laminated flooring in all bedrooms
Antiskid ceramic tiles in balconies
3. PAINTING
Cement / Texture paint on external walls
Emulsion on internal walls
OBD on ceilings
Enamel paint on all MS railings
4. ELECTRICAL
Electrical wiring concealed with PVC insulated copper wires and modular switches.
Sufficient power outlets and light points are to be provided.
4KW power provided for 2 and 2.5 bedrooms
5 KW power for 3-Bedroom apartment
Cable TV and telephone points provided in the living area and all bedrooms
Provision for installation of split AC in the living room and all bedrooms
5. LOBBY AND STAIRCASES
Granite/ Marble lift cladding and flooring in all lobbies
Texture paint on all lobby walls and OBD on ceiling 
Kota stone on the service staircase and service lobby with texture paint on the walls
6. KITCHEN
Ceramic / vitrified tile flooring
Ceramic tile dado for 2 feet over a granite counter
Double bowl single drain steel sink with single lever tap
7. MASTER TOILETS 
Imported marble on the floor and walls up to the false ceiling
Other toilets will have high quality ceramic tiles
Granite for the counters with counter top wash basins.
Wall mounted EWC's, shower panel in the master toilet and glass partitions in toilets with high quality chrome plated fittings.
Geysers in all toilets except the maid's toilet within a grid false ceiling.
8. SECURITY
Security cabins at all entrances
Exits with peripheral CCTV coverage
Door video phone and intercom facility
9. TOGGLE TITLE
Ceramic / Vitrified tile flooring and
Ceramic tile dado for the utility
Ceramic tile flooring in the maid's room and
Ceramic tile flooring and dado in the maid's toilet
10. DOORS AND WINDOWS
Entrance Door – 8 feet high opening with wooden frame and shutter, with architrave and polished on both sides.
Internal Doors – 7 feet high opening with wooden frames and flush shutters.
External Doors – UPVC / Aluminium frames and shutters.
Windows – 3 track UPVC / Aluminium frames with clear glass and provision for mosquito mesh shutters.
11. DG POWER
Generator will be provided for all Common Services
12. ADDITIONAL COST
100% Back Up power for all apartments
Prestige MSR – Master Plan
Prestige MSR – Location Map
Prestige MSR Address & Google Map
Address: Devasandra Layout, 9th Main Rd, Mathikere Extension, Mathikere
City: Bengaluru, Karnataka
Pincode: 560054
Neighbourhood – Mathikere
Email : [email protected]
Prestige MSR Latest Images
Prestige MSR FAQs:
1. Where is Prestige MSR located and what is it's nature?
Prestige MSR Ramaiah is located at Mattikere, behind Ramaiah College, Bangalore. This is a residential luxury development set in about 37,147 sqft (approx.) of land. The project consists of 100 Apartments spread across 1 Tower.
2. Who are the architects / Master planners of Prestige MSR Ramaiah?
The Onarch Architects are the key designers for Prestige MSR Ramaiah.
3. What is the cope of maintenance?
The maintenance will be completely managed by Prestige Property Management & Services. Professionals are dedicated for the job to ensure complete satisfaction to the customers as guaranteed by Prestige Group.
4. What happens in case Prestige Group delays the construction?
Our endeavour is to complete and hand over the project as per committed time lines. However, for reasons beyond our control if the project is still delayed, Prestige will pay 9% per annum on the amount collected which will be clearly brought out in the agreements.
5. What is the process of Assignment?
Assignment can be done only after the Agreements have been signed, PDCs given and the new party complying with the terms and conditions of the principal agreement. Transfer fee as applicable will be required to be paid. If you have availed a loan then you have to also retrieve and hand over to Prestige all letters and documents issued by Prestige to the bank / housing finance institution. Requests for assignments will be accepted only after 20% of the sale value and 3 instalment payments are paid as per the payment schedule.
6. What is the process of Registration and what does registration take place?
Registration will be done only on completion of the development and on payment of the entire sale consideration including the additional charges. Registration will be facilitated by us through an advocate appointed by Prestige.
7. What all agreements are required to be signed?
Following agreements need to be signed are: • Agreement to Sell • Agreement to Construct • Sale Deed is executed later.
8. Has BDA/BBMP approved the plans?
BBMP remains to approve the plan. Rest others have issued the NOC.
9. What is the process of paying the instalments?
Instalments are to be paid by way of post-dated cheques. Yes, allotment on payment is on time bound basis. Though, schedule of payment is not linked to the progress of the construction.
10. Has Prestige MSR been approved by banks/Housing finance Institutions (HFIs) for loans
Yes. We will be seeking approvals from all the Leading Banks/HFIs who will extend loans to customers based on their eligibility criteria.
11. When does one gets complete allotment of the booked property?
Once you have made 20% payment of sale value and submission of post dated cheques for the remaining amount, the allotment will be deemed completed.
Prestige MSR Development Images