About Mantri Emporio: 
The Mantri Emporio is a residential complex constructed by the Mantri group. This particular property is situated in Sopanbaug, Pune. It is to provide a sense of luxury, space and privacy. It is designed in such a manner that only 9 families can inhabit the entire building. The concept of one home per floor gives a sense of exclusivity for the people. Interestingly, the outline of this property is inspired from the architectural culture of the Persian Empire and the Roman Empire. The builders worked toward creating a space of homely grandeur with a pinch of history and tradition.
This property has only 1 tower comprising of 9 floors excluding the entrance reception lobby. The size of the apartments range from 4750 sq. ft to 4870 sq. ft. The property is surrounded by calm greenery and the military area race course. It has the amenities such as entrance plaza, outdoor party area, video phone bell, multipurpose hall, cellular boosters, and boom barriers, pick up and drop off points, access control systems and an efficient parking system.
With excellent connectivity to other essential places like schools, hospitals, and markets etc. this complex would be a perfect home for your family.
Mantri Emporio – Distance from Prominent Places in Pune
The location of this property is Sopanbaug, Pune.
| | |
| --- | --- |
| Place | Distance (km) |
| Magarpatta IT Park | 5.5 |
| Pune Race course | 2.9 |
| Nearest railway station | 4.2 |
| M. G. Road | 3.5 |
| Distance to airport | 10 |
1. This property is located in a peaceful environment surrounded by lush greenery. There are multiple gardens surrounding this property.
2. This property is also located in the heart of the area that is well-connected to the hub of the commercial activities like Koregaon Park, Magarpatta, and Hadapsar.
3. This residential complex is very well secured due to its close proximity to the military area race course.
4. The housing property is also ssurrounded by temples, hospitals, schools and shopping malls.
Mantri Emporio – Nearby Schools
This property has several reputed list of schools and colleges nearby, making it the perfect home for families. Some of the schools found in the vicinity are as follows –
1. Little Millennium
2. The Harmony Tree
3. Wonder Years
4. Cuemath Centre
5. Shemrock Preschool
6. Clara Global School
7. Anantrao Vaikunthrao Mudaliyar School
8. Vatsalya Public School
9. Spectrum Kids School
10. VIBGYOR High School
11. Army Public School
12. Atelier International Preschool
13. Kinderpillar Pre School
14. IICCM
15. Vincent's High School
16. The Bishops School
Mantri Emporio – Nearby Hospitals
1. Noble Hospital
2. Care Physiotherapy Clinic
3.  Ayodhya Trust General Hospital
4. Shraddha Hospital
5. Jehangir Hospital
6. Sahyadri Super Specialty Hospital
7. Ace Hospital
8. Nova IVF Fertility Centre
9. Aditya Hospital
10. Columbia Asia Hospital
11. Laad's Clinic
12. Nihareeka Ayurvedic Clinic
13. Pratibha Dental Care
14. Samvedna Child Clinic
15. Sai Hospital
16. Shree Samarth Hospital
Mantri Emporio – Unit Type, Size in Sq. Feet and Price
| | | |
| --- | --- | --- |
| Unit Type | Size (square feet) | Price (Crore INR) |
| 4 BHK | 4750-4870 | 5.84 – 5.85 |
Mantri Emporio External Amenities
1. Lift Facility
2. 24X7 Security available
3. Community Hall
4. Swimming Pool
5. Gymnasium
6. Barbeque Pits
7. Electricity Generator and Back Up
8. Parking
9. Intercom
10. Wi-Fi
11. Rain Water Harvesting Mechanism
Mantri Emporio Internal Amenities
| | |
| --- | --- |
| Terrace | Anti-Skid Vitrified Tile Flooring |
| Reception/ GF Lobby/ Lift Lobby | Vitrified Tile Flooring |
| MEP Rooms | Anti-Skid Ceramic Tile Flooring |
| Service Lift Lobby |  Italian Marble & vitrified tiles (on lift side wall). |
| | |
| --- | --- |
| Master Bedroom | Italian marble flooring |
| Kitchen | Italian marble Flooring |
| Master Bedroom Toilet | Engineered Italian Marble Flooring |
| Balcony / Deck | Anti-Skid Vitrified Tile |
| Living and Dining | Natural Engineered Italian marble flooring |
| | |
| --- | --- |
| Main Entrance | Lacquer Finish on both sides |
| Bedroom | Veneered Designer Door Shutter |
| Balcony | UPVC Sliding Doors |
| Shaft | Commercial Flush/Skin Shutter with Enamel Paint |
| Toilet | Veneered Designer Door Shutter |
| | |
| --- | --- |
| 4 BHK | 18 KW |
| DG | 100% backup, based on metered consumption |
| Transformer Capacity | Calculated as per load |
| Modular Switches | Designer Modular electric switches |
| | |
| --- | --- |
| Painting | Emulsion or equivalent paint |
| Kitchen | Water purifier, washing machine and dishwasher provisions provided |
| Bedroom/Living | TV and telephone point provided in each room |
Mantri Emporio Master Plan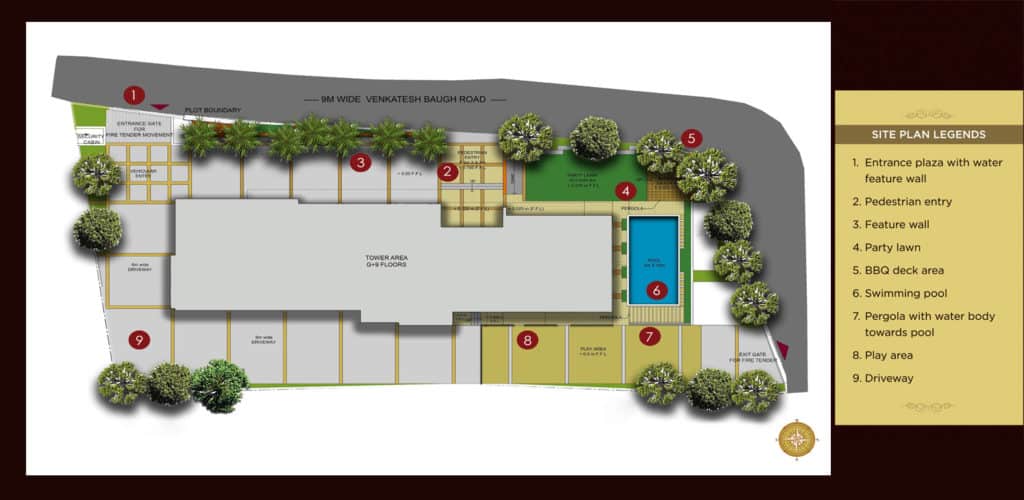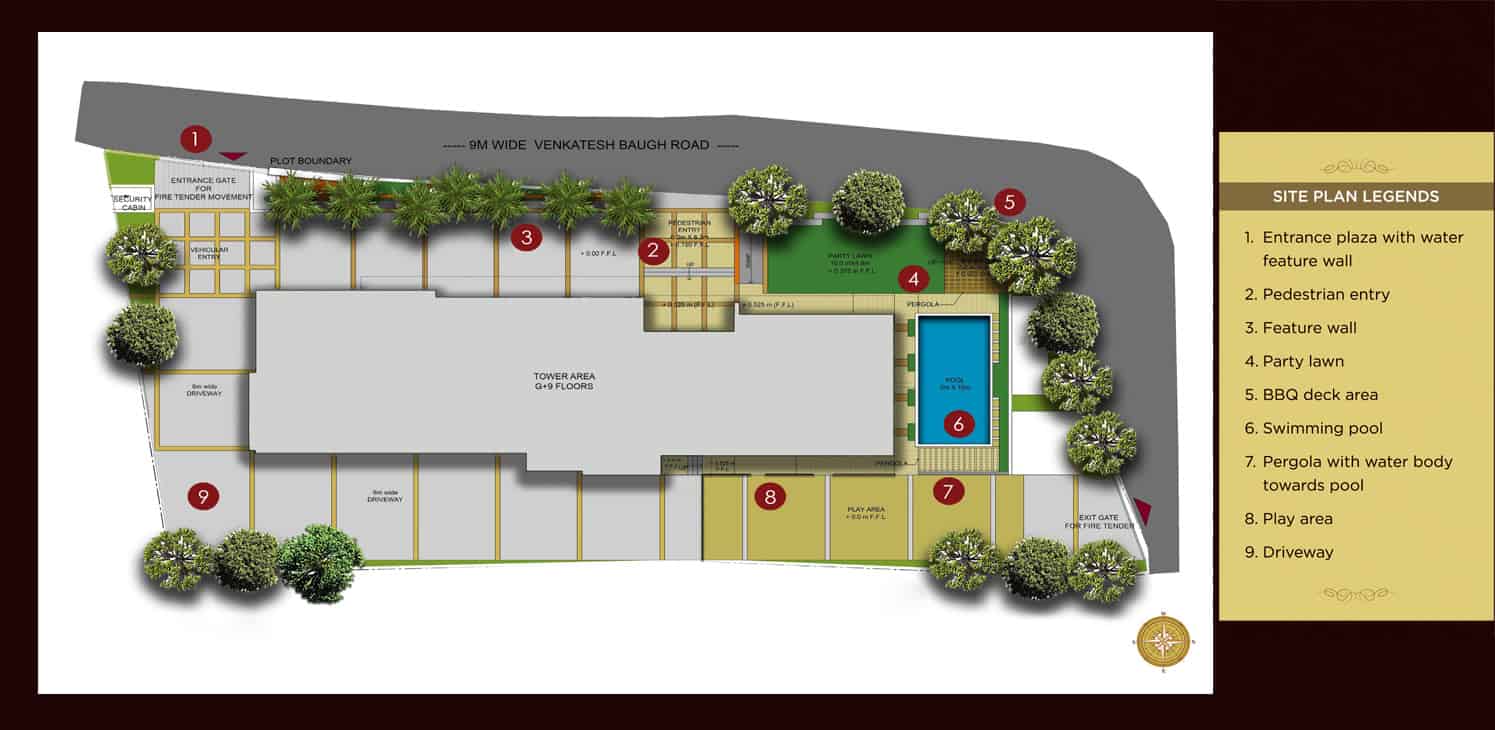 Mantri Emporio Location Map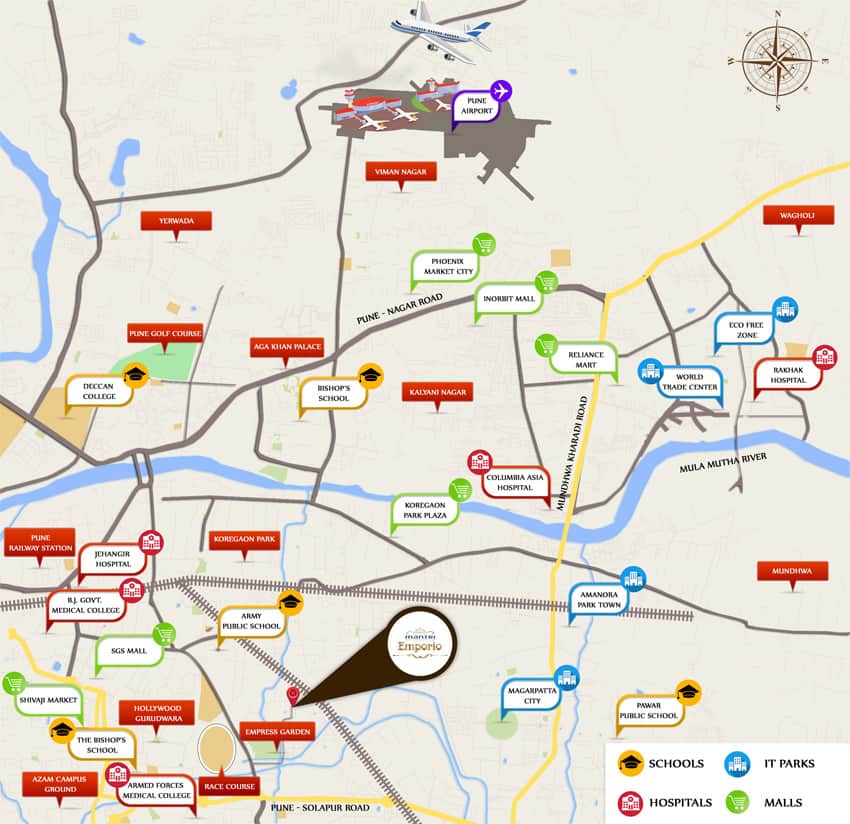 Mantri Emporio - Address and Google Map
Mantri Emporio Image Gallery
Mantri Emporio FAQs:
1. Is there a gymnasium in this property?
Yes. There is a very well-equipped gymnasium in this property.
2. What are the standards of security in this residential complex?
The security guards here are well trained and are around 24X7 on all days. The premise is also equipped with CCTV cameras. Due to the presence of intercoms, the residents can limit their visual contact with strangers.
3. Is this property RERA registered? If yes, what is the registration number?
Yes, this property is RERA registered. The registration number of this project is REA52100013922.
4. How is the connectivity of places and network of roads in this area?
This property is located in one of the most posh parts of the city. The road system and their network is very efficient and functioning. This place is surrounded by several IT Parks, gardens, shopping complexes and schools.
5. What is the number of towers in this property?
There is only 1 tower with nine floors in this property.
6. What are the initiatives taken by this property toward environment development?
The builders have constructed vertical gardens in their building and have installed the rain water harvesting systems to save water. They have also promoted the maintenance of the surrounding greenery.
7. What are the amenities in this property toward physical well-being?
Mantri Emporio has a fully equipped gymnasium, swimming pool and a multi-purpose halls that can used to do yoga and meditation.
8. How many acres is this property?
The property is of 0.46 acres.
9. What is the furnishing style of this place?
The homes in this property are semi furnished.
10. How many toilets does the 4 BHK apartment have?
The 4 BHK apartments at Mantri Emporio have 4 toilets.
About Mantri Group:
The Mantri group was set up in the year 1999, it was founded by Mr. Sushil Mantri. Today, its headquarters is in Bangalore. They have grown to work in cities like Chennai, Bangalore, Delhi, Mumbai and Pune etc. They aimed at providing the best qualities to the people. They imbibed reliability, punctuality, and transparency in their projects. In the recent years, they have started to take up projects, promoting a perfect blend of technologically and environmentally sustainable atmosphere.
The company has built more than 6000+ homes till date ranging from residential complexes, IT parks, shopping malls and educational centers.
The Mantri group also has their offices internationally, in countries such as California, USA and Dubai, UAE.
Mantri Emporio is an excellent residential space if you are looking for luxury and extravagant comfort. It is located blocks away from the Magarpatta IT Park. This is an ideal family location as there are several picnic spots such as Empress Garden, and the green surrounding. Considering the close proximity between the property and the schools, pre-schools, hospitals, shopping complexes, and temples, you can also step out for some ethereal relaxation. As this property has only one home per floor, it will give the required amount of privacy and space. The construction style of the project has a touch of history to it and for the people who are passionate about these factors, this is the perfect home for you all.